Wednesday, September 17, 2008
Going political in the Twin Cities
I was excited that the RNC was holding their convention here a couple weeks ago, so I packed the family up Labor Day morning to check out what was happening in downtown St. Paul

Cecelia wasn't very thrilled with the trip. Whined nearly the whole time.




We were there before any crazy action was going on, but did see the tail end of a protest march on the Iraq war.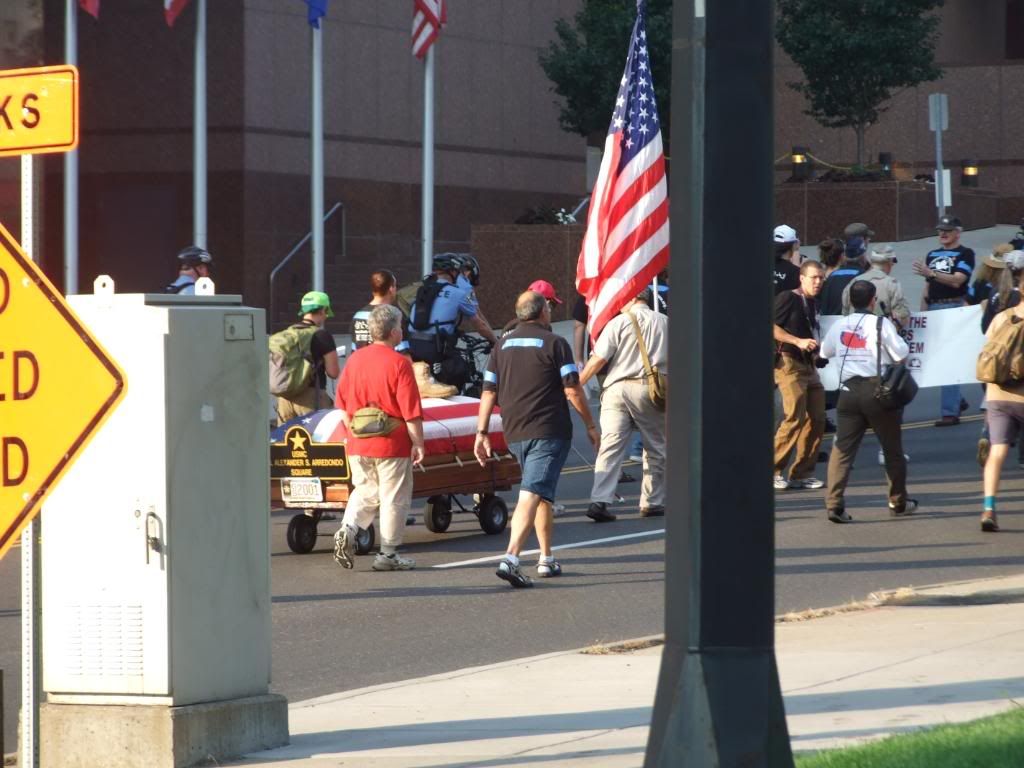 Again, we were there pretty early, so we got a good parking spot, and headed for Keys Cafe. I was looking forward to catching MSNBC's Morning Joe. They were broadcasting from there live every morning of the convention.




Alas, hurricane Gustav upset the programming, so they decided not to broadcast that morning. Needless to say, I was disappointed.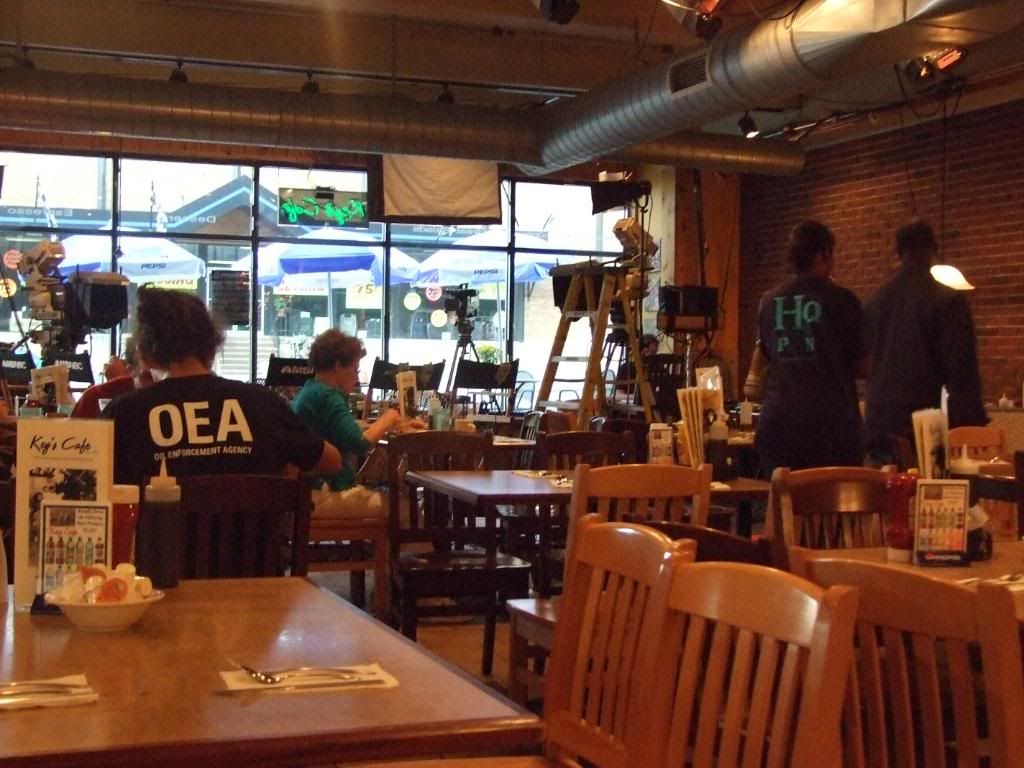 We did get this great shot of Maeve where Joe Scarborough normally sits!




After breakfast, we tromped around downtown St. Paul.

An interesting side story (without pictures) When we pulled out the stoller, and started down the street toward's Rice park, a wheel fell off the stroller. After trying to do without it, we stopped at a corner in front of USBank to try to remedy our stroller wheel situation.

As I said before, the streets were quiet. There was a noticable uptick in police presence, and there were several "independent" media types. I believe they were getting all set for the large protest that was going to be taking place that afternoon.

At the corner we stopped at, I had the stroller on it's side, and was studing the wheel situation, trying to pound the thing on with my fist. There were 3 independent media types standing nearby. One of a phone talking about how not much was happening. I muttered out loud, "Not much happening? We got a broken stroller here!" They very kindly came over to see if they could offer some assistance. One had a U-bolt bike lock, so we managed to pound the wheel back on with that.

Just as we put the stroller back on it's wheels, a security guard came out of the bank walking rapidly towards us. I then heard him say to the walkie-talkie "Oh... it appears they were just putting a wheel back on a stroller" I guess the bank got nervous with a stroller and some crazy guys in front of their door.

Later, had to check out the Peanut characters.




Cecelia gives Lucy a hug.




We wore our Obama pins just so everyone knew where we stood.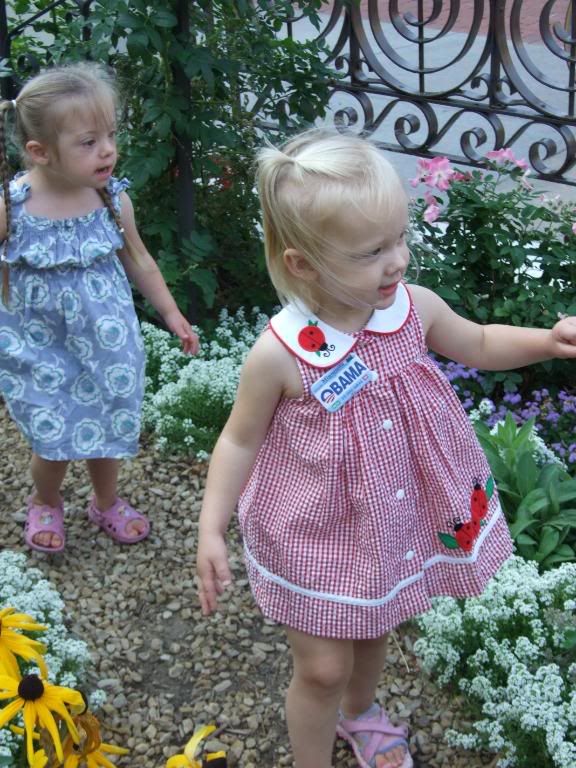 This is the St. Paul hotel. We were walking by as some of the Arizona delegation were on their way to Xcel. The hotel has a lovely garden with a Elephant shrub. Isn't that cute?!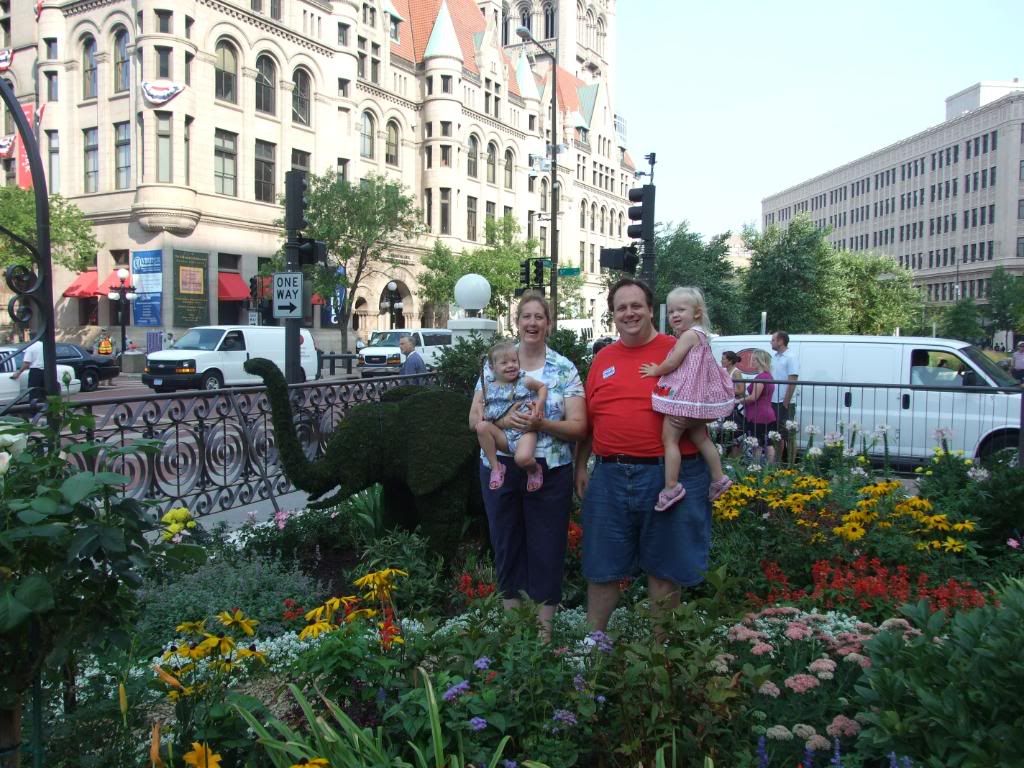 At Rice Park, MSNBC had their big set setup. I thought it was funny how ugly the chair the host sits in was... with all the black tape on the wheels.




Here's where the delagates and other get admitted to the Xcel area.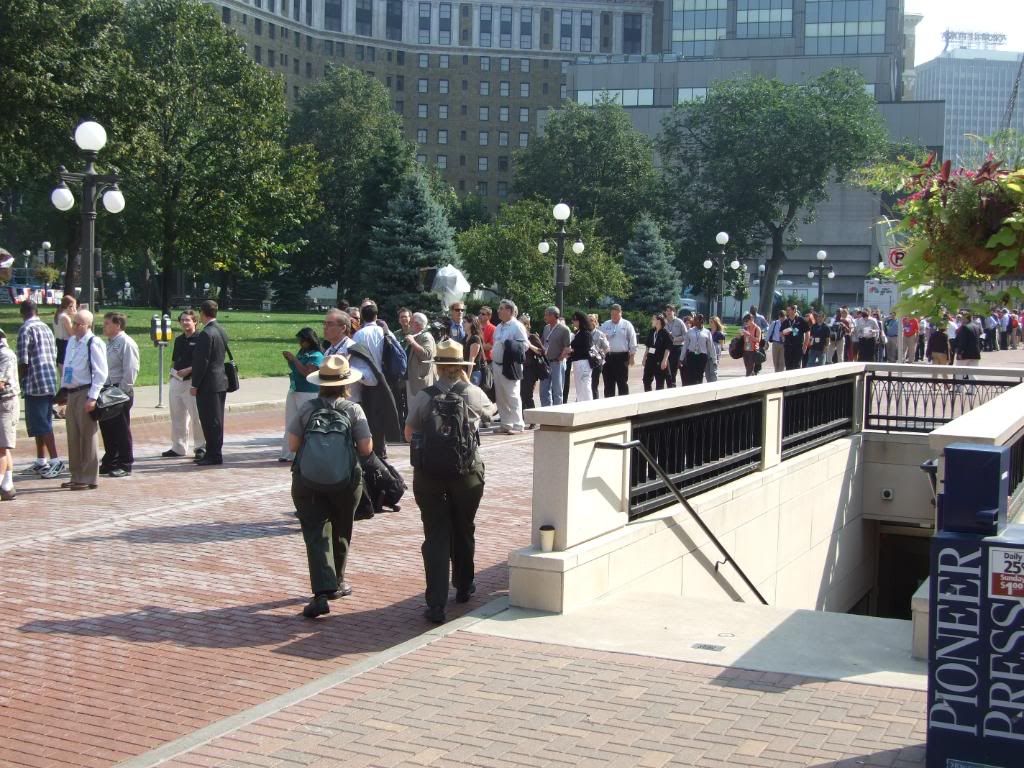 They had several blocks fenced off like this... normal people like us couldn't get close to the Xcel.




This was the closest we got.




A couple days later, Janet stayed home, and I grabbed Cecelia to head back to watch Morning Joe at Keys Cafe! Thanks Janet! We had great seats, and you could totally see me on national TV!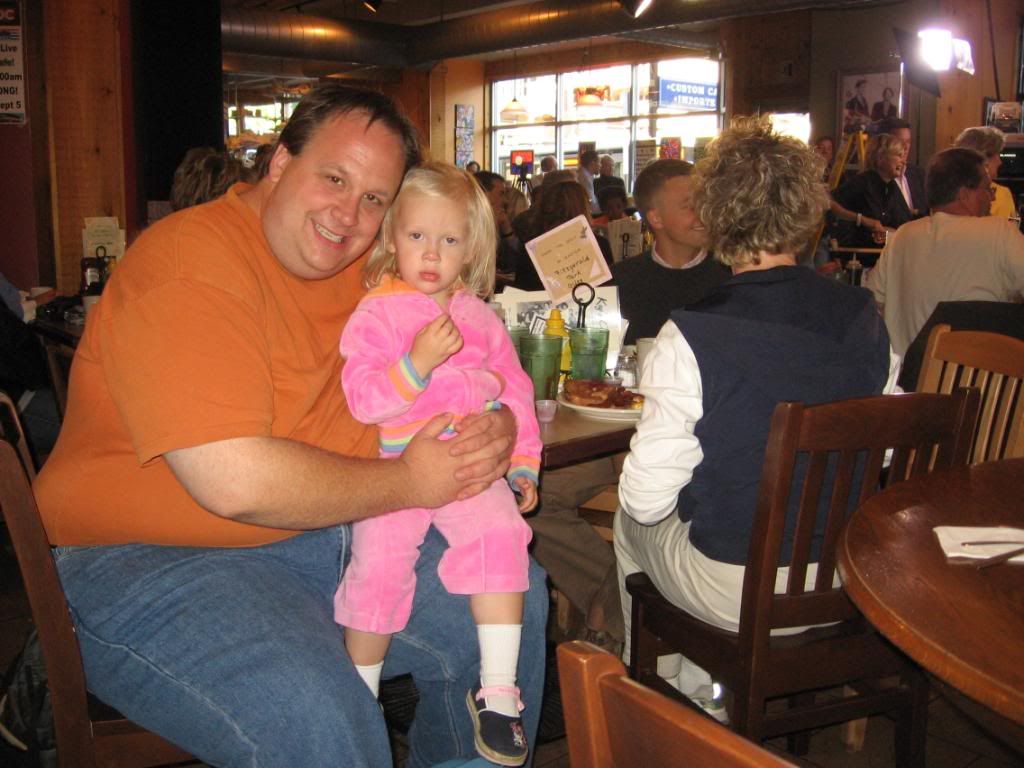 Mika and Joe interview Gov. Pawlenty.




The other fun thing we did was go to Civicfest which was at the Minneapolis Convention Center that week. The Seward Concert Band played, so we got in free. It was pretty cool, with a replica of the White House the size of a living room, a mock up of Air Force One, and lots of cool things.

The one thing I was really excited for was the mockup of the Oval office. Here's me pretending to be President of the United States, firmly making my point to Prime Minister Putin of Russia.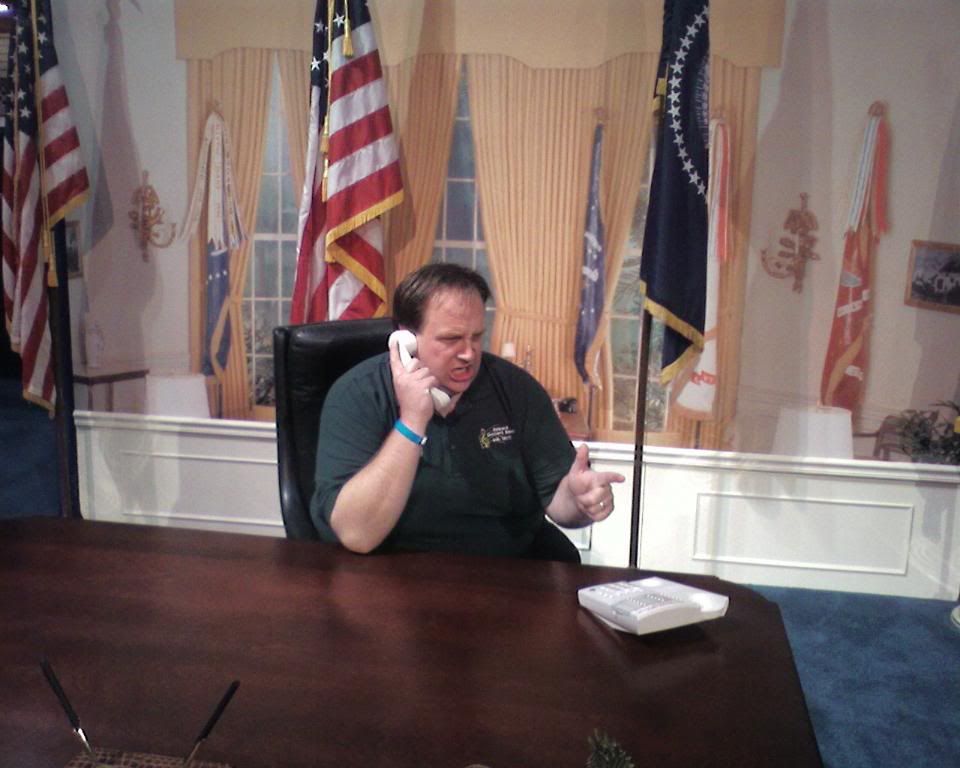 Now here I am calling my wife.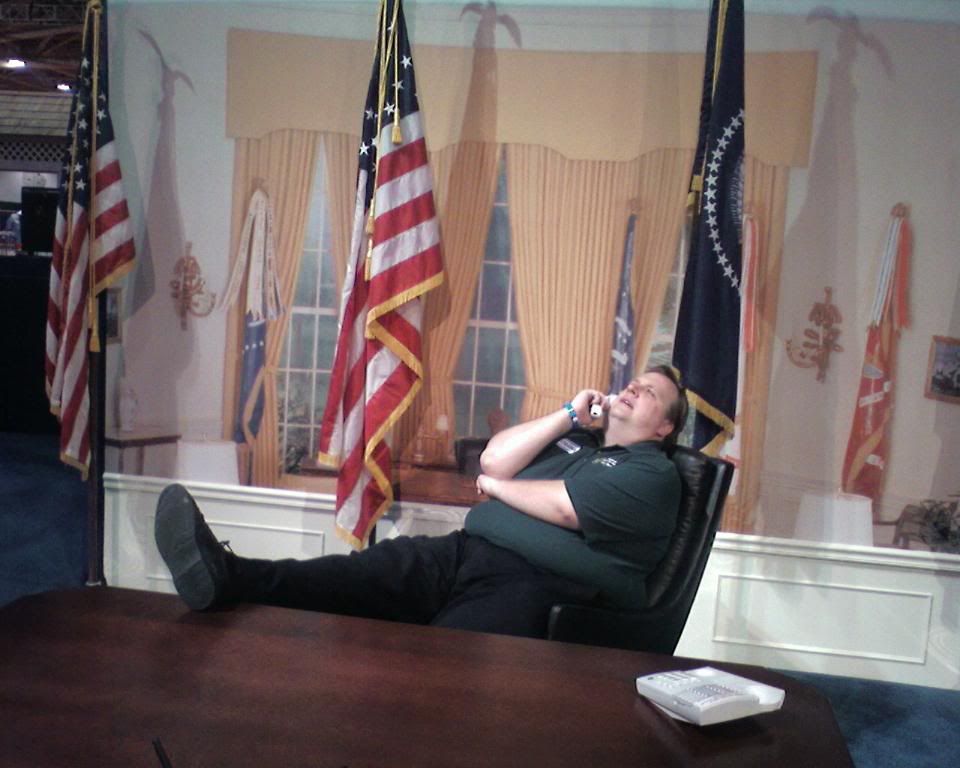 Here I am, bored, with no one to yell at.




Here, my beautiful aid points to where I need to sign.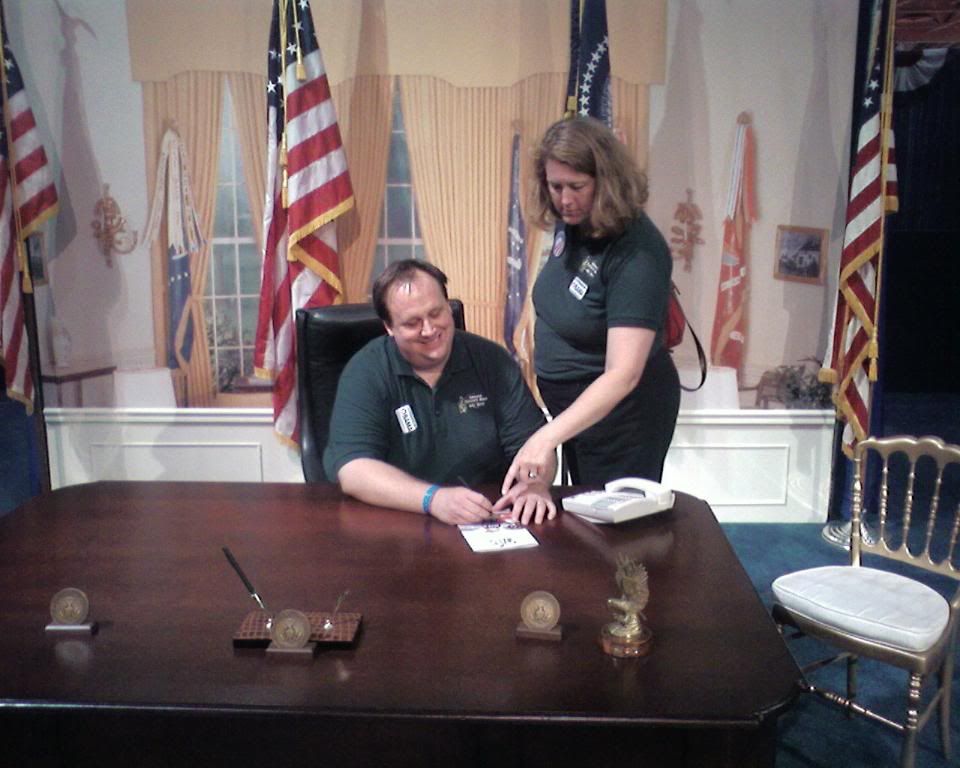 Since the Senator dropped by, I felt I should get a photo. He was very kind to oblige.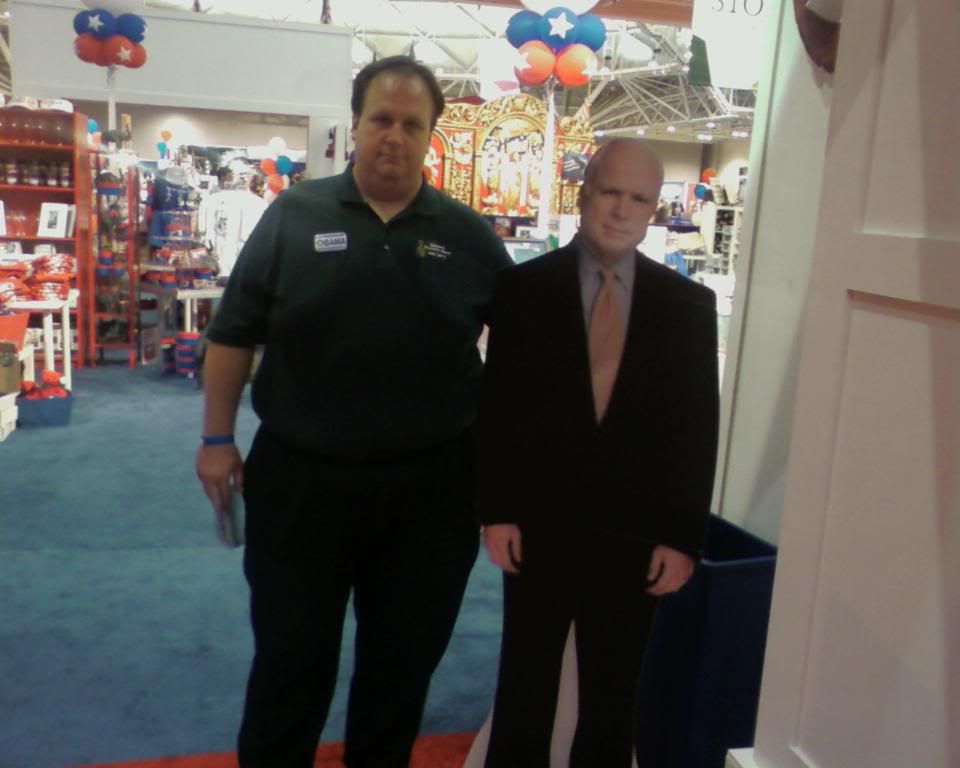 Comments:
What fun pictures, I love them all! You certainly have a lovely aid and adorable daughters :)!! Glad you made the Morning Joe too.
Post a Comment
Subscribe to Post Comments [Atom]
<< Home
Subscribe to Posts [Atom]