Thursday, February 28, 2008
Down syndrome
Down syndrome awareness day is March 21st, and I am planning on doing a few posts on the subject in the coming weeks.

I very consciously not dwell on Maeve having Down syndrome here on the blog, as I don't want it to define her. She has so much potential, and is such a delightful girl, I don't want her to be put in a box.

But I don't try to avoid the subject either, and welcome anyone to ask questions, or have a discussion about it. And Janet and I share our joys and frustration with it as it may come up in normal conversation.

So I guess as I plan some of these posts, feel free to post questions about it here, or shoot me an email. I suspect some of you may have questions, but are afraid to ask that it might embarrass us, or make us sad. Don't be afraid. We are tough people.

Some things I think will come up...

The recent bombings in Iraq, with suicide bombers with Down syndrome
The language of Down syndrome
Maeve's developement in comparison with other kids

Again, I hope you ask if you have questions about this subject.

The cute things girls do...
Cecelia is motivated to use the spoon to spoon the sugar out of the bowl (this didn't happen during daycare hours)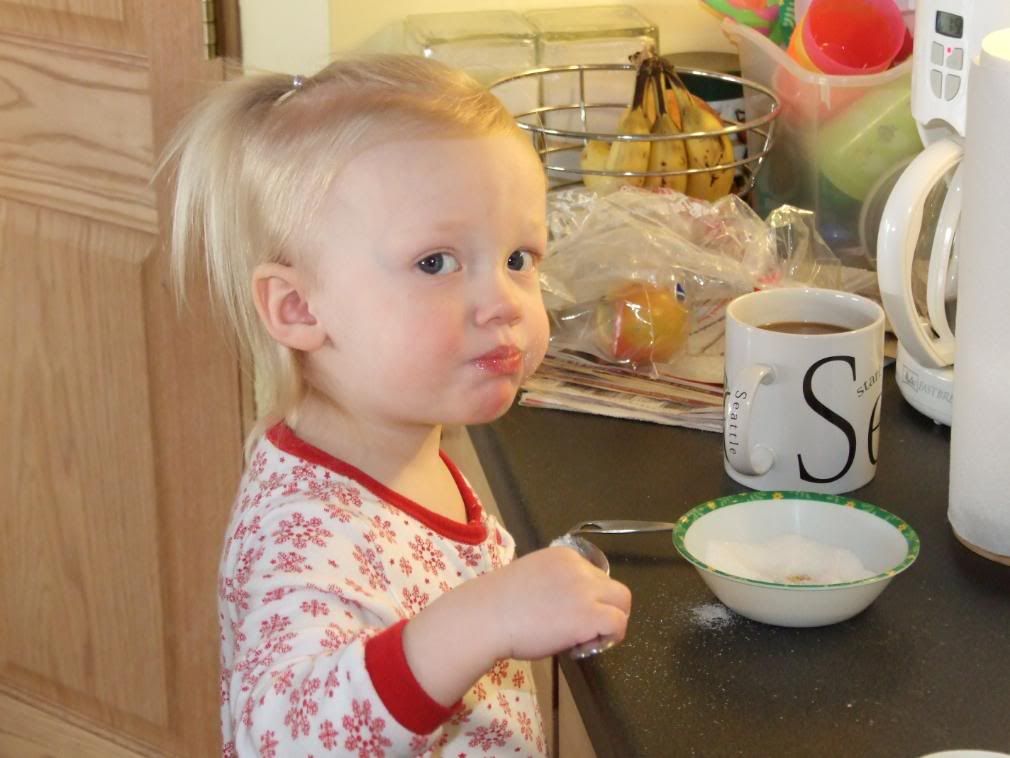 Mariah and Kendall build towers.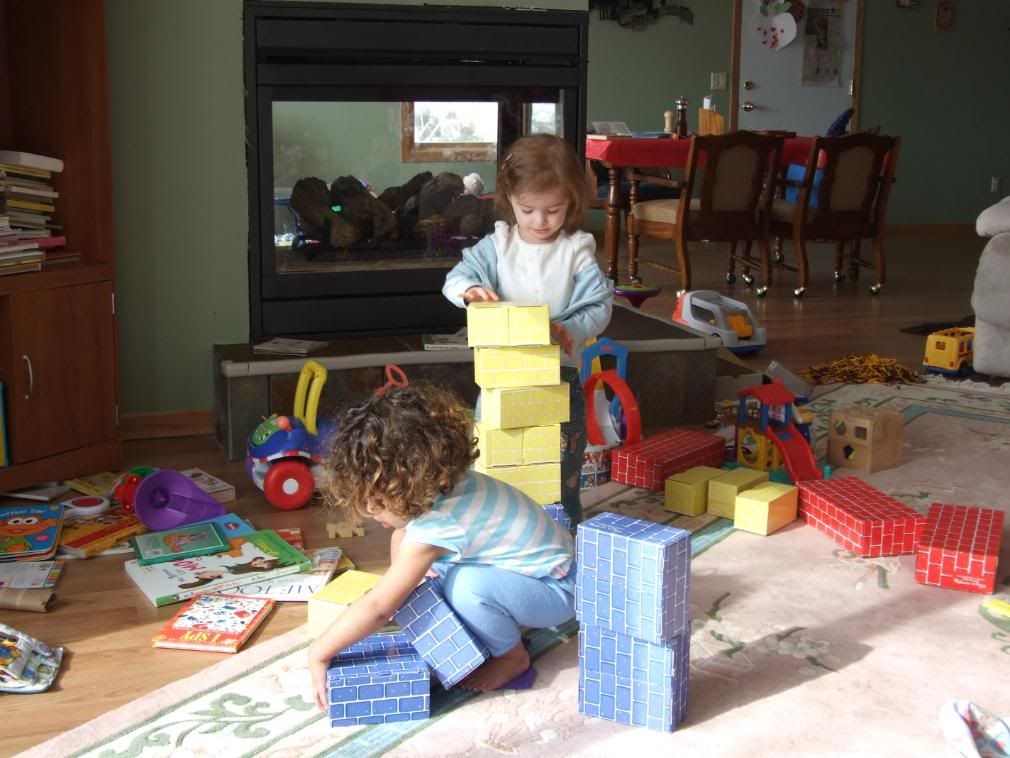 They're getting bigger!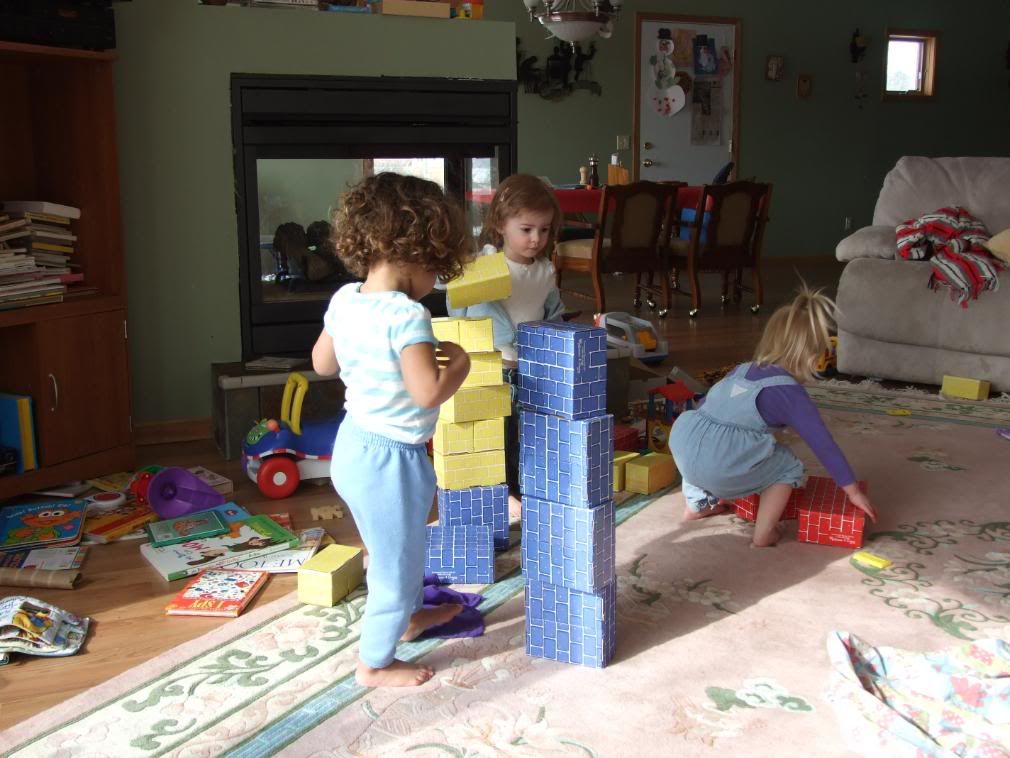 Look what I did!?




Cupcakes for Kendall's birthday.


Saturday, February 23, 2008
Basso Child Care in Action!
Friday, February 22, 2008
Fridays at Basso Child Care
Here is our new friend, Kendall, plays with the blocks.





We head up to the girls room to get Maeve and Cecelia dressed. I normally leave them in their sleepers til after breakfast. We were hanging out, and Maeve, Cecelia and Mariah get lazy on the far side of the crib.




Kendall plays nicely with the shape sorter. At least she keeps her shirt on....




Suddenly Maeve gets it in her head to climb into the crib, which I hadn't seen her do before. She was very determined this morning.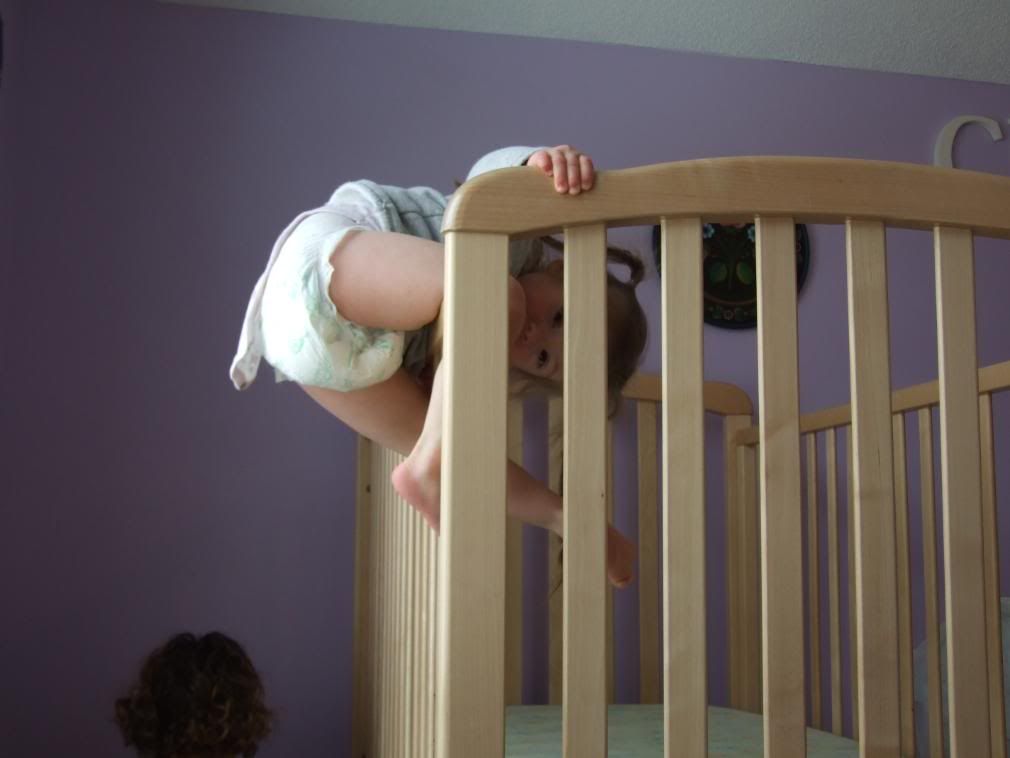 K'pla! (that's Klingon for success) Maeve climbed into the crib all by herself. Now to start jumping... make the others jealous!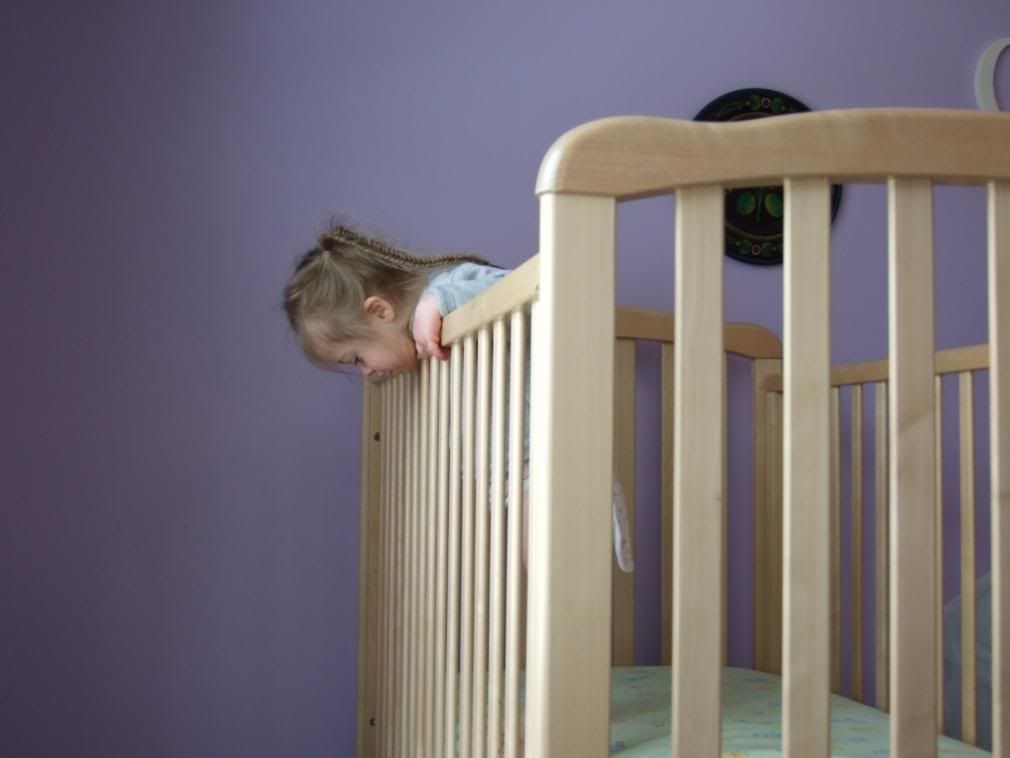 So you can see Maeve catching some air as Mariah and Cecelia try to climb in...




Cecelia get's mad, and cries, thinking I might help her. Sorry kiddo!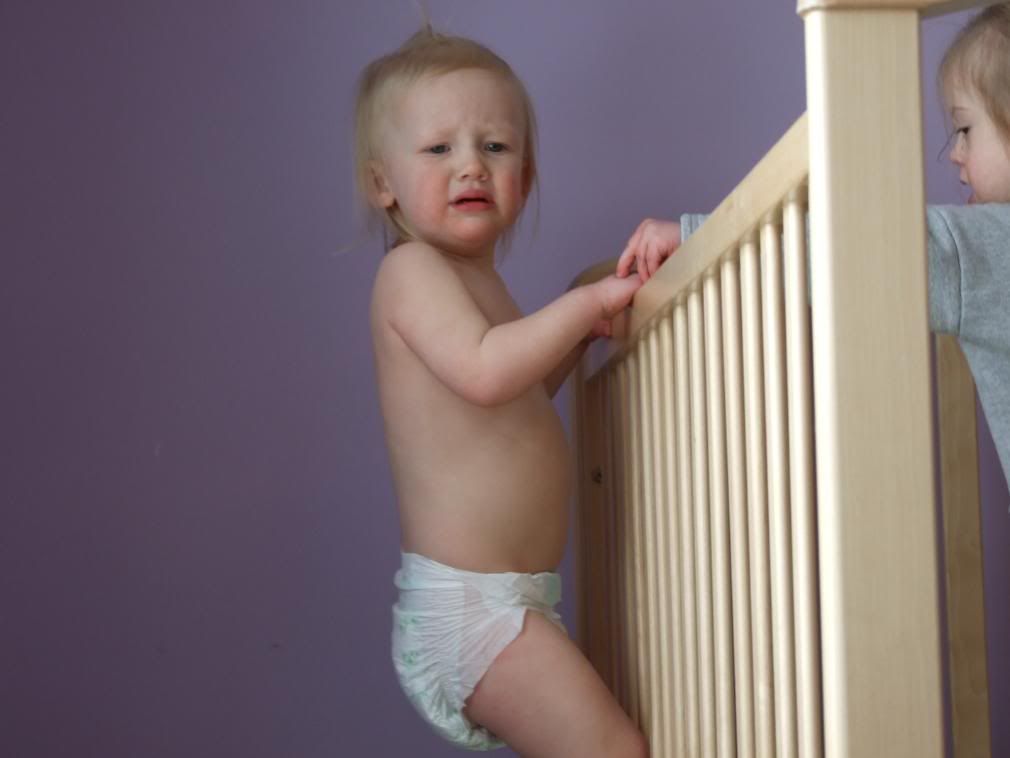 I knew she could do it... Cecelia climbs in to and starts to jump!




Mariah doesn't cry so much, but screams very well... I don't help her either. She kept trying, but couldn't make it in. Maybe next time Mariah!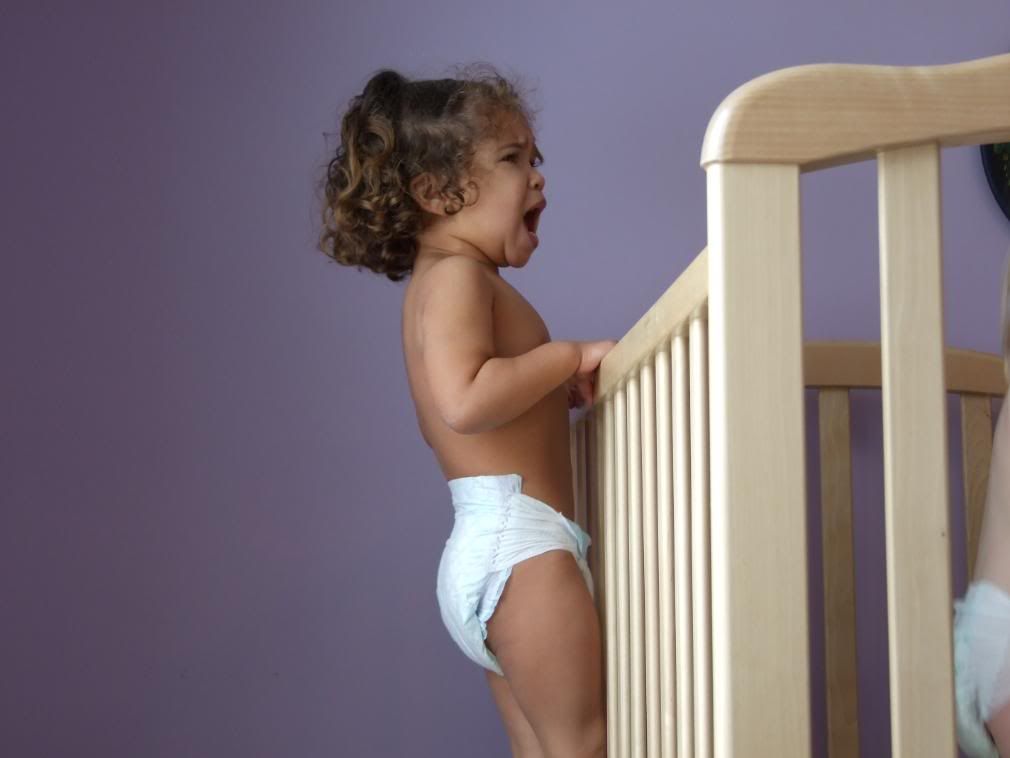 Kendall considers climbing too, but balks.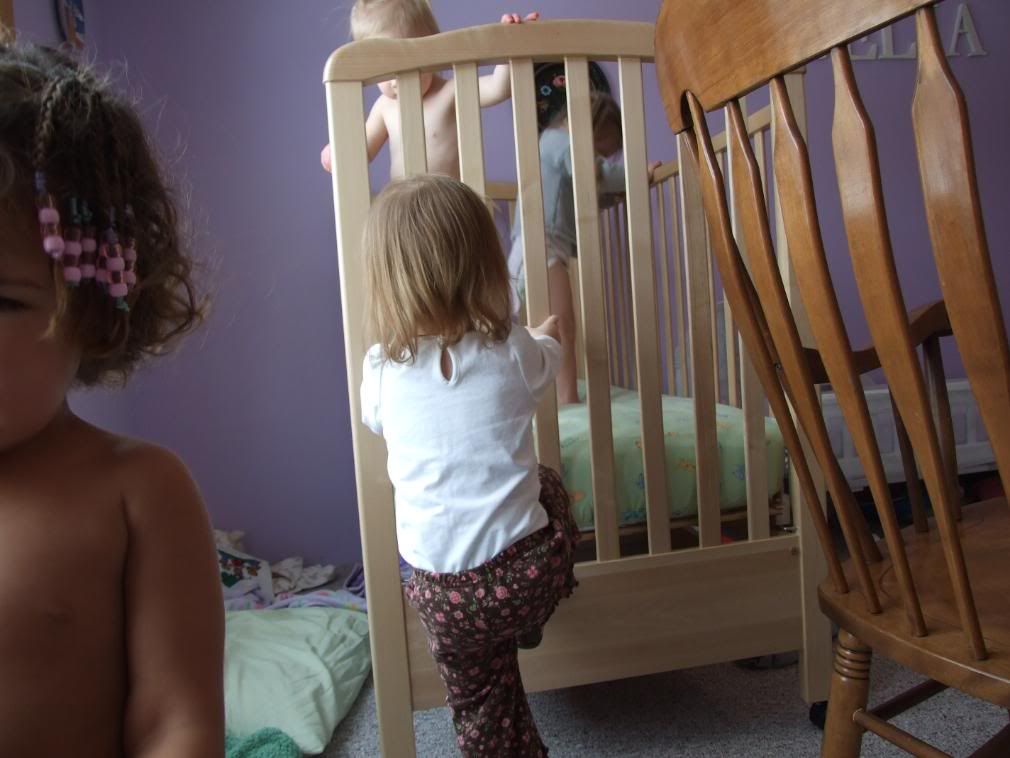 Ok, Cecelia wants to get out now... and tries the crying trick again. It didn't work the first time, and doesn't this time either. She has to get out herself I tell her.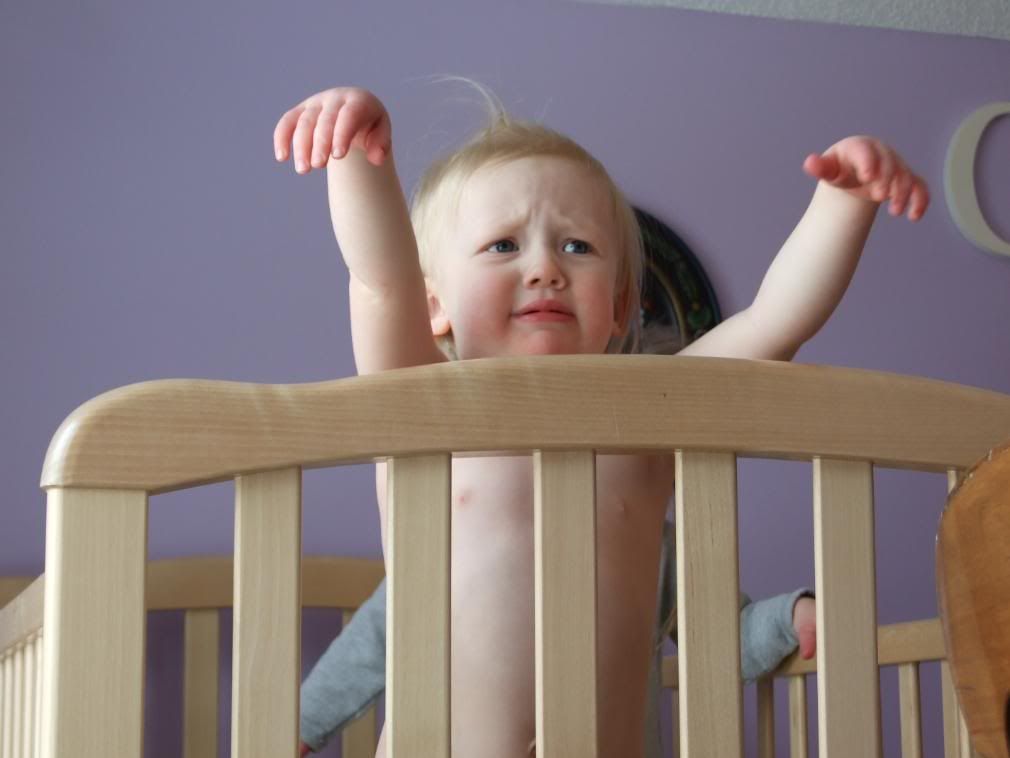 K'pla! Cecelia gets out safely. Of course, Maeve wants to get out now, and starts wimpering to get me to help her. I refuse of course. So she resorts to dirty tricks!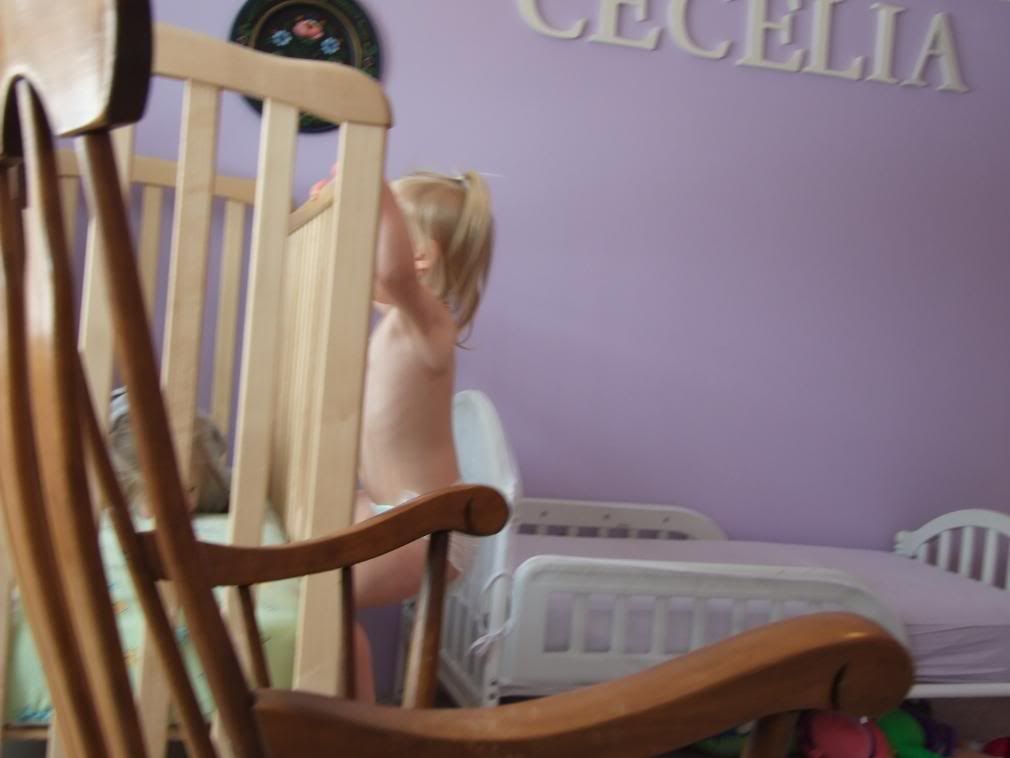 It's hard to tell here, but she takes her diaper off! Sigh. I can't allow the chance that she'll pee in the crib. So I help her out, not knowing if I should scold her for taking off her diaper, and praise her for thinking outside the box.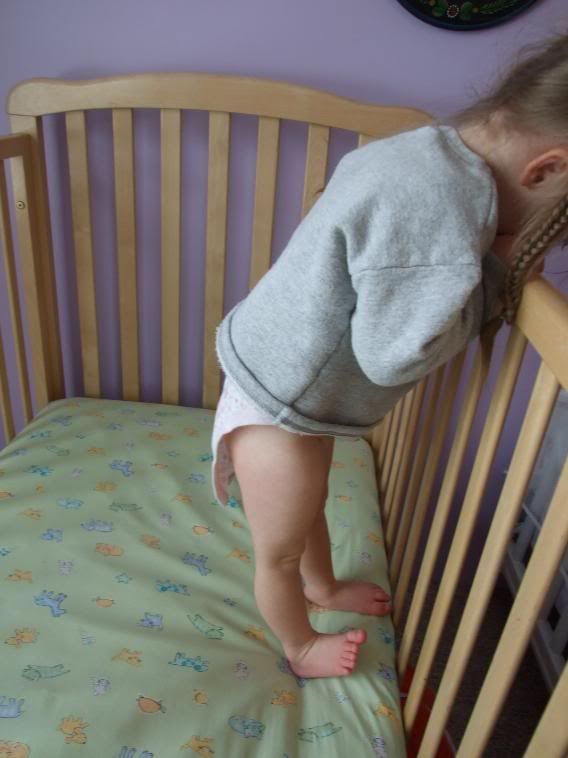 So we head downstairs. Here's the only shot I got today of Cecelia with cloths on...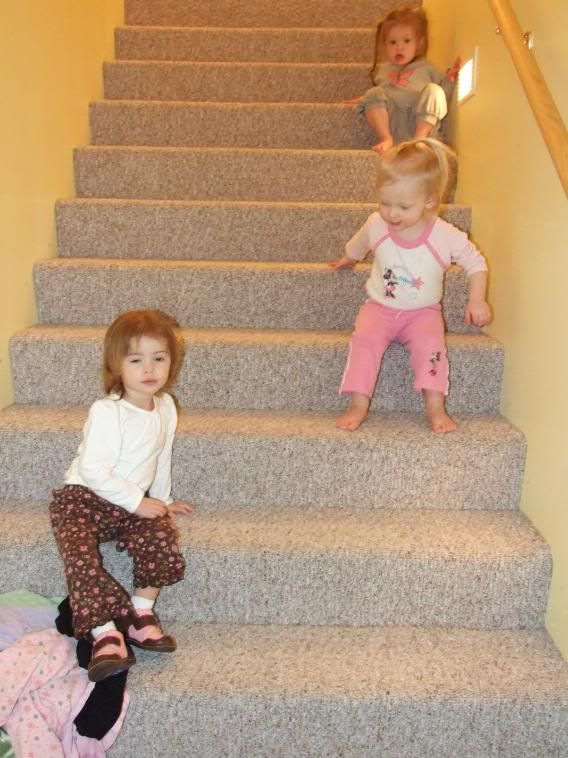 Mariah and Kendall play at the kitchen. I never consider installing chairs in our kitchen to use while I cook... I'll have to try it once.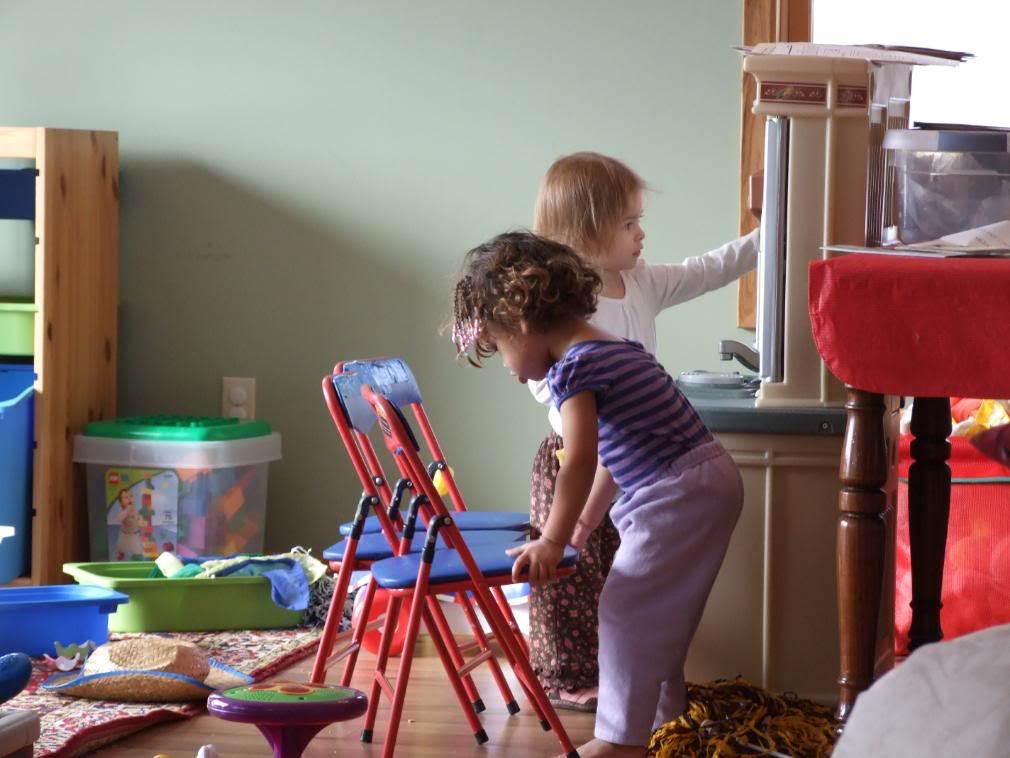 The girls play nicely with a ball, though it wasn't too long after this when it became cry-fest over who got the ball.




Mariah starts napping in our guest room, but recently, after sleeping for an hour, comes out to the living room, and falls asleep on the couch.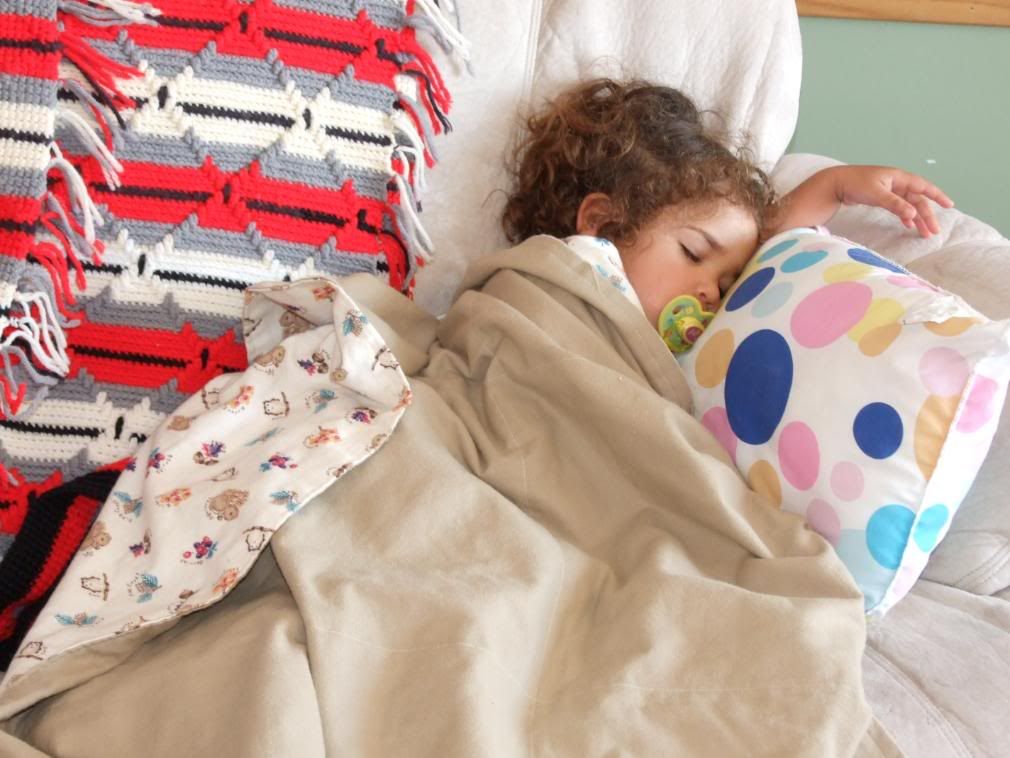 Cecelia has been napping real well in her bed lately. I thought she was going to fall asleep here, but was up and playing after a bit.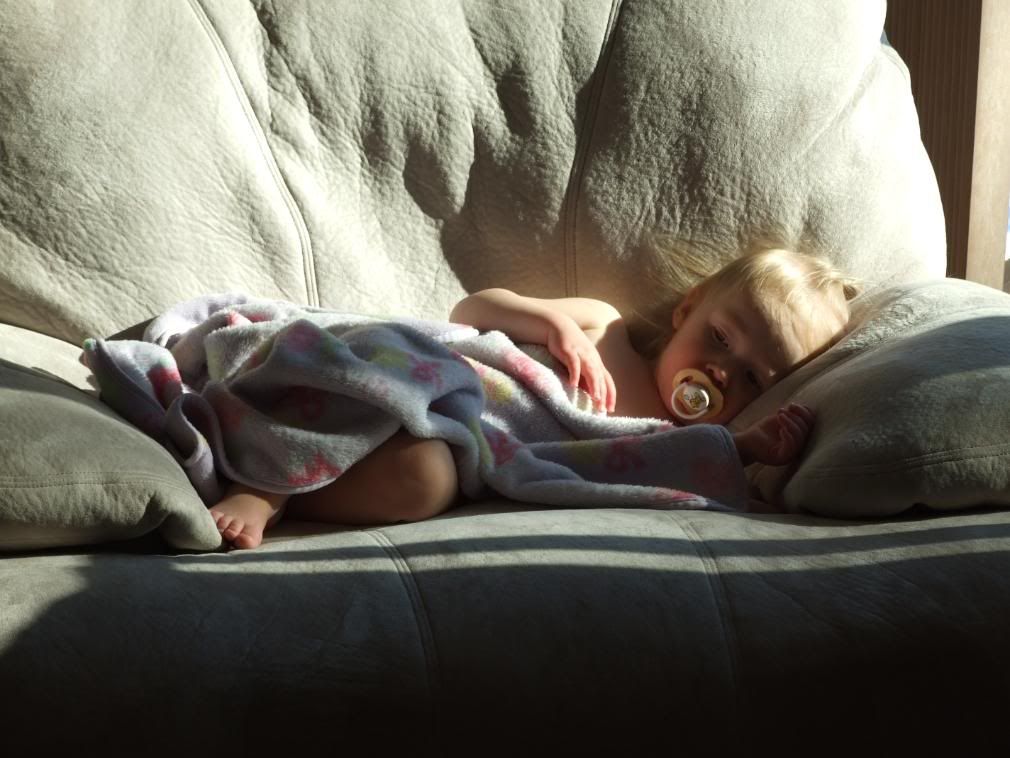 Friday, February 15, 2008
Just got the Laker...
And this picture was on the front page...
You can see Janet and Maeve in the background against the wall, and Cecelia a bit closer on the right with the yellow hat. They went to an ECFE event last week. Very cool!
Our new friend!
We are excited to have Kendall join us at Basso Child Care. You can see her and a nearly naked Cecelia playing with the Little People.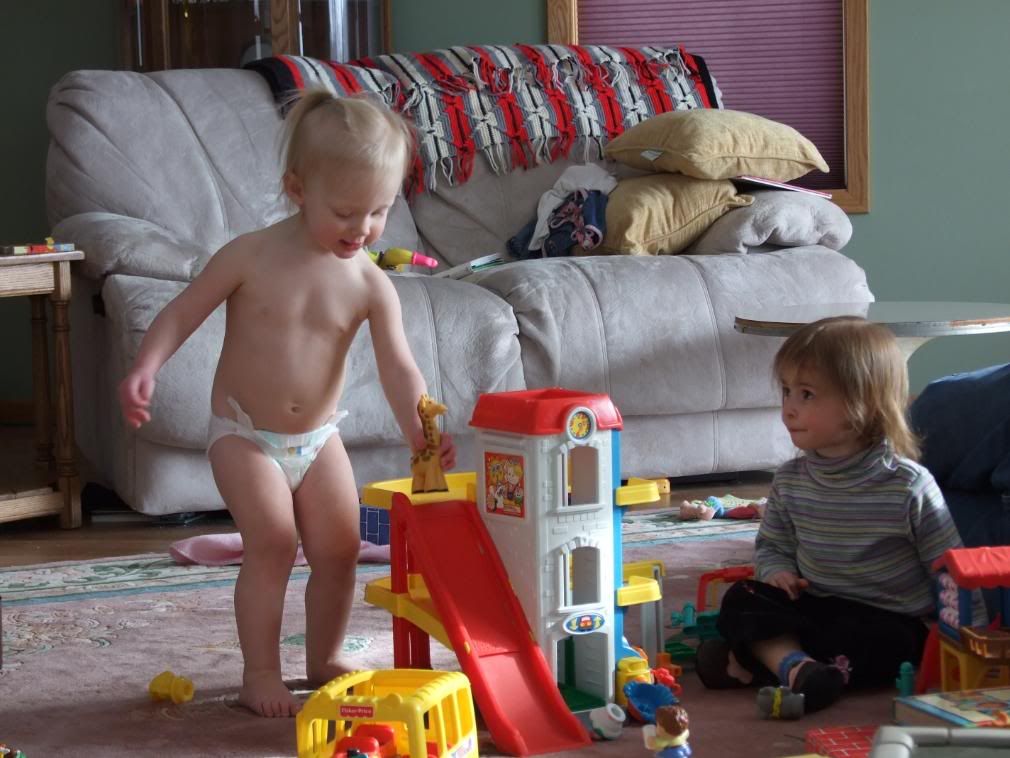 She's a great little girl, and plays very nicely.




Then she got a little sad, so she gets some George time... Mariah decides she needs it too...




Enjoying some Blueberries for snack.




Maeve checks out the view.




Kendall plays in the kitchen.




Janet's out scrapbooking this weekend... here the girls say "I Love You"




The girls are enjoying themselves here everyday!




Kendall decides the action hero needs lunch too...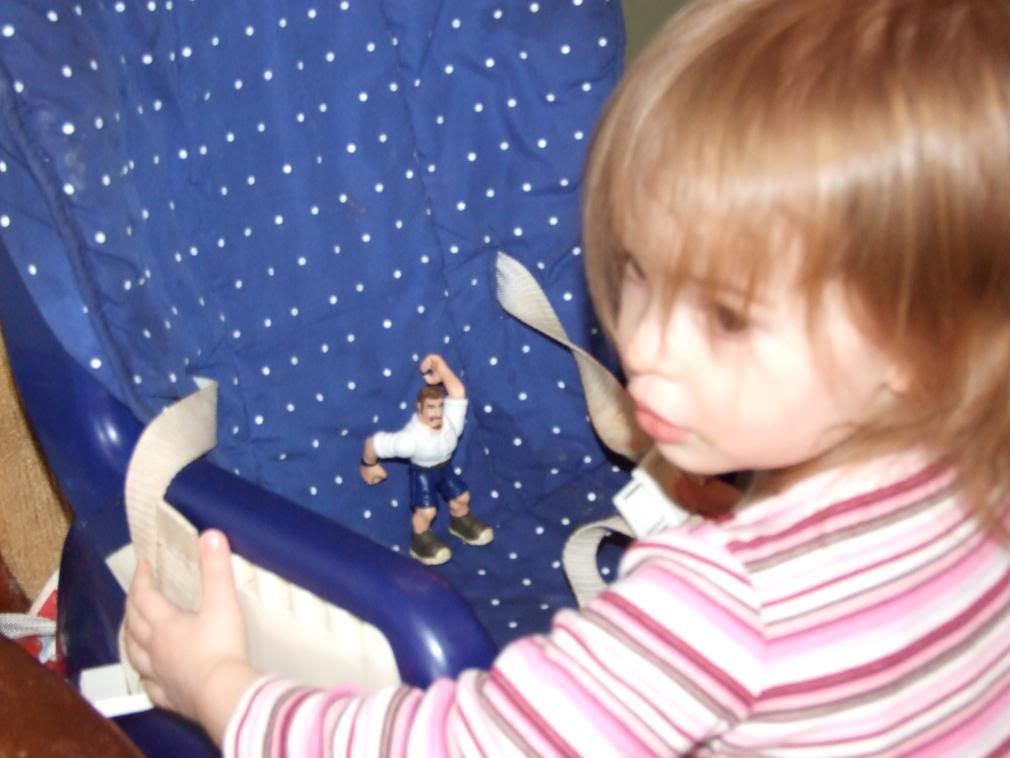 Thursday, February 14, 2008
Happy Valentines Day!
Thursday, February 07, 2008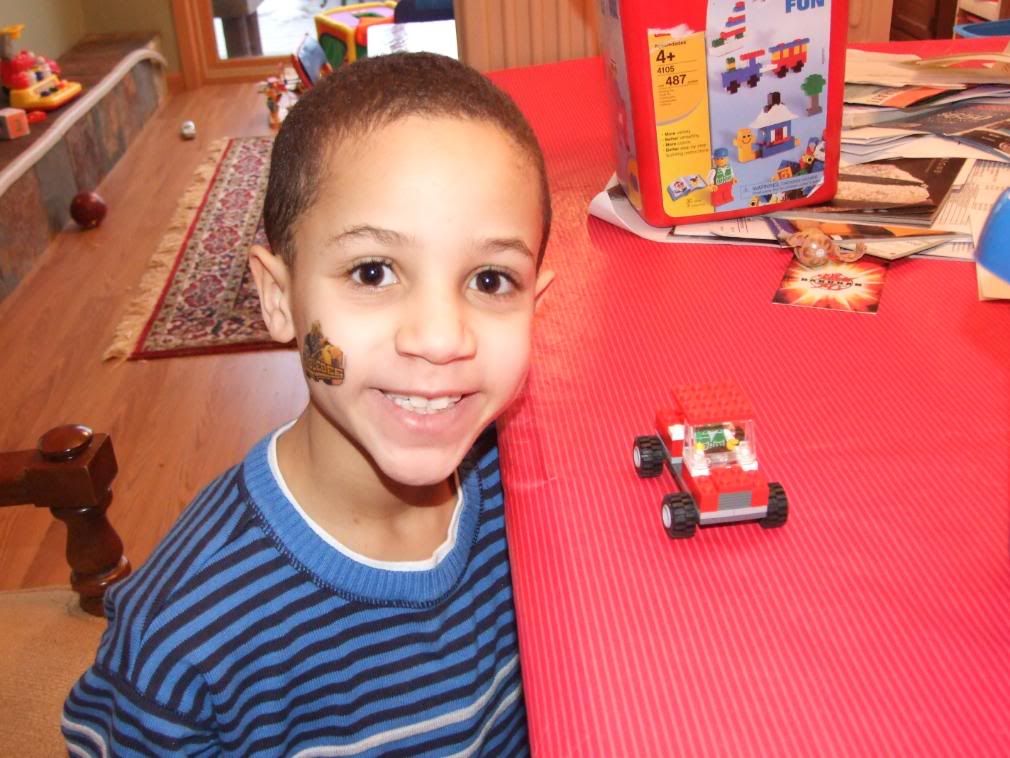 Almost everyday, after lunch, it's Polka time!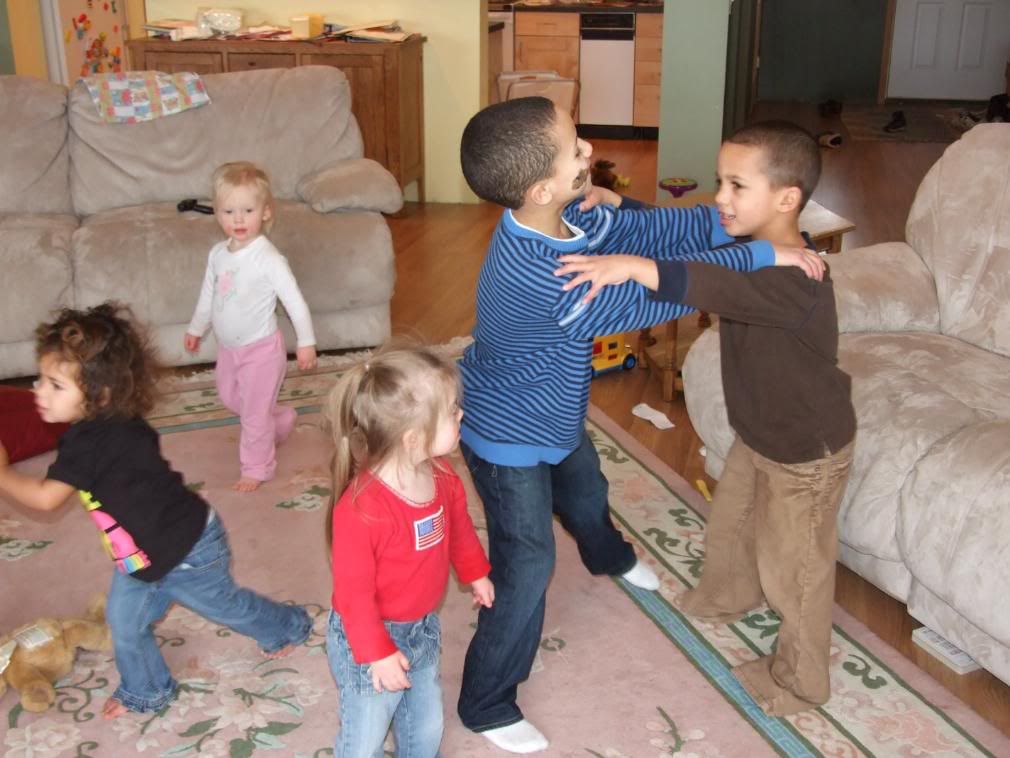 I've been working on colors and counting a lot with the kids lately. They've enjoyed the flashcards.




It's fun when you see the kids actually growing up. Cecelia and Mariah have been constantly in each others hair, taking toys from each other, which leads to pushing, hitting and pulling hair. One object of these fights often are these straw hats. When one has one, the other one has often tried to take it, where I've stepped in, and have tried to explain there are two hats, and if they want one, they should go find the other one.

We finally had a breakthrough last week, when I heard a protest between the two from across the room, and saw Cecelia had tried to take the hat from Mariah. Mariah grabbed it back from Maeve, then magically reached into the toy bin next to her, grabbed the other hat, and offered it to Cecelia, which 'lia graciously accepted. I grabbed the camera so you could see the result a minute later. Aren't they cute?!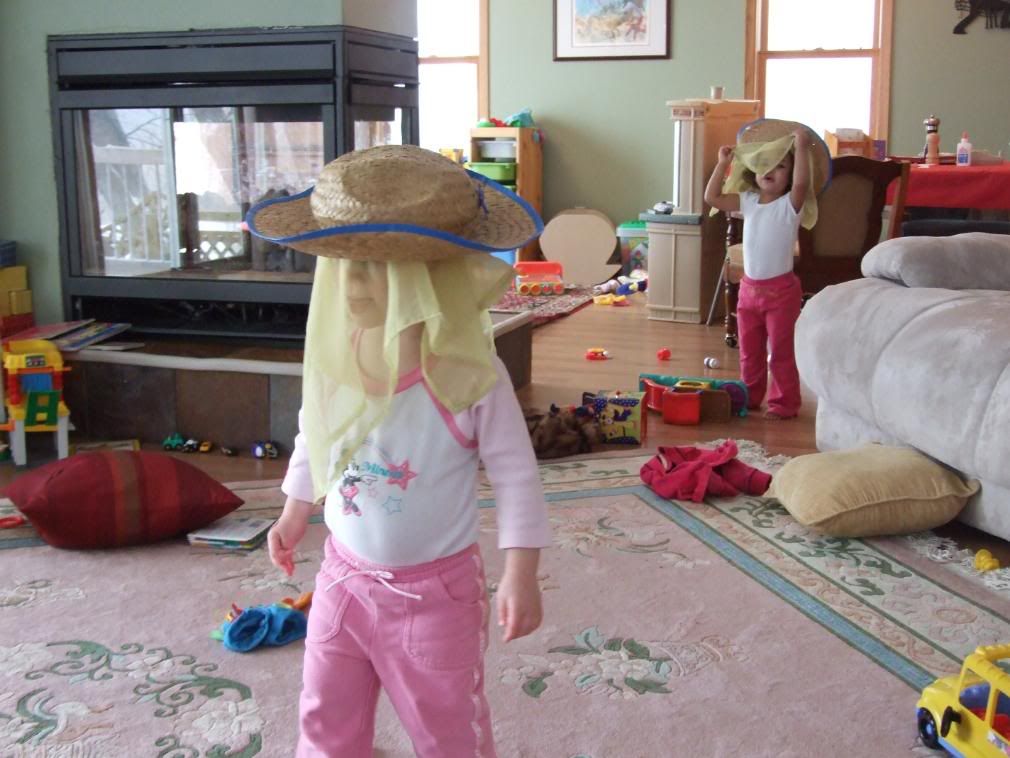 Some fun time with Mr. Potato head and friends.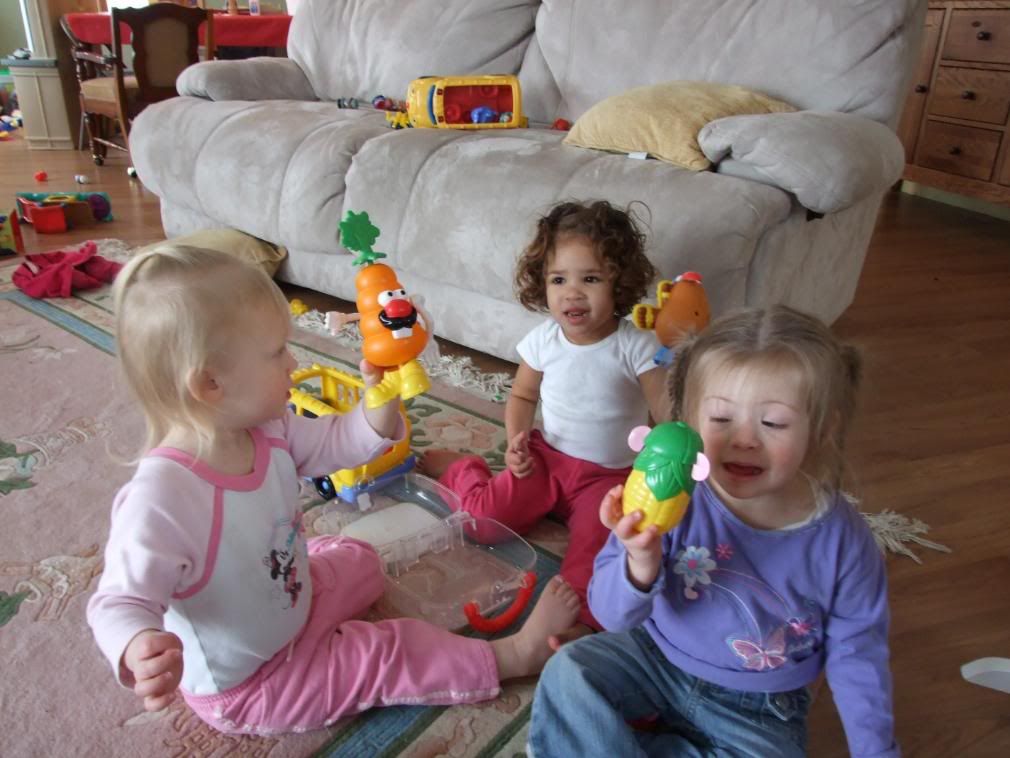 I try to take the kids outside for a while, but it's been so cold, that those times have been few and far between, and getting them all bundled up it quite a hassle. Here they are with all the necessary clothes as we are about to get dress... about 2:45PM




Here they are finally outside, and bundled up, at 3:25. We were back inside by 3:45. Oh well.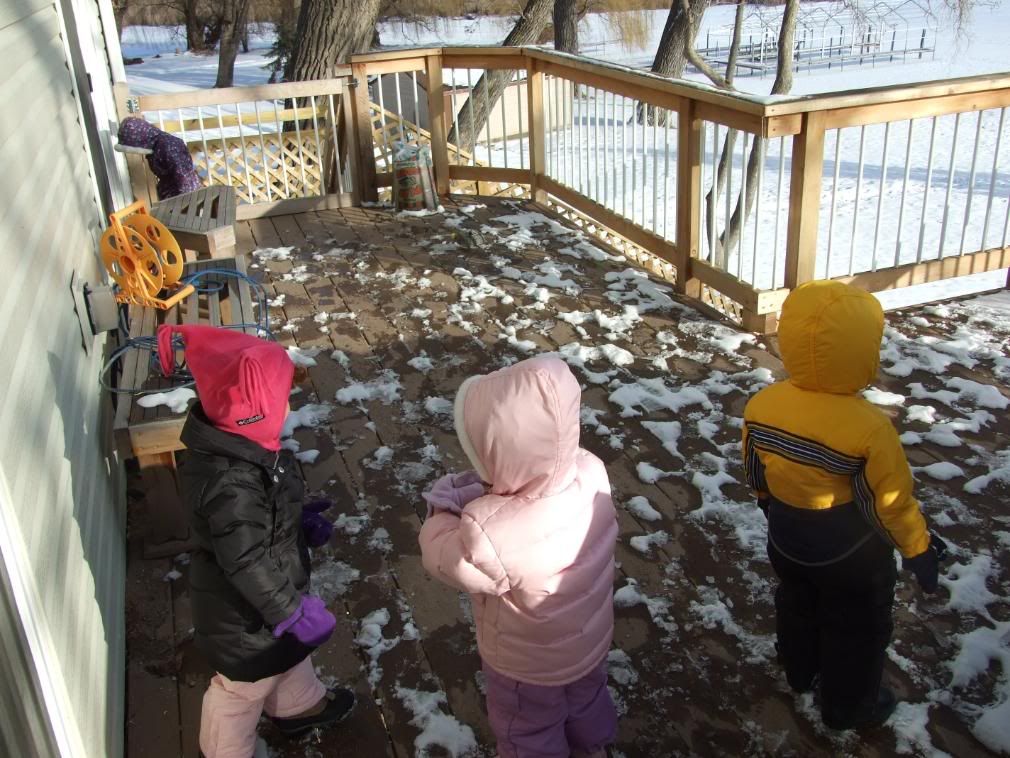 Times in the Linkert household
Picked up these cool building blocks for the kids at the child care. The girls and I tried them out... I like stacking them.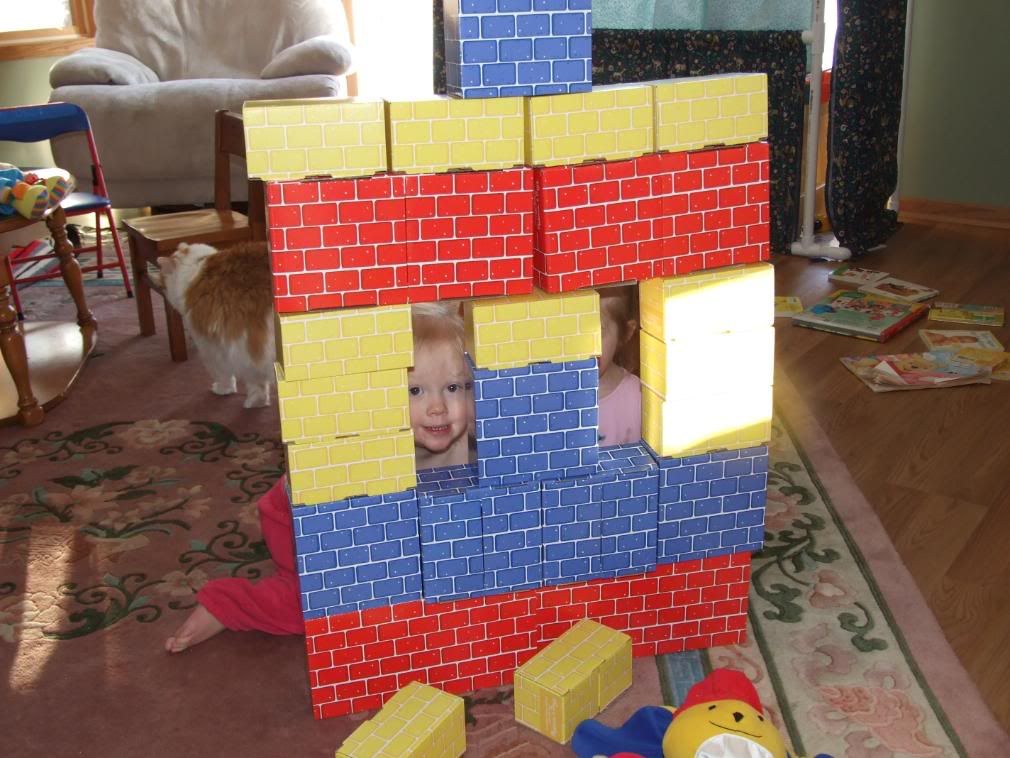 Maeve likes knocking them down.




'lia and I ponder the fallen blocks.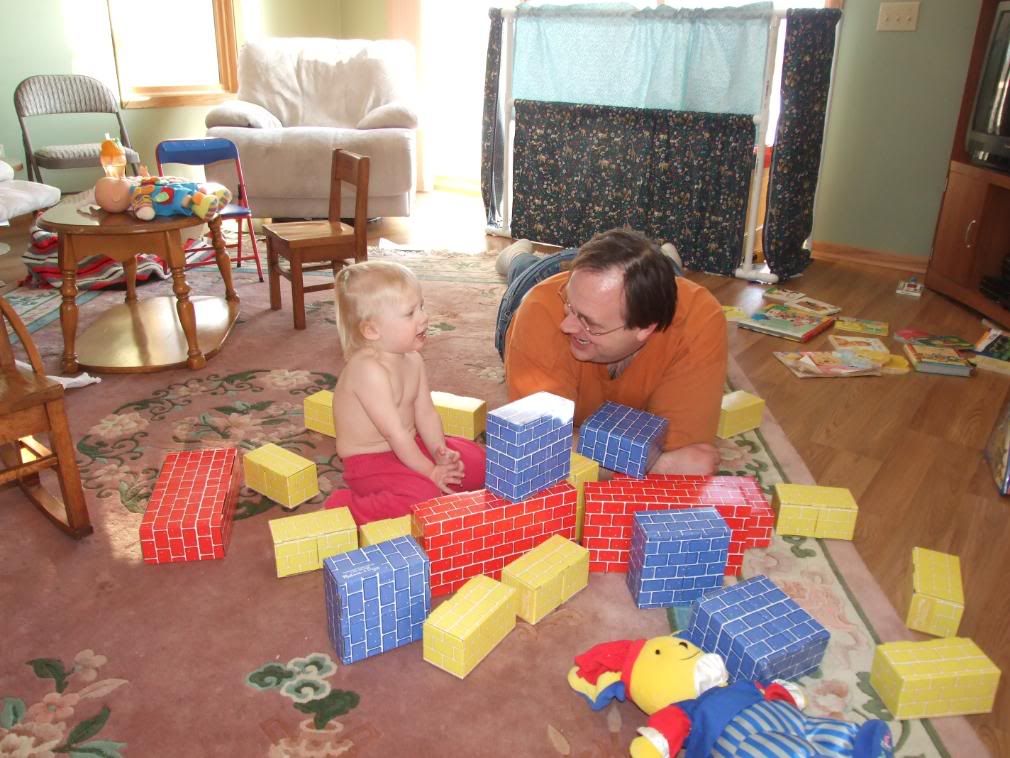 Sisters.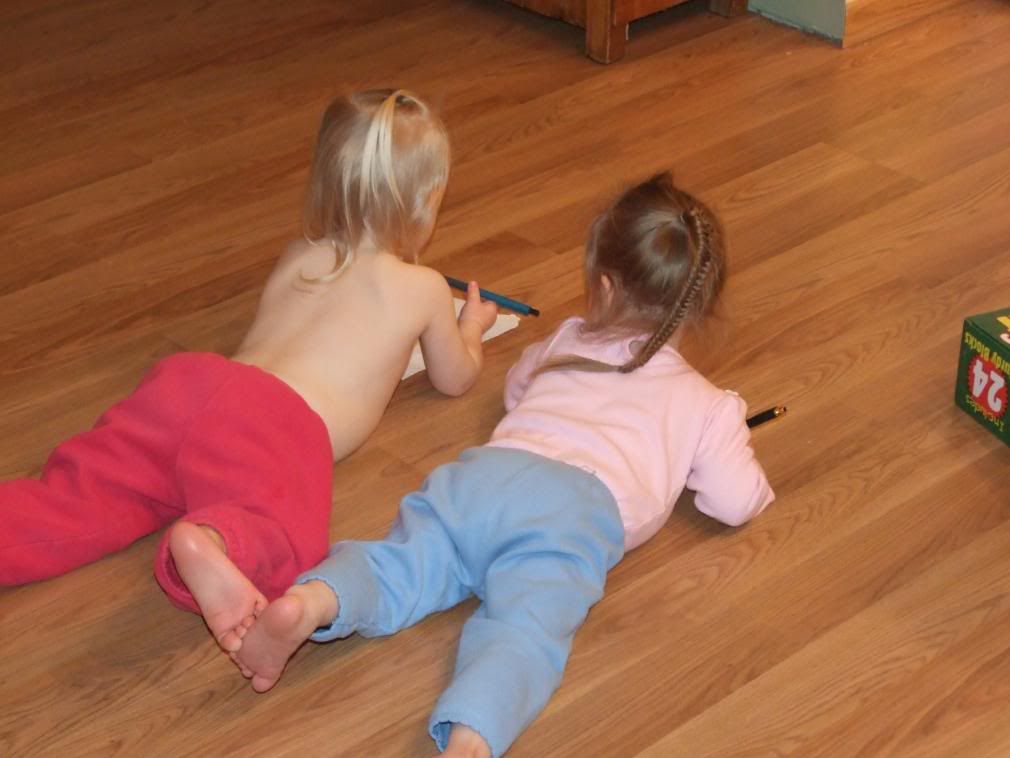 Went to Rock the Cradle last weekend... and we danced.




Played a little harp.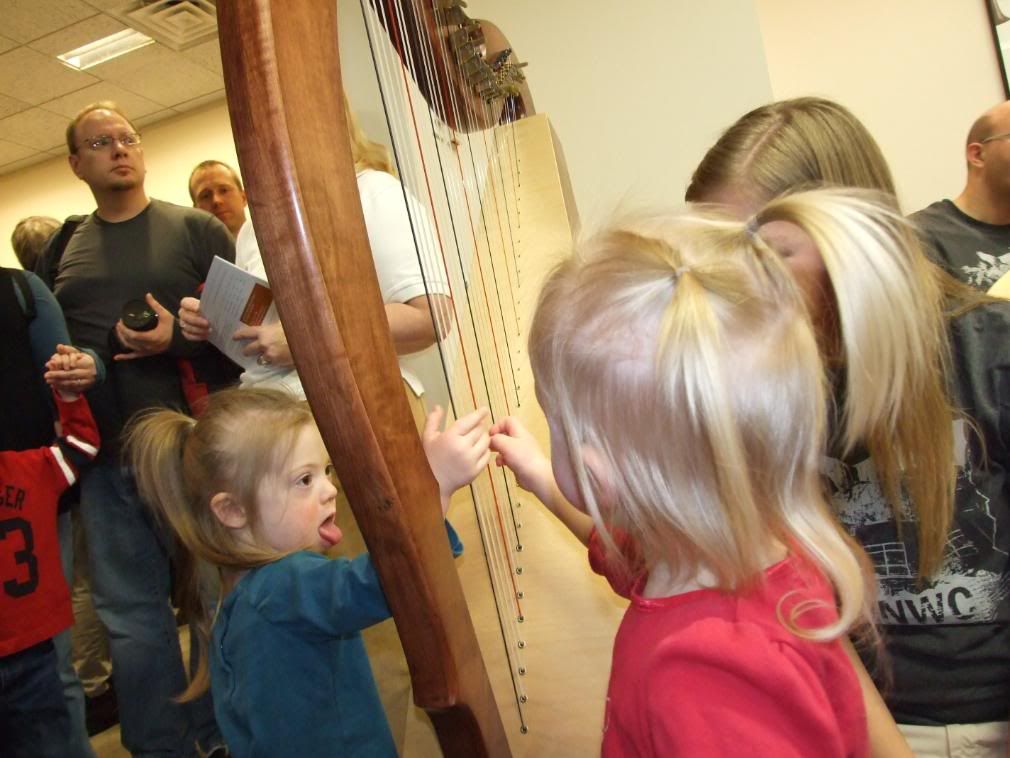 I got to tell my favorite Bass Clarinet joke... What the best use of a Bass Clarient's bell? It's a great place to keep the ashes of the rest of the instrument.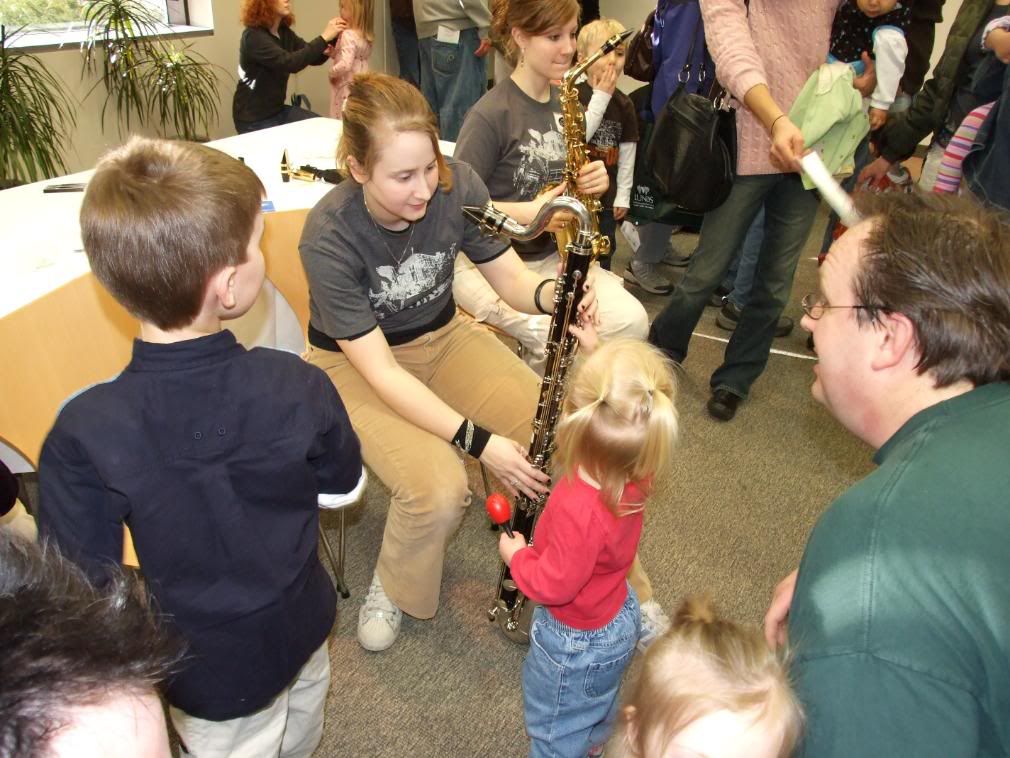 Cecelia tries some percussion techniques. She's holding it correctly, but hitting the triangle on the wrong side. How embarrassing.




Maeve found her way to the drum set entirely on her own... I dragged her away as quickly as I could.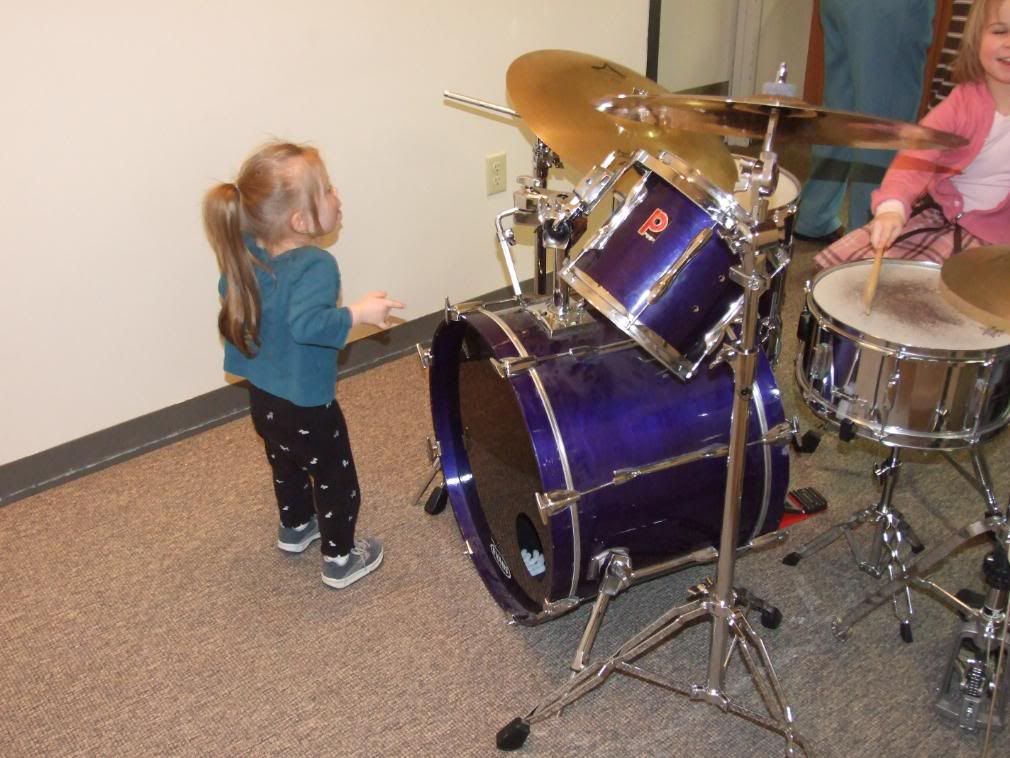 The Burfeinds came over, and covered Maeve and Steerforth up.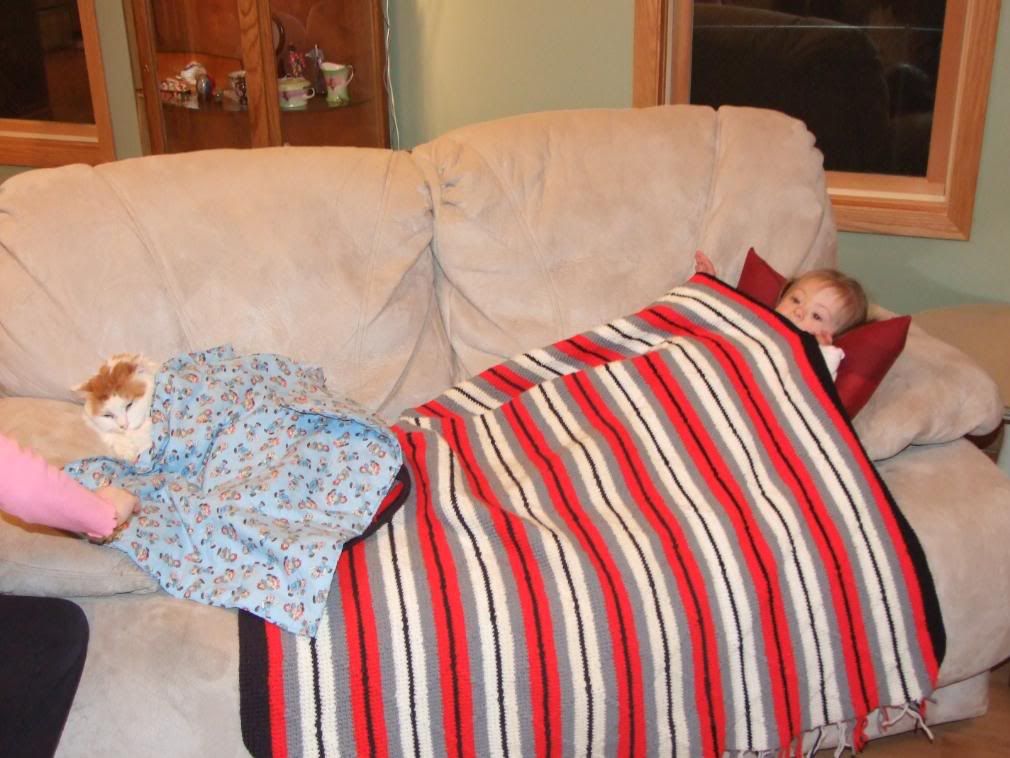 Then they wanted to get in the action.




Now Cecelia realizes that she's missing out.




We decide to do up some Valentines.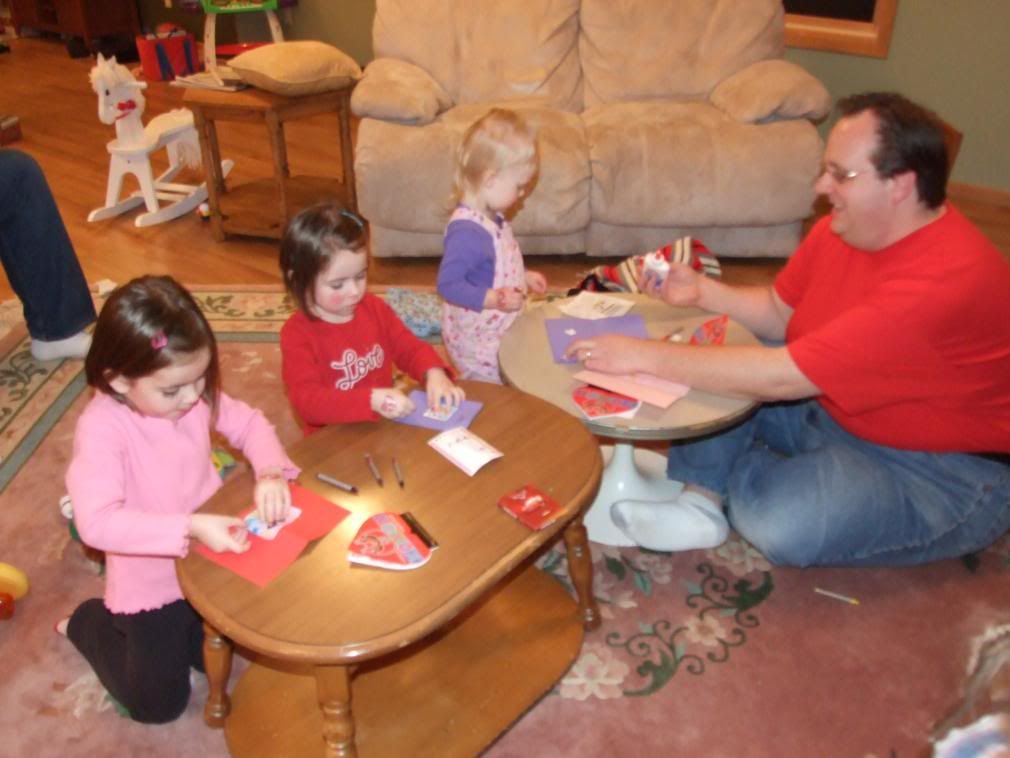 Everyone hard at work.




Hans just watches, trying to keep sitting up.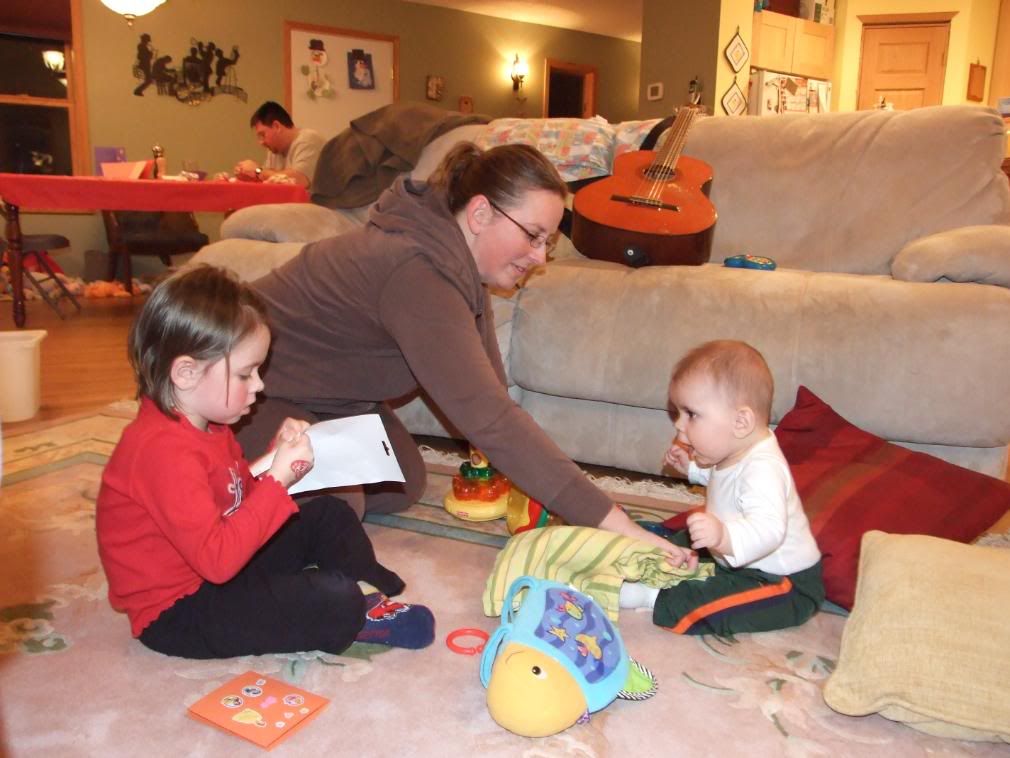 Jon is working very hard on a Valentine for someone special...




Cecelia gives Hans some love.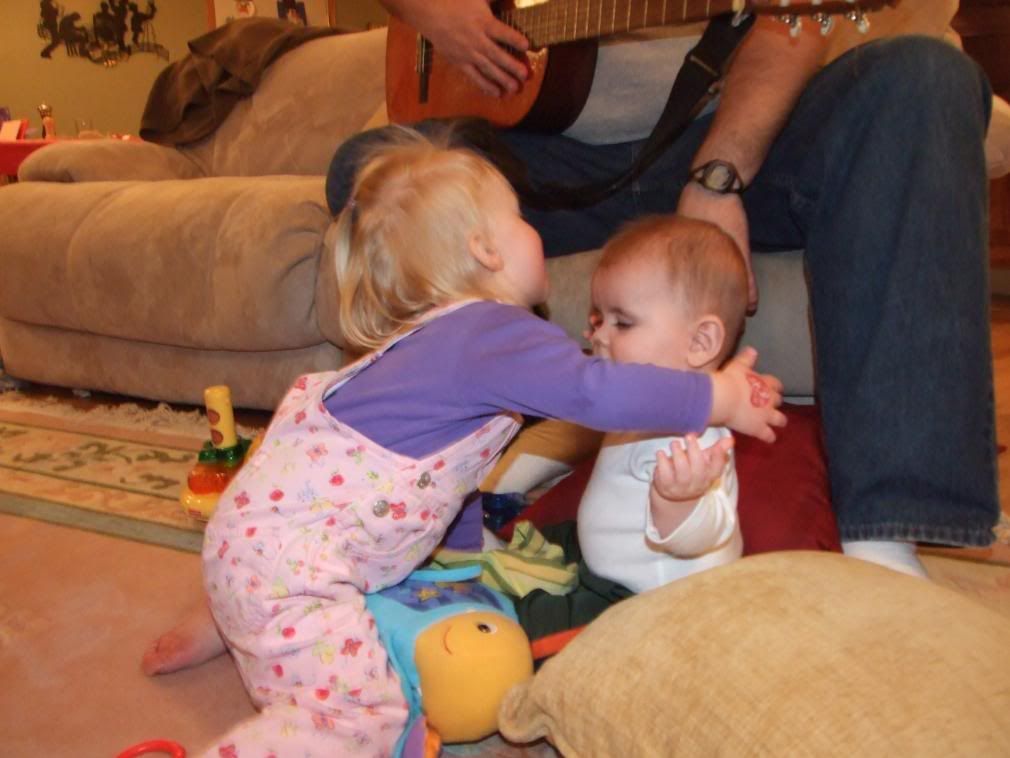 Maeve and her aunt read a book.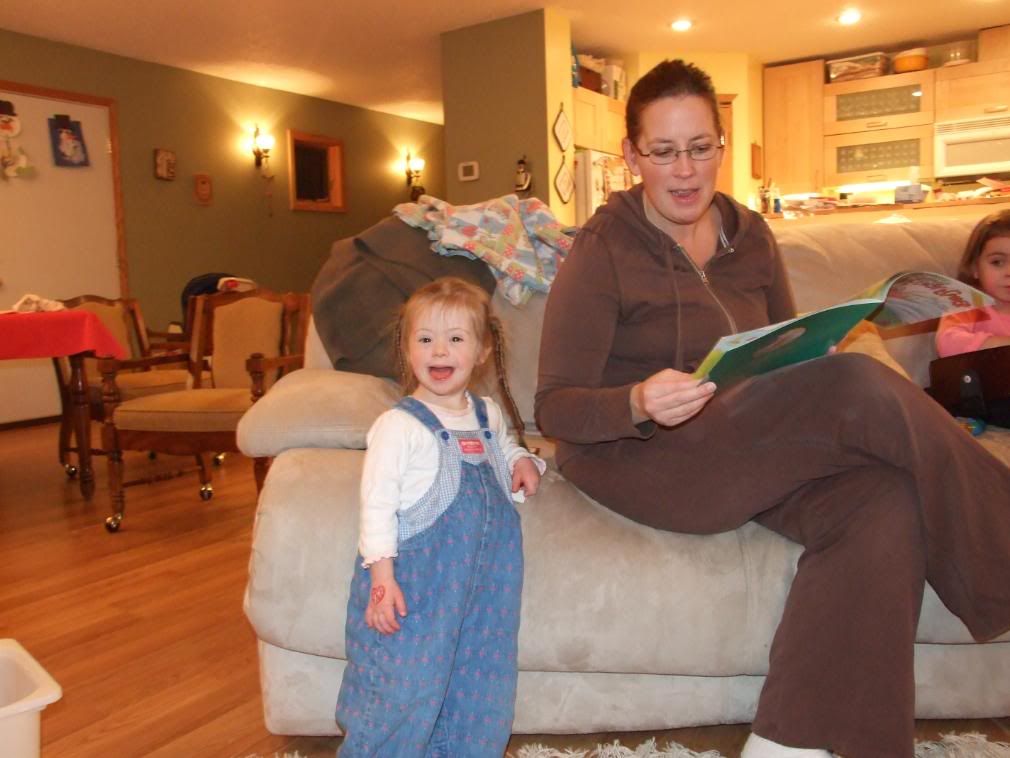 It's winter here... and we're just trying to keep warm!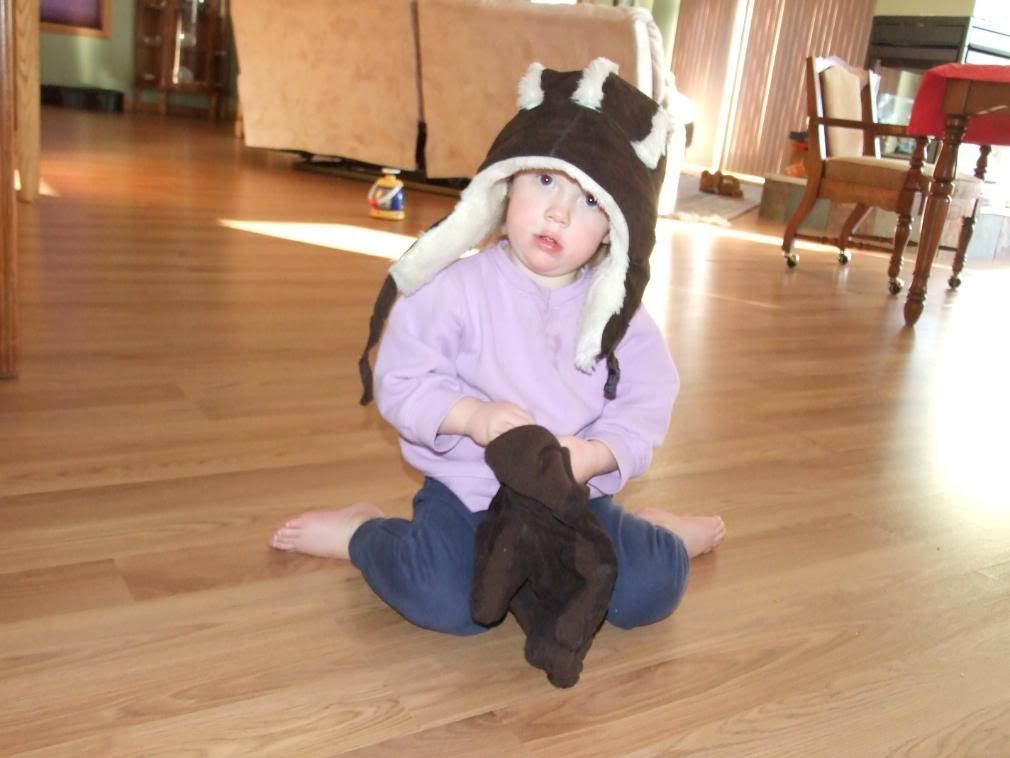 Subscribe to Posts [Atom]