Sunday, December 30, 2007
Christmas in Binghamton
Finally back from our trip... here's a recap...
We left Friday night, and drove all the way to Evanston IL by early Saturday morning. Thankfully the Urbans were up, and had the coffee ready, and toasted some bagels for us. We spent a couple hours there, but failed to take any pictures. The girls started getting tired, so we packed them up, and headed for the next stop.
We got to Portage MI about noon. Janet's friend from college, Erin and her family, lives there. We visited there for a couple hours more. Here we finally got a nice picture.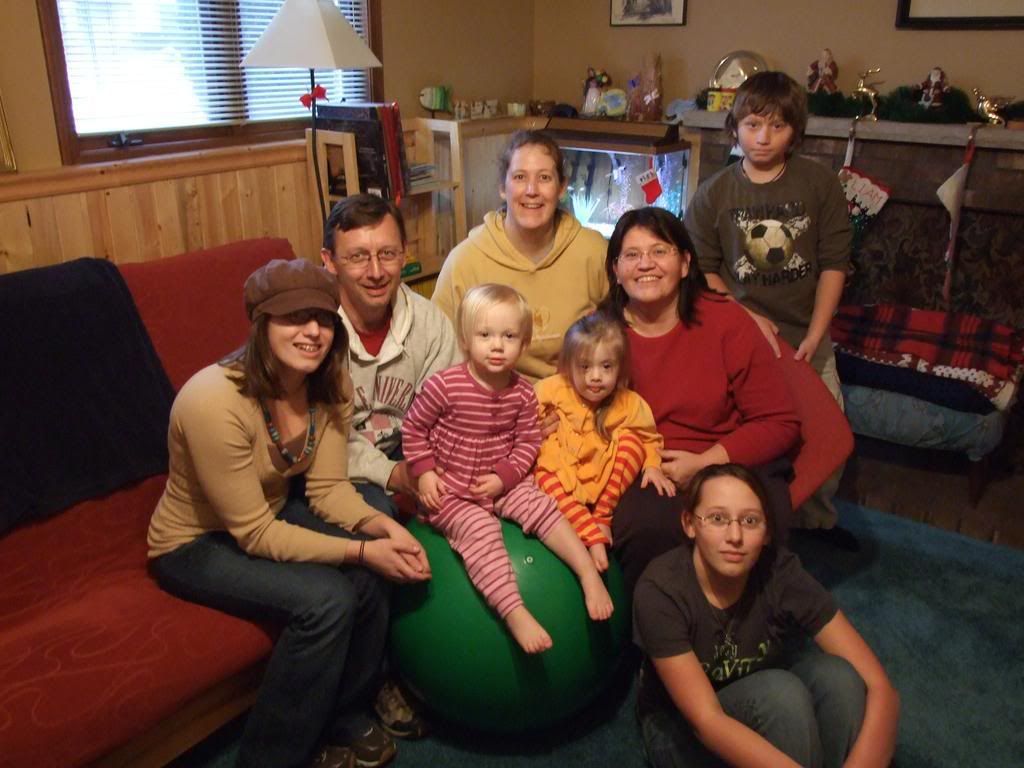 We then left Portage, to reach our next and final stop for the day, Brighton, MI. The only thing to mention here was that we got off the freeway breifly where we thought a McDonalds was. Not finding it, Janet attempted to turn the car around in a gravel lot, and we got stuck in some mud. Fortunately a guy with a tow rope, and a 4X4 truck came along and pulled us out.

Trudy, a cousin of Janet's lives in Brighton, with John, and their 3 year old, Kalista. We spent Saturday night there, and all of Sunday. They had a beautiful home, with lots of fun toys for the girls to play with. The last time we saw Trudy and John was Janet and my second date... so it was fun to see them.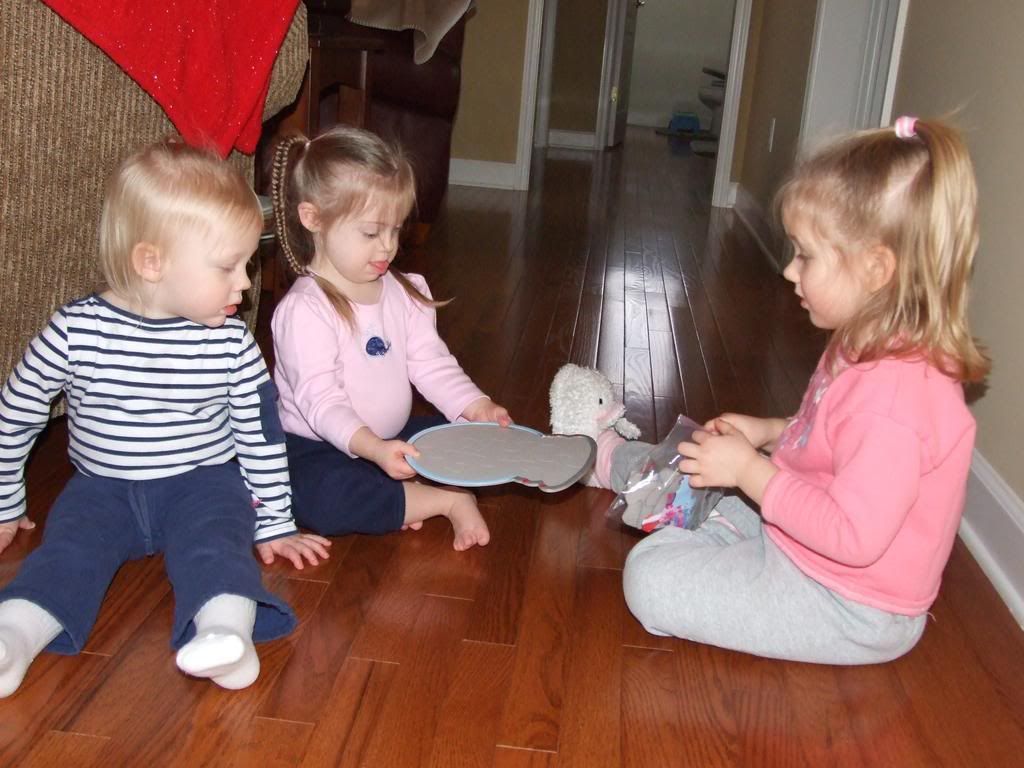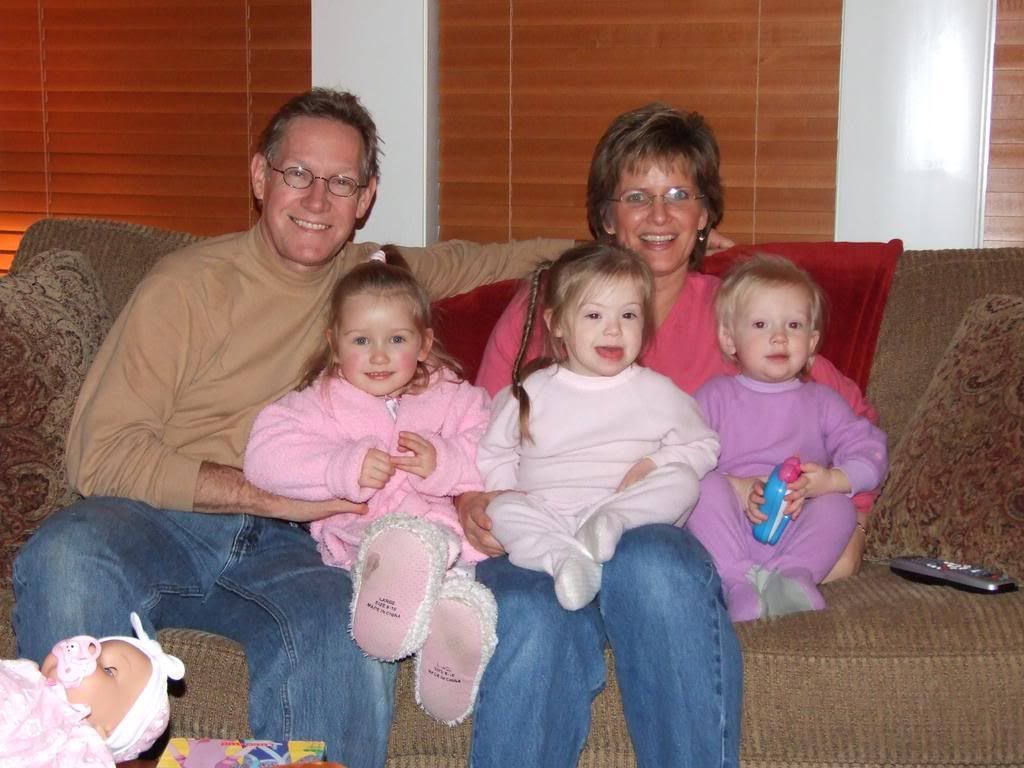 Then we put the girls to sleep Sunday evening, packed the car up, put the sleeping girls in, and headed out for what was to be the next big leg of our journey, through Canada, to Binghamton NY, where Janet's sister, Mary and her family lives.

This was where the weather was the worse for our trip. Lots of snow falling. Getting back through customs into the US, and it seemed to be getting just a little worse, and I told Janet that I wasn't sure if it would be a good idea to keep going. But moments later, it started letting up, and then we were driving a nice clean roads. Whew!

So a couple hours later than planned, but still Monday morning, Christmas Eve, we reached Binghamton. The Andersen's had Apple Skivers all ready for us to enjoy! (Cecelia really DID enjoy them!)




We got dressed up for the Christmas Eve service. Here are the girls with Emily and Max.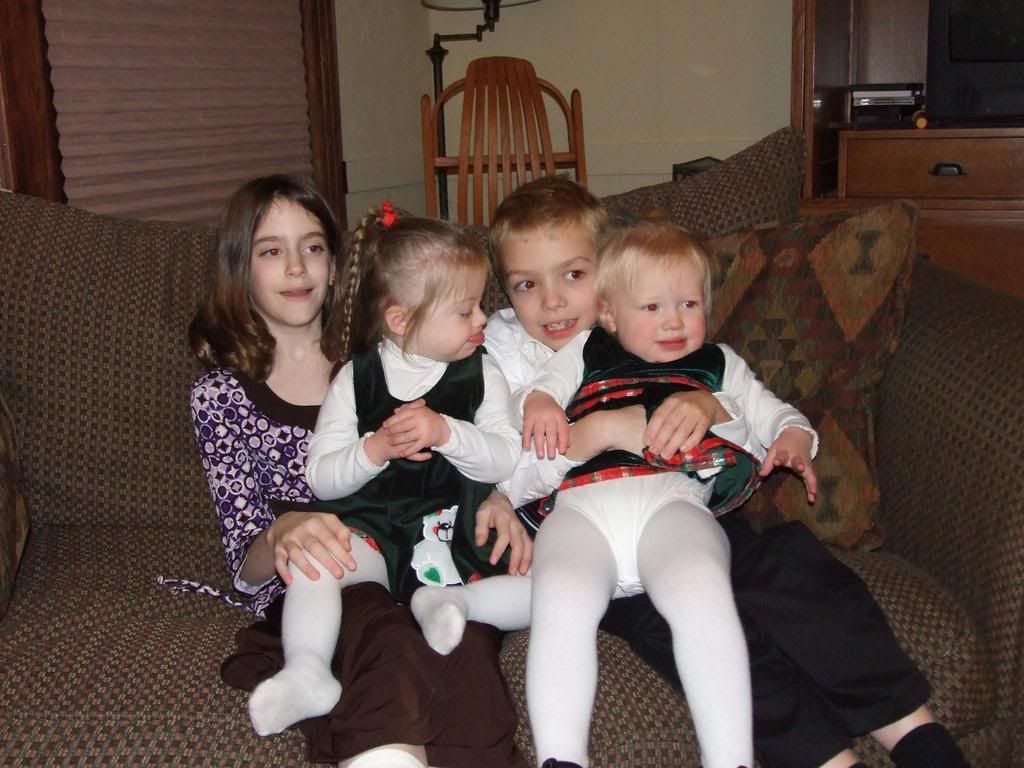 Christmas morning, Tuesday, where we found presents!




Maeve enjoyed playing forts with Uncle Tim on the couch.




It's getting to be nap time for Cecelia. The naptime routines were different than what we were used to back home, which is ok because naptimes at home the week before we left were going bad anyway. I have typically been napping Maeve in her bed in the girls room, and Cecelia in the pack 'n play in the guest room. Cecelia had discovered that she could climb out of the pack n' play, making her naps very difficult. So for the trip, we just ended up laying in bed with the girls until they fell asleep.




Cecelia demonstrates her climbing out of the pack 'n play ability.




For Christmas, the Andersen's got a Wii (the most recent version of Nintendo). Max, Emily, and I enjoyed it.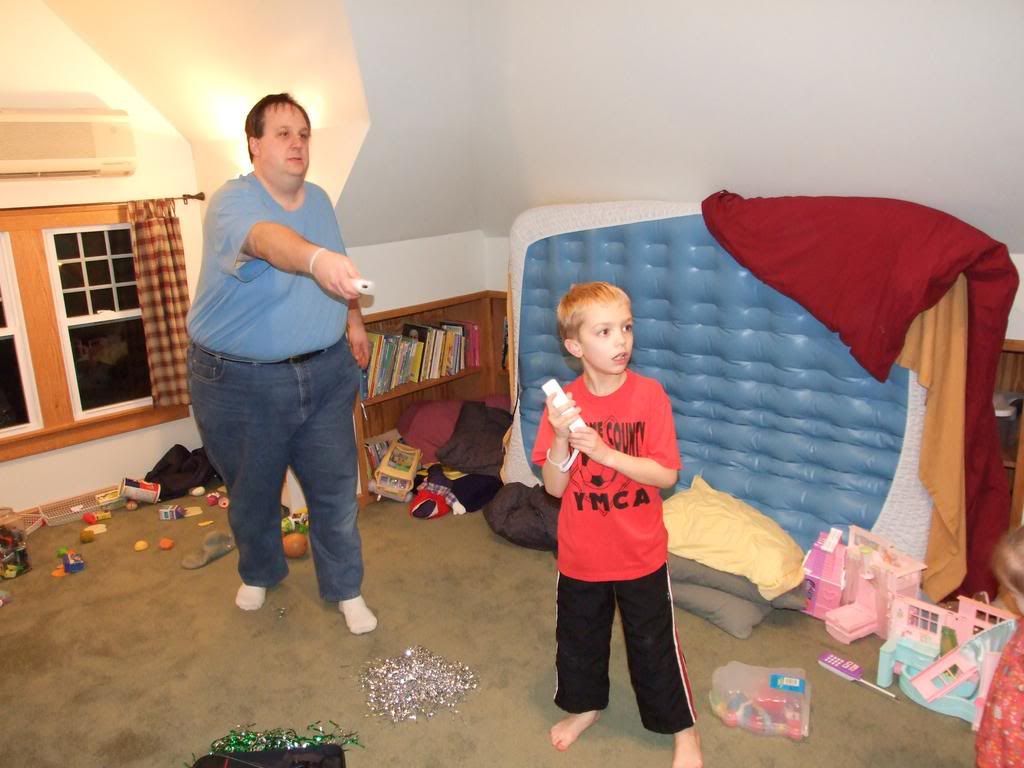 Wednesday, the day after Christmas, Mary took us to the Binghamton Discovery Center, where there was a reading garden she help put together.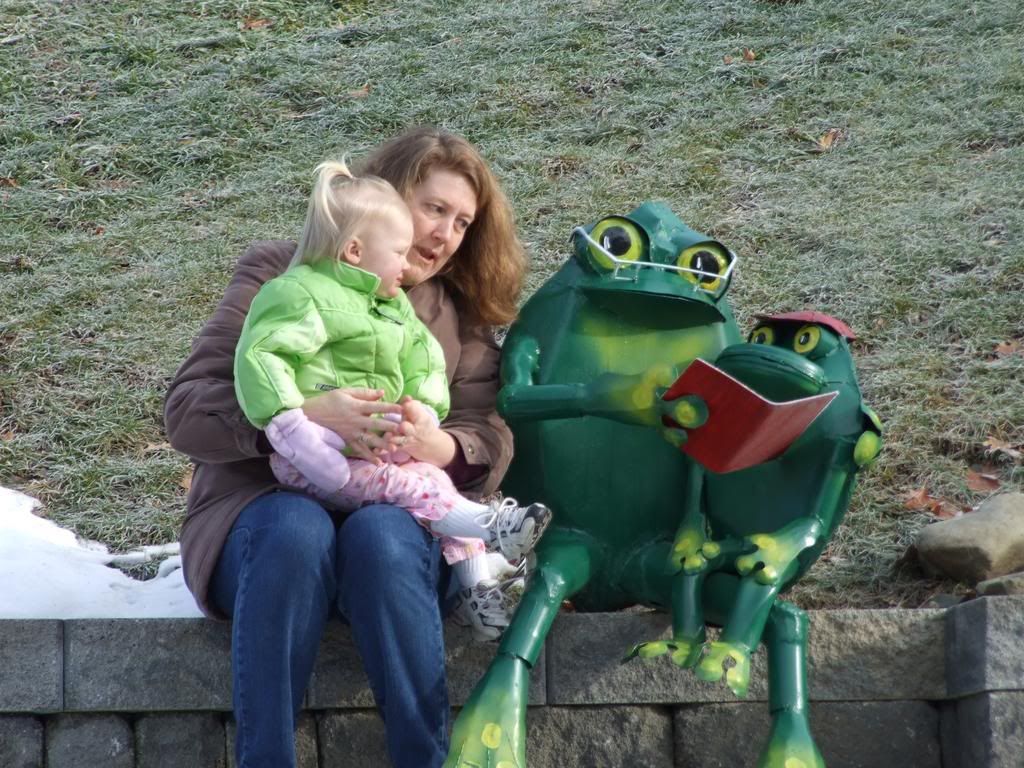 Cecelia checks out the Secret Garden.




Here's the Discovery Center, with lots of fun activities inside.




Maeve discovers the fun mirrors.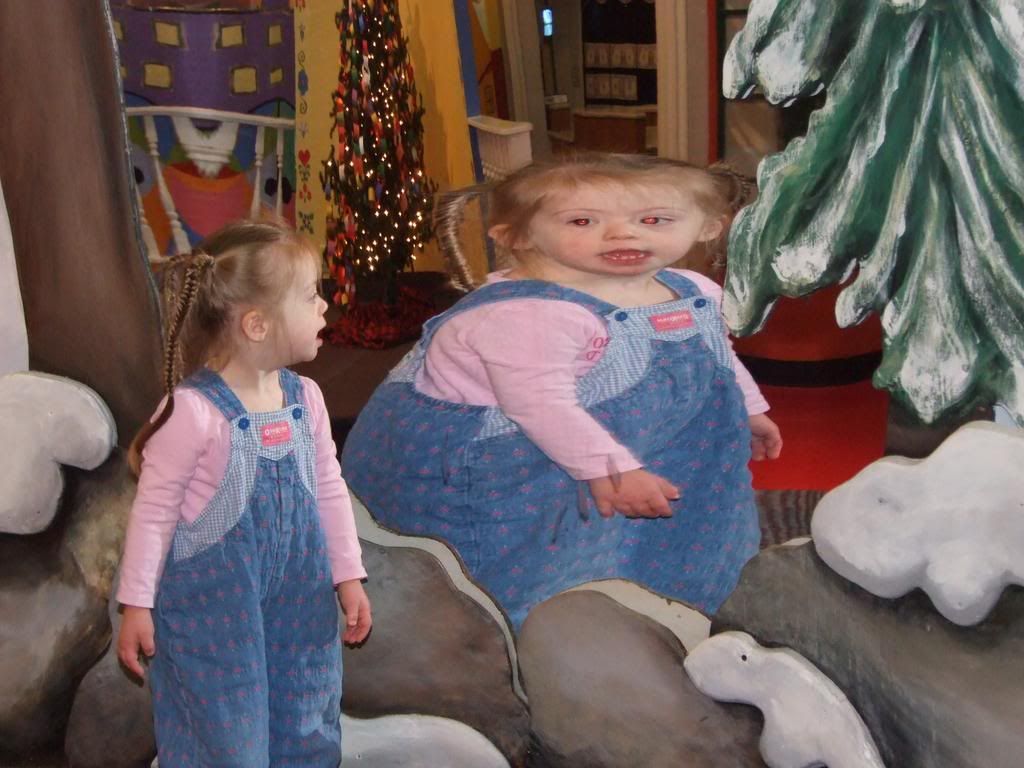 Max and I play at the bank.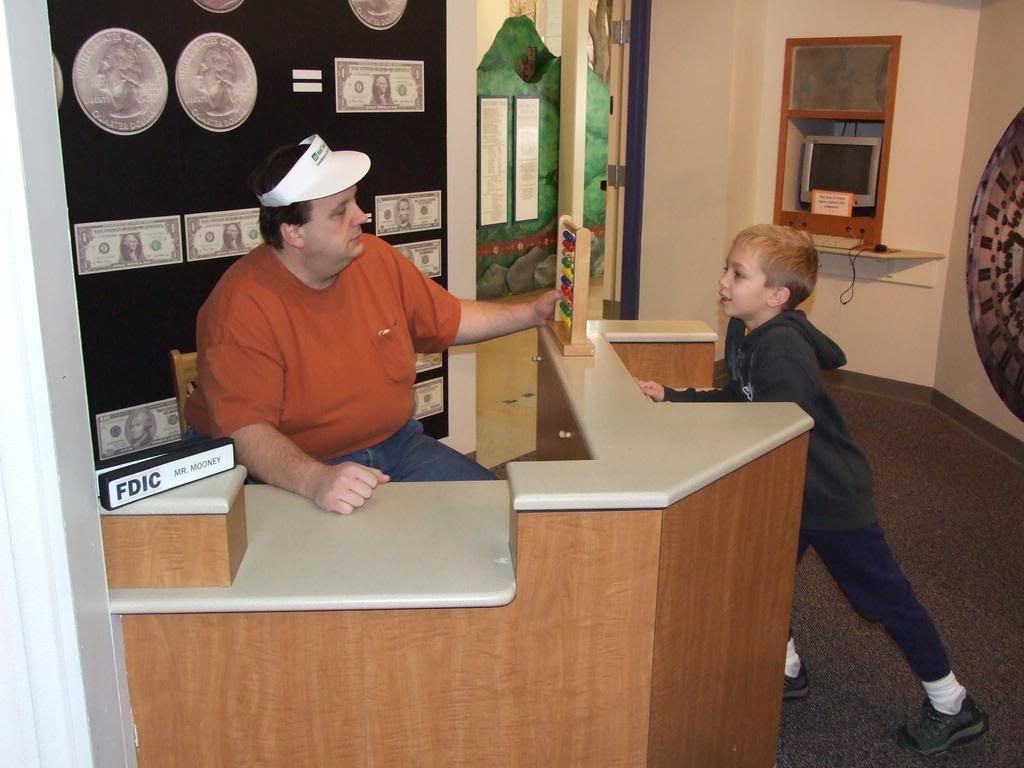 Wednesday evening the Andersen's made a cake, and we celebrated Maeve's birthday.




Emily and Cecelia enjoy the cake.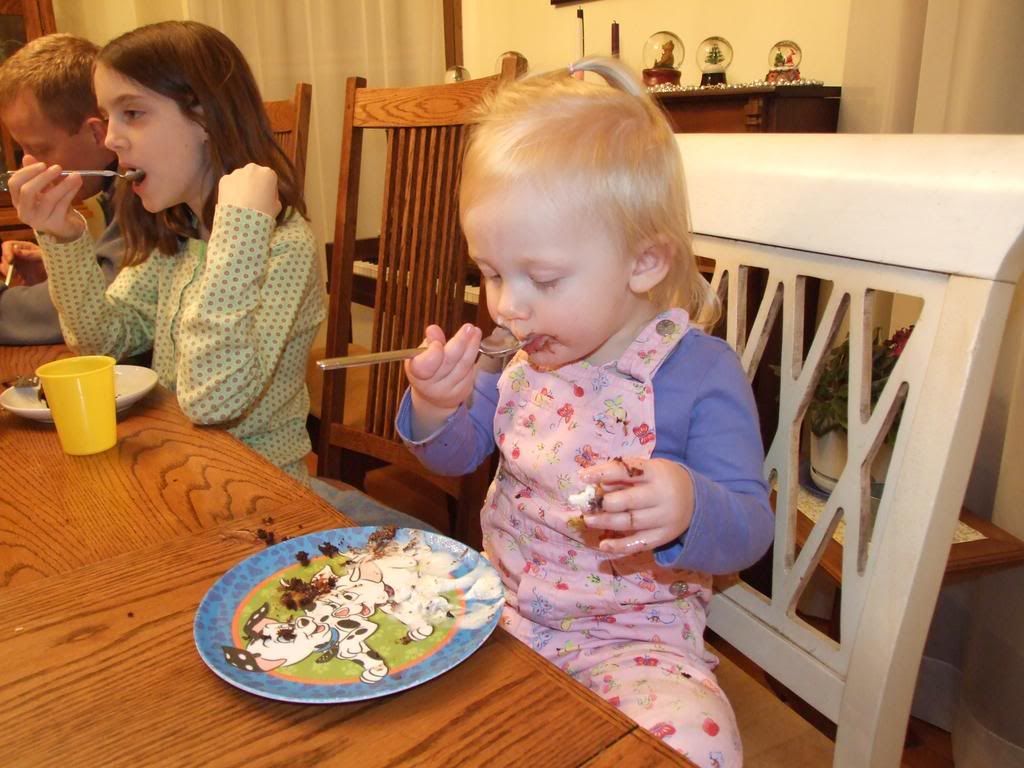 Maeve got some puppets for her birthday, which go great with the puppet theater Janet made the girls for Christmas. Here Emily gives a show to Maeve.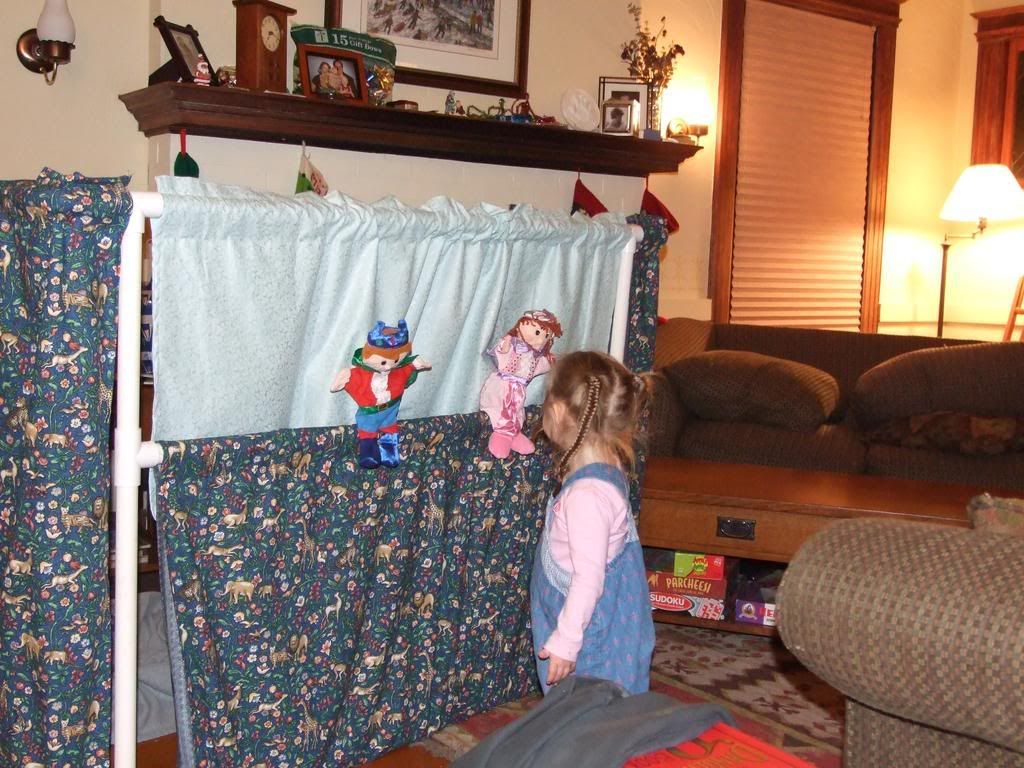 So we left Binghamton after lunch Thursday, and headed to Buffalo, NY. Janet's friend from college, Tracy, lives there. We met her at a mall, enjoyed supper, let the girls run loose, and headed for the next big leg of our trip, Chicago.




So Back across Canada, which had better weather, however going through customs took longer because of all the traffic. We got to Chicago about 6AM Friday morning. We decided to spend the day here, and got a hotel room. We went to the Lincoln Park Conservatory, where their Christmas light and train show was still on display. Very cool.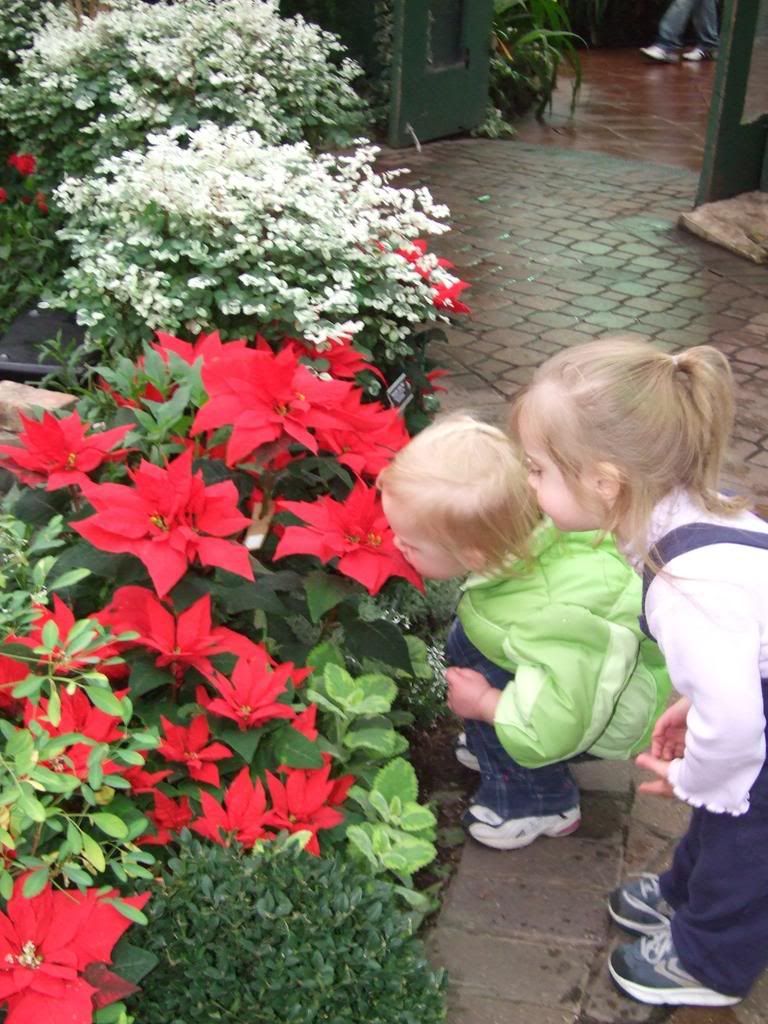 Over the holiday, Cecelia and Maeve got real good on stairs, practically walking up and down them now.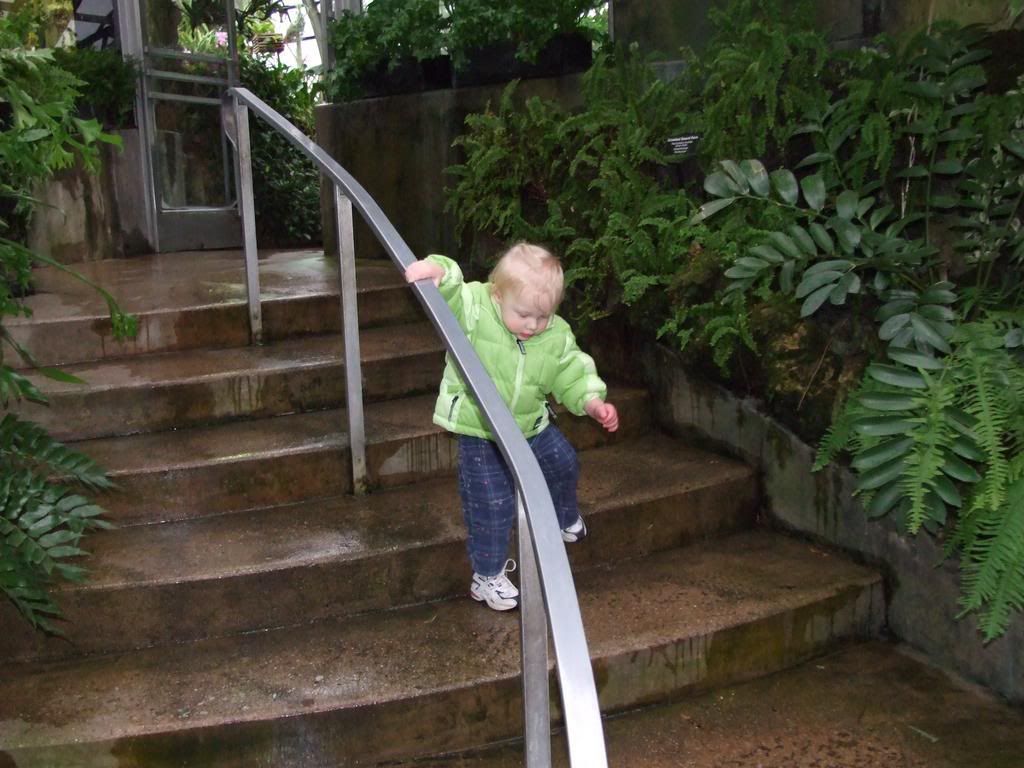 We got to the Notebaert Museum so late, they just let us in to let the girls run around for a half hour.




Then back to the hotel to lay down and sleep for a bit, then packed the girls and stuff up at midnight, and headed home for our last journey. We got home about 7:30 AM.

We had a great trip! Driving at night, while the girls slept worked better than I ever hoped. It was fun to see our friends and family. We really appreciate the use of my parents car. We were all set to take our station wagon, which probably would've worked fine, but it was nice having the security of a vehicle under warranty, and the extra room was nice too!

We also want to thank our neighbors, the Murphy's for taking care of the cats.

And lastly, thanks to our other neighbor's the Asao's for loaning us some Audio books, and their GPS, which was incredibly cool, so cool, if someone were to ask me what I wanted for my birthday, a GPS, or a Wii... I would probably take the GPS.

When we got back, we opened up the toy tool bench that the Denenny's sent us. Very cool, thank you!




We also got some fun use out of the box... where did Cecelia go?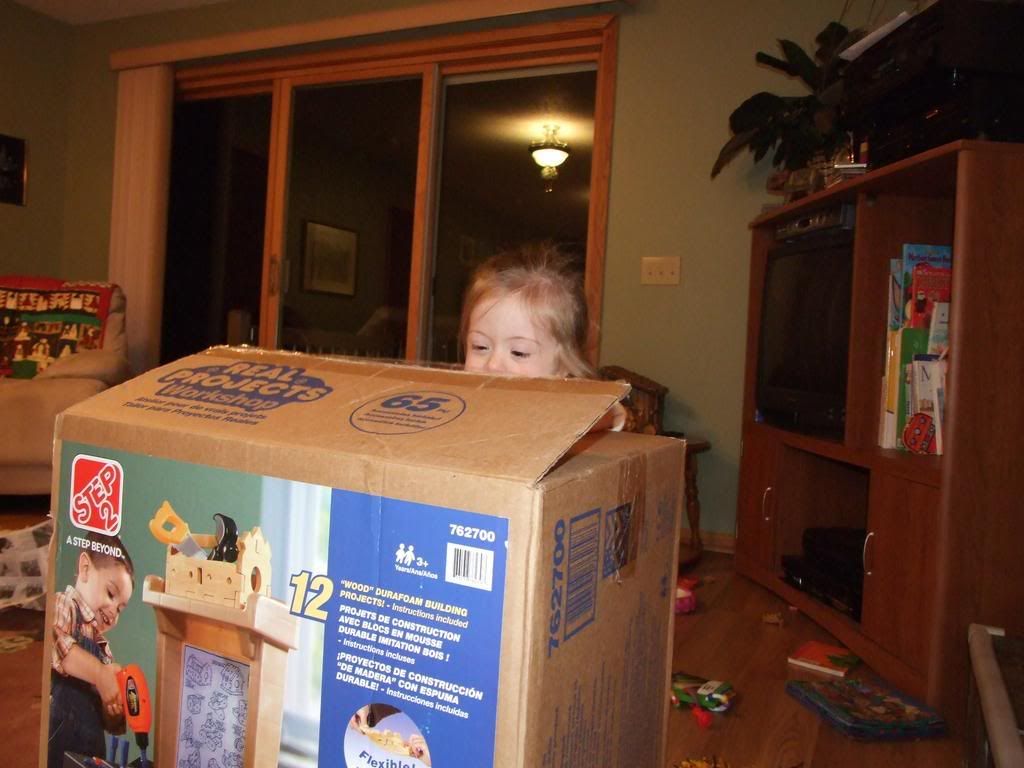 There she is!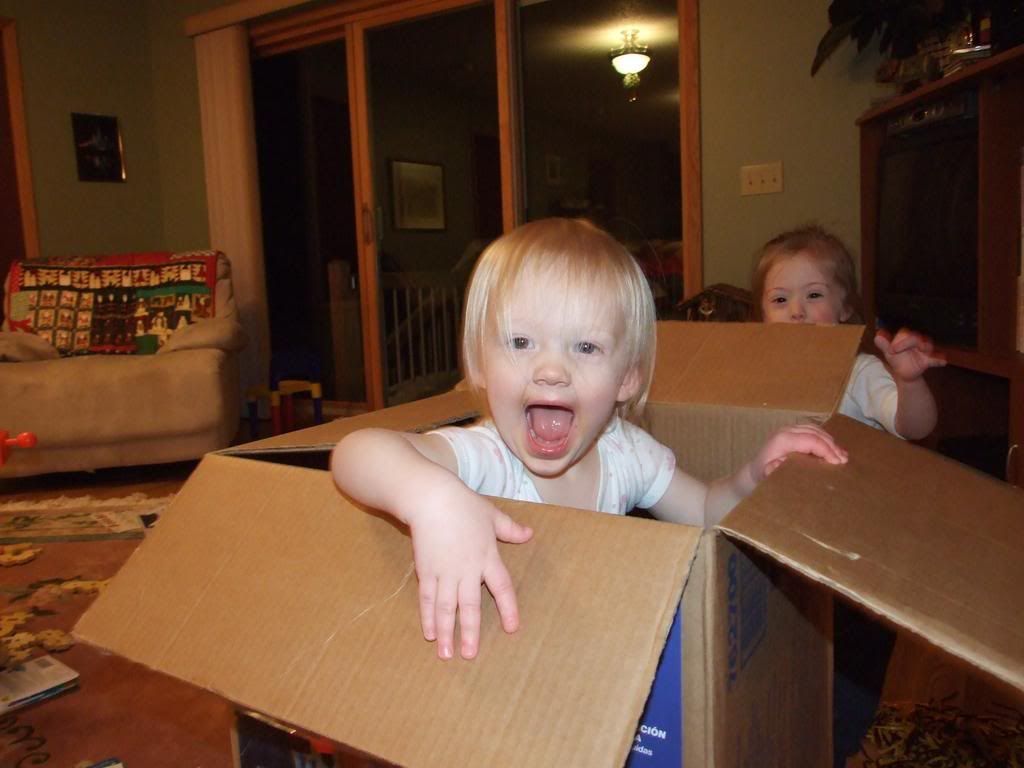 It's not enough to ride around behind daddy for a week, I guess we'll ride on him!


Tuesday, December 25, 2007
In Binghamton, NY
Sunday night was going to New York night, the longest drive of our trip. The snow going through Canada was the toughest part, and we were very close just to stopping for the night. However, after we got into the US, things cleared up very quickly.

We have had a great Christmas morning here with the Andersens, including some great food. I'll try to post some pictures later.

Saturday, December 22, 2007
In Brighton MI
After a nice stop in Portage MI, to visit some old friends of Janets, we reached Brighton, MI, where Janet's cousin, Trudy, lives. We're spending Sunday here, taking off late Sunday night to make the last push for Binghamton NY.

The only real snafu so far was Janet's attempt to turn around in a gravel parking lot, and getting stuck in the mud. Not fun. But a kind Samaritan stopped by and gave us an early Christmas gift by pulling us out.

In Evanston, IL
We've successfully made it to the Urbans for a nice break.  The drive last night was easy, though a bit of fog slowed us through Milwaukee.  Maeve was awake quite a bit, but didn't fuss, and did get some sleep.  We arrived here at 5:45AM, and the girls are already for a nap, so we will be leaving shortly for Portage, MI.

Friday, December 21, 2007
Less than a 100 turns
We're leaving tonight to see some friends, and spend Christmas in Binghamton, NY with Mary, Janet's sister...
Here's a complete Google map of our trip
. It looks long, but really it's less then 100 turns.
Hopefully we can post pics as we travel... if not, Merry Christmas!
Tuesday, December 18, 2007
Christmas time in Mound
With the new year approaching, one of my goals is to be more daring with Maeve's hair. Janet's always doing those cute braids, so I finally tried to do one myself. It looks ok, however it got frazzled really fast.




Janet wanted the Nativity at the kids level so they could play with it.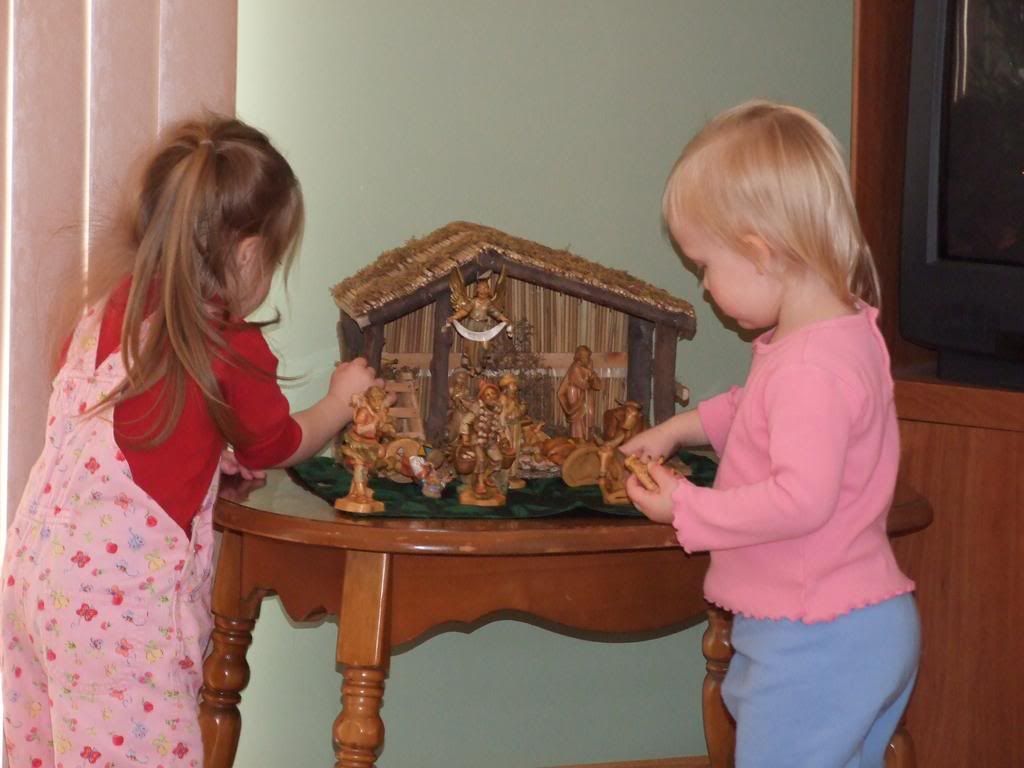 We had a great Linkert caroling event a couple weeks ago. Santa came to visit, and we sang some carols. A very nice event. Thanks to everyone who came.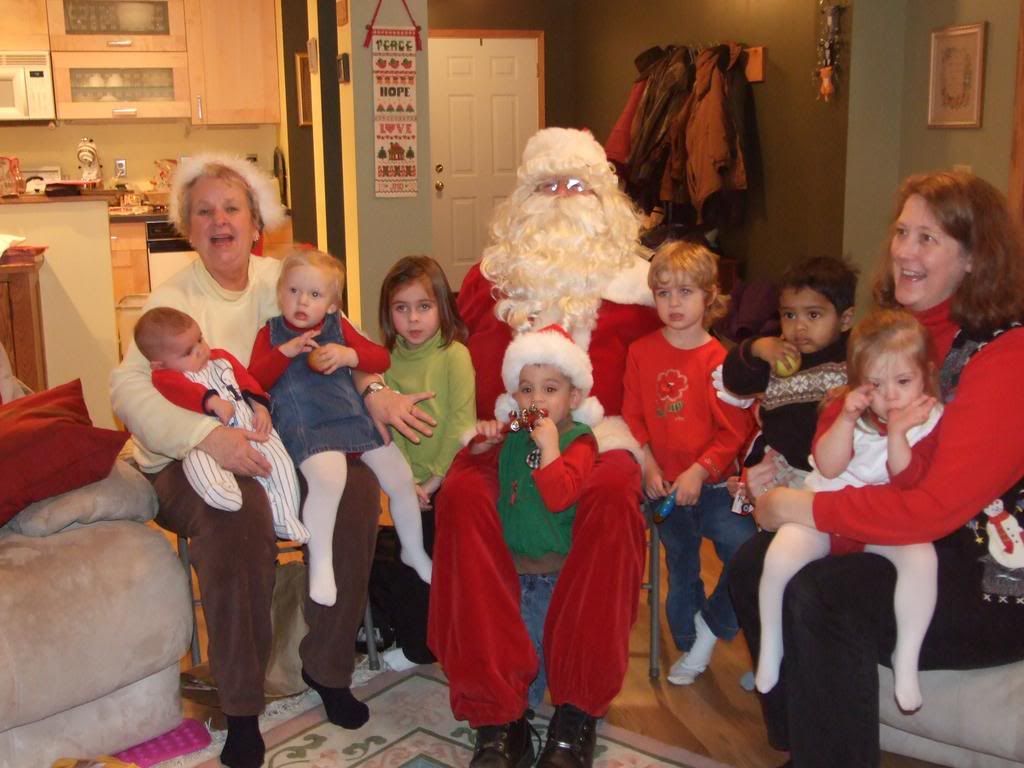 So around noon everyday on one of the public access channels they play a show called "Polka Spotlight". It's a locally produced show with a different band for every show, and a lot of people on the floor dancing. Think of it as a cheap Lawrence Welk show. The girls love the music, and dance to it all the time. I have some great video I'm collecting, and will create a video of it to share eventually.

Here are the girls toward the end of the show, getting ready for a nap. I just thought this was so precious them under their blankets.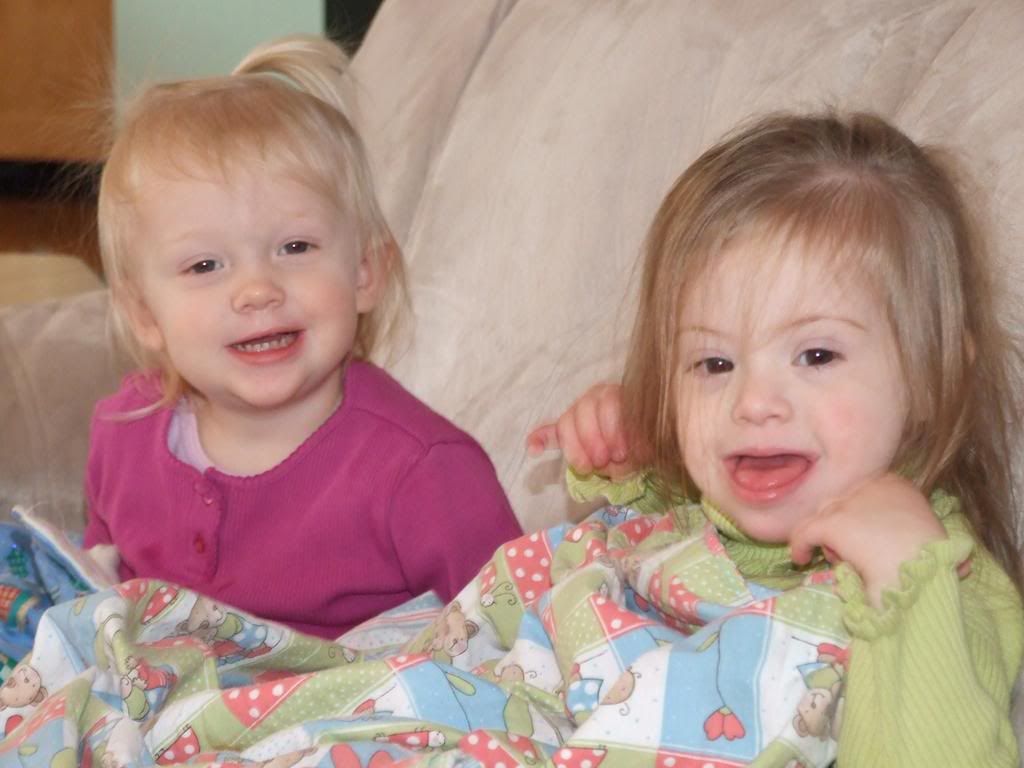 An early Christmas present from Grandma and Grandpa Linkert... a toy kitchen! The girls love it!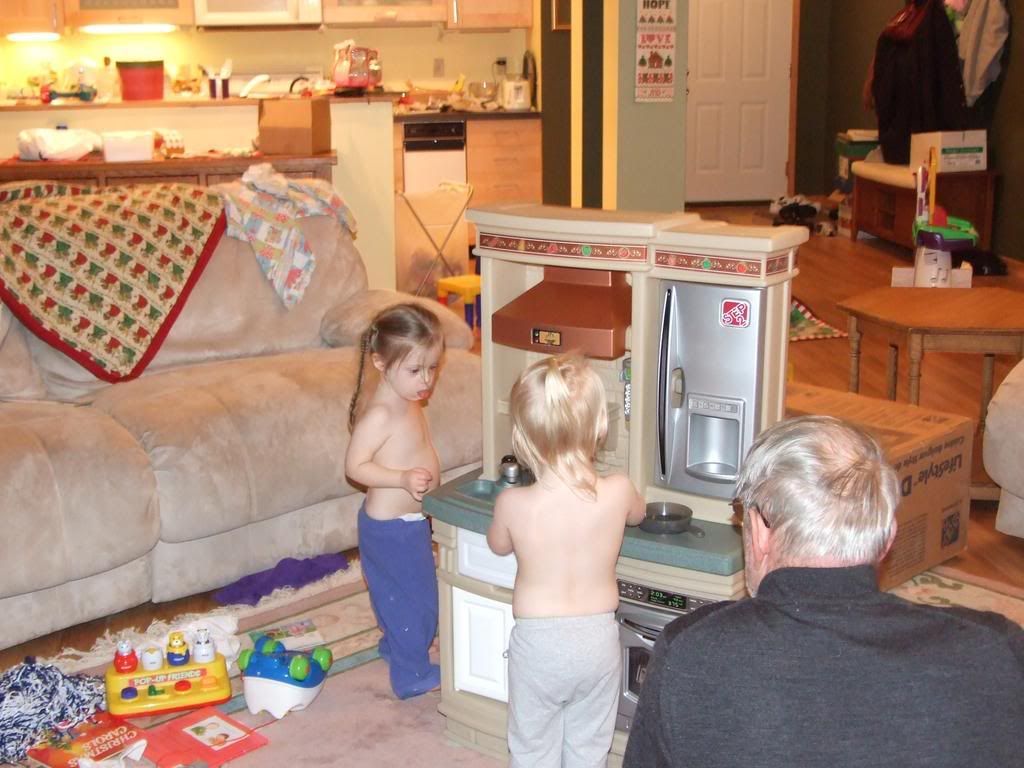 Thursday, December 06, 2007
It's that time of year...
We got this cute little tree with little ornaments to decorate.




I took the girls out on the deck so they could play for a bit. Here you can see Cecelia's anticipation before going out.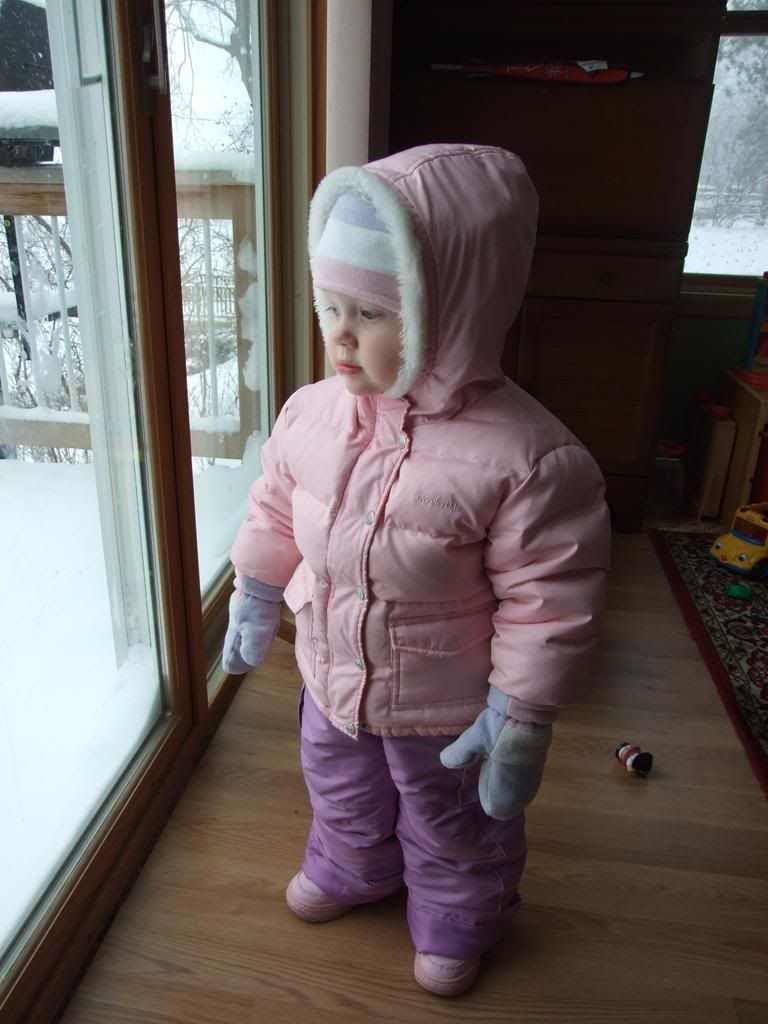 The girls discovered right away they could eat the stuff. Here Maeve finds a comfortable place to sit and have her fill.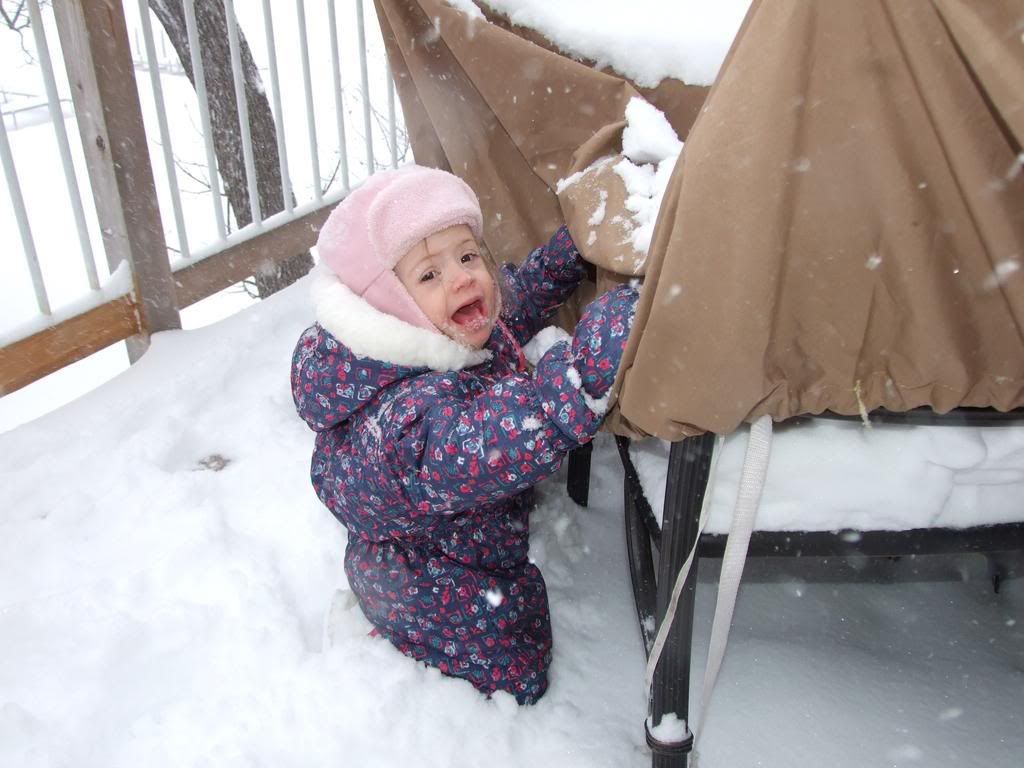 Meanwhile Cecelia perfers to lick it off her mitten.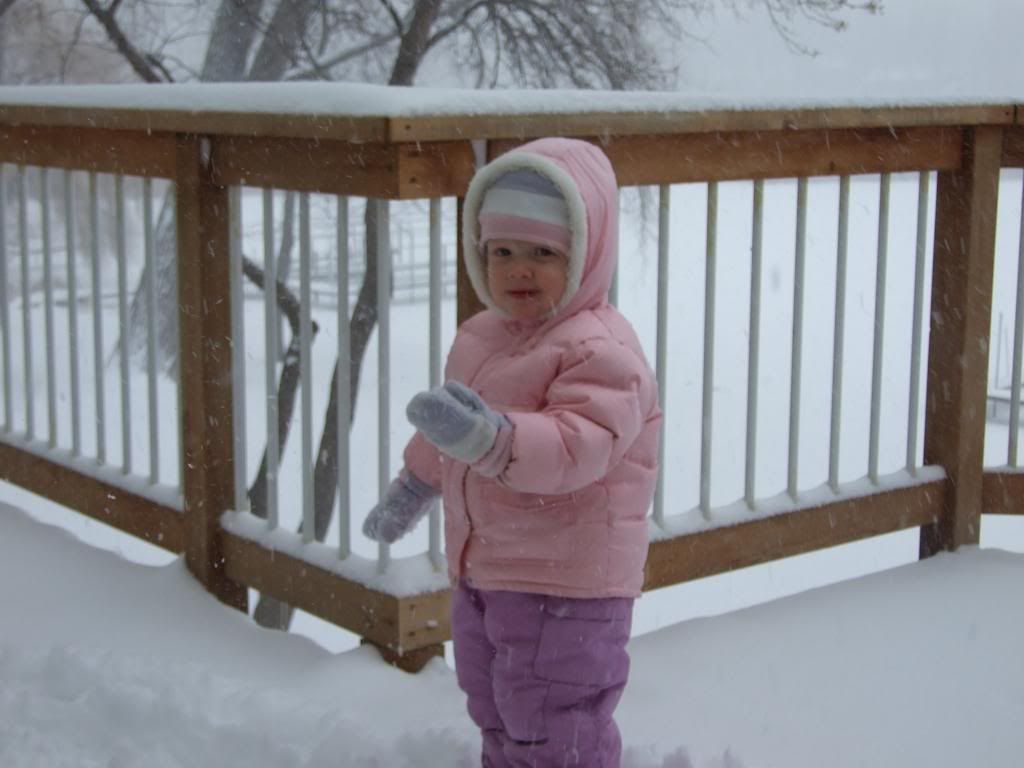 And the lake is not covered with snow and ice, having our first ice fisherman. No snowmobilers....

yet.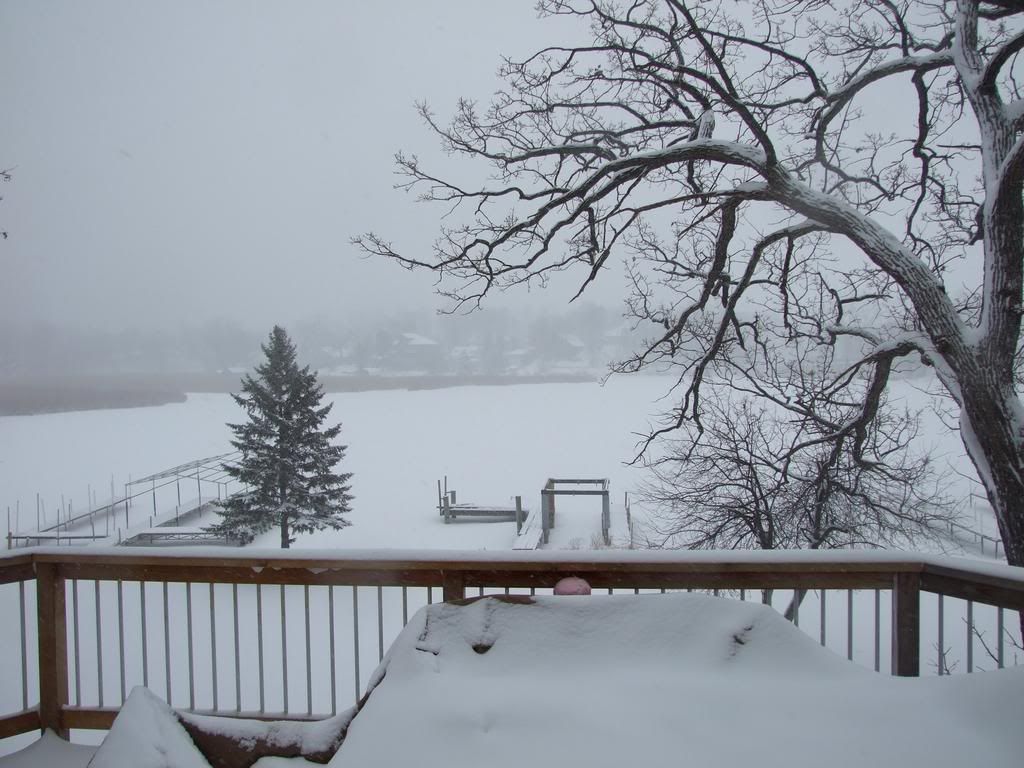 Subscribe to Posts [Atom]