Tuesday, November 27, 2007
Holidazzle
There... I added four hours to my protest just to make my point. Now I hope we can all move on, and enjoy pictures of our recent outing downtown to see the Holidazzle parade....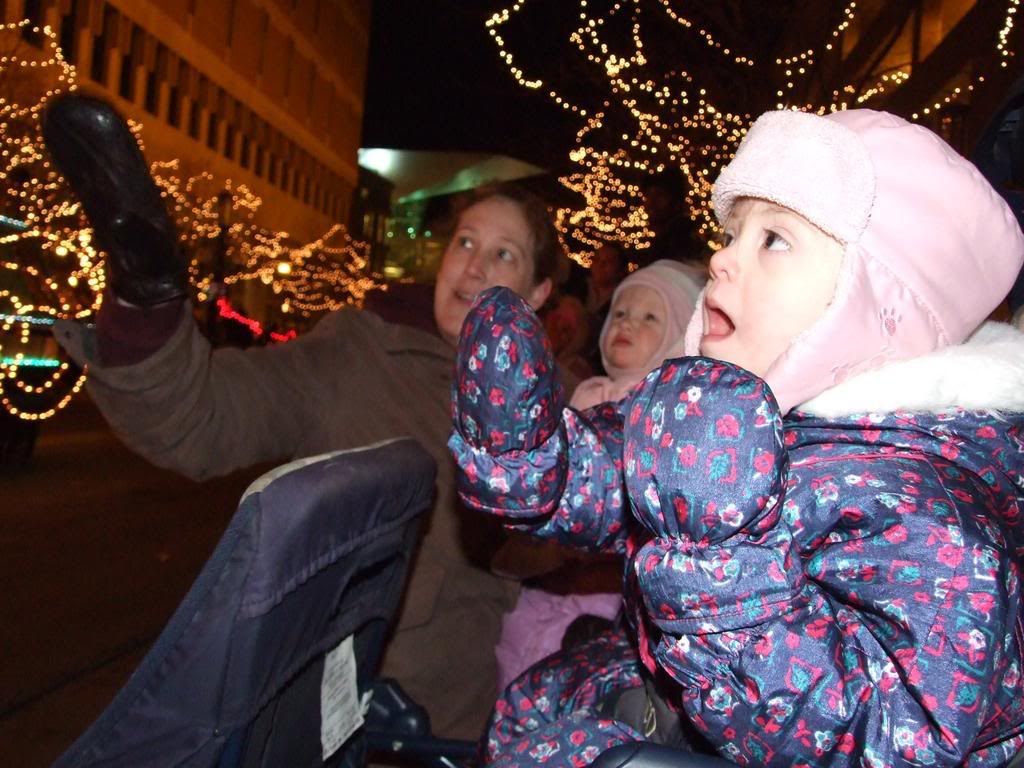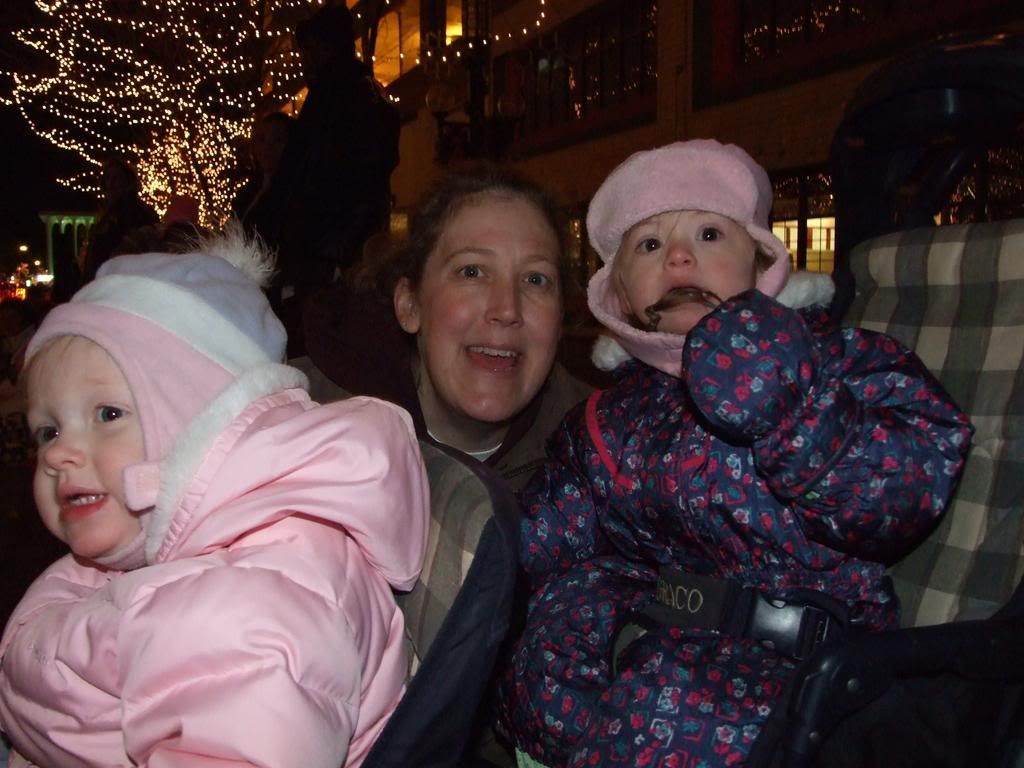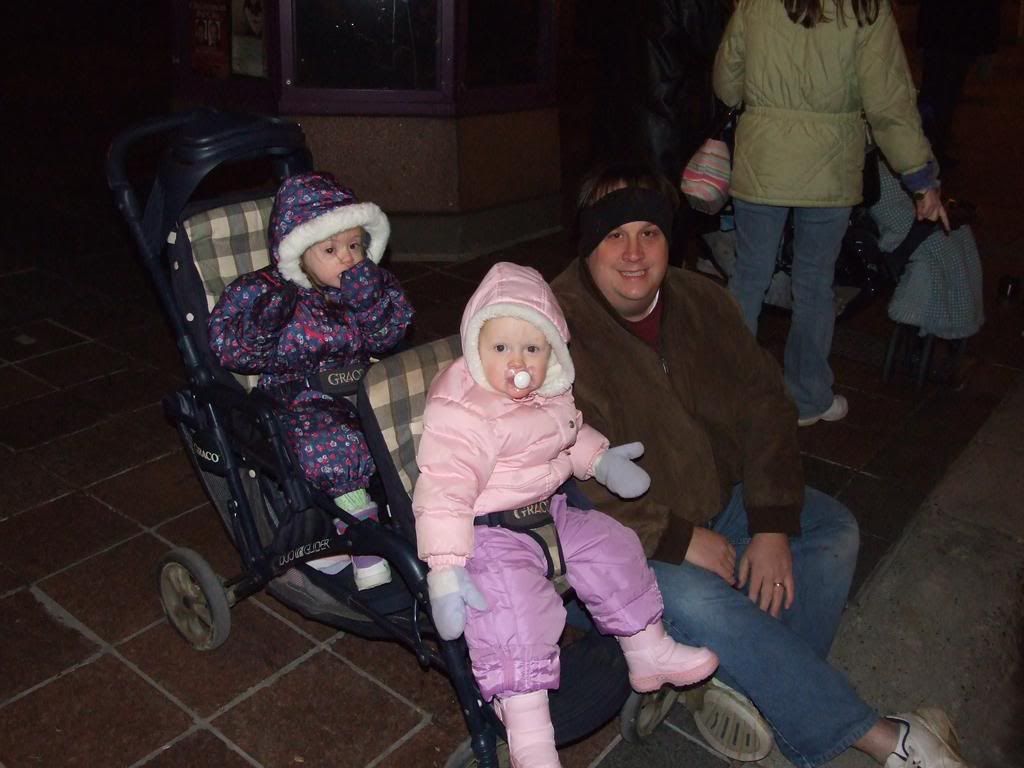 We've been lied to...
Yes, dear readers... it's true. We have been lied to.
And no... this has nothing to do with the President of the United States, or something about a local political issue here in Mound. It's about someone misrepresenting his or her self to you, and to me.
Now I'm not going to name names here, or point fingers, that's beneath me. Let's just say that it's come to light a certain local school board member whom
WE ALL
thought was reading and commenting on this blog, wasn't who she said she was. It was someone else.
I can already hear the jaws dropping amongst you all, and I hope this doesn't cause my father's mental condition to relapse, (he's made so much progress these last couple months).
It's a sad day when people take their freedoms for granted. Is nothing sacred anymore?!
Because of these transgressions, I will be taking an eight hour break from blogging. Until then... take care of yourselves, and be mindful about who actually may be making comments.
12 day, 2 girls and 1 dad.
Monday, November 26, 2007
Happenings Book needed
I could go online and buy one, but would rather support a cause. If anyone is still trying to sell Happenings Books for their organization, we'll buy it from the person who can first get it in our hands. Contact us ASAP.

Saturday, November 24, 2007
Our Thanksgiving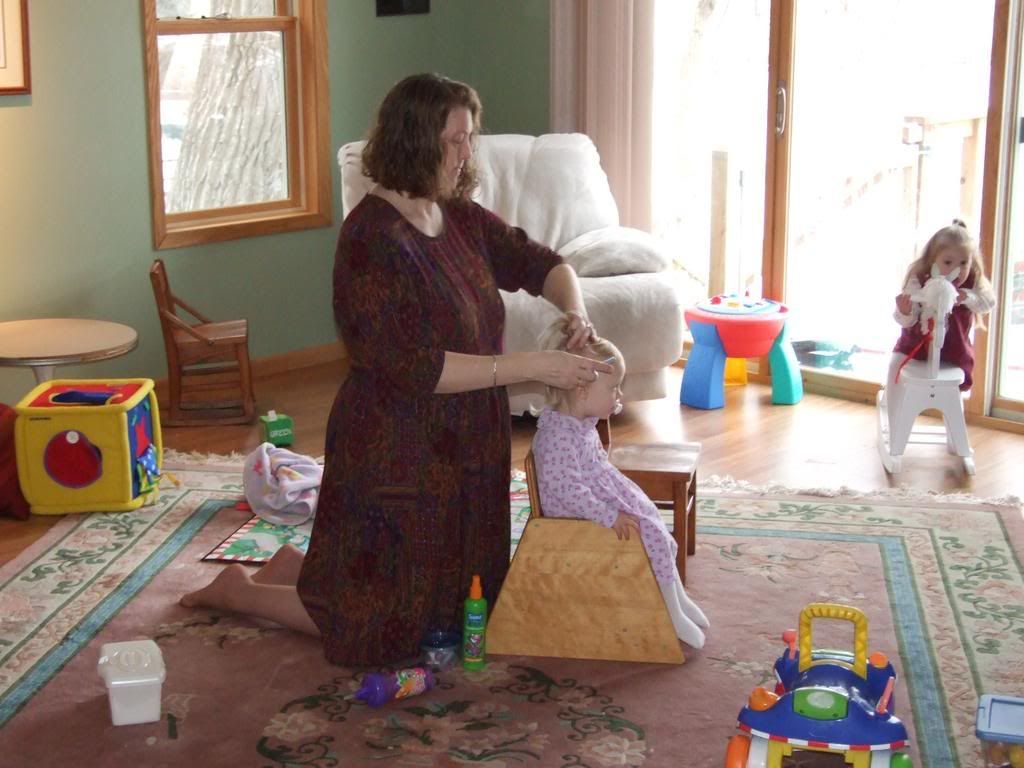 Getting ready to go the Grandma and Grandpa's house for Thanksgiving. Gotta get the girls hair fixed up. Cecelia finally has enough hair to do some work with.





Grandpa and Maeve spend some time together.




The grandkids.




We played some 500 after eating... Cecelia had to play too.




I think she's inkling with her partner.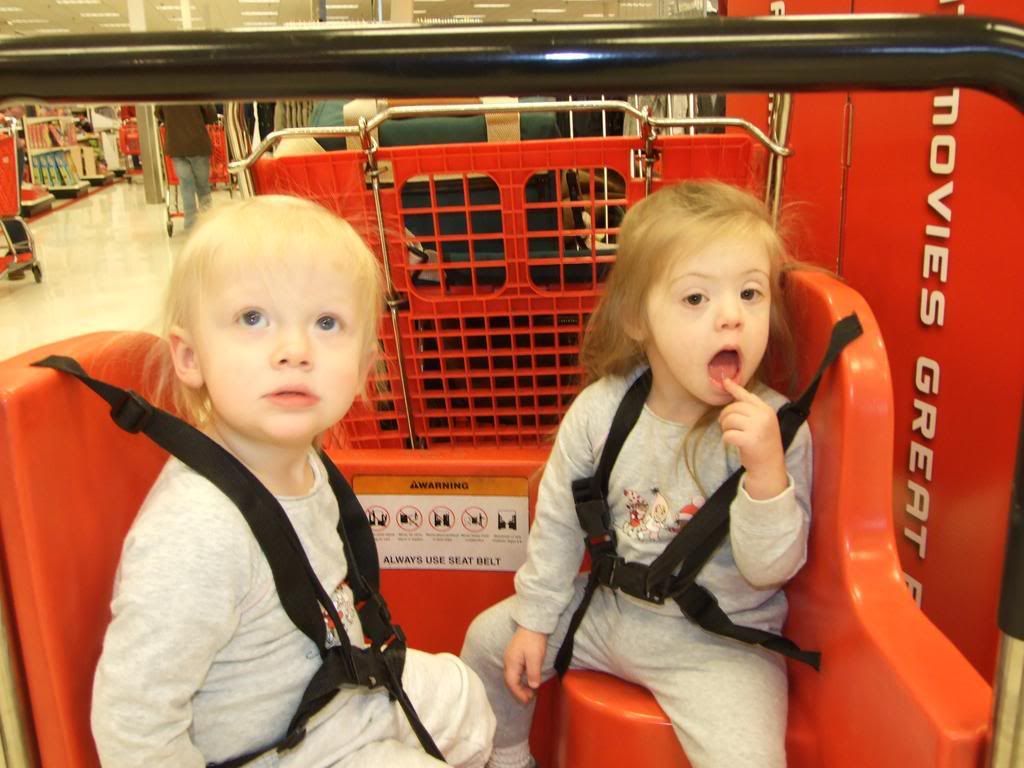 The day after Thanksgiving of course everyone goes shopping. We don't. However, Target was looking for volunteers from the corperate offices to work a few hours in the store, then get the rest of the day off. So Janet volunteered. The girls and I decided to go catch mommy in the act.




Here she is working at Target.




The lake iced over Thursday night. To the right, you can still see some water. I kept waiting for a boat to go through, but it never happened. Later, in the evening I walked out to the dock, and found it was easily a quarter inch thick!




Took this today. You can see the water slowly doing it's damage across the lake.

Thursday, November 22, 2007
Emerald Lake, from Fall to Winter...
The lake was so clear and smooth the other day, I had to take some pictures. I love the reflection in the lake here.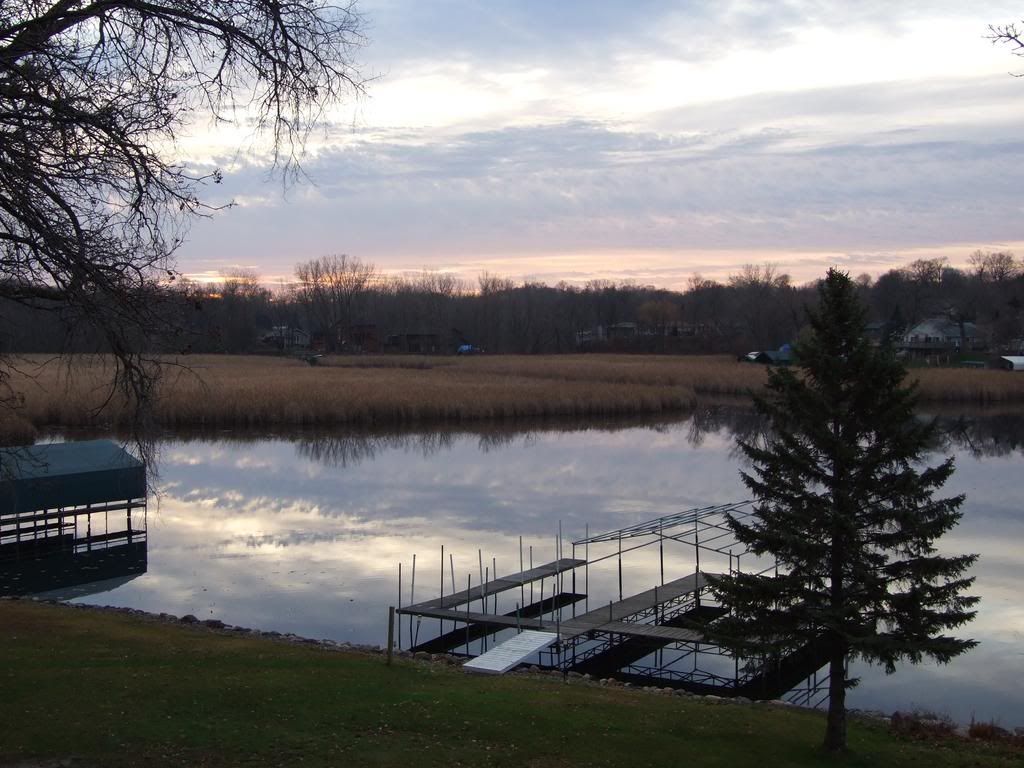 I like the contrast of the blue sky in this picture, with the green in the following. I'm no photographer, so the camera settings are on automatic. It's strange to think the photos were taken at the same time.




And then it snowed Thanksgiving morning. Some nice accumulation, not enough to test Lloyd yet.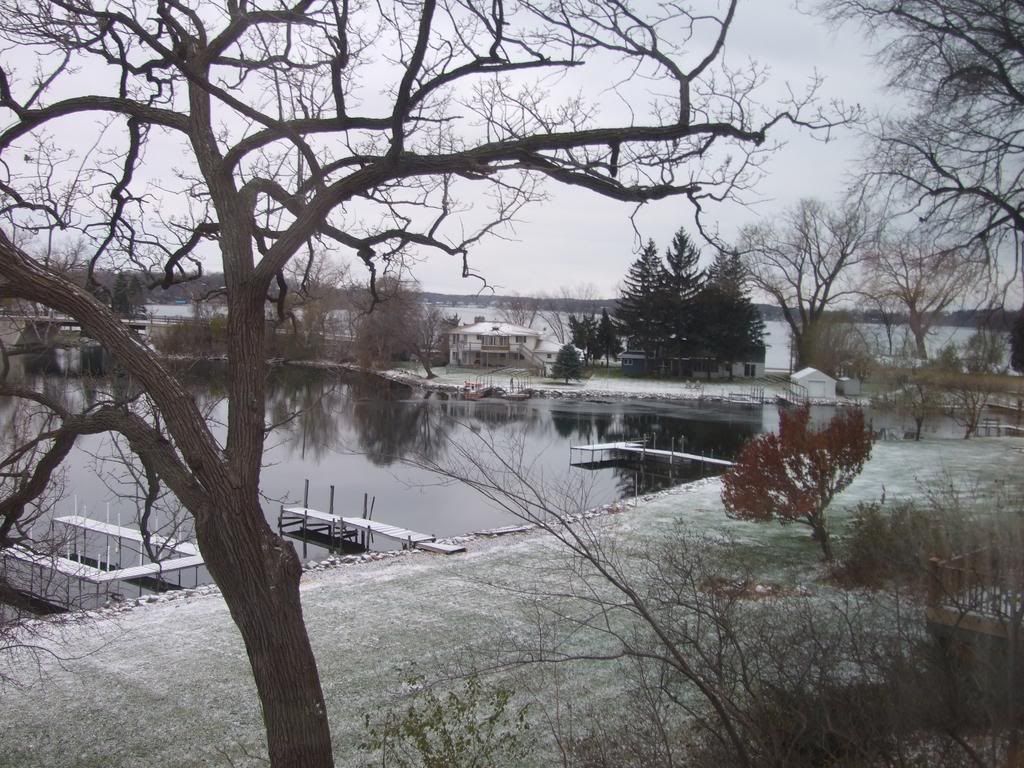 Making faces
As I said earlier, 'lia is really into making faces. She and I go at it during dinner the other day.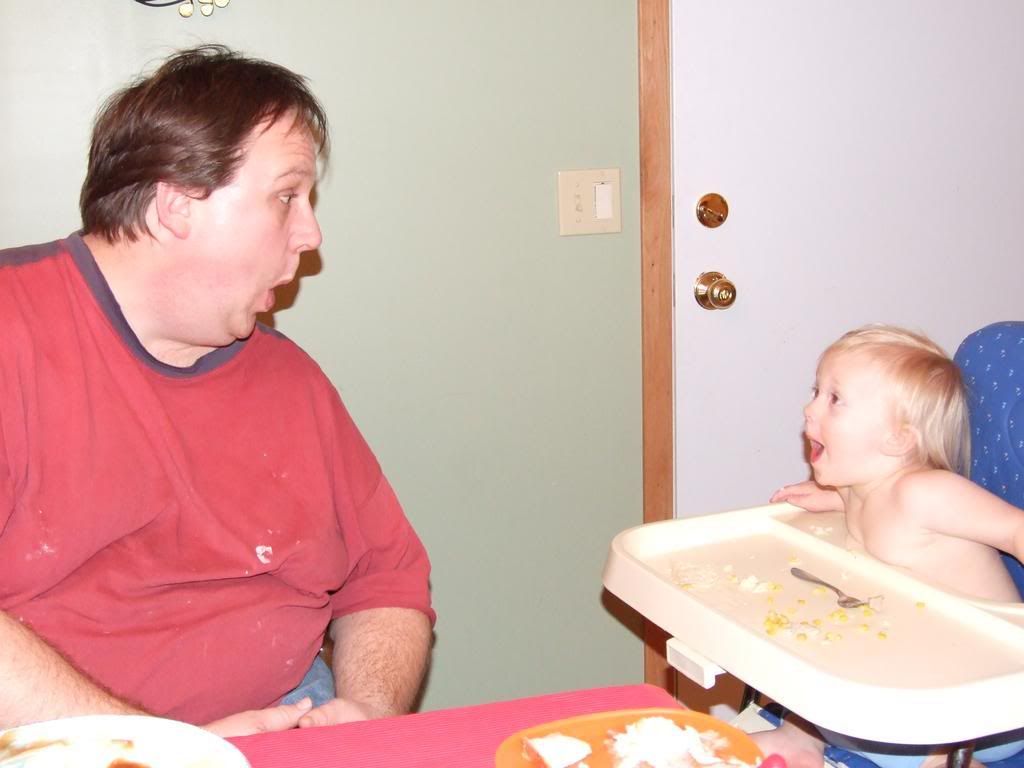 And then some more outside time.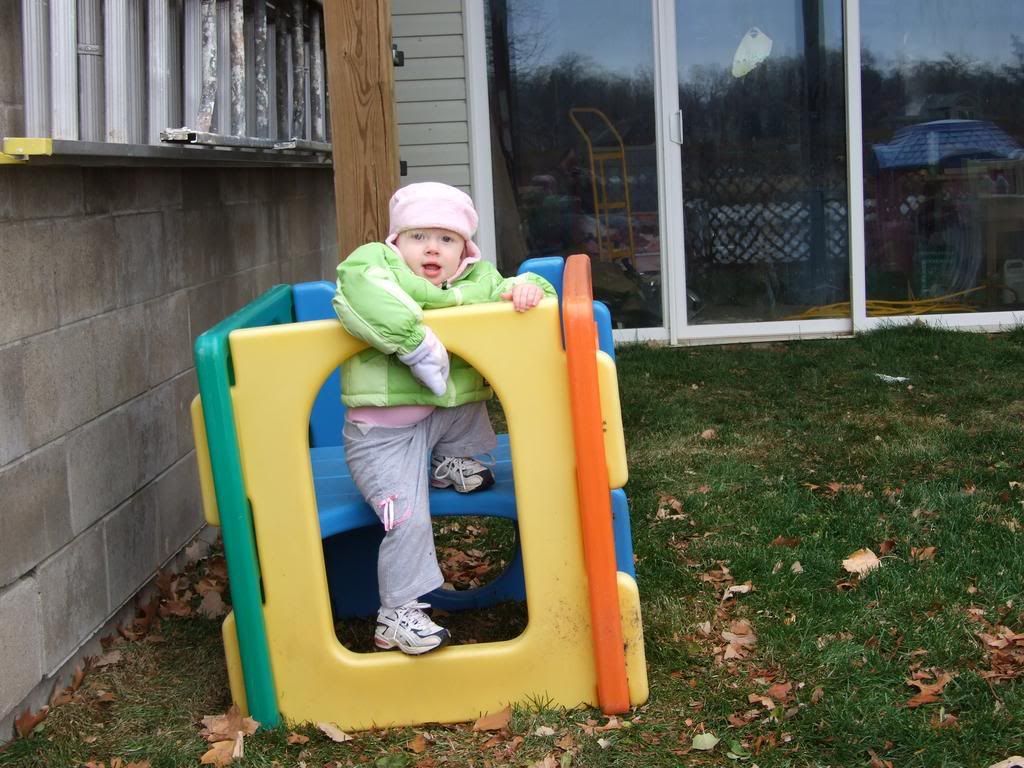 Don'cha just

love

that smile!


Thursday, November 15, 2007
WWI veteran survivors
Some things to note...
I meant to note on November 1st that we celebrated 2 years in our home. Here's what our living room looked like the first few weeks there. Notice the miter saw in the background!



I never did mention on the blog here that I got my child care license in September. Which is great, but I'm still looking for some kids to come and play with us. If you haven't done so for a couple months, check out the action on the day care part of our site at www.linkert.name



Wednesday, November 14, 2007
Christmas time is coming...
I got an email today promoting the Concordia Christmas concerts that are starting right after Thanksgiving. While we won't be going this year, I wanted to share this cool video story that was made a year ago celebrating the life of the artist who created the murals that were behind the choirs. They were unique and magnificent every year. I count myself as very lucky to have played the 2nd trombone part every year when I was there, and had the chance to sit and be dazzled at the beautiful art around us.
(Firefox users will need to use IE to view)
Hattip - Bob Collins

Voter ID laws
My "
scandal
" last week, when the election judge was asking registered voters for ID, spurred a few discussions about the issue of requiring ID when casting a vote. Many people don't understand why it's a big deal, and suggest that requiring it would be a good idea, especially Republicans.
Why do you think Republicans want this type of requirement hmmm???
Republicans often cry about the integrity of the vote, claiming that people and organizations are voting multiple times. Requiring an ID to vote, they claim, insures that people are who they say they are. It's such a resonable request...
However
...
Election fraud appears to be very rare... Legal and news records turned up little evidence of significant fraud in these states or any indication that fraud is more than a minor problem. Interviews with state officials further confirmed this impression.
I just read a
Washington Monthly post
about recent study done in Indiana.
It turns out Indiana has the toughest voter ID law in the nation. The study looked at the voting requirements, and how they affected voters, particularly minorities, and the young and older voters. They also looked at party affiliations. It turns out all these likely Democratic party voters are less likely to have the proper ID. And not only by a couple of percentage points,
but
...
found that 86 percent of white eligible voters had current, valid photo identification, compared to 73 percent of black eligible voters.
So let me ask that question again, why would Republicans be pushing so hard for these voter ID laws?
It's a fact, in the history of voting in this country there have been barriers to voting. At first only while, male, property owners could vote, then women were finally allowed. Poll taxes were eliminated. And then, not too long ago, the Civil rights Act was passed, insuring minorities could vote. Whenever there's a barrier to voting it affects the disenfranchised, people on the outside, or are disconnected. A state law requiring identification would only lead to further disenfranchisement.
So please take this issue seriously. I look forward to hearing your comments.
Tuesday, November 13, 2007
Winter is coming....
I'm sorry to report that we had our first snow precipitation Monday morning. If you click the picture, you probably can see the snowflakes on the deck. I had actually spent some time on Lloyd, as he was giving me difficulties last winter. I took the belts out, and then determined I needed to get a new cable, which required me to pull out the tension pulleys. I think I got everything back together, and in working order. I guess we'll find out soon enough.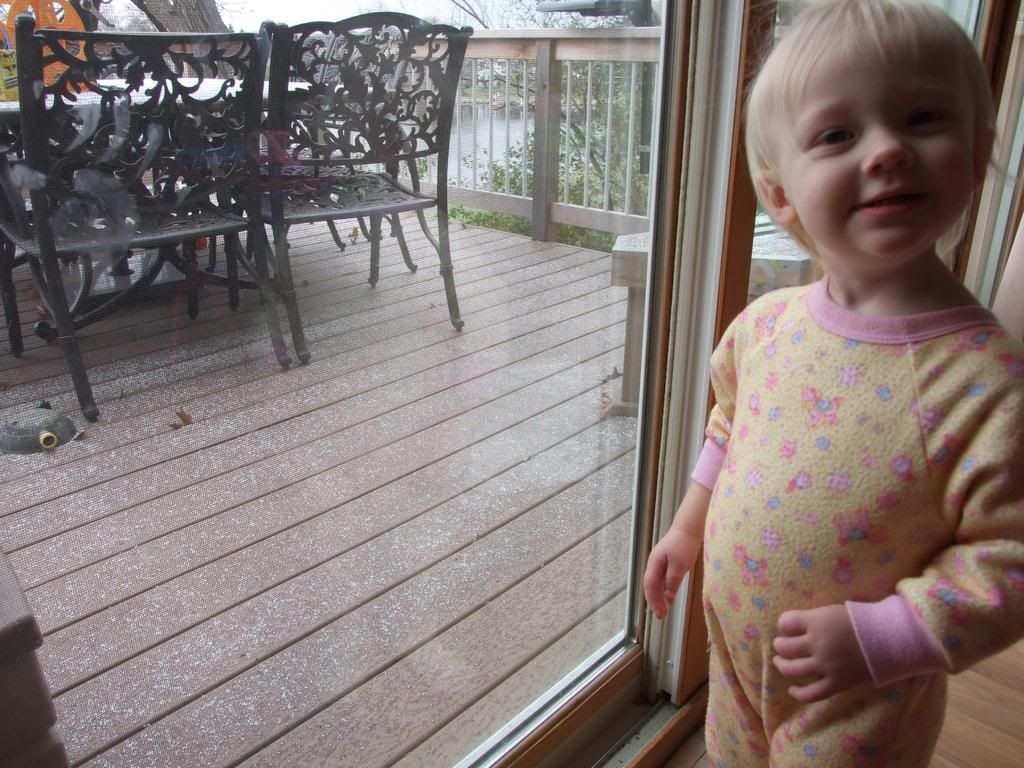 I can safely say this is the first sailboat I've seen on our part of the lake. A funny thing I've noticed lately... nearly every city and organization that has anything to do with Lake Minnetonka, or the Lake Minnetonka area, has to include a sailboat in it's logo. I'm going to start of list of these organizations, and then a list of organizations that don't include the sailboat. It's going to be interesting...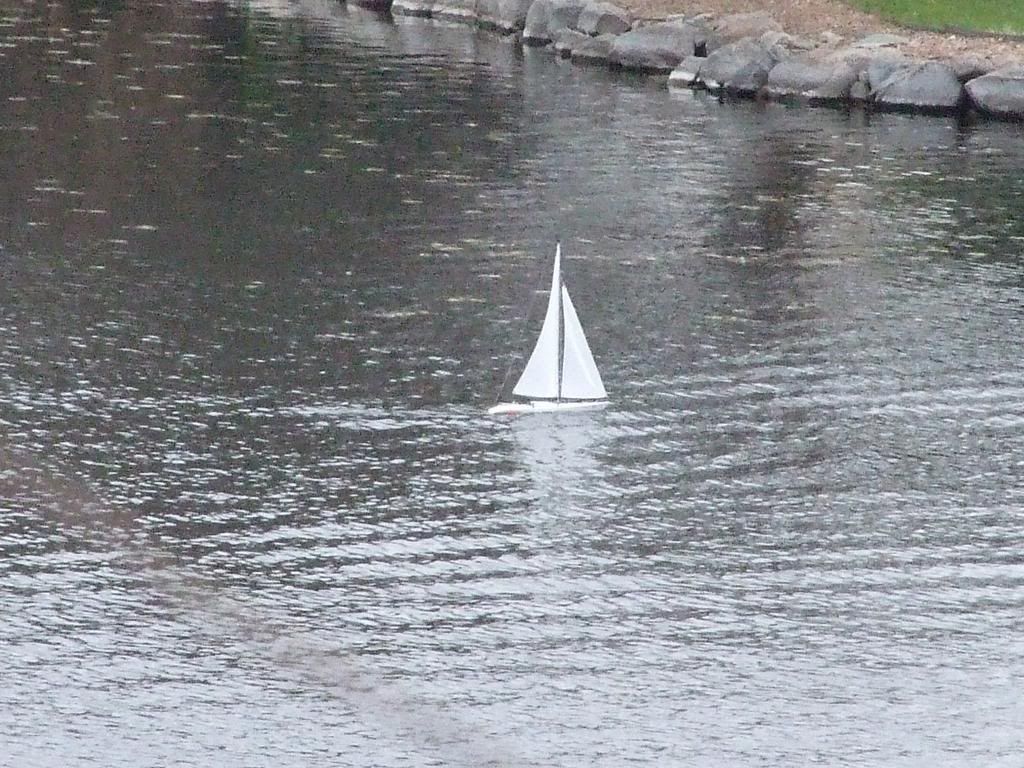 In case you didn't realize it was a toy sailboat...




Had our friend, Peter, come by today. We played outside for a bit.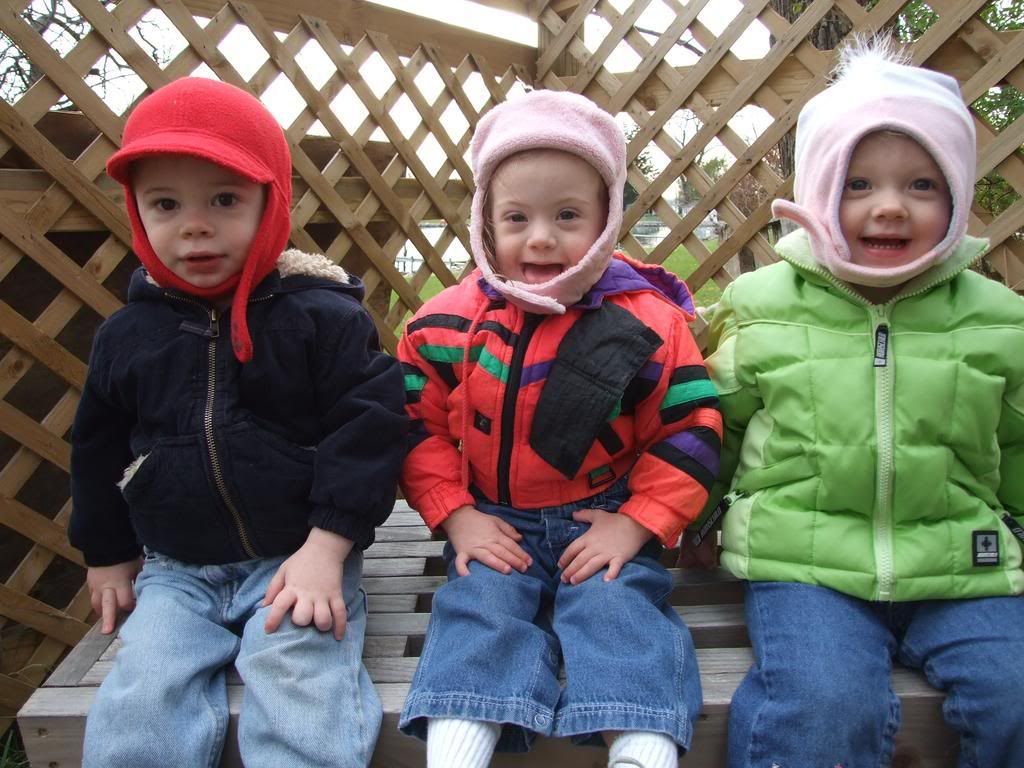 I had to get some Maeve smilin' action.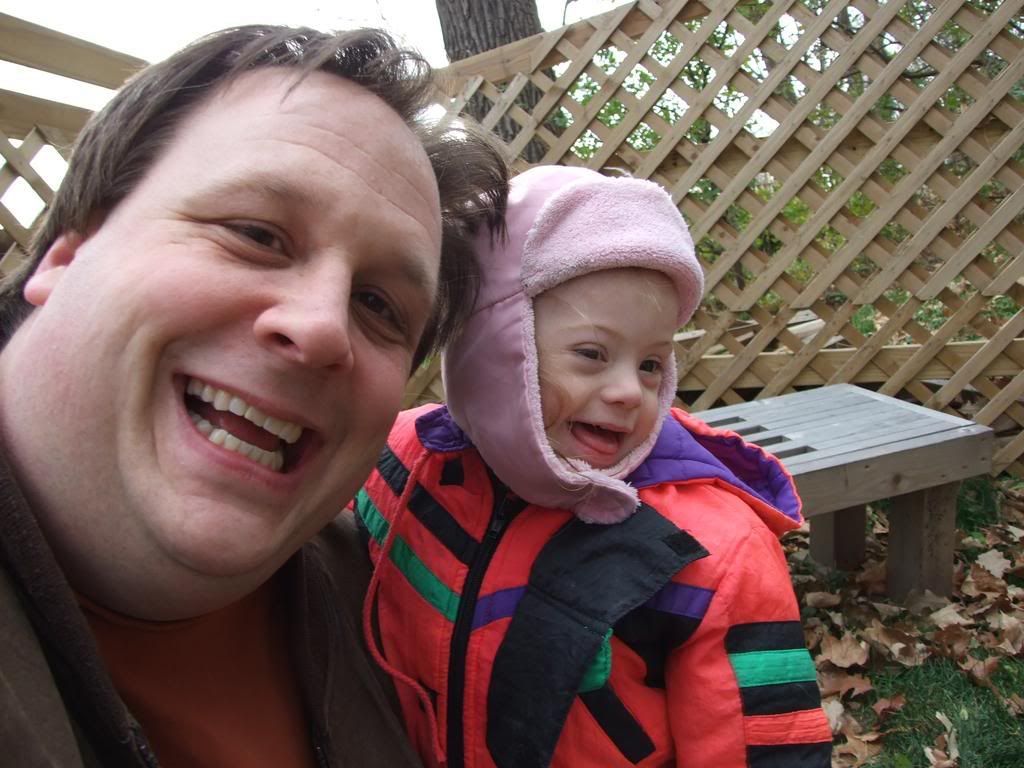 Janet recently received finger paints to play with the girls. Maeve went Gung Ho...




Cecelia was a bit more dainty with her work.




She's into making faces lately.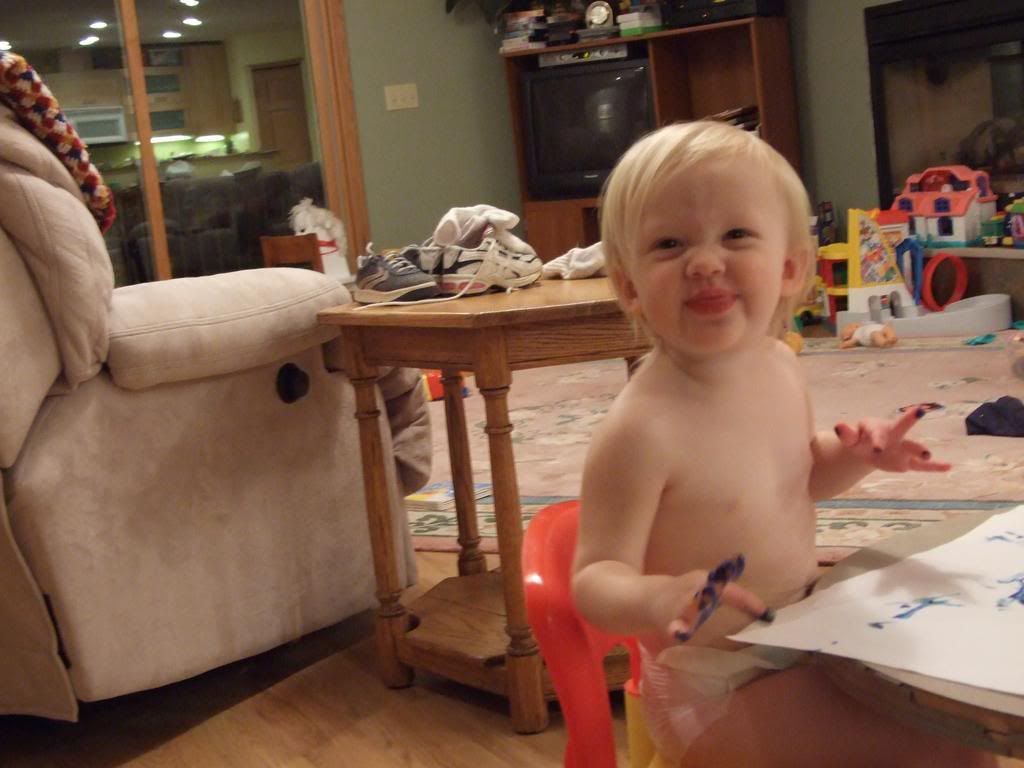 Then it's bath time of course after finger painting. The girls are really loving bathtime, and ask for it nearly every night!




Another fun Cecelia face.




Then after bath Cecelia had to dress up.




The girls fell asleep on the floor like this tonight. What sweeties.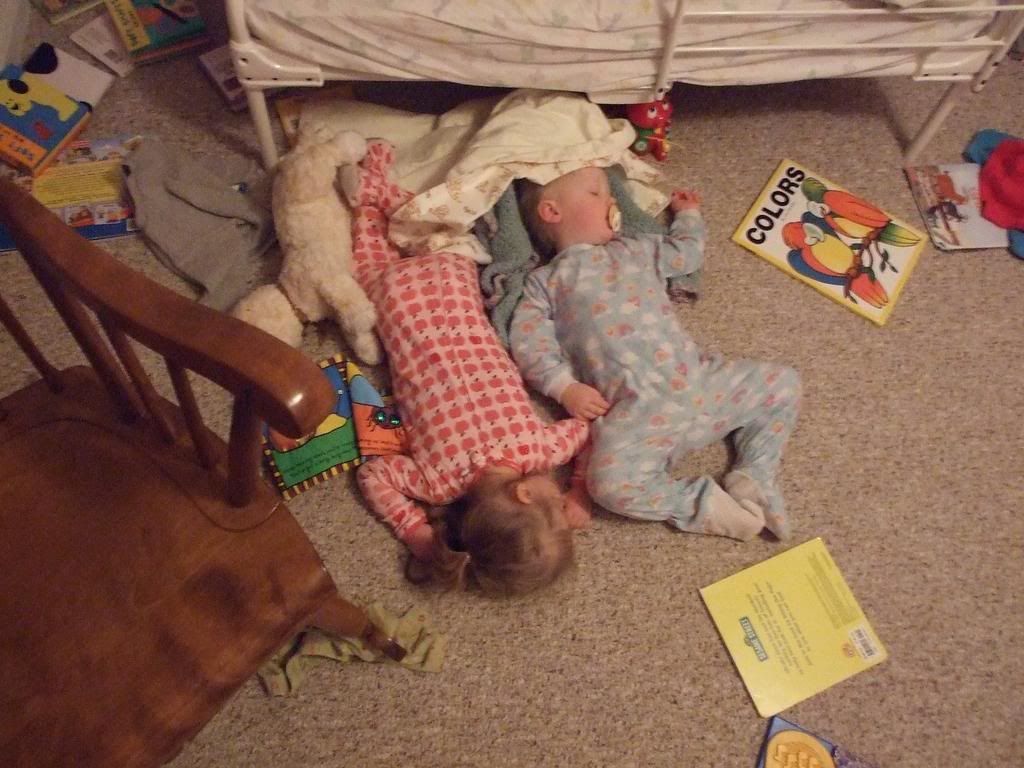 Monday, November 12, 2007
Some recent pics...
Sunday, November 11, 2007
Veterans Day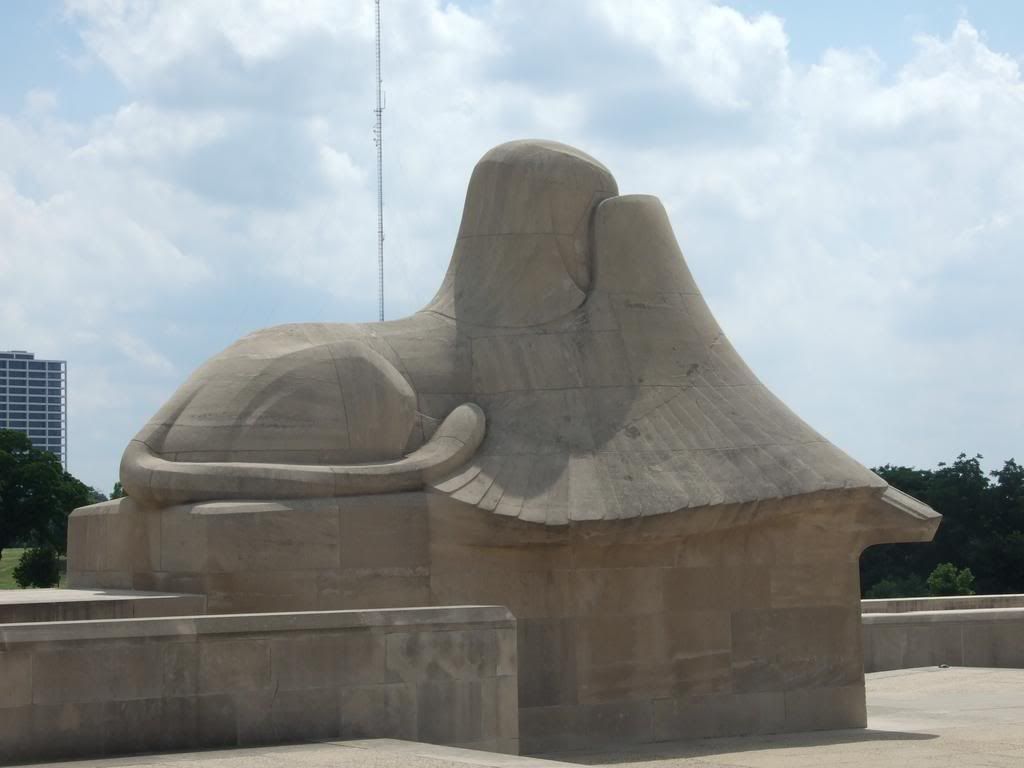 (sculpture from World War I Museum)
It's been 11 months since my first post concerning surviving World War I veterans.
At that time there were 51.
Now there are only 22.
Be sure to take some time to remember all our veterans this day.
Veteran Day History...
World War I – known at the time as "The Great War" - officially ended when the Treaty of Versailles was signed on June 28, 1919, in the Palace of Versailles outside the town of Versailles, France. However, fighting ceased seven months earlier when an armistice, or temporary cessation of hostilities, between the Allied nations and Germany went into effect on the eleventh hour of the eleventh day of the eleventh month. For that reason, November 11, 1918, is generally regarded as the end of "the war to end all wars."

In November 1919, President Wilson proclaimed November 11 as the first commemoration of Armistice Day with the following words: "To us in America, the reflections of Armistice Day will be filled with solemn pride in the heroism of those who died in the country's service and with gratitude for the victory, both because of the thing from which it has freed us and because of the opportunity it has given America to show her sympathy with peace and justice in the councils of the nations…"
Friday, November 09, 2007
5 years ago today...
I was at a good point in my life. I had a full time job, and was working with a realtor and planning to buy a small house or condo. Starting my second year with the Seward Concert Band, I was already on the board, and was the associate conductor. Through them I was also playing regularly with a brass quintet, and was making some new, good friends.

I also was single, and looking for dating opportunities.

Before this date, 5 years ago today, Janet and I met only in the most serendipitous moments. I think we barely exchanged a word my first year in the SCB (she play sax after all). That summer in June, unable to find anyone to go with me, I went downtown Minneapolis by myself to listen to some Jazz at the Hot Summer Jazz festival. I got there early (of course) and took a prime viewing table all to myself. As the music was playing, Janet suddenly appeared with a guy friend (probably her date) to listen to a friend of theirs, and they asked if they could join me. Why not?! So we got to visit a short while, and after their friend was done, they went on the merry way to continue their date (I assume).

In late August, the Japanese garden lighting festival at Como park in St. Paul was on my calendar. I had been looking forward to this for over two years, but the day had come, and again, I couldn't find anyone to come with me. So all by myself again, I headed to the event. It wasn't long before I was walking past a bunch of food booths (serving icky Japanese food) when I hear someone calling out my name. It was Janet again! She was working at one of the booths, and was wondering what I was doing there. I briefly explained my situation, and it turned out she was a Japanese expert. She said she would be done after another hour or so, and suggested we hook up at that point. I agreed, and walked around the exhibits by myself, and enjoyed the music. We hooked up, and we went through the exhibits and she explained some of the finer details to me. Later, we got in line for the main event, the lighting at the Japanese garden! This is what I was really excited about, as the garden is beautiful by itself, but tonight they would light up the lanterns, and place floating candles in the pond. The line was long, however, and since Janet had seen it before, and had a long bike ride to get home, she excused herself before we got into the garden. I still thoroughly enjoyed the lighted garden however, and had a nice conversation with a lady who was in line near me.

So in the fall, when the Seward band season started up again, I saw Janet after rehearsals when a group of us often went to get a bite to eat. We got to know each other better of course, and we found out both of us loved Shakespeare, especially "Much Ado About Nothing". Janet had noticed that the University of Minnesota drama department was performing this play in November. So we picked a date (November 10th) and planned to go.

I didn't know what to expect from our date. Though Janet and I had been friendly, I thought I had received signals from her last summer that she wouldn't be romantically interested in me. However, she gave a small, gift to me for my birthday earlier in the week. which threw me off. So I tried not to thing about romance too much, and just wanted to have a good time, enjoy my favorite play with her, and enjoy her company.

It was a Sunday and my parents anniversary (which I don't think I acknowledged, and I didn't tell them what I was up to that day, I was living with them at the time), I had just left my realtor as we had looked at a couple small house in Robbinsdale, and I was a few minutes late to pick her up. I called her as I was on my way, and she was going to meet me at the door. When I pulled up, I opened the car door for her, and we went straight to the play.

Much Ado About Nothing is a comedy, and the school did a fine job with it. We enjoyed a nice meal at Grandma's afterward, and I took her home. We had fun, we talked, we enjoyed each other... at the end I really wanted to see her again, and wanted her to know it. So I reached over and kissed her before she got out of the car, which she seemed to enjoy, so I kissed her again. She let herself out (my biggest regret of the date was that I didn't get out and open the door for her) and that was the end of our first date, 5 years ago.

So I was at a good point in my life 5 years ago, but today I am at a great point in my life. We have a beautiful home, beautiful children, and we are still in love. So we will celebrate in our own way with the girls this momentous day. The beginning of the best 5 years of my life started on this date. Thank you for all of it Janet. I Love You!

Christmas Caroling
Anyone related to a Linkert is invited to the annual Linkert Christmas caroling at our house, December 8th. More details to follow, but here's a video of the 2006 Christmas that Sara made.
Make an on-line slide show at

www.OneTrueMedia.com
And here's from 2005...



Cool new bridge
This is a new pedestrian bridge over Hiawatha that went up this fall. They just lit it up this week, and is very cool! We drive under it on our way to band rehearsal every Thursday.
H/T -
Mitchster
It's a conspiracy...
My distaste for meteorologists has come up from
time
to
time
...
A couple weeks ago MPR sends me an email asking about
what stories should be followed more
. One of my suggestions is that I would like to hear more about NASA and news about the shuttle and the International Space Station.
Then the other day on the radio, they discussed the fact that we would be able to see the shuttle and ISS, and find the details at the weather blog,
Updraft
.
So my dilema is thus.
I want to follow this story.
I want to stay away from Updraft, and meteorologists.
Is MPR trying to
MAKE ME
go to Updraft to follow this news? Are they trying to get me to like meteorologists?
What about my principals!
It's a conspiracy.
Thursday, November 08, 2007
Someday...
Wednesday, November 07, 2007
Westonka election results
Unofficial election results
for the Westonka Public Schools Election
November 6, 2007
100% of precincts reporting
Operating Levy
Total Votes
Yes 2154
No 2052
GML4 - This is the first levy passed by this community for a long time.
School Board Election
Total Votes
Ann Bremer(i) 2126

Gary Hejna 1935

David M. Botts (i)1902

Tom Notch 1861

Ray Salazar 1847
Roger Bredeson (i) 1841
John Johns (i)1661
Kenneth Bencker 917
i=incumbent
winners in bold
GML4 - The board election is a bit puzzling. Notch, along with Hejna and Salazar were running against the levy and the incumbants. Two of them are now on the board. It will be interesting to see how that works out.
Tuesday, November 06, 2007
Election Day... SCANDAL!
Pictures for those bored with my politics...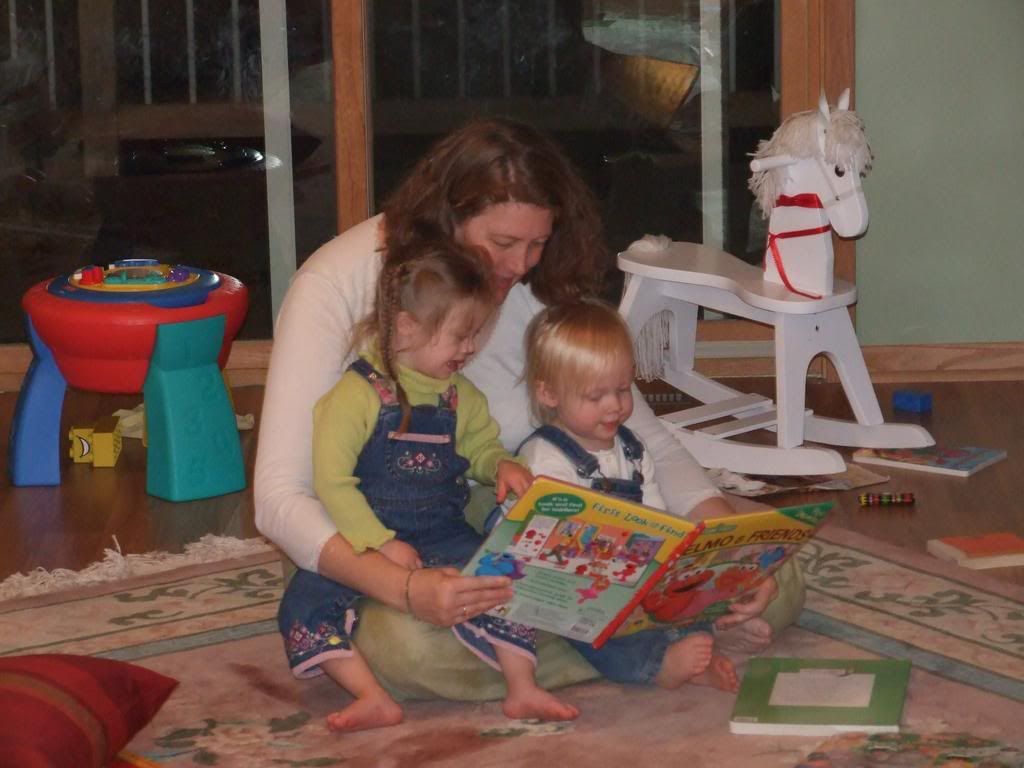 Mom and little girl time.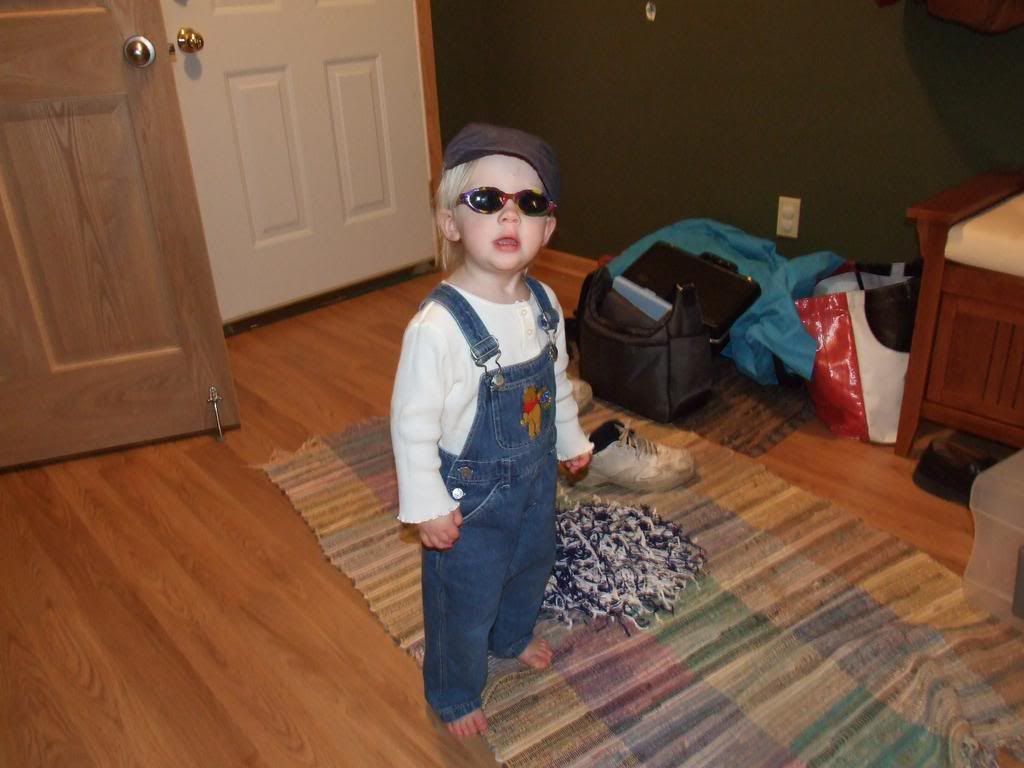 Cecelia is so cool.




Time to pull the buoys out of the lake.




The girls enjoying some outside time.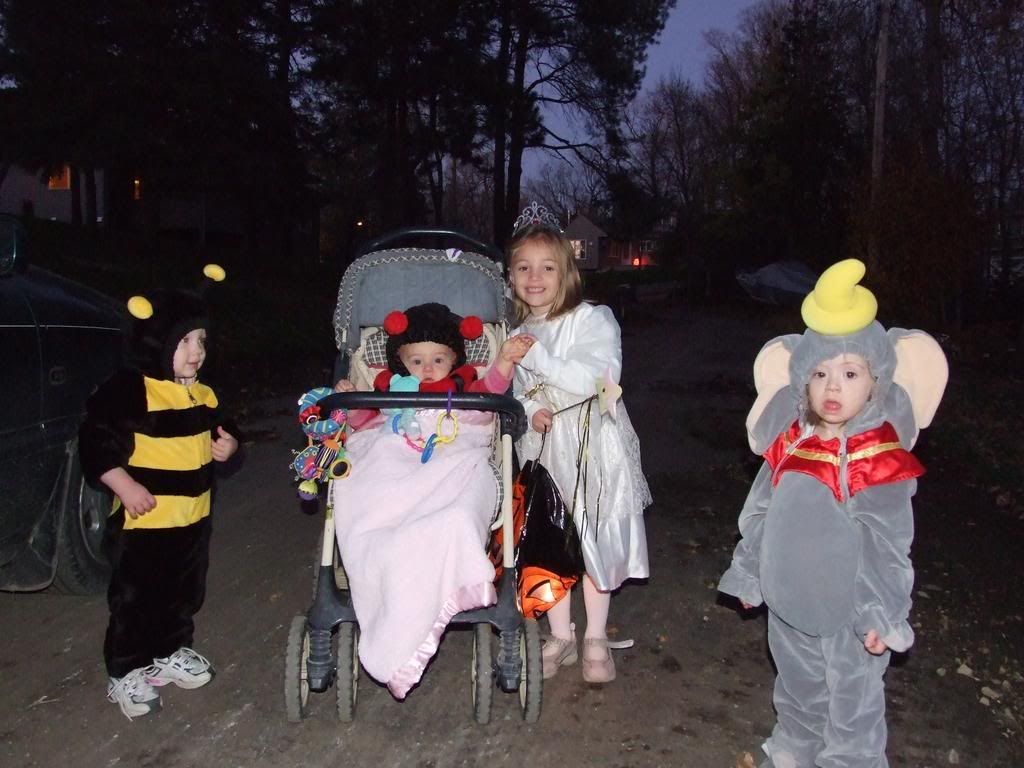 Halloween meeting with some of the neighbors.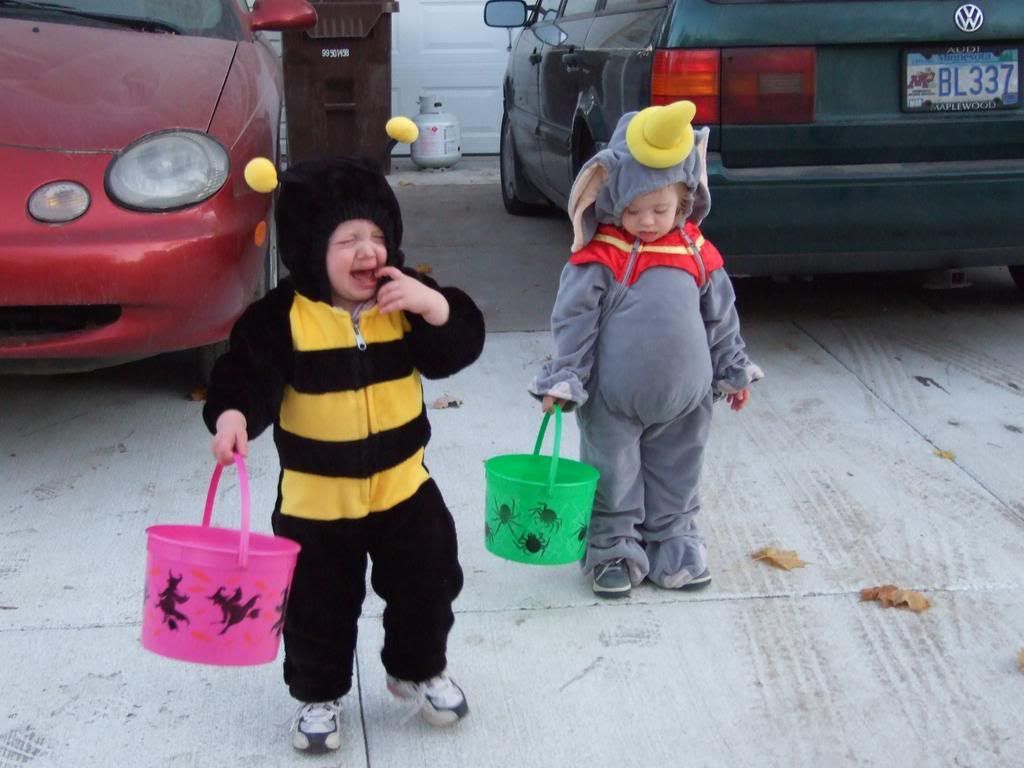 What would you rather do Cecelia... trick or treat, or play at the park?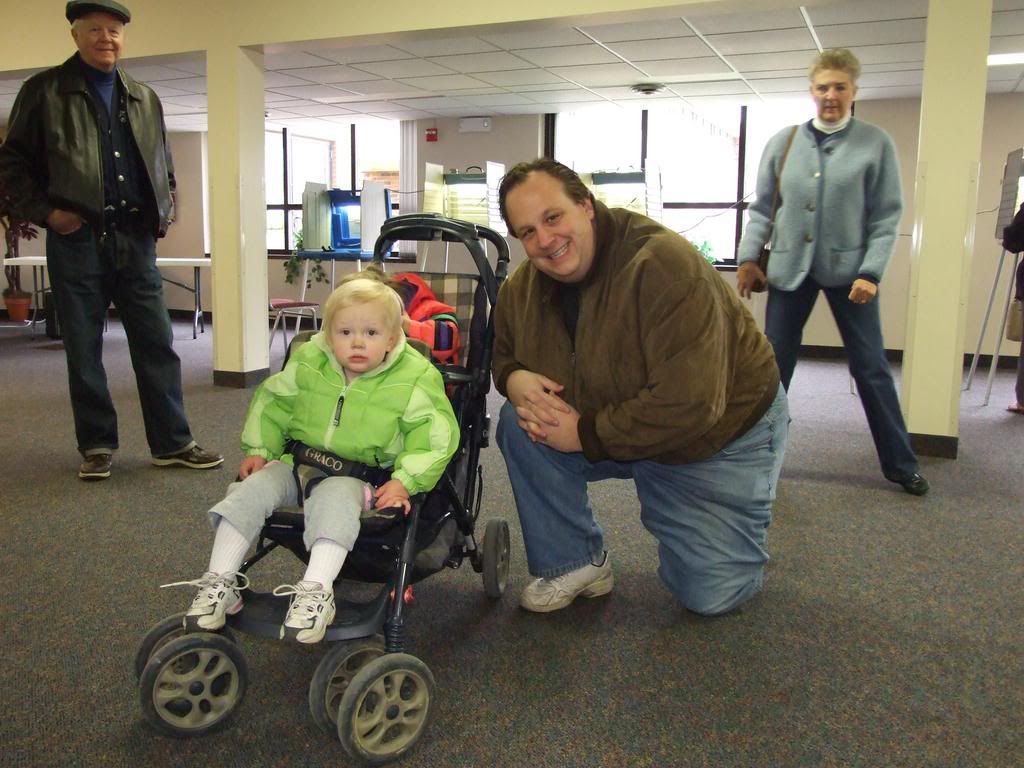 They try to stop him, but he still votes.

Subscribe to Posts [Atom]