Tuesday, June 26, 2007
Test
Monday, June 25, 2007
WWI Museum
Since we were so close, we stopped at the World War I museum in Kansas City, MO. Our stop was too brief, and the girls made things a little bit difficult, but we managed to watch a couple of the movies, and get a feel for the place.
There is the Obelisk and momuments pictured below. The Obelisk was dedicated in 1921. On both sides of it, you can see the sphinx's and old exhibit halls. The museum had been rebuilt, and finished last December below these monuments.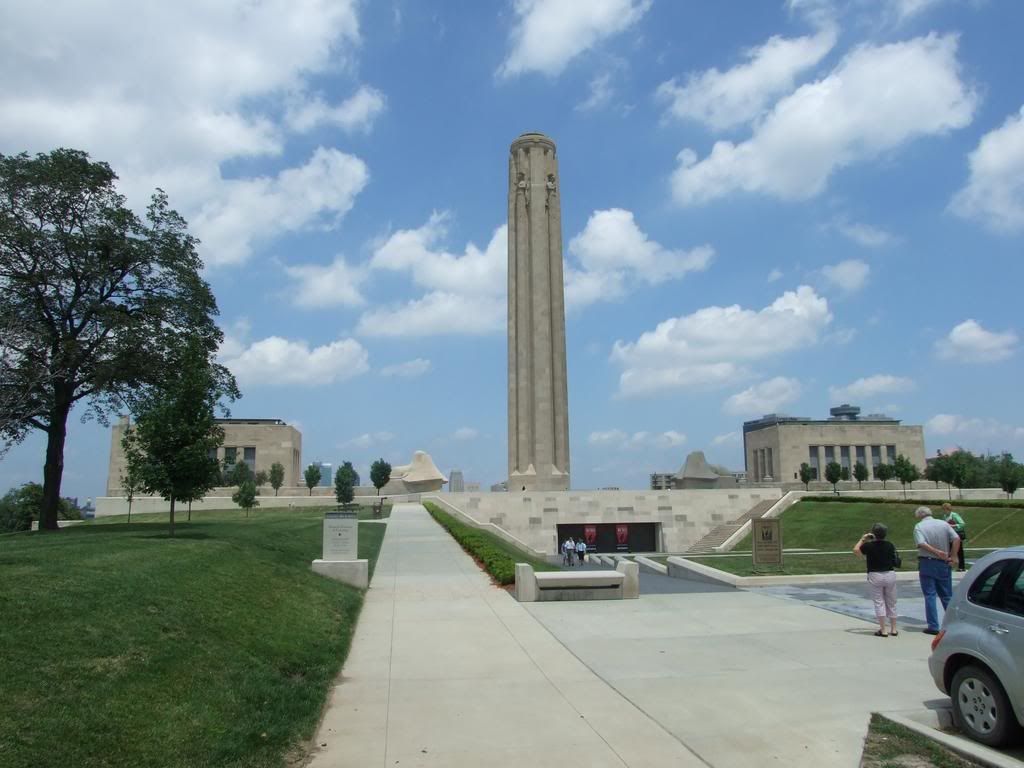 This is the only picture we got inside. There is a glass walkway over a small field of flowers, I believe representing "No man's land"*.
There are two sphinx's guarding the memorial. Encouraging those who visit to remember the past while looking toward the future.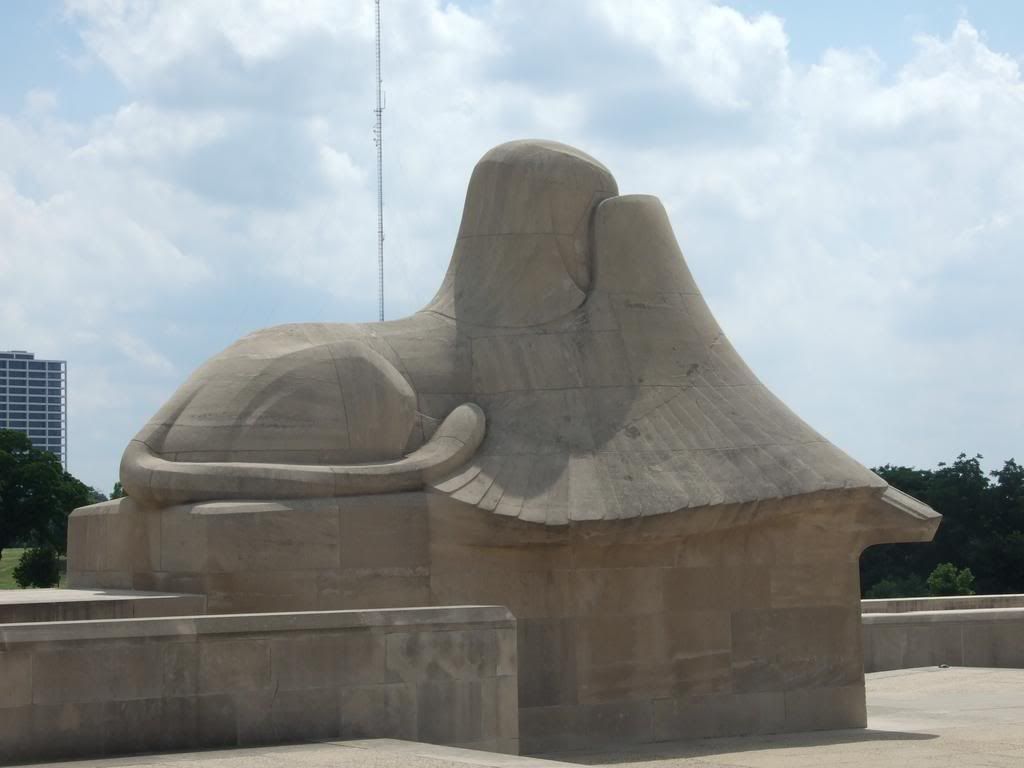 Near the top of the Obelisk there are four figures sculpted on the sides, two pictured below. They represent Sacrafice, Honor, Patriotism(on the left), and Courage(right).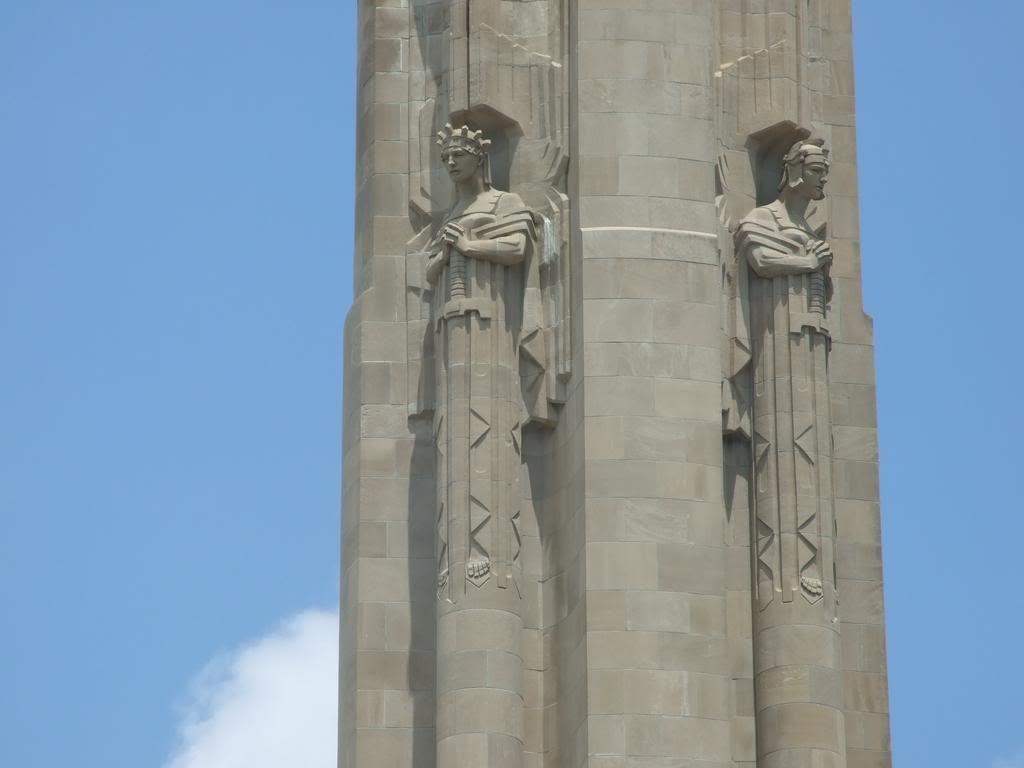 For some perspective... here Cecelia walks by the base of the Obelisk.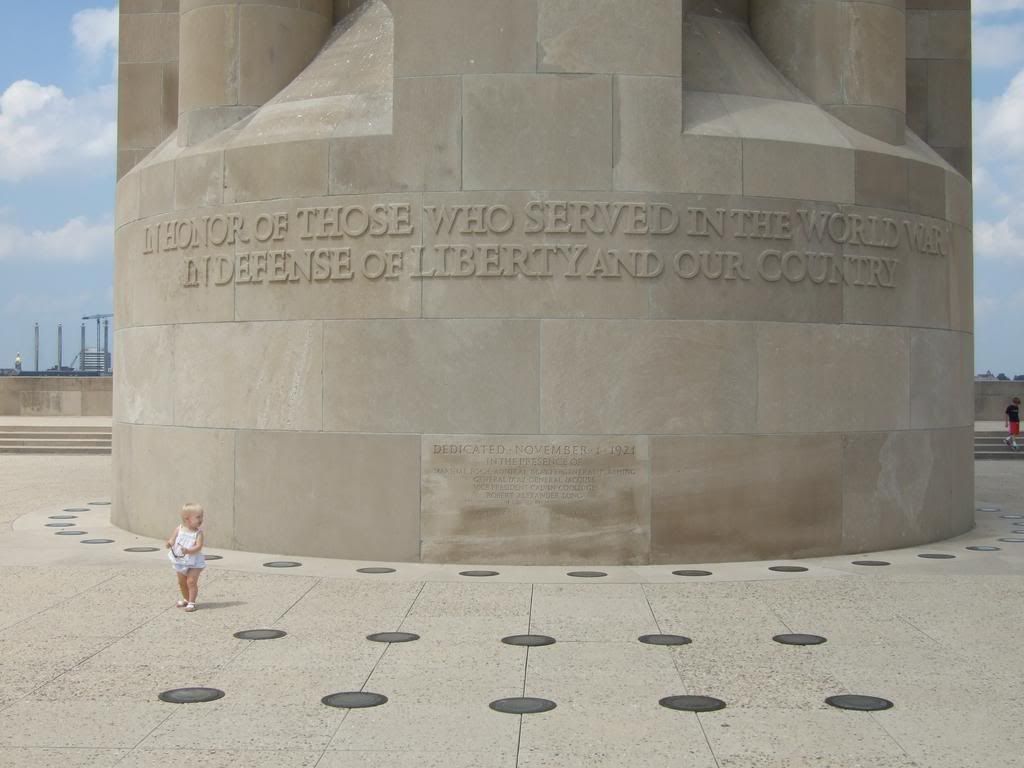 It was a nice brief visit. I would really like to get back here one day soon, and spend more time. Apparently it's possible to go to the top of the obelisk, which would be really cool.
And just to update you... there are 26 veterans of WWI still alive, 5 in the USA, 3 of those are American Veterans (the other two are Canadian and a German veterans).
*"No man's land" - During
war
(especially
World War I
), it is a term used as the area of land between two enemy
trenches
that neither side wishes to openly move on or take control of due to fear of being attacked by the enemy in the process.
In Lawrence KS
So we went to Lawrence, KS to take part in a wedding. Maeve was going to be the Flower Girl, Janet and I were to help with the music. We decided to rent a car, and drive down. We took advantage of some friends' hospitality in Des Moines, IA and spent Thursday night there. They have a 1 year old daughter, Sarah, sitting with Maeve at the piano below.
Janet had spent the days before the wedding practicing with Maeve's hair. She puts some curlers in the night before, tied it up real nice, and achieved a very pretty look.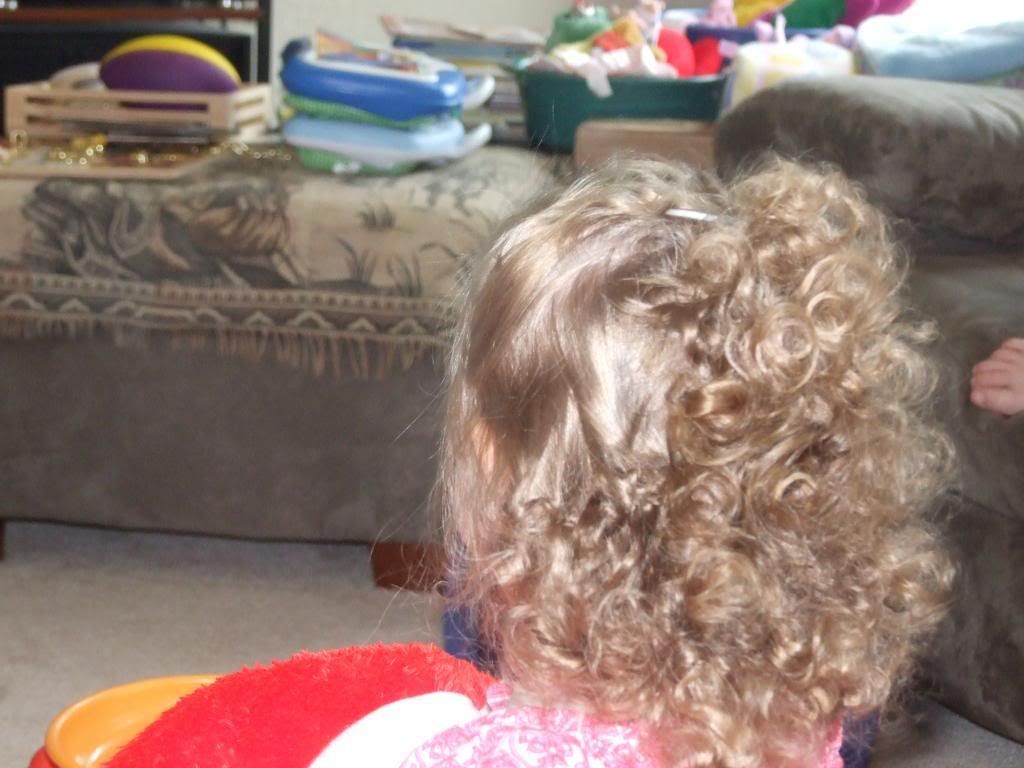 So we got to the rehearsal on time Friday afternoon. Here's Cecelia watching the show, bride's maids behind her.
Cecelia and mom waiting for Maeve's big entrance!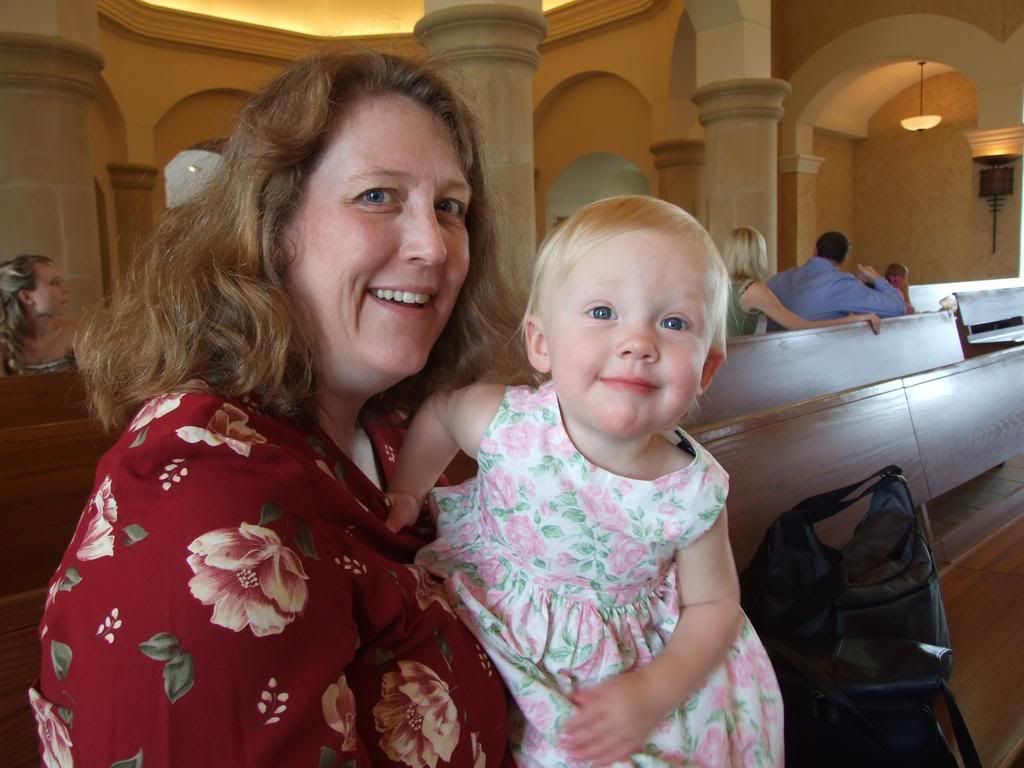 Ah... here she comes. Staring at her feet, but walking down the aisle!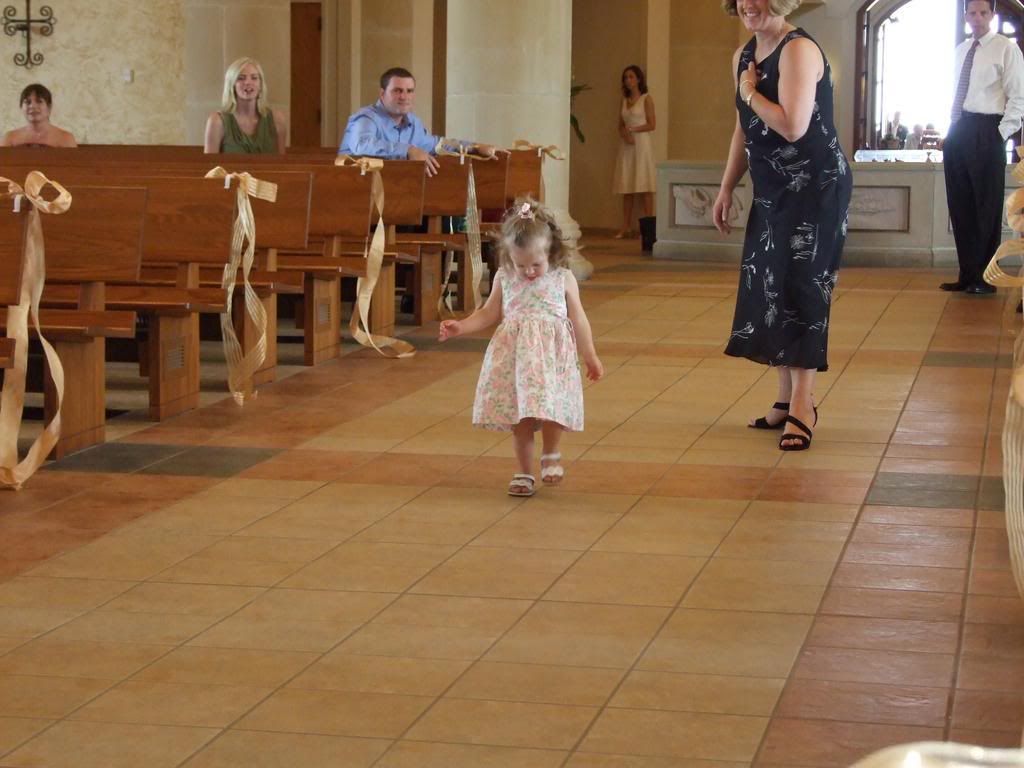 So here we are on the big day! Hair all done up, and dressed to walk down an aisle!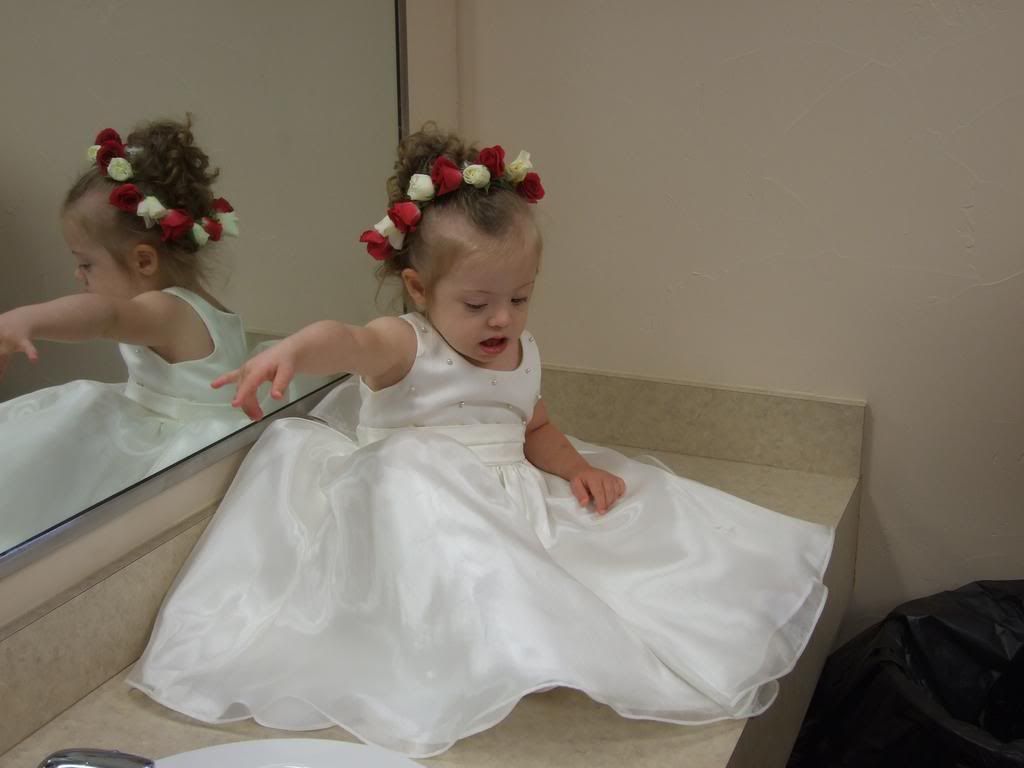 Awww... isn't she a cutie! Even she thinks so! She didn't mess with her wreath until after the wedding.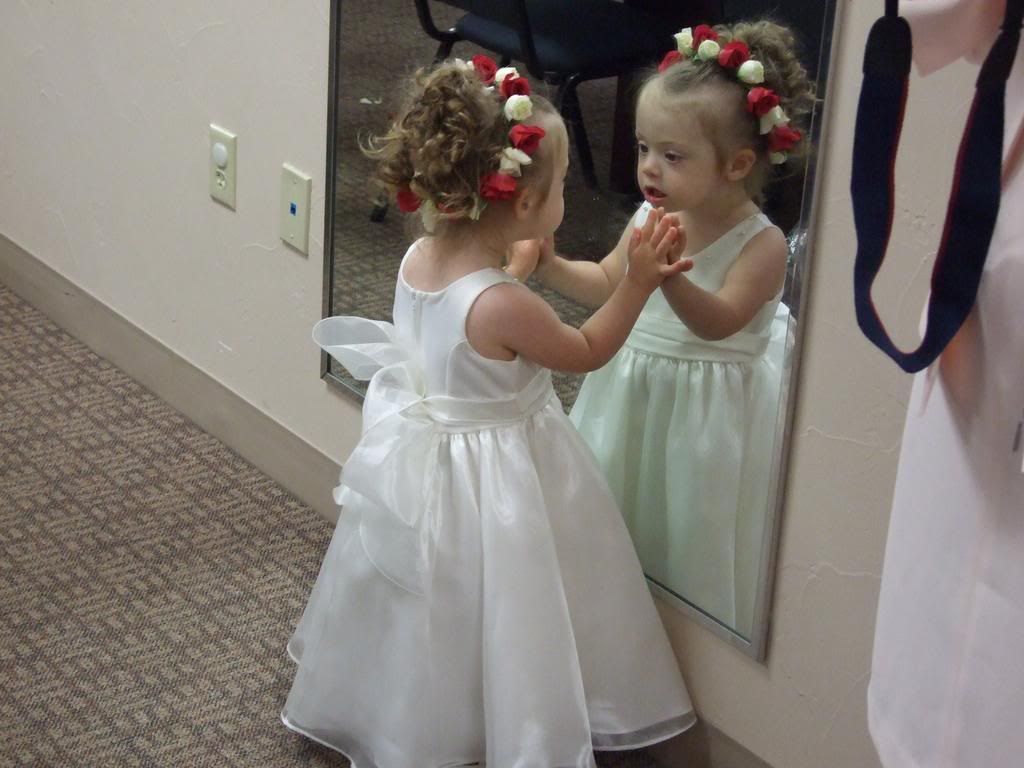 Here she is with the bride.
Since we're all dressed up, might as well try to get a family picture before the wedding too!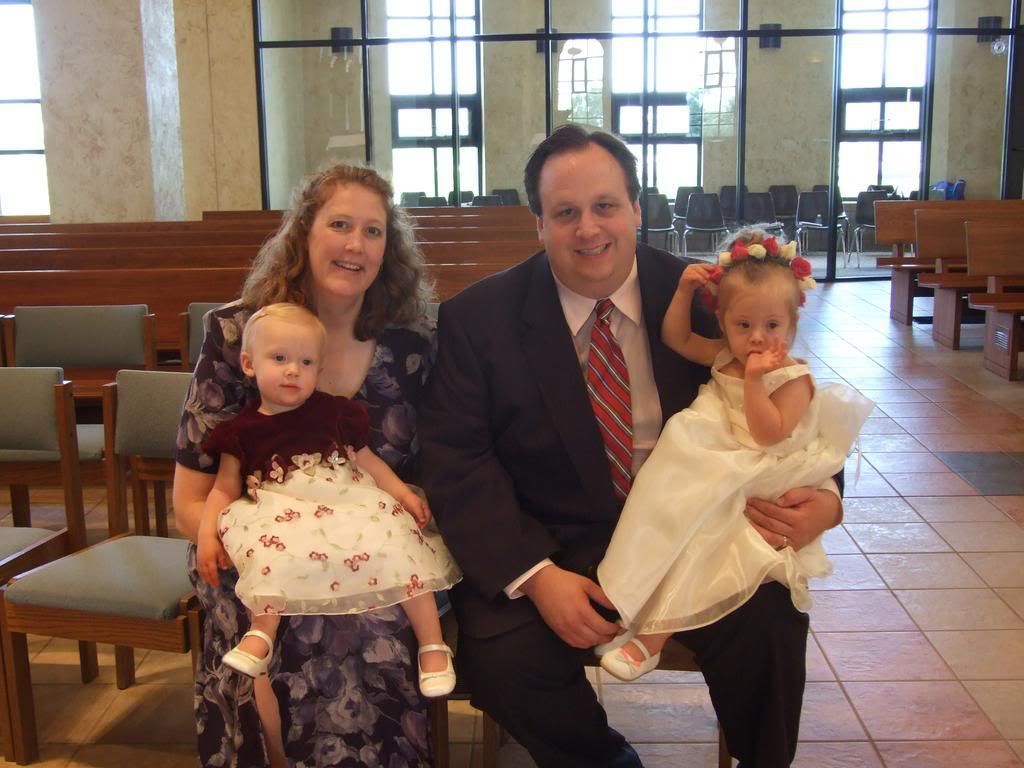 So the person we gave our camera too failed to get a shot of her coming down the aisle, but I guess she did great! Here she tried to get away from the women who was supposed to get her at the end of her walk. She almost got away!
The service.
A triumphant Maeve after the service. We are so proud of her. Now we head back to our hotel room for a nap before the reception.
Well rested, we go to the reception, where there is a dance floor. Maeve heads right there after eating and starts to boogie!
One of the great thing about a Gruenwald get together, plenty of other Gruenwalds! And they love watching and playing with our girls. Here you can see some of the younger ones playing with Maeve. Cecelia dance tepidly
Maeve thinks it will be easier to dance with her shoes off...
A very precious moment... Maeve takes Cecelia's hands and they dance. It was very brief, and only happened once. I'm so glad this picture turned out so good!
"Mr. Happy Feet" (a nickname given to me by the band's lead singer) dances with the flower girl.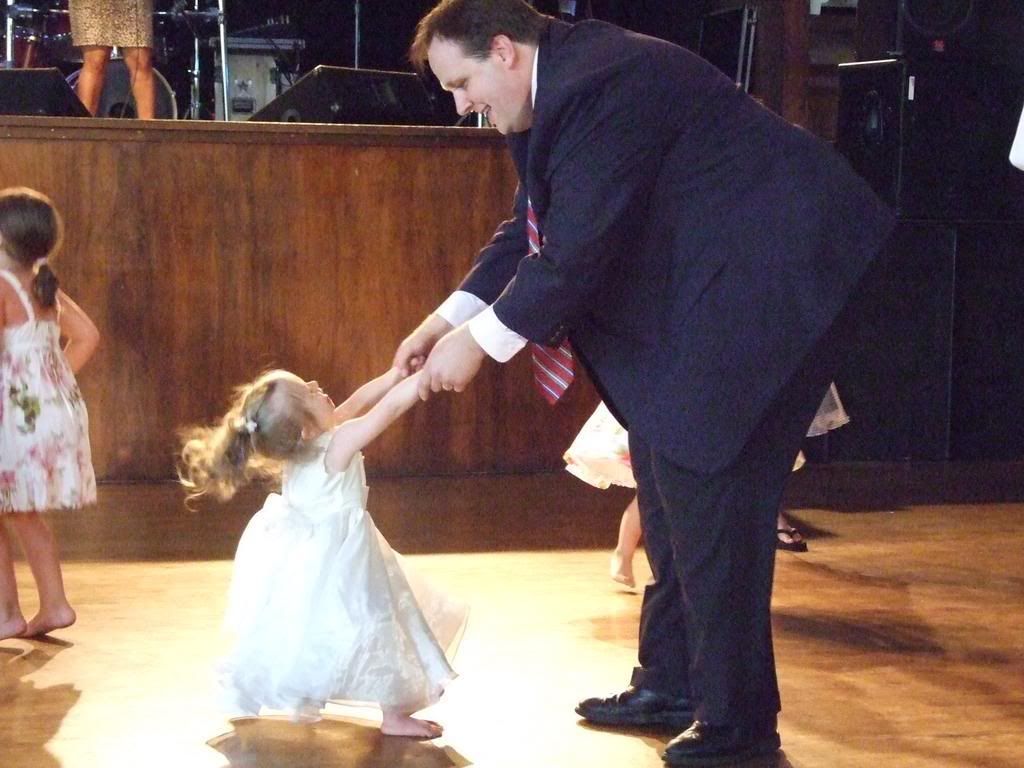 Saturday, June 23, 2007
At the wedding
Maeve did a super job today going down the aisle. Janet and I were playing, so we couldn't see, but were told afterwards about it. Instead of going straight down the aisle, she stopped and looked at people that were watching her.

I'm afraid I forgot a USB cable, so I cannot upload pictures to this computer. We get home late Sunday, so hopefully Monday sometime.

Wednesday, June 20, 2007
The website...
Our blog and website is moving, but probably not til next week. I tried moving things to mediacom today, but think I maxed out in upload capacity for the day. I will keep trying.

We are leaving for Kansas City tommorrow (Thursday). I hope we'll have internet access, and the abilty to update the site, but no promises.

Remember, go to www.linkert.name if you cannot find our webpage as you usually might.

FYI - this will be the future site...

http://home.mchsi.com/~linkert/

Summer fun
We went camping last weekend with the Burfeind's and Cousins. The kids had a great time hanging together, as you can see.




We got there Friday, spent the night, and by Saturday afternoon, Maeve was beat. She slept in the stroller here for over and hour and a half, outside, people and noise all about her. Even after she woke up, she sat in a sleepy daze for the rest of the afternoon.




Despite a morning nap, Cecelia was very tired too, and fell asleep in Mom's arms out in the water!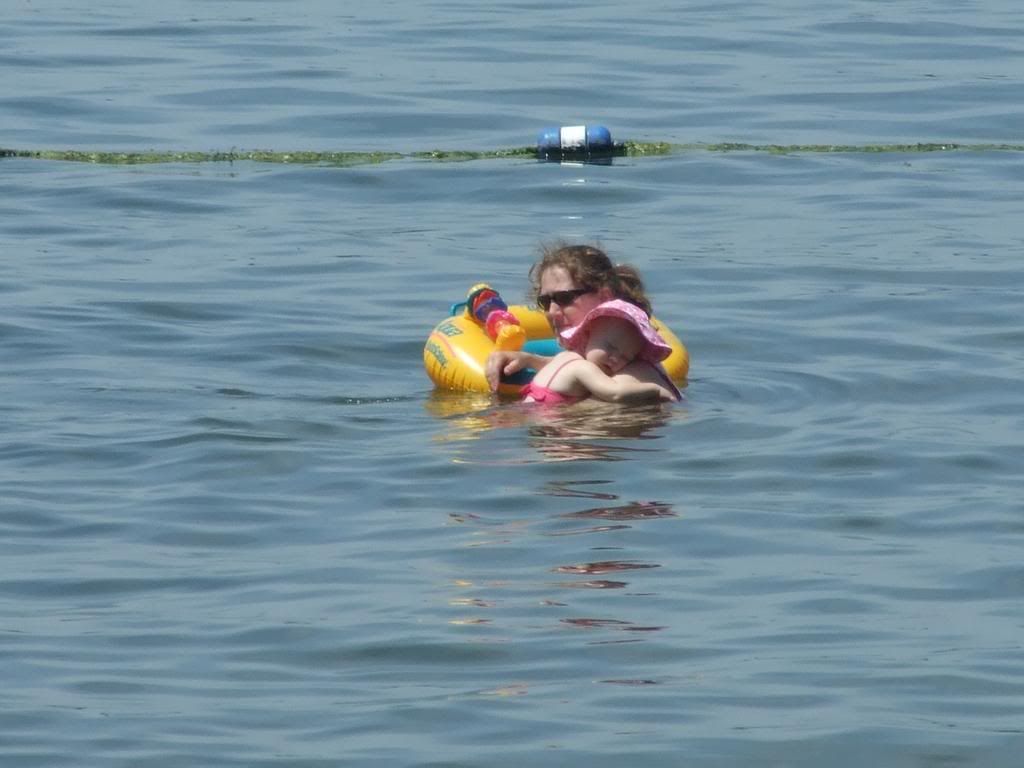 I always like to have pork chops when camping, so here are the finished products.




The girls and I went downtown to join mom for lunch Tuesday. It was a beautiful day, and we grabbed some Chipotle and ate at Peavy plaza, where a live band was performing.



Janet's co-worker joined us. She loves the little girls, and loved following them around, as they walked ALL about Peavy plaza.



Maeve and Mom having fun! Like Maeve's hair?



Cecelia showing off her pigtails. Compliments of dad.

WARNING
Our webpage address will be changing in the coming weeks! So if you bookmarked the "frontiernet" address, it will eventually stop working. We are dumping Frontier (and not soon enough) to go with cable phone and internet access.

So when you can't find our page... you should be able to easily relocate us at....

www.linkert.name

This could happen as soon as Wednesday, but problably not for a week or so.

Wednesday, June 13, 2007
Summer days
Cecelia's finally grown enough hair to have some fun with.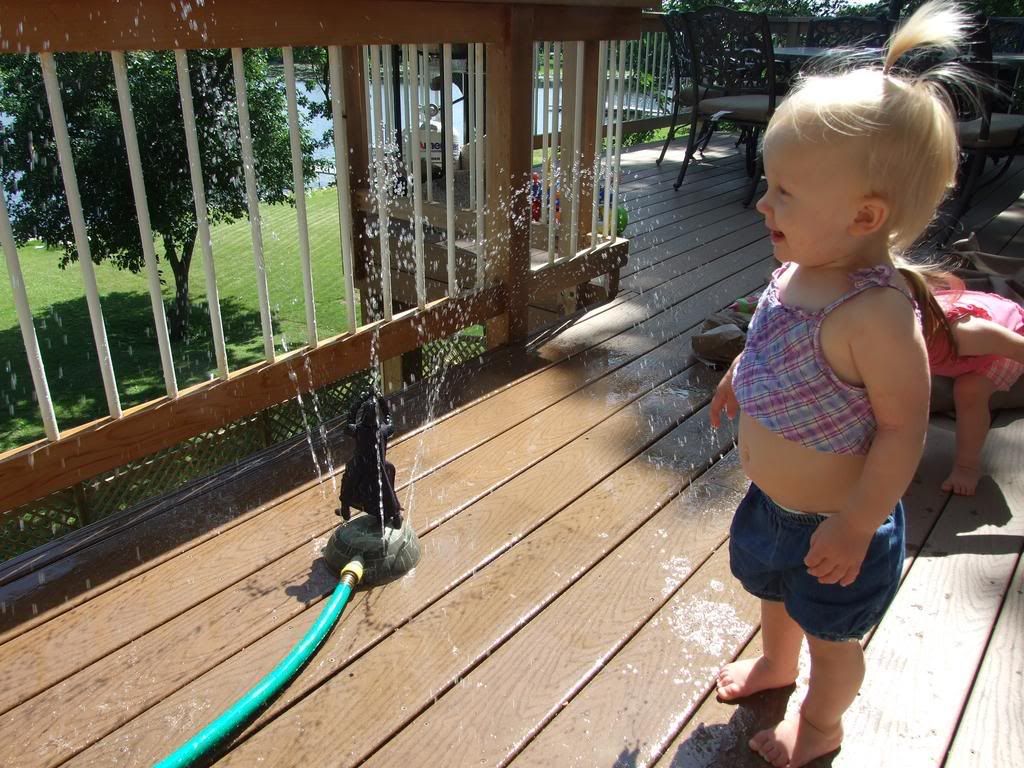 I pulled out the Darth Vader sprinkler. The girls loved it!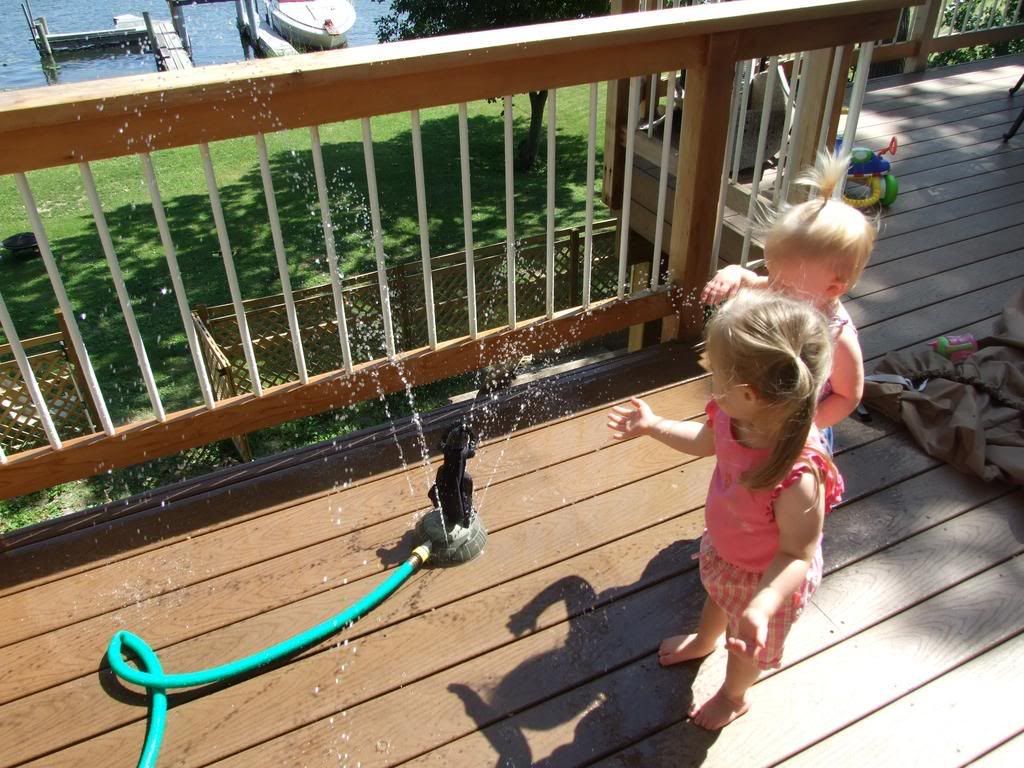 We also finally filled our sand/water table with... well... sand and water. The girls loved it.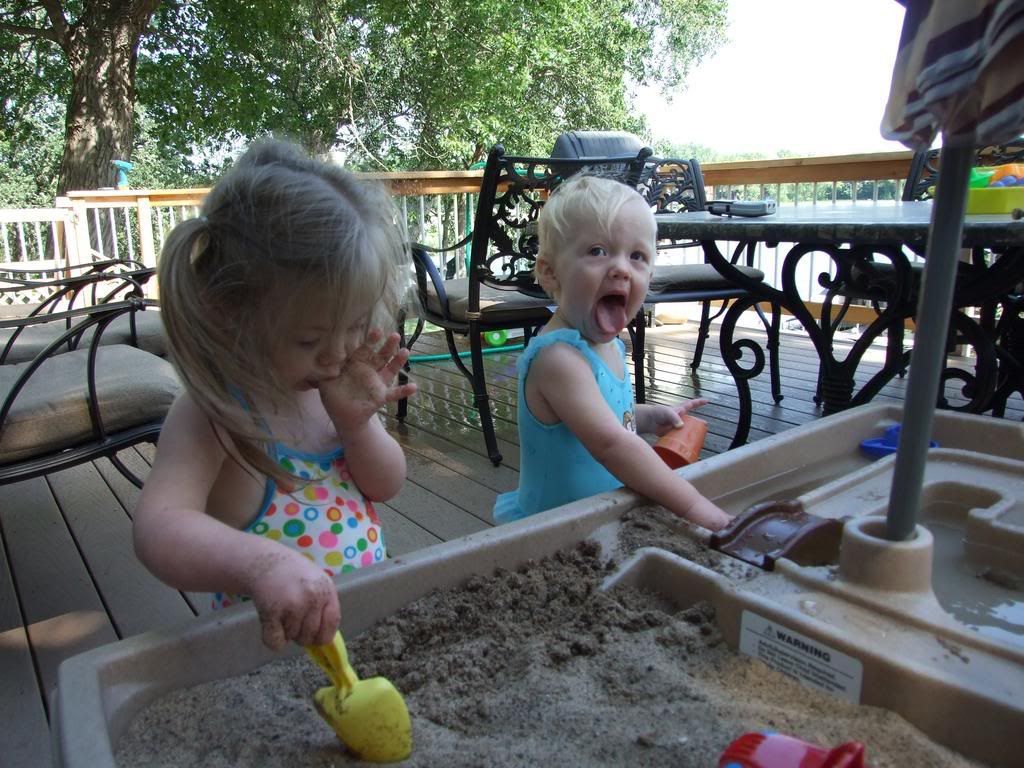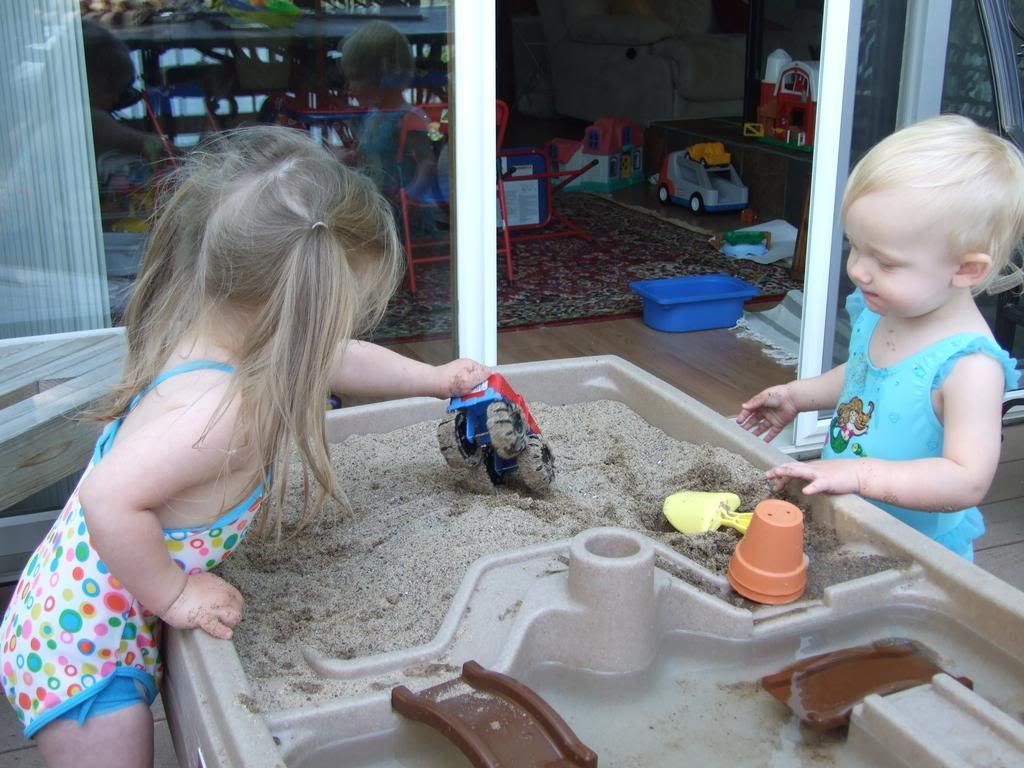 Maeve will be a flower girl at a friends wedding next week. We gave the dress a test run today. It fits and looks great!


Thursday, June 07, 2007
Our backyard
Friday, June 01, 2007
A fun series to watch
Subscribe to Posts [Atom]