Thursday, March 29, 2007
Speaking of the Kid
Some may not have understood the previous post with the Dodge Dart...
That 1964 Dodge Dart GT is my first car. It's been sitting in my parents garage for the last 10 years, getting occasional work from my dad. We used him for my sisters wedding in 2001, and our wedding in 2004.
I'll talk more about the car, whom I call "The Kid", later... but I had to share this bit of writing I did when I first put him in storage.
I called it, "
A Car and His Boy
"
I hope you like it!
Wednesday, March 28, 2007
Last Surviving Female Vet of WWI Dies
3 years later... it rains... but the Kid starts this time...
Inspired by the nice weather, and Janet and mine 3rd Anniversary, I dug up the Kid out of my parents garaged, and fired him up. There's more to the story here, but that's for one of my long boring posts, so I'll skip it for now.




Sara brought the girls over, so we got them piled in the back seat.




And on the trunk too...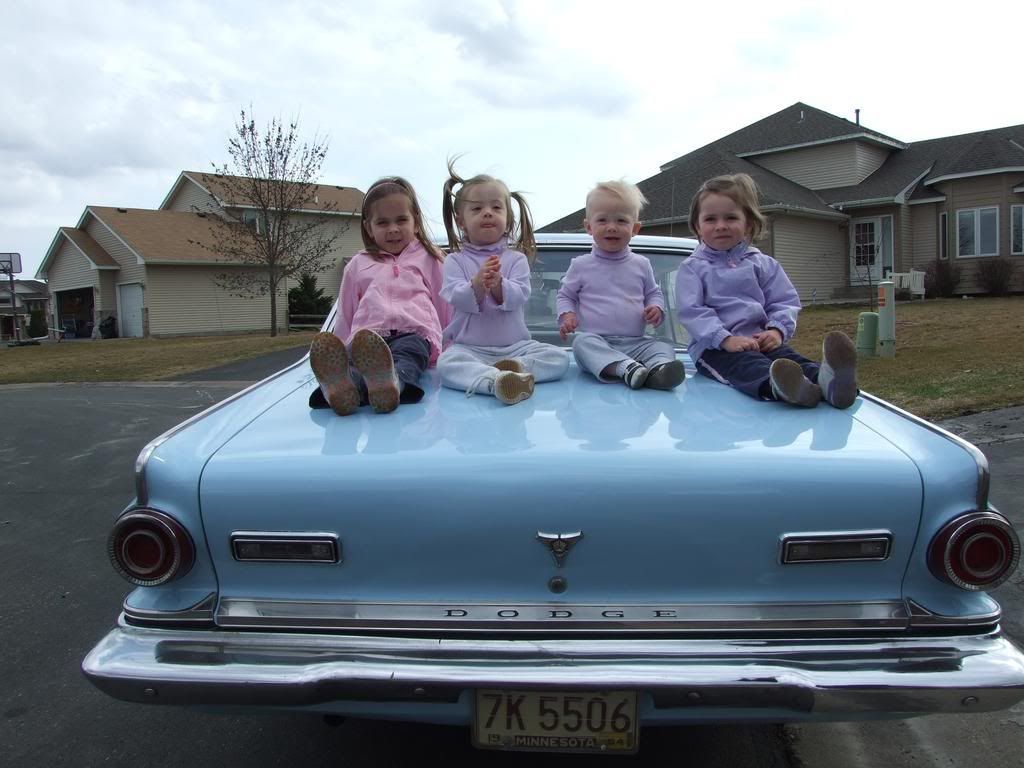 "Hey... doesn't this car have FM??!!"




So I picked up Janet, and we cruised down the river road for a bit.




Had a nice meal... and drove home in the rain.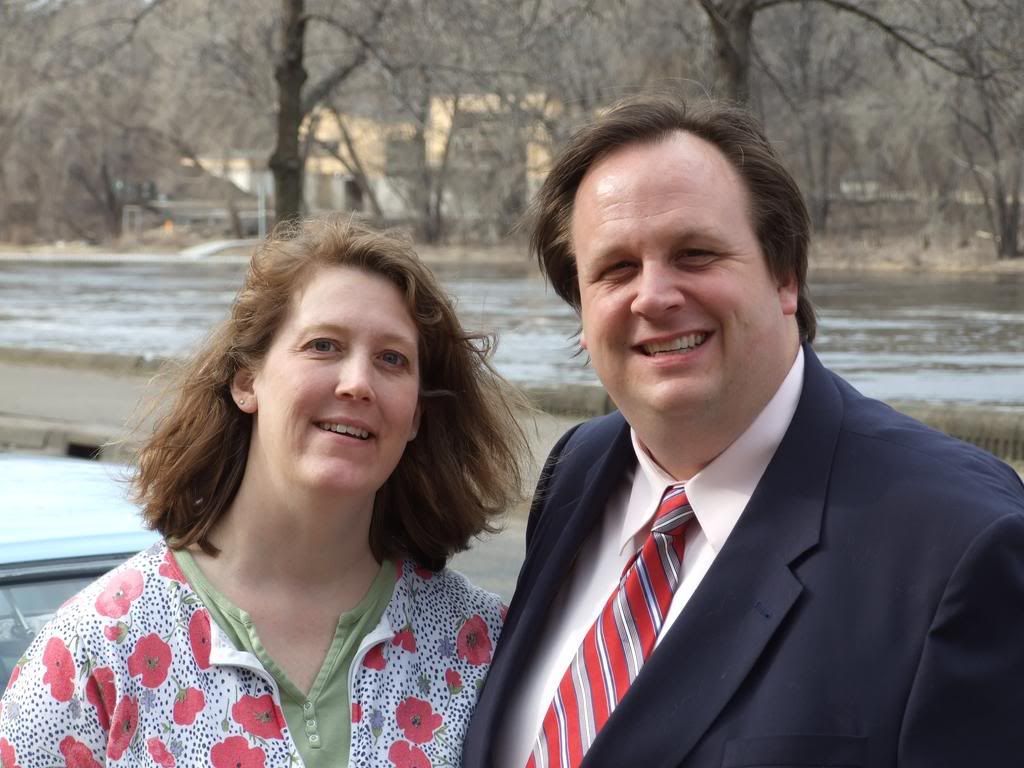 Happy Anniversary my Love!


Well... it's not my idea of fun
Tuesday, March 27, 2007
Fun in the sun
Went to he Children's Museum in St. Paul last week. The girls had fun. Lots of cool ramps and slides.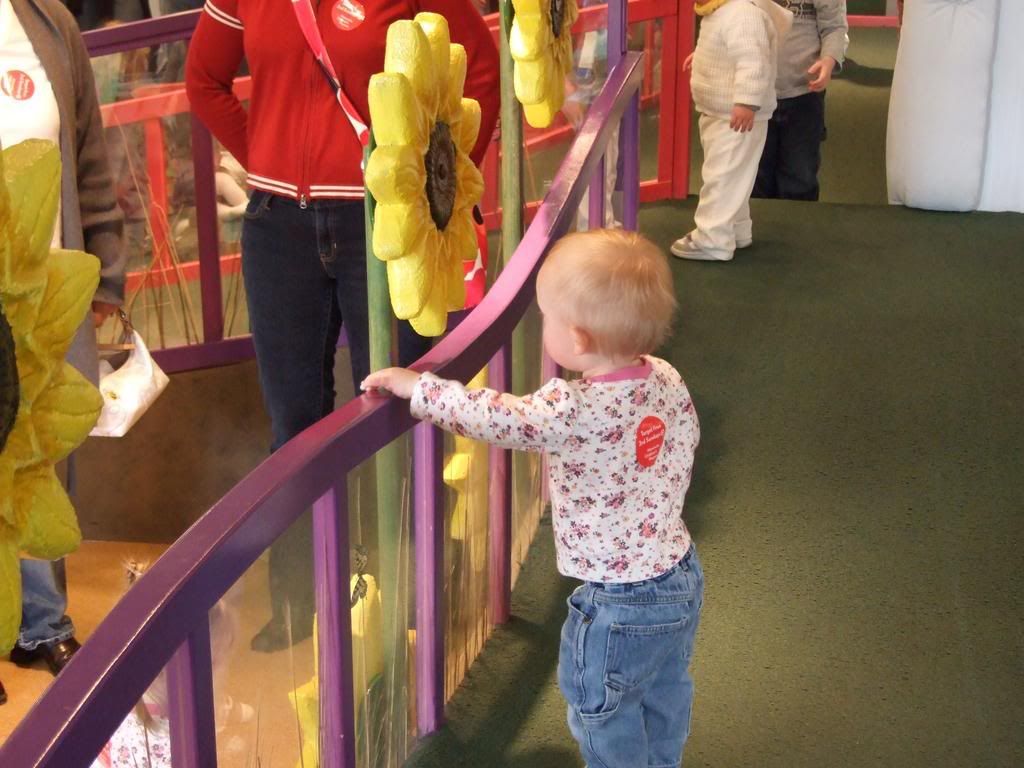 Maeve was a skunk for a while... fortunately the costume didn't come with a built in smell.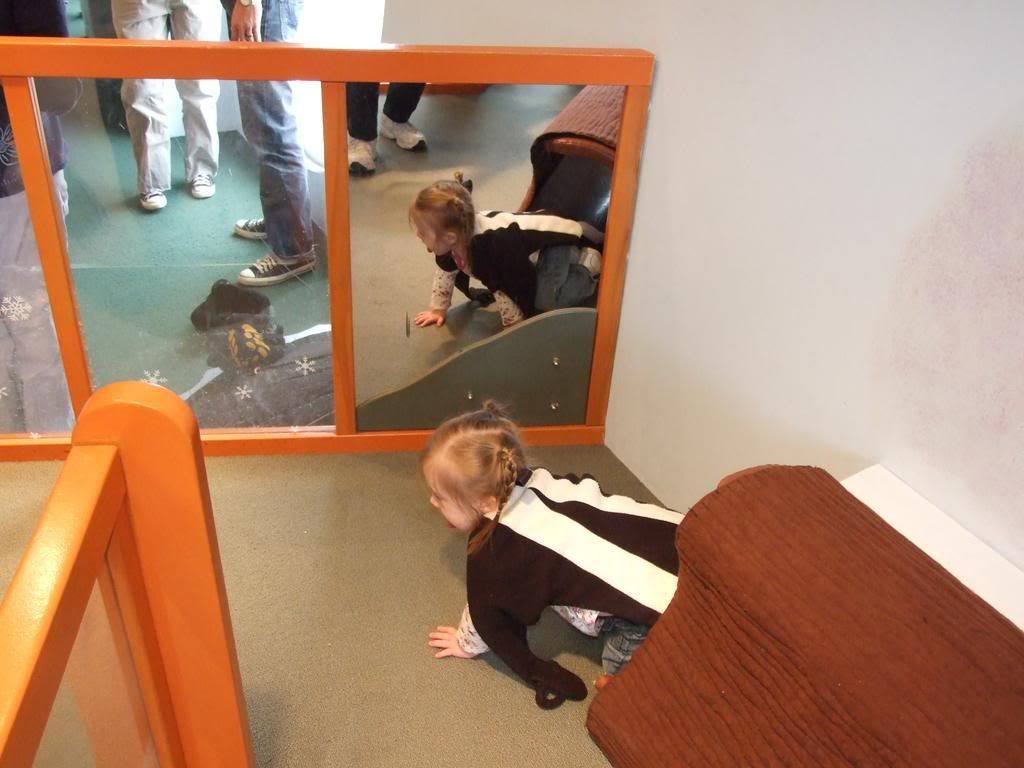 We're all ready for summer!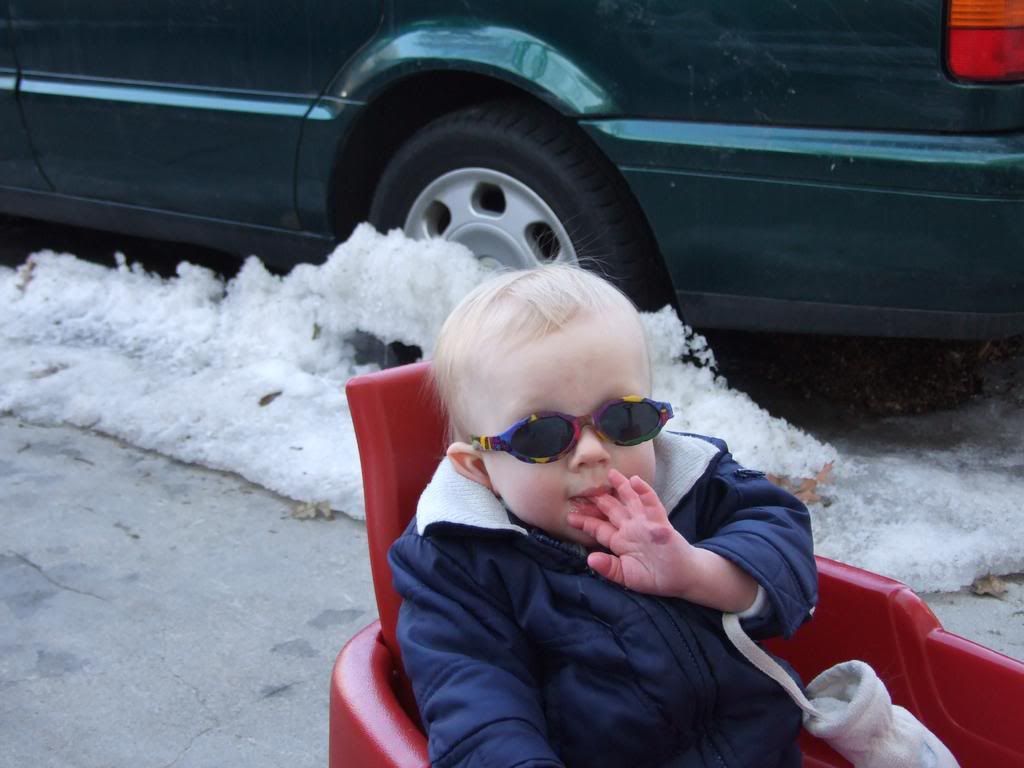 Going for a ride in our new wagon.



Grandpa and I took the girls downtown last week, intending to go to the autoshow. Which was open during the day. So we killed some time at the downtown library, and met mom for lunch.




It's getting real nice out there the last couple days. I'm almost ready to believe it's not going to snow again.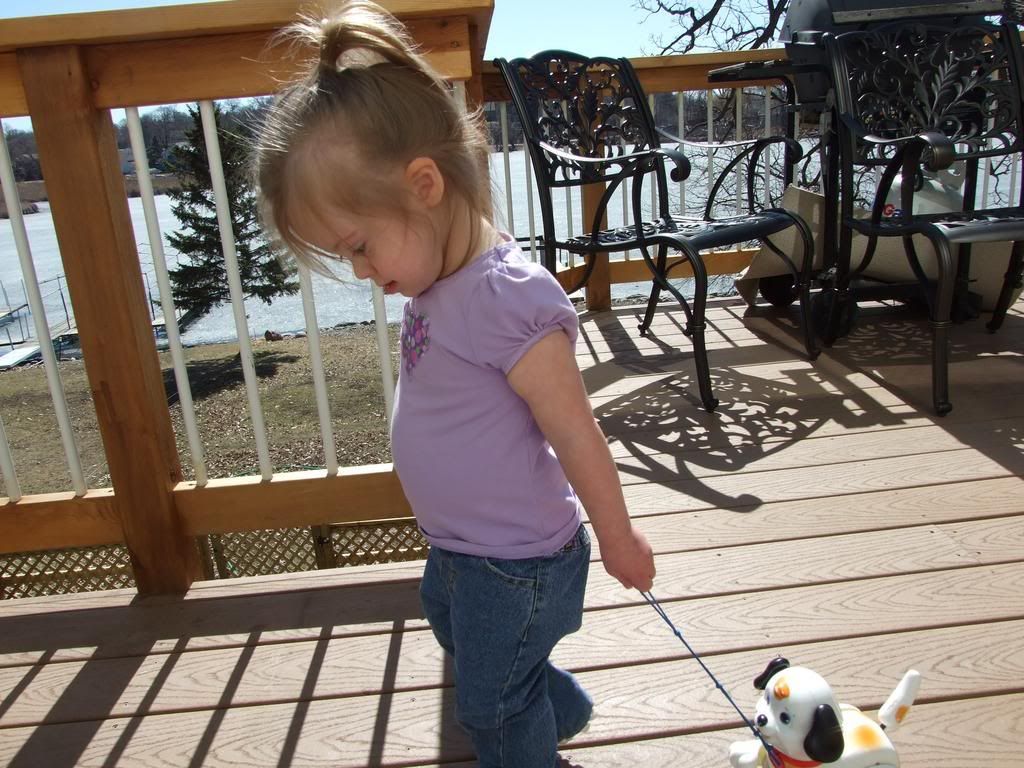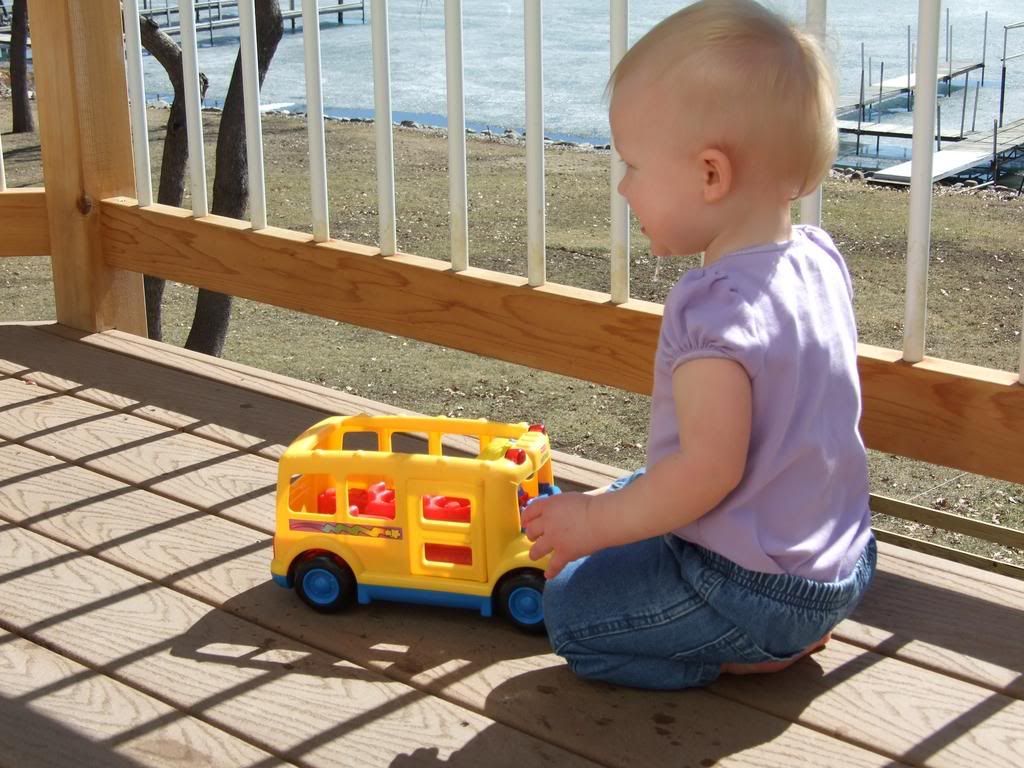 Cecelia standing on the gate...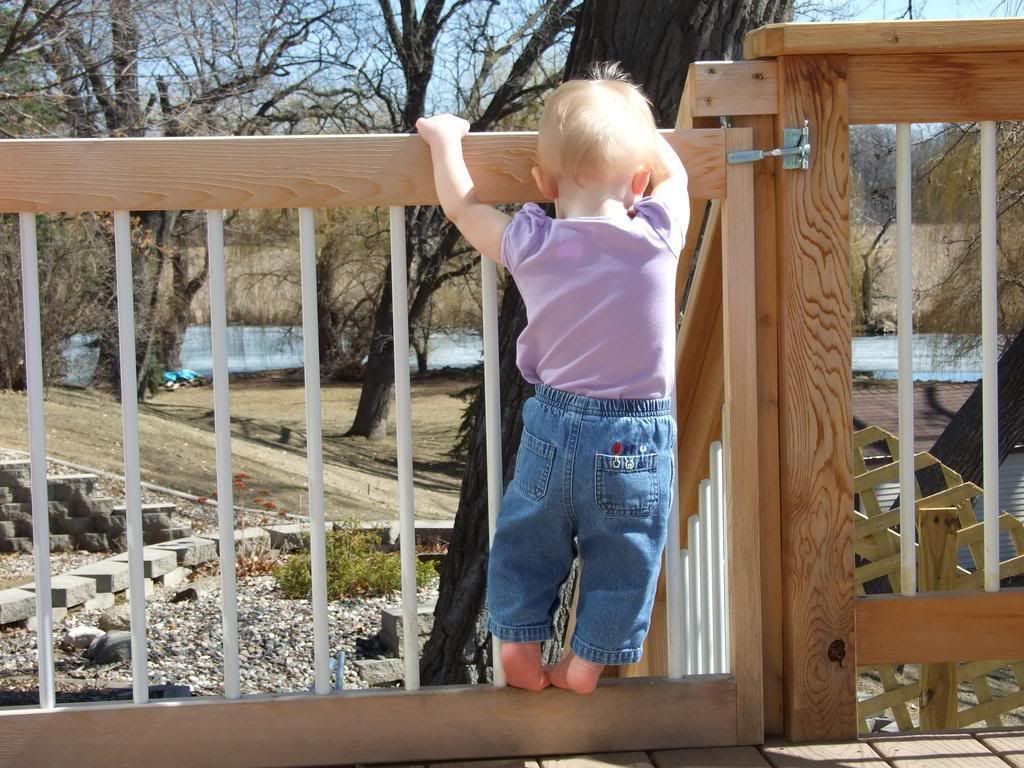 Cecelia falling off the gate.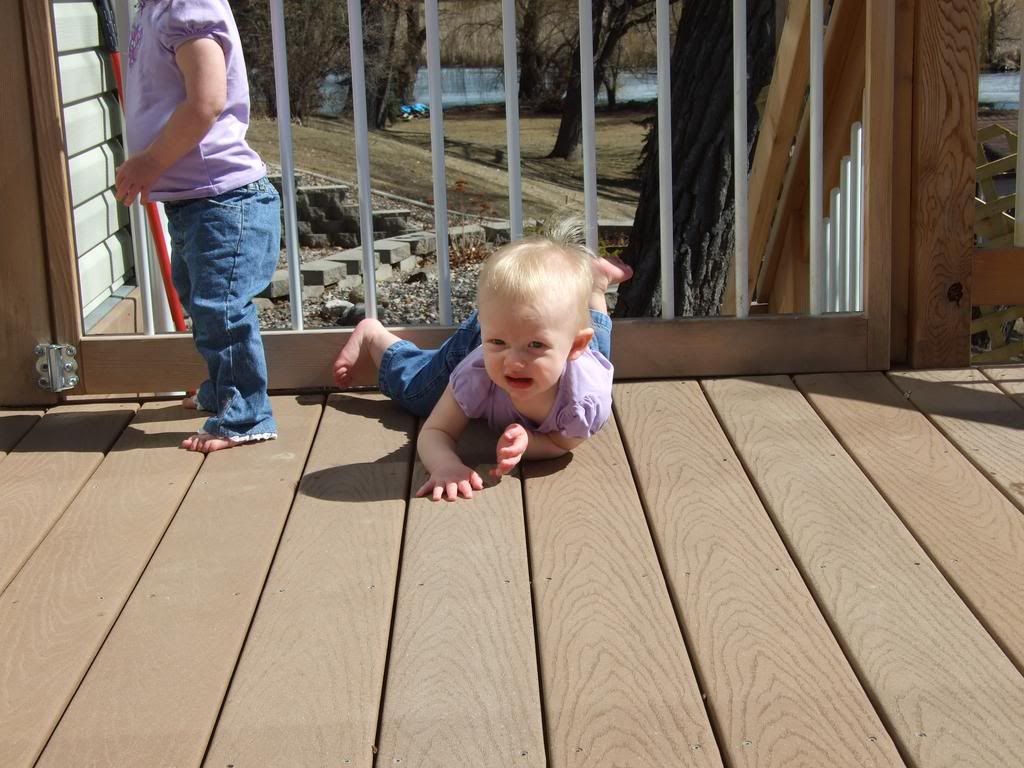 The dreaded Canadian Geese...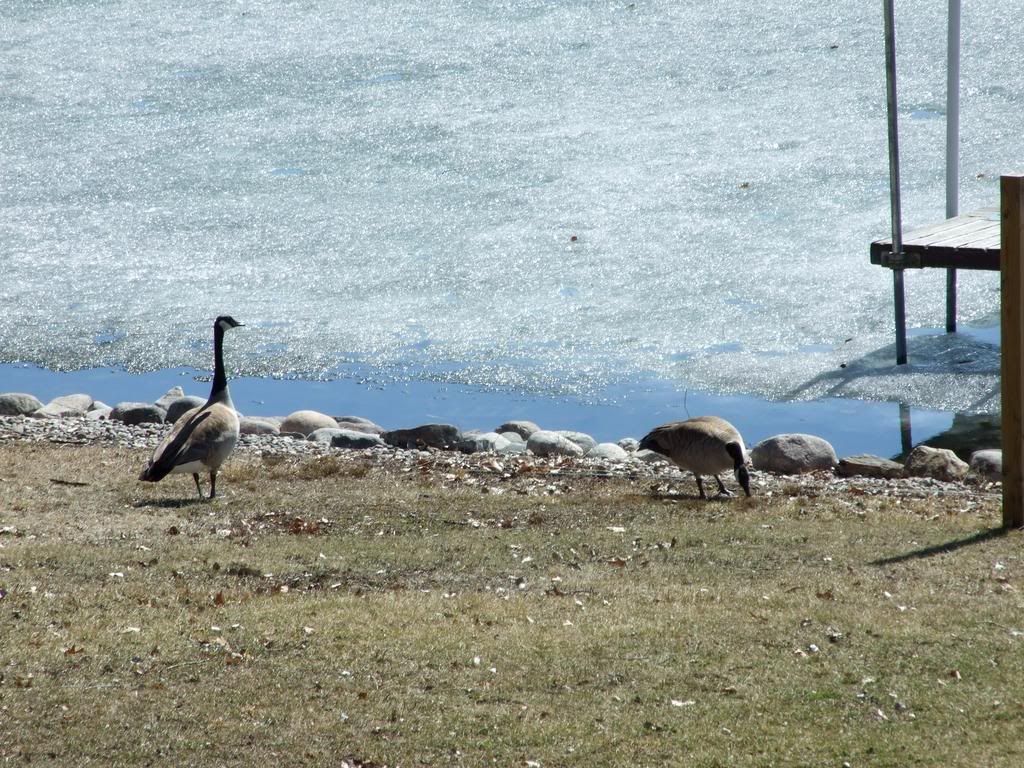 You can see the ice melting fast. Our neighbor was able to work on his dock a couple days ago, walking around the ice. Couldn't do that today.




The snowless yard.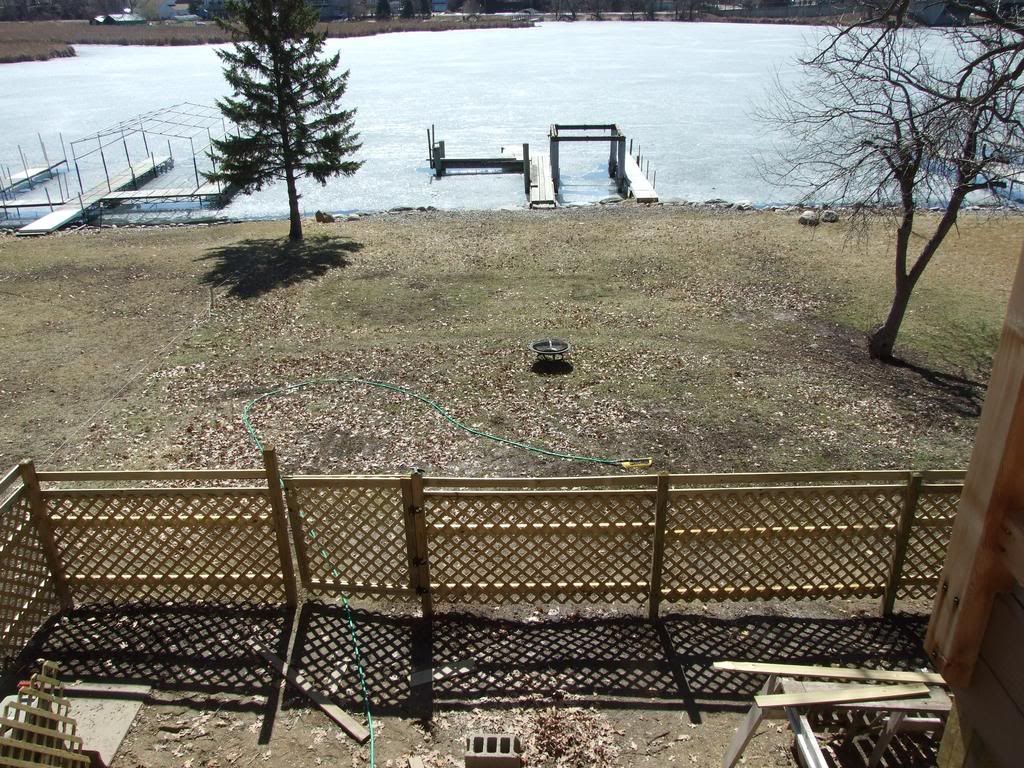 Our new lilacs on the slope... about to bud!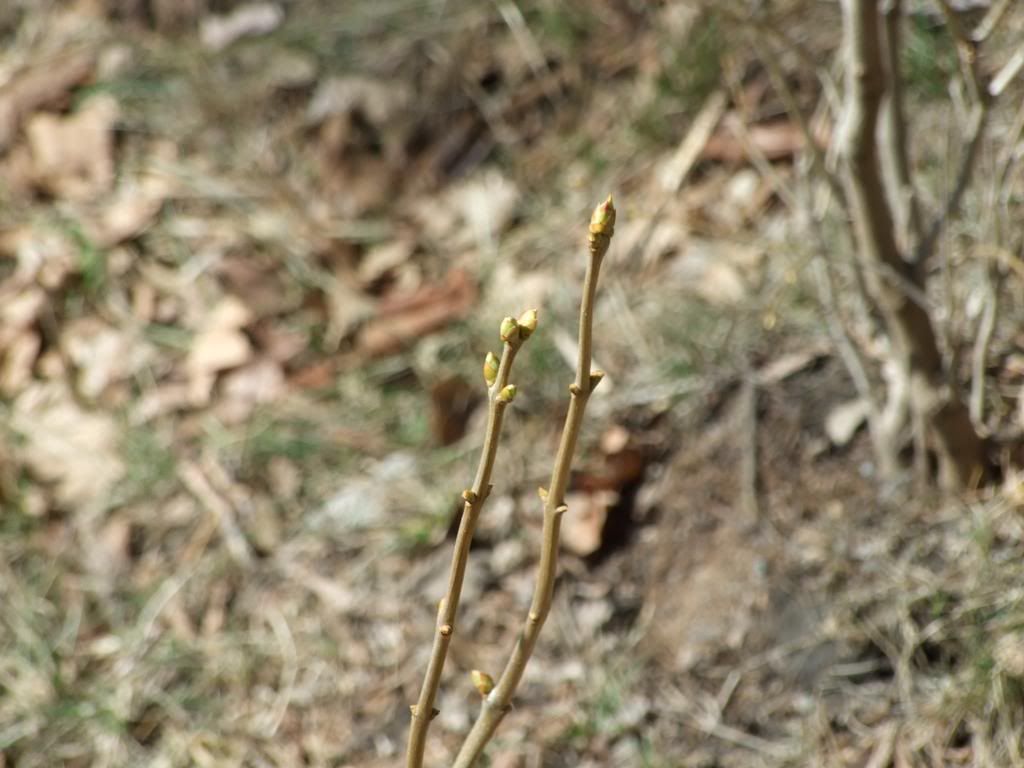 Tuesday, March 13, 2007
A beautiful day!
So what if it was a huge ugly snowstorm a week ago! We're going out on the deck to play anyway....

Hey, where did the snow go?!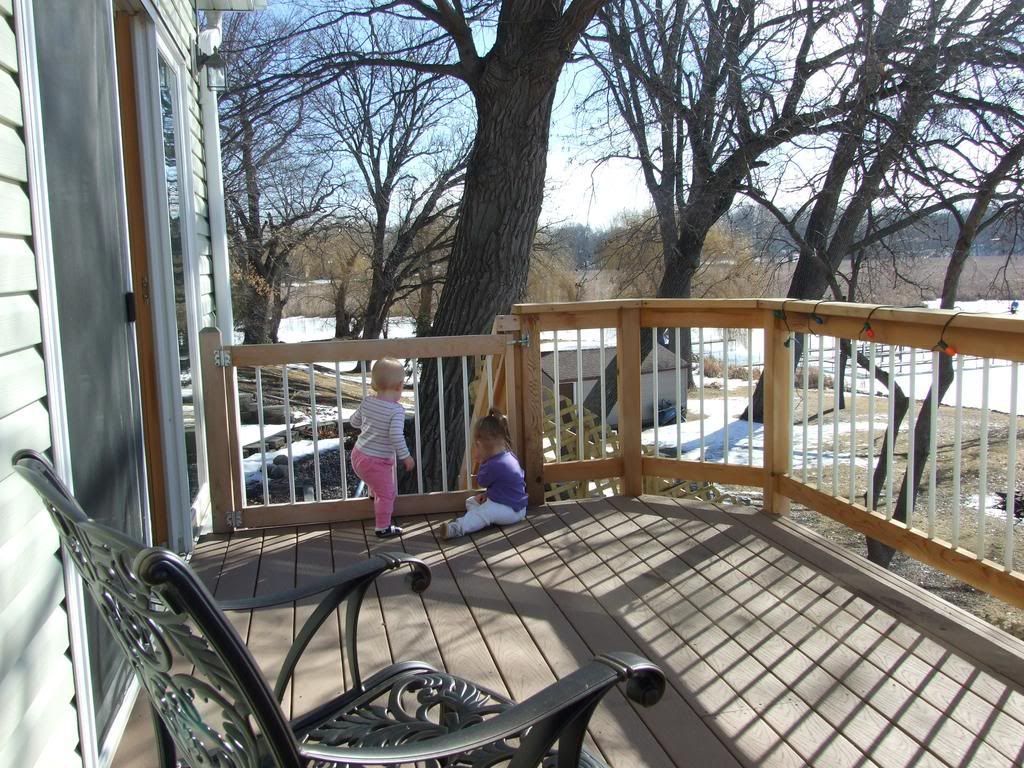 Cecelia checks out her birthday present from Uncle Bruce and Aunt Jenny. Thank you!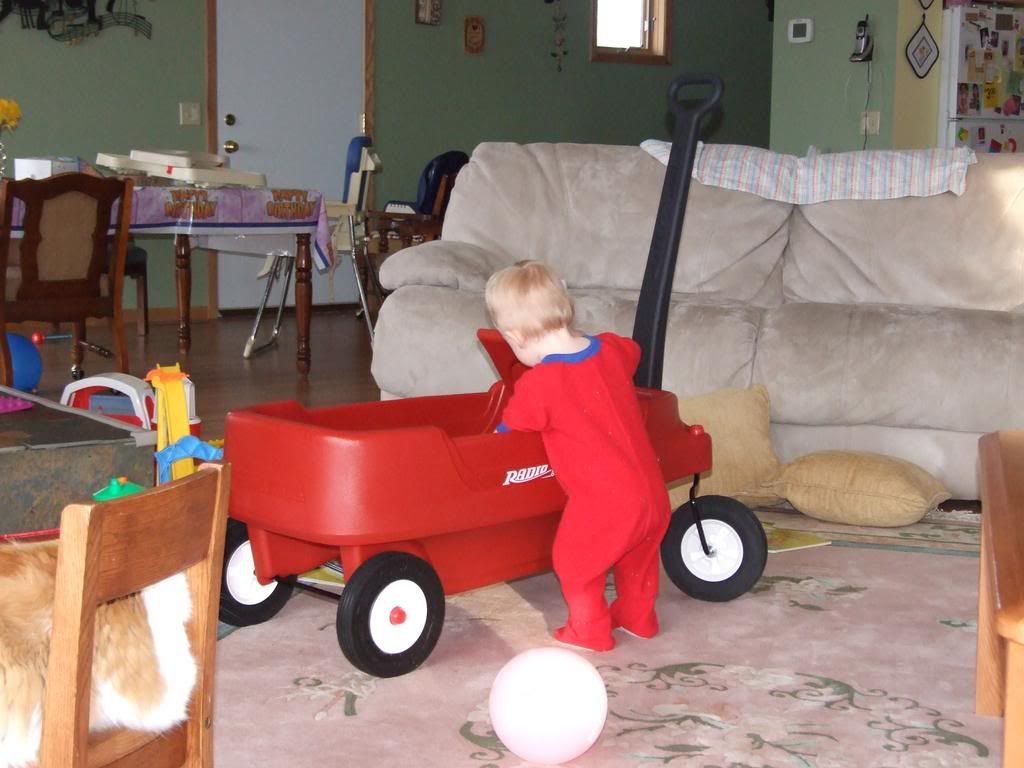 Monday, March 12, 2007
Cecelia Birthday Party!
We celebrated Sunday evening with some great friends and family. Cecelia had a really great time (considering she never did nap like she was supposed too!) After a great meal prepared by Janet, we sat our guests down to have everyone write a poem about Cecelia.

You can see Sara and Janet are clearly not focusing as much as Gloria, Grandma, and Jon. Even Avae is working hard on her poem.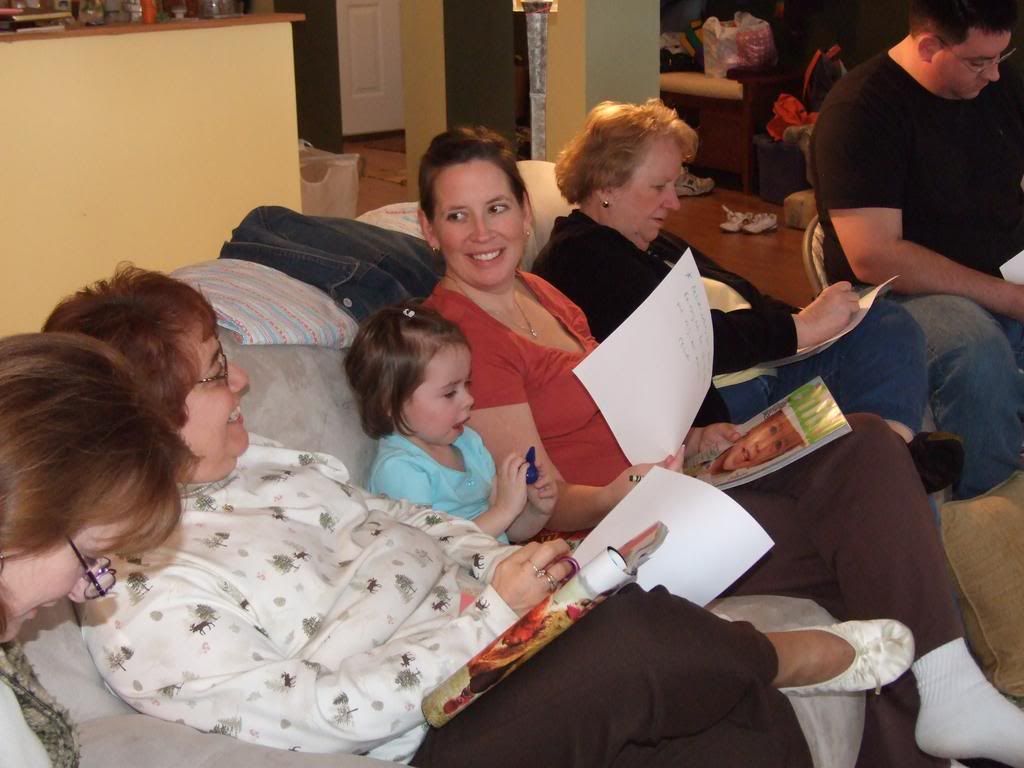 Some cousins at the little kids table. Jon is not considered a little kid anymore, but since Chad wasn't there he felt most comfortable eating his cake here.




A beautiful new dress for Cecelia. Thank you for all the wonderful gifts!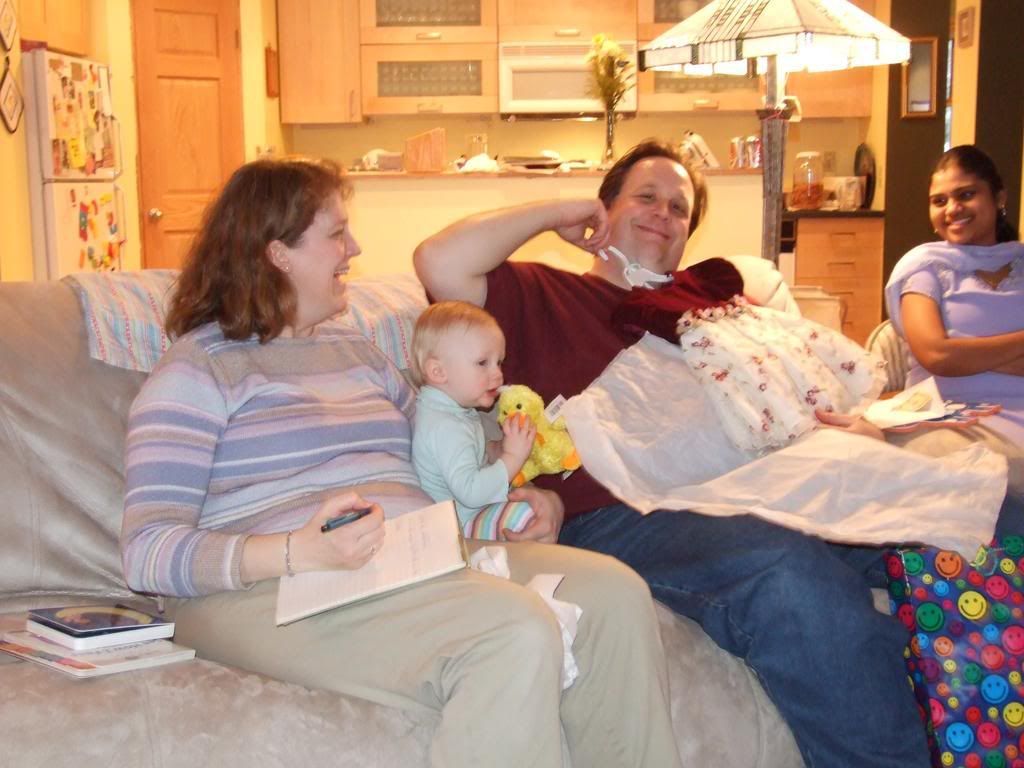 Is there anything more cute then Gloria and Saahas in a picture together? I dare you to find one!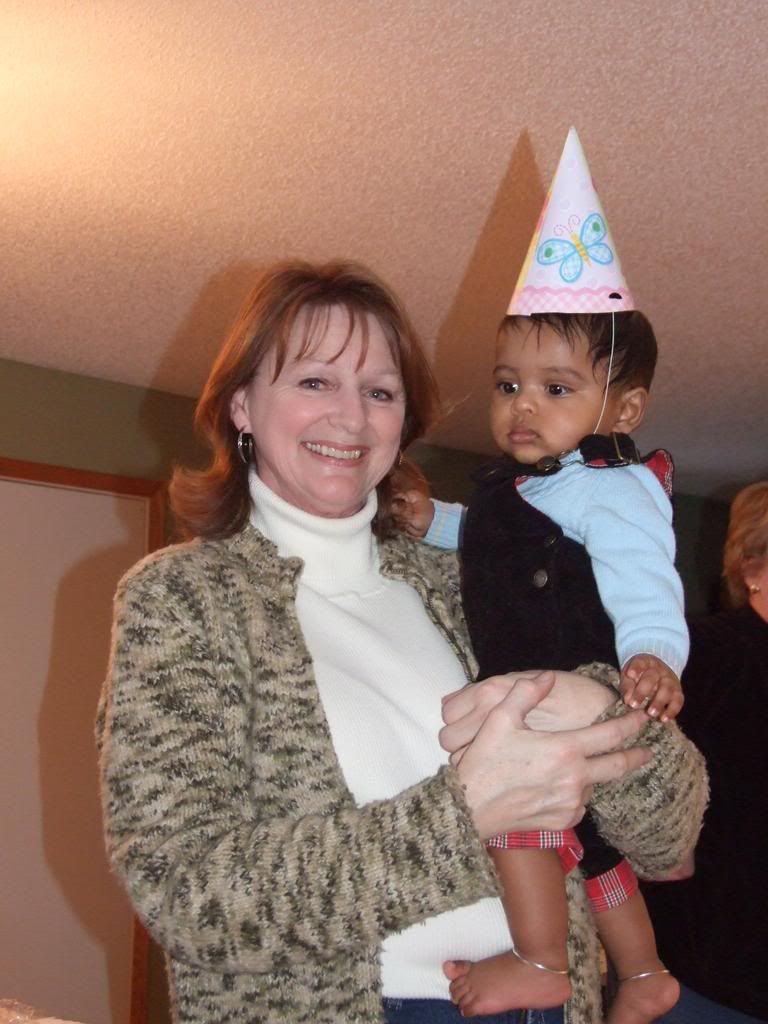 Well... ok this might be cuter.




This one is pretty cute too though... forget I asked!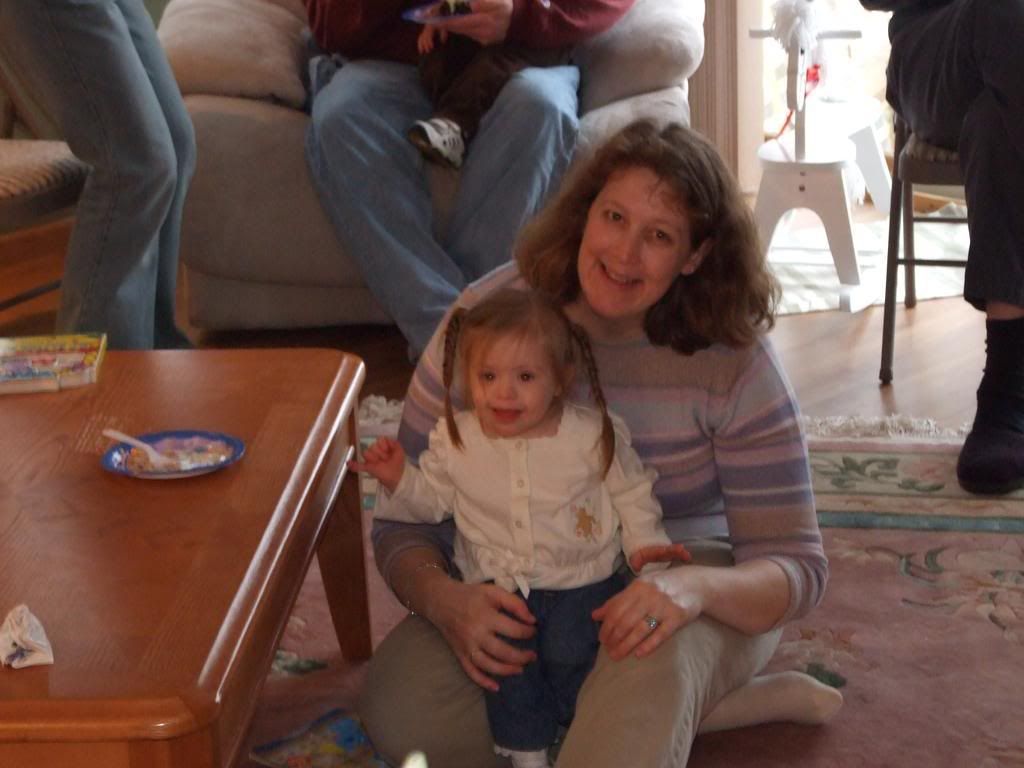 Cecelia's Cake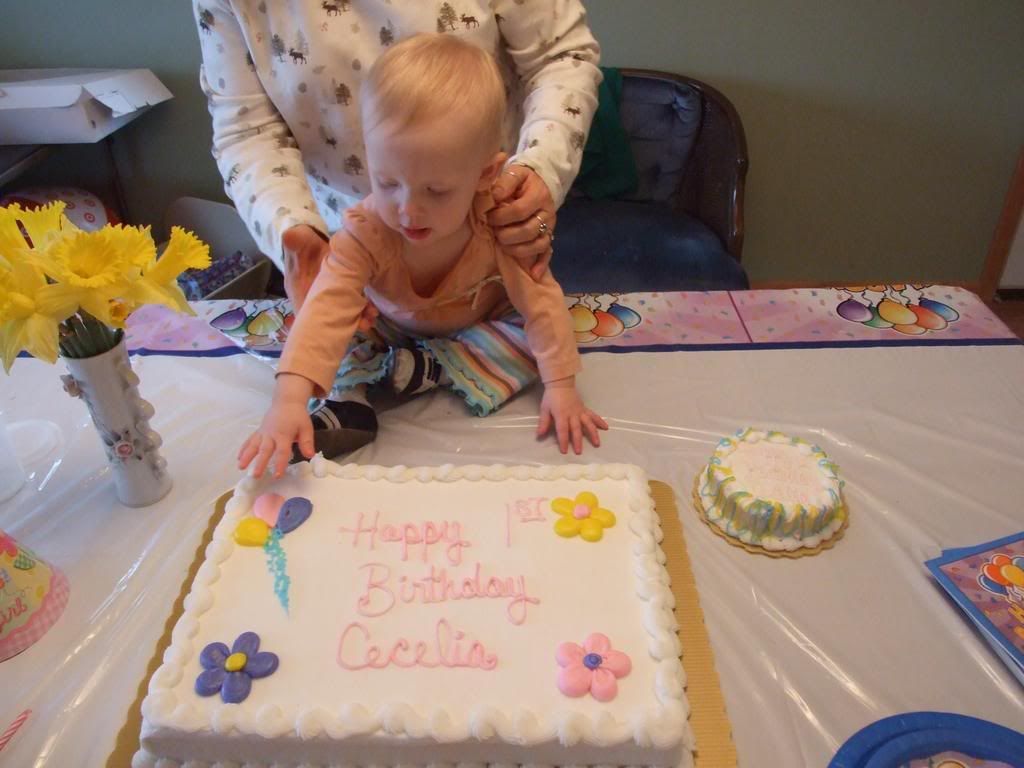 Cecelia enjoying her birthday cake.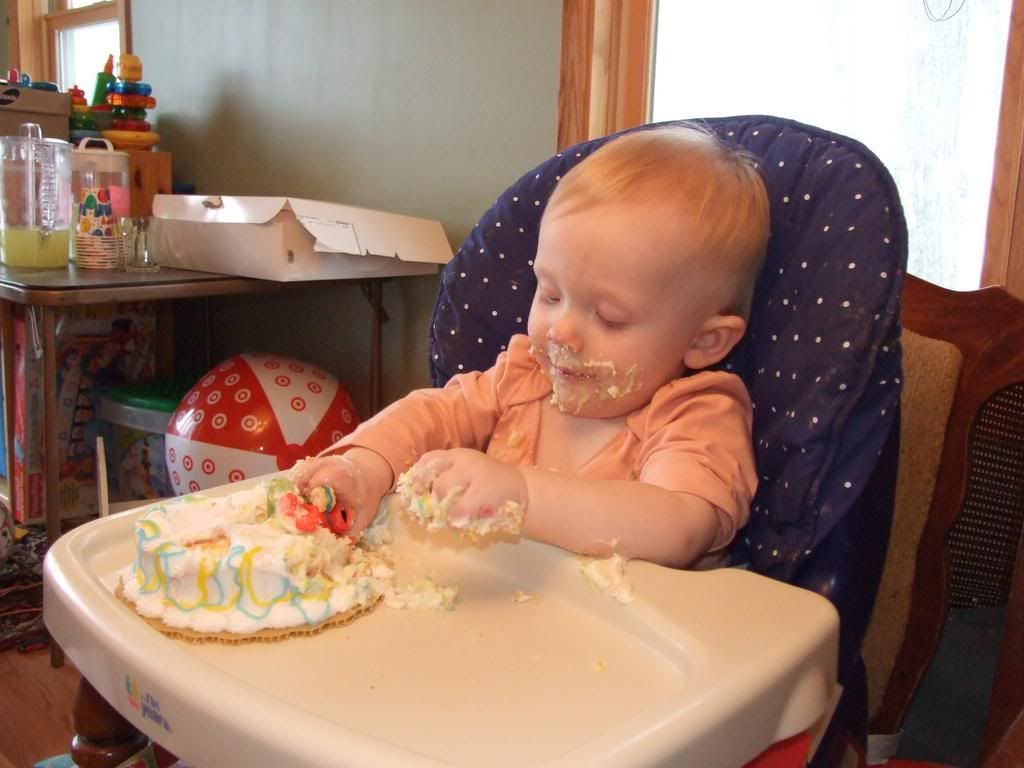 Got nearly all the children in this shot... Jon walked out of the frame moments before.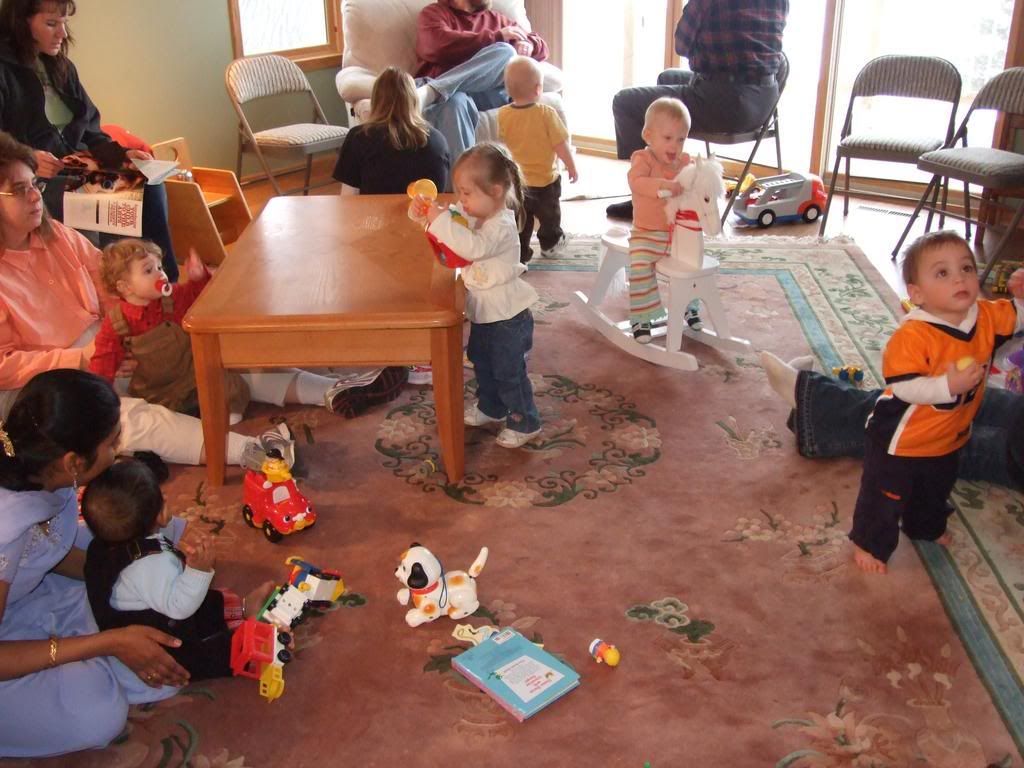 Saahas and Swaroop enjoying the party!




Daddy and the girls reading a book.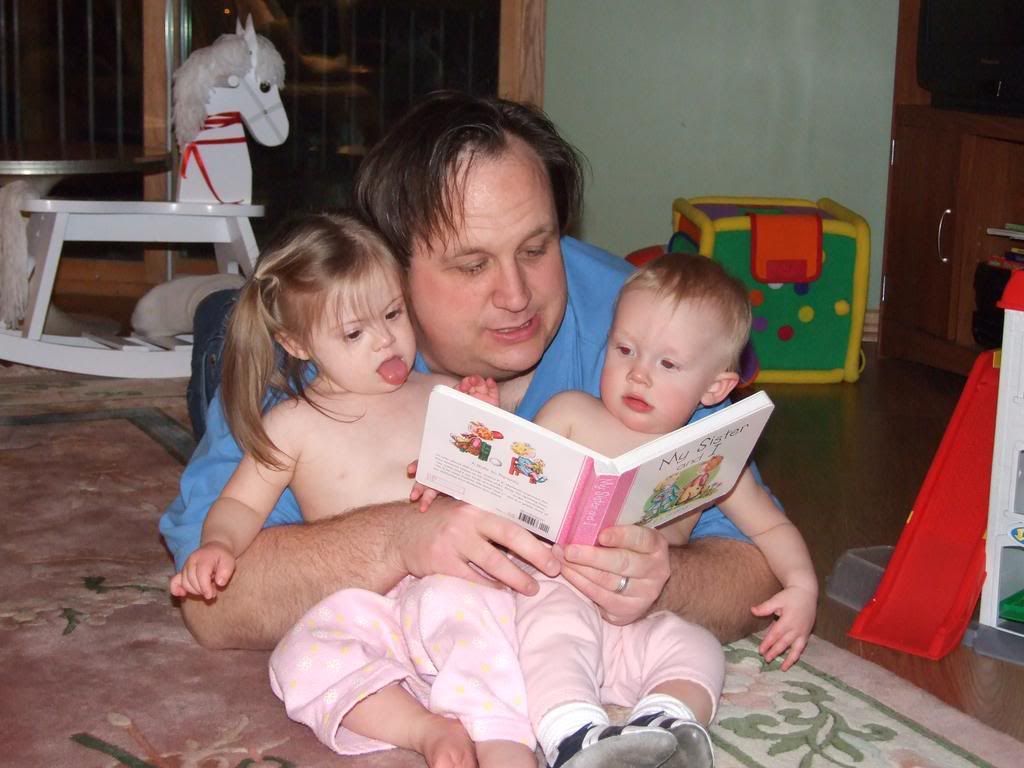 Thank you again to those who came to our party... I'm hoping to get a video together in the next few days.

Saturday, March 10, 2007
Pictures from the last week
Icicles on the house... taken at night.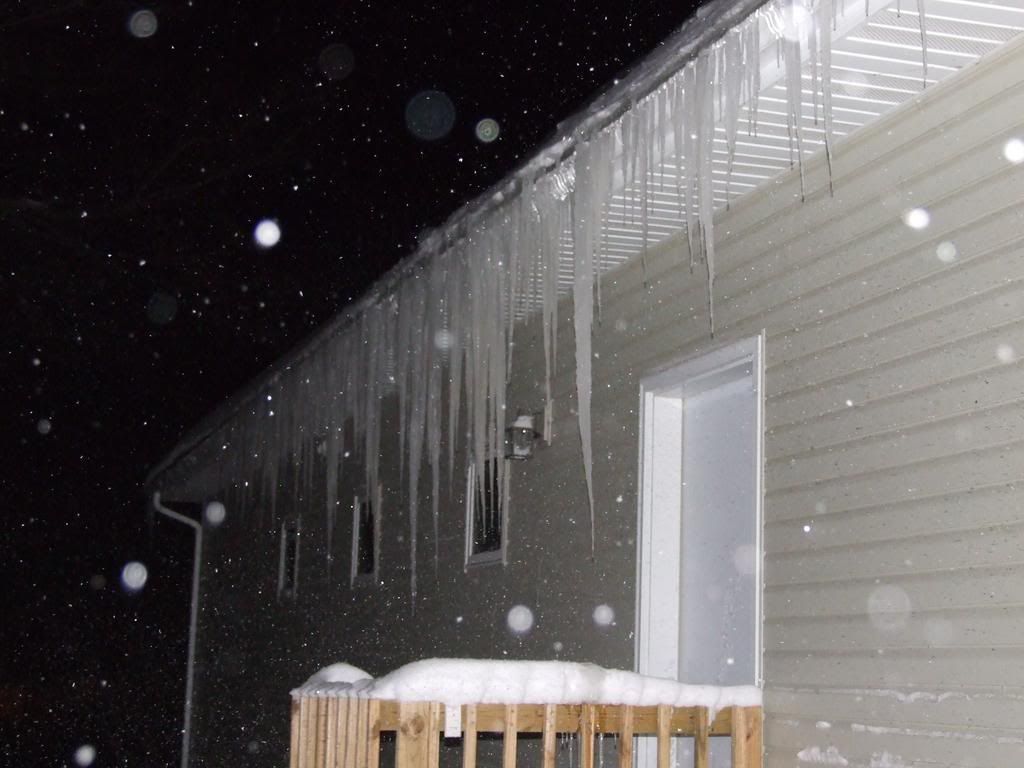 One more pic of the birthday girl, opening gifts from her aunt Mary.




Some pictures from Devin's birthday party last weekend. Who has the nicest hair here... Abbi, Maeve, or Gloria?




Here you can see Logan about to put his finger into Devin's birthday cake... I'm glad my kids don't act this way!




Here's Logon looking so innocent!




Gloria offers her advice about being a Grandma.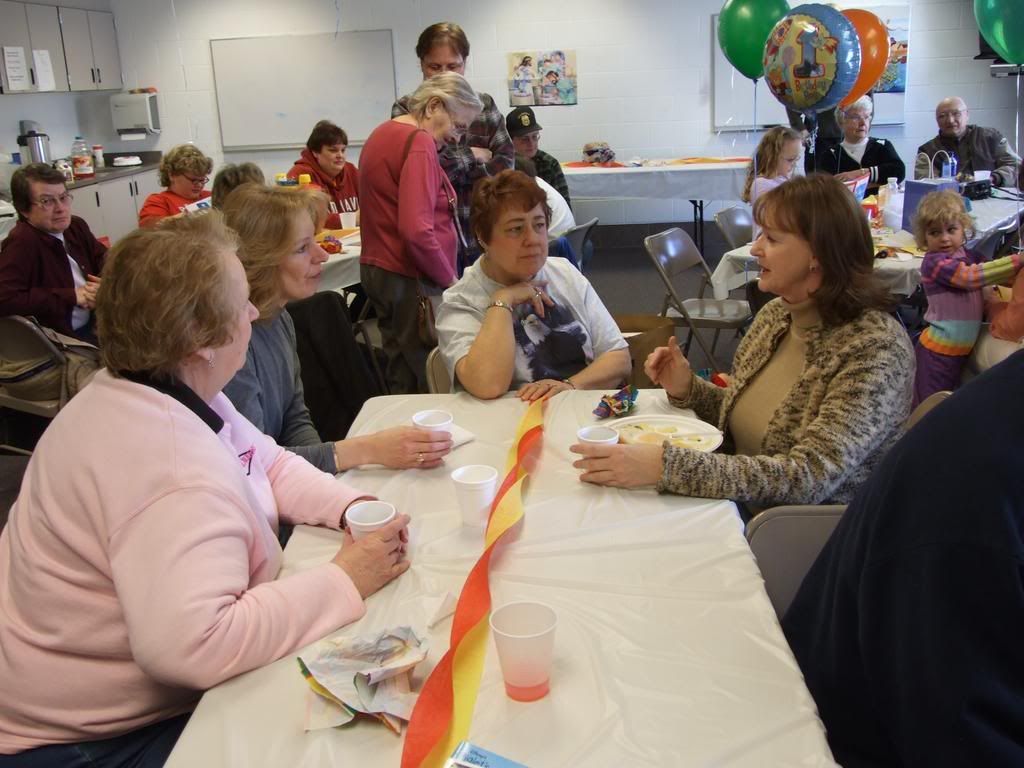 Can't you just see her glowing?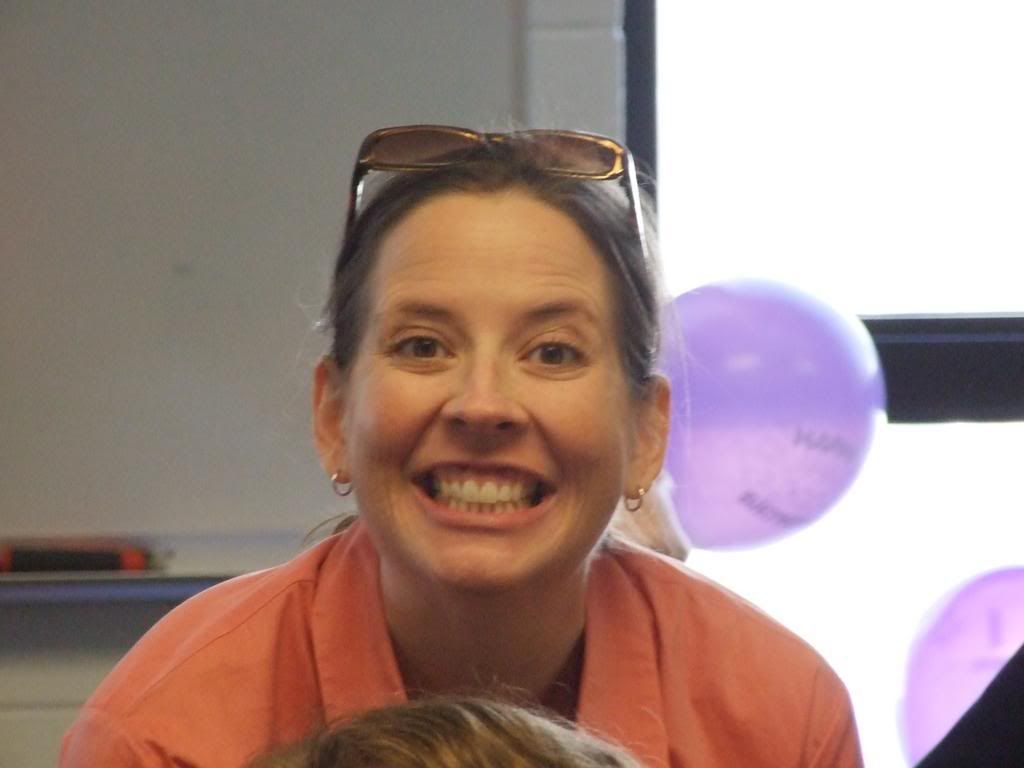 I should've shared this earlier!
Friday, March 09, 2007
Cecelia's Birthday pics
Just a sample... more later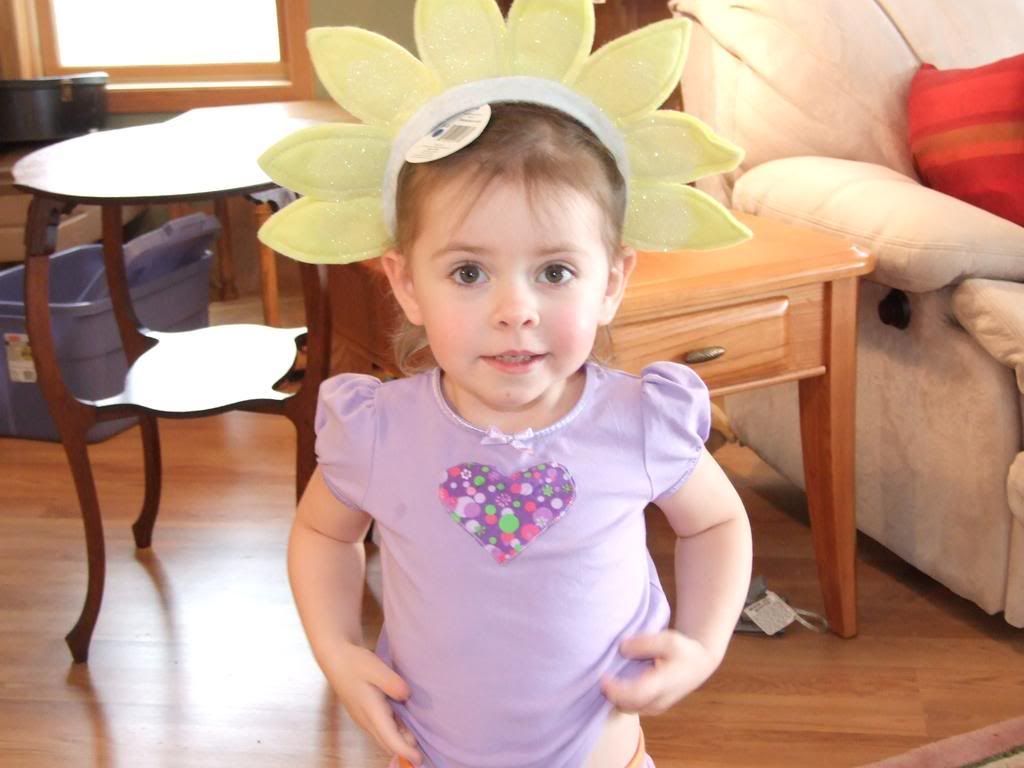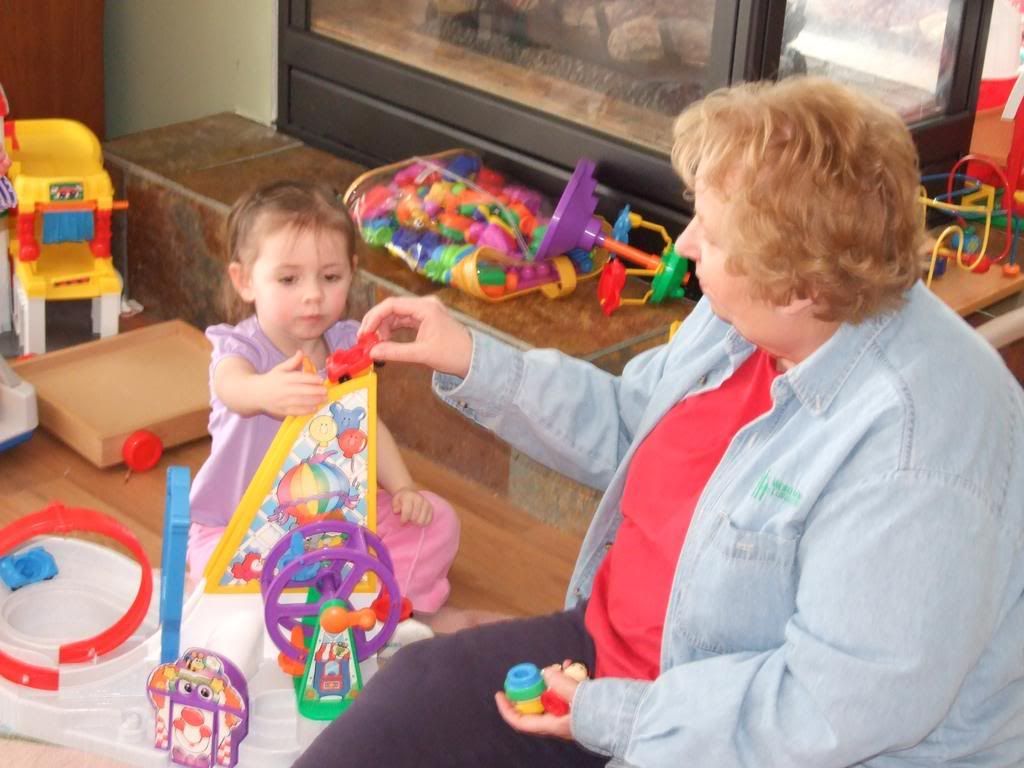 Wednesday, March 07, 2007
Colbert Report
Friday, March 02, 2007
In anticipation of the anticipated Easter Egg Hunt


My sister put together some video from the last couple years. Good work, as always, Sara!

Snowmegeddon!!!
It's a wonder how we actually survive these things.



Just a reminder, this is what our deck looked like last week.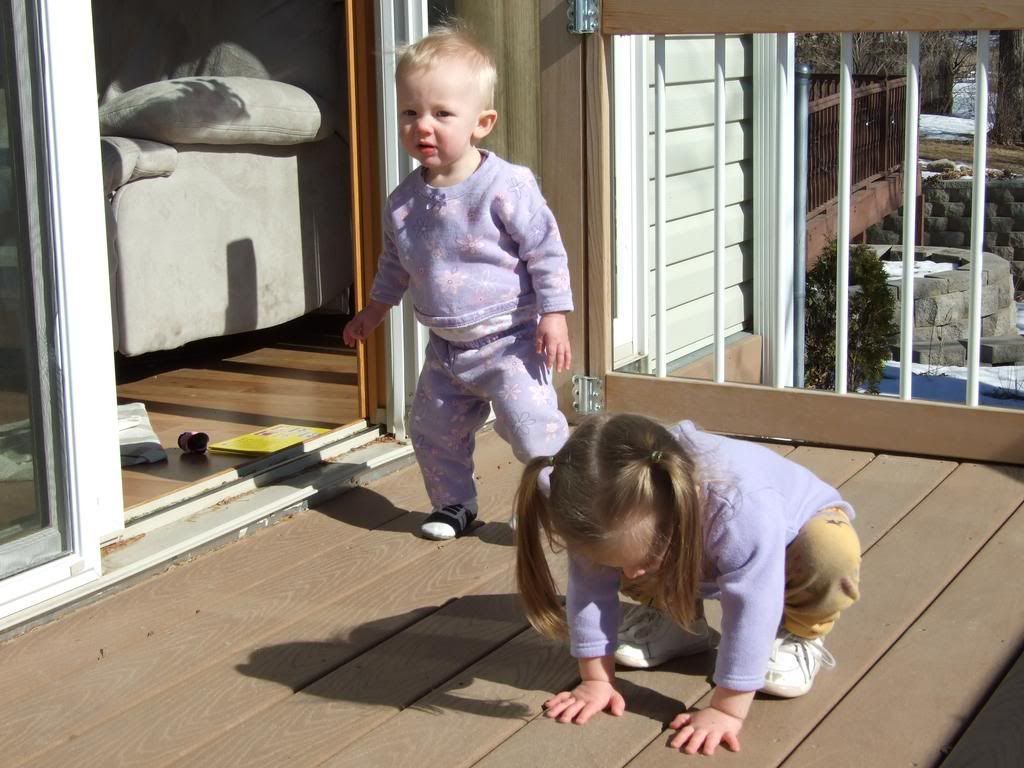 Here's the same spot this morning.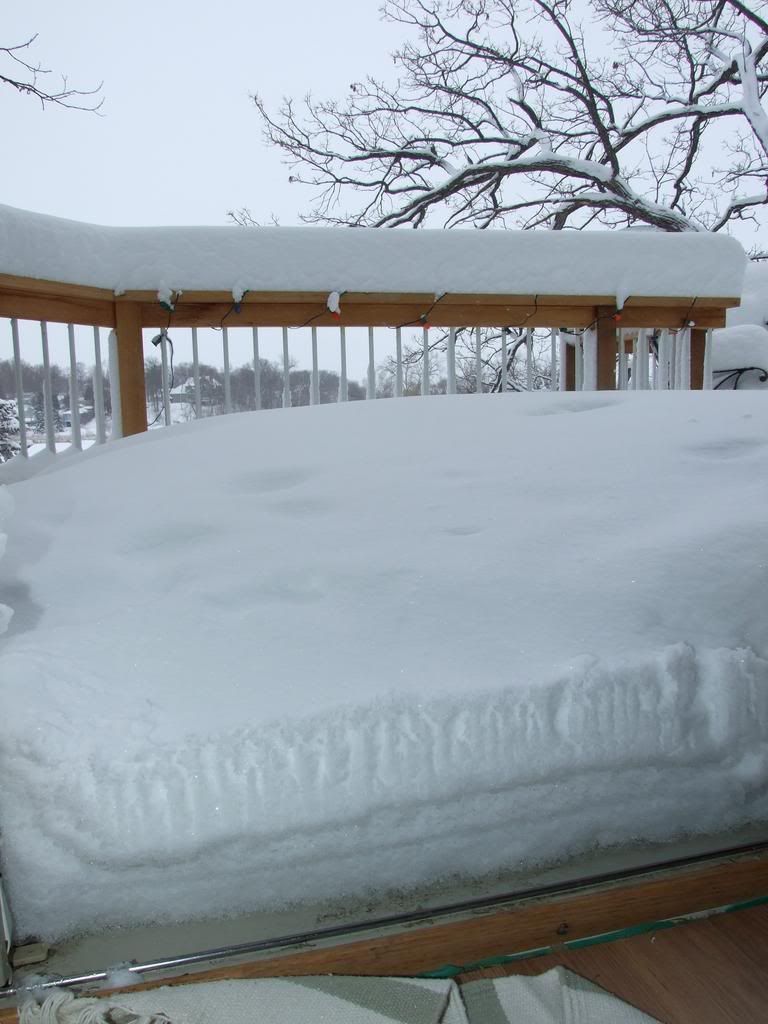 I didn't clean off these cars. The snow will probably melt in a day or two anyway!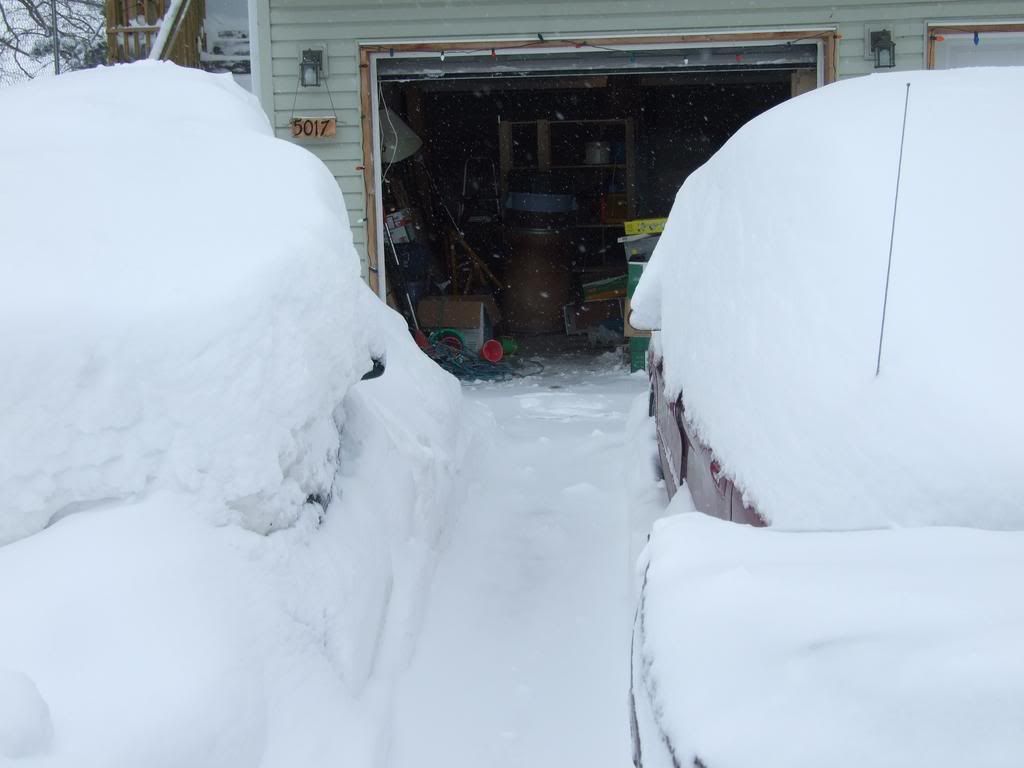 This shows the precision of my neighbor, Gary, with his pickup/snowplow. Cut out the snow right in front of the mailboxes!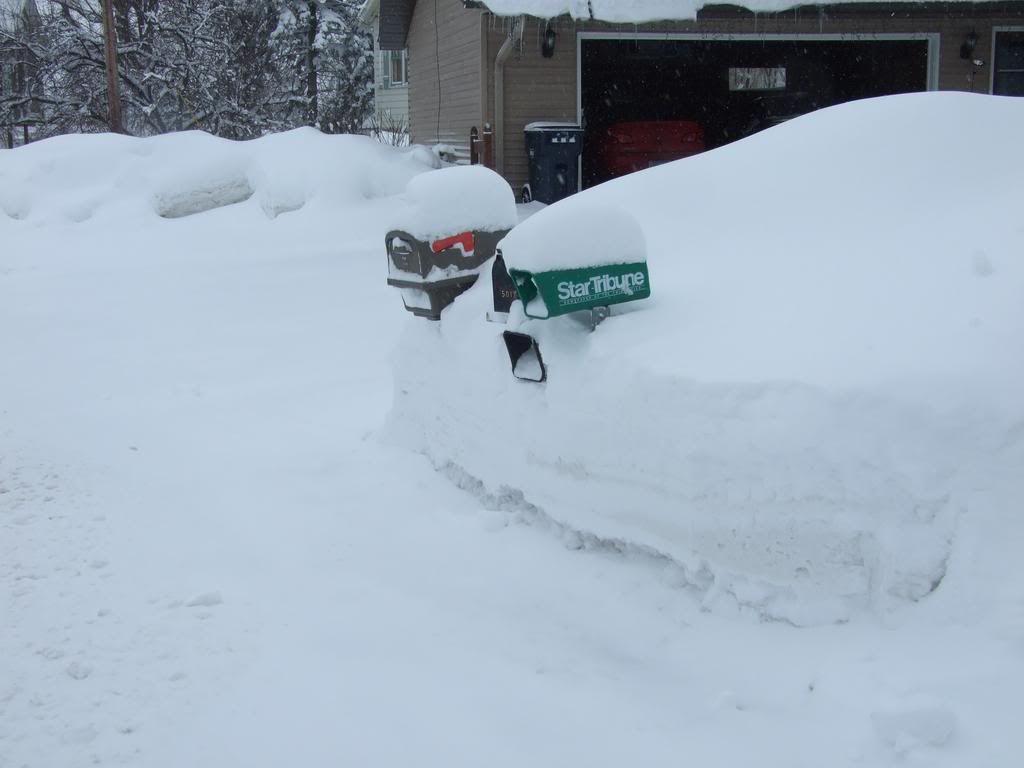 This is a head of a snowman from the previous snowmageddon.



See the nice swath I cut for my wife to drive through to get to work this morning? I did most of it, though my neighbor came with his plow to push away the city plows work for me. She nearly caught her regular bus, but missed it my a minute. I'm confident the Garbage collectors will still be making their rounds this morning.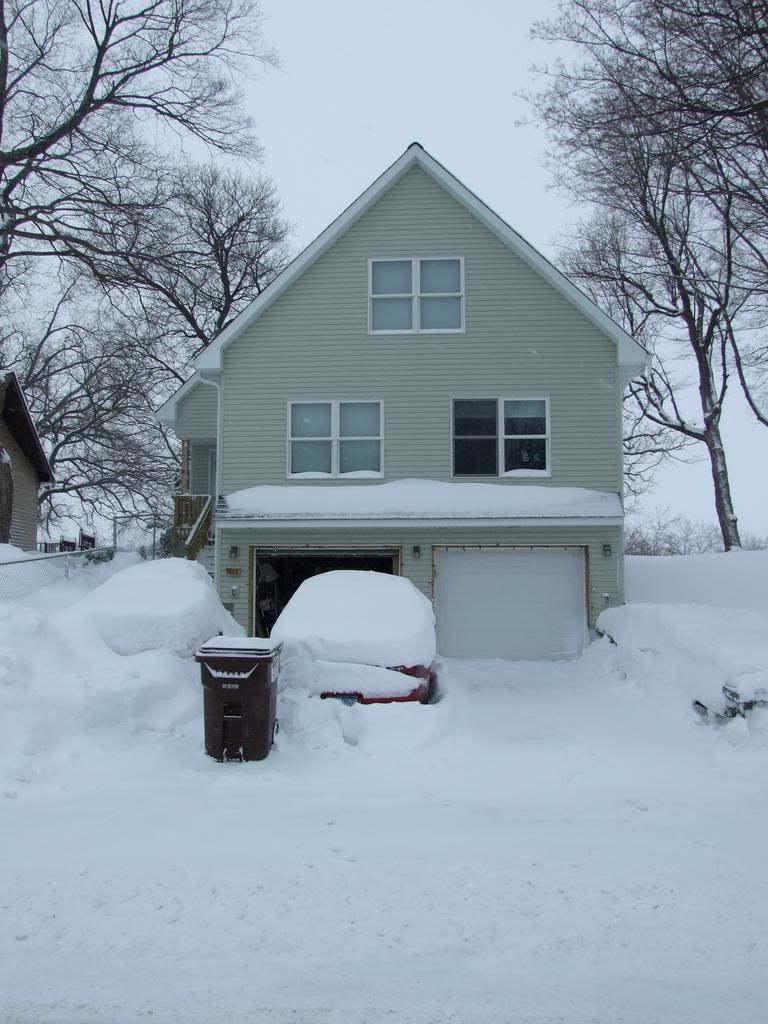 I figured I should give Lloyd a break, and a chance to warm up in the mud room... try to get some of that ice to melt off.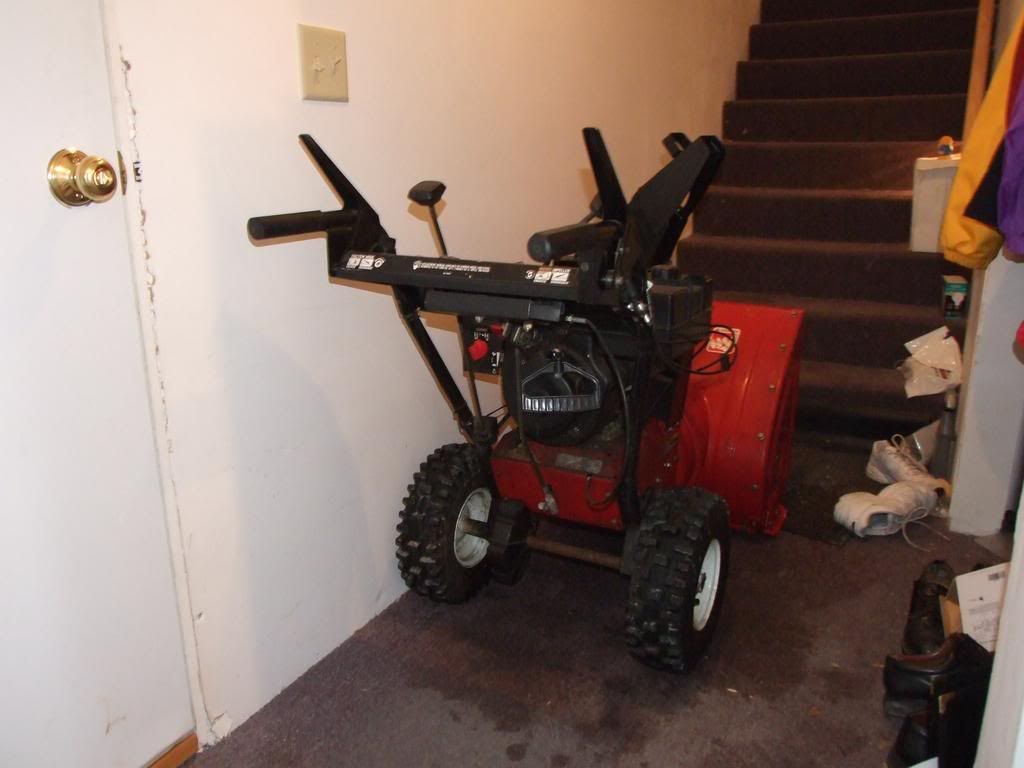 This is from last year... I just like the photo alot! The Snowthrower Gang; Sugerkisser, Lloyd, Gimilfer, and Pips! Sugarkisser is on sabbatical this year in Rogers. My parents are giving him a break.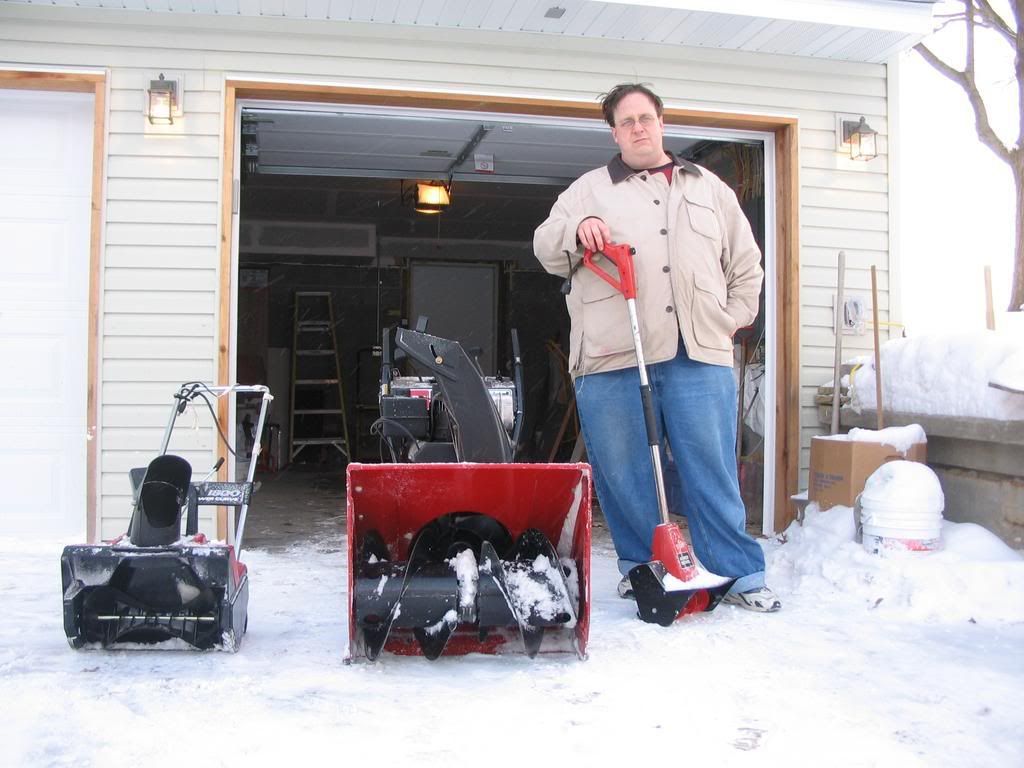 Subscribe to Posts [Atom]