Wednesday, January 31, 2007
The girls play more...
Cecelia thinks this looks familiar...


Almost as good as the real thing ain't it?


Awww... how cute.


Maeve likes playing with the garage ramp... so does daddy.


The girls have really been into reading lately. We certainly aren't complaining!




I created this post with a different service... just trying some options.

Cecelia Wednesday Picture
Here it is... right before bedtime.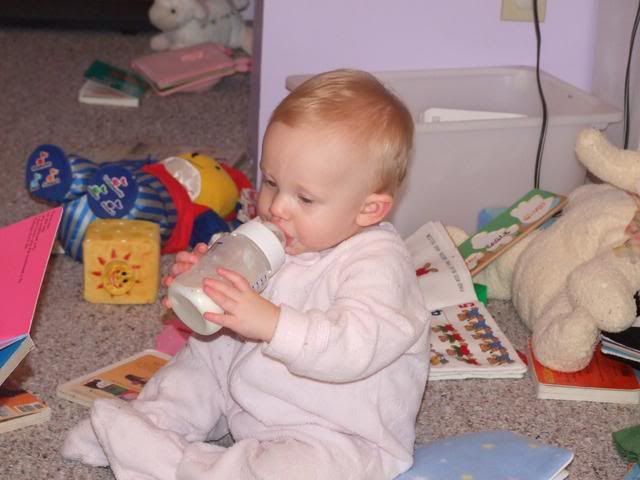 Another cute one at bathtime...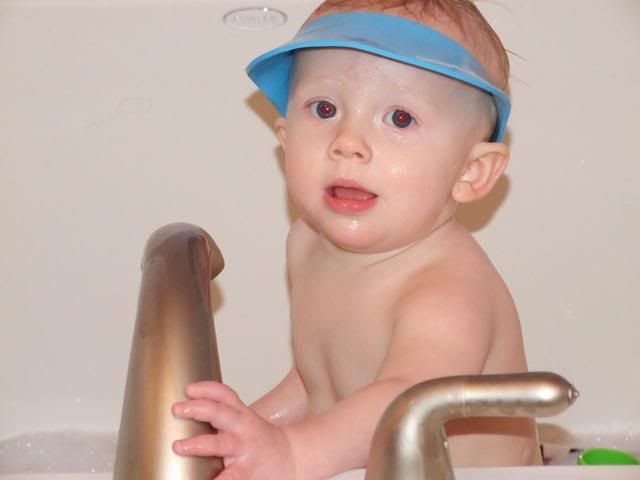 Maeve and Dad enjoy a book.


May have the solution..
Though the pic size is problemetic for you dialup users out there... I'll keep working on it.

Scroll down to see what I was trying to do yesterday.

Tuesday, January 30, 2007
How's this?

Test
See if this works...


Webspace problem
I've maxed out on my available webspace at frontier... I won't get to find options til tonight... sorry.

Linkert caroling 2007
A great video from Sara...



The Linkert/Burfeind girls
Sara and I met with the girls to get their picture taken together with their Christmas outfits on. They did really well, and are adorable as you can see.
A message from my dear wife
It's on our new spinning scrabble board.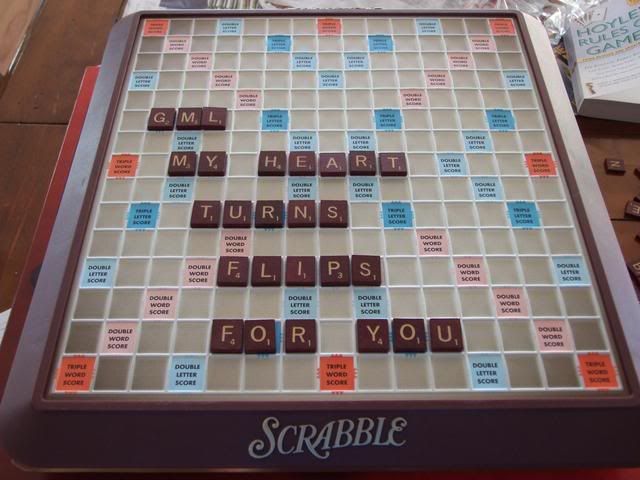 I guess I'm doing something right.
We got one for you too mom and dad!
Silliness all around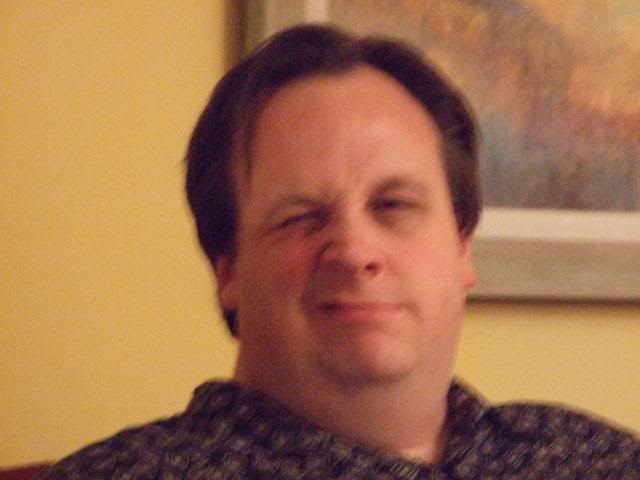 Linkert/Burfeind girls at play
The things a guys gotta do to get a license
I was working on finishing my childcare license application last night, and the last blank I needed to fill was the height of my decks guardrails. So I walked barefoot on the deck to take the measurement, and the evidence of my walk out there was frozen in time.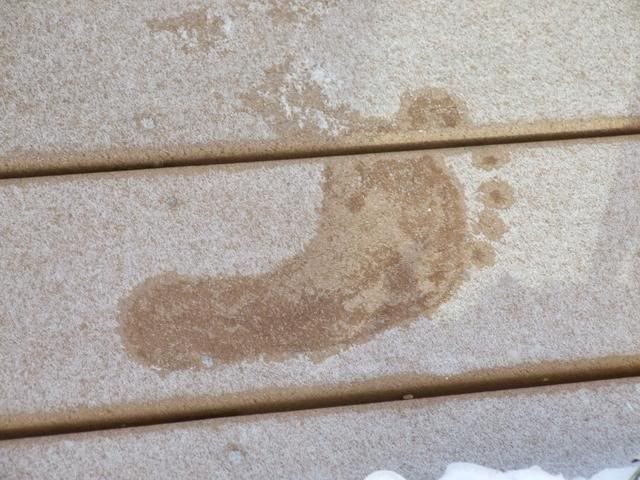 Because we live near a water hazard, we need to construct a fence. I'm happy with the progress we've made so far, despite the weather.


Grandpa Linkert
Reading to the girls.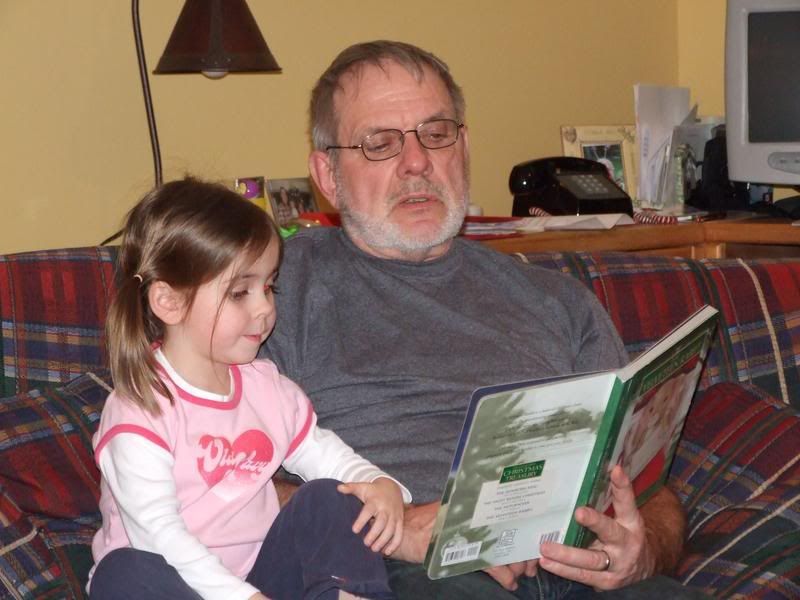 Thursday, January 25, 2007
'lia not happy.
Mom doesn't get to see the girls today, so I thought put a quick video together to show her what she's missing.



Wednesday, January 24, 2007
DSAM parent group
We are lucky to have a parent group for families of children with Down syndrome. Our group meets monthly to share experiences and trade ideas. We also often have presenters offering infomation about a range of subjects, from sign language, Special Olympics and legislative advocates.

Dad and Maeve
Cecelia Wednesday 1-23
Sunday, January 21, 2007
The garage in Delano
This is the garage at it's worse in 2005, shortly before we started building. You can see the washer and dryer on the right, and radial arm saw on the left.
Boxes, boxes everywhere!
Just so you can see how deep it is.
Since we've moved in we've moved about a third of this stuff back to use, or get rid of, so it's not quite like this anymore. There are still many boxes unfortunately, and under the boxes, some furniture I don't think we'll end up keeping.
Some old things...
We have decided to try to work on cleaning out the stuff we have in a storage garage in Delano. If you don't remember, we had to rent a garage space in Delano to store mostly the stuff that was in the old house. By calling it stuff makes it seem like it's desirable items, some of which, it is, most of which, I might say, is not. When we were cleaning out the house, we threw away alot of junk, but sometimes you would come to a dresser drawer, or box of papers, and we just couldn't go through it as we wanted. We felt it could be something we could try to go through later. Well later has finally come.
So I've made a couple trips to grab some boxes for Janet to go through (as most of the 'stuff'' is her dad's). Fortunately much of it she has said she could let go of, and throw or give away. She did find this lovely old quilt in a box.
She's pretty certain her mother made it, and wants to keep it. Which is fine with me. She also told me she liked it because it smelled like the old house. I didn't know what to make of that comment until I smelled the blanket, and she was right. I was suddenly transported back to the old house, which for me goes back to the many long hours of cleaning and sorting that I undertook there, but she was clearly transported back to her childhood, and the house that was home for her.
Notice the lovely stitching. Quite a project.
So we will be having lots of 'stuff' that we will be donating, or trying to give away, some of which I will post here.
Here's a list of stuff that you may like
- 1 nice gallon? sized crockpot
- framed watercolor of The House with Seven Gables
- We have a collection of old camera stuff of Merrill's that Janet thinks we might be able to sell. Please let us know if you know of someone who could maybe help us assess what we have.

Night with some friends
We went to have a good German meal with our friends, Evelyn and Roger Saturday night. We had a great time talking politcs and enjoying pork and spaetzle.

Ridgedale play area
Both Maeve and Cecelia goes down the slide headfirst... which seems ok at this short height. They were quite bold at the play area, and didn't shy from playing around all the other kids.

Friday, January 19, 2007
It's the latest Linkletter!
My sister's latest work. Very funny if you are related to a Linkert. Twice as much if you are not related, but know a Linkert. However, if you don't know a Linkert, you might cry.
Linkletter
Us and the Governor
I meant to post this picture as well, it's Governor Floyd Olson. I don't know a lot about him, but that Hwy 55 is named after him. This confused me greatly when I was growing up. You see, my Grandma Olson lived on a farm on Hwy. 55. So I somehow got it into my 8 year old head, that we were relatives of the great Governor Olson. I was kinda disappointed when I learned, or realized that this might not be true. Well, now that I can say I'm related to Senator Carlson, it almost makes up for that disappointment.

Subscribe to Posts [Atom]