Saturday, February 09, 2013
Looking for me?
Friday, July 20, 2012
Success!
Street parking, by Surfside Park, was allowed during the Thursday night Spirit of the Lakes Festival.
I'll have more to say about this next week.
Tuesday, May 22, 2012
The way to make a better city... through parking?!
It is my belief that we are all attempting to make the world a better place. I've been focusing a lot on my town and community. We have a popular park here in Mound with a terrible parking situation.

http://g.co/maps/crs3v

Mound Bay Park (or will be called Surfside Park soon) has some of the best events for families to attend. It's on Lake Minnetonka's Cooks Bay, so offers some great views of the lake [go check out the street view on Google Maps]. Has a nice playground, a swimming beach, a fishing dock, a public boat launch and a small building for events. Most of the churches in town have a Sunday service there in the summer, the Spririt of the Lakes Festival has most of its events at this park, and our Community Ed program use the space to have a summer music series there on Thursday evening, giving families a band in the park type experience. It's truly a place one can go to in town and connect with the community.

One of the drawbacks to the park is the parking situation. It's not a huge park, so on site parking is limited. It's a Hennepin County Road that runs alongside the park, and there are no parking signs along the road by the park, though parking is allowed on the road before and after the park.

As I was driving through there a couple months or so ago, it occurred to me to ask the question, "Why not park on the street here?" The road is plenty wide and the speed limit is 35mph.

I first started with the Planning Commission, where I sit. My motion to have this even discussed was voted down, but city staff suggested I approach our Public Works Director.

So I sent an email asking about the no parking signs. His first email simply and coldly said "Both streets are County roads and are not designed to accommodate on-street parking. This is a County decision but also an engineering design issue as the roads would have to be widened to meet the design standards at an unknown cost." After some further discussion, he sent me the contact info for the county Traffic Operations Engineer.

The county engineer quickly pulled the paperwork about why no parking signs were posted along. It revealed that the Mound City Council requested that no parking signs be posted along their road! So it WAS a city decision as long as the county had "no operational or safety concerns."

I asked the city clerk for a copy of the resolution and city council minutes when the resolution was passed in 1989. Unfortunately it appeared there was no discussion, only that they voted to approve this decision.

So back to the city's Public Works Director I went with the new information that the city could make a change if there was a will. We met and he seemed to have the same information I did now, and we talked about some of the possibilities. He had went to some of the city council members from those times, to see if anyone remembered why the city asked for no parking signs along the park. He reminded me that there's a boat launch at the park, and people would launch their boats at the lake, and then park on the road. It was a nuisance, as these vehicles would impede traffic as they would be trying to get a parking space, or attempt to pull out to retrieve their boat.

I asked if it was possible to put no boat trailer parking signs. He seemed open to it, but that he would need to work with the Community Services Officer as there were some safety issues and he couldn't make the call on his own. He gave me the name of the guy to talk to at the Mound Police Department, and so off I went to have another call.

Fortunately, when I called the officer the next day, he was aware of why I called. He was very open to putting "No Boat Trailer" parking signs up next to the park. Apparently there are similar posted signs at other boat launches. He wanted to examine the potential parking situation carefully with the Police Chief and other officers, and he assured me he would get back to me in a couple weeks.

I followed up a couple weeks later with an email asking if there were more thoughts about removing the parking signs at the park. I got a brief email stating that the police looked at the situation, and felt the no parking signs needed to stay for the reasons we had discussed.

I decided not to clarify further with him, as he clearly didn't feel removing the no parking signs was a good idea from the beginning, and so reached out to the officer who I spoke with earlier.

He got back to me today, and said they went out and carefully looked at the situation, including parking a car there, and driving by with another vehicle. Here is what was told to me..

It was said it seemed precarious. There were some concerns that people driving by would be distracted by the lake, and view, and creating a dangerous situation for people who park there. They also suggested the county wouldn't allow this.

I realized early as we were talking that the parking situation wasn't going to change. So we spoke at length about what it meant. I reminded him that this clearly was a city decision in 1989, and that it's easy to pass the buck off to someone else in situations like this. Clearly no one wants to take ownership of this, so everyone is pointing to everyone else that they are the reason our park is inaccessible as this. I also strongly made the point that this park is not there for those who are driving by to enjoy the view. It's a destination park, that is to be enjoyed by those who actually go to the park. I made the broader point about how we need to treat our city, streets and parks, for the people who actually live there. I'm hoping the next situation they look at they might keep this ideas in mind.

I thanked him for his time and service, and look forward to working with him in the future.

I look at the work I put into these efforts so far, and it does seem a bit silly to spend so much time to work for _parking spaces_, but as this is clearly a hub of community activity, I really believe if we can make it more accessible it will make our city a little bit of a better place.

Quality reading if interested in these topics...
http://www.strongtowns.org/
http://www.mncompletestreets.org/
Saturday, May 19, 2012
A Walk to Downtown Mound
These last couple years, I find our family has stumbled itself into a fortunate position. The home we built is in a nice older neighborhood, less than a mile from downtown Mound [
inaccurate, out of date, google map here
]. The school our daughter's will walk to next year is less than a half mile.
We've been practicing the walk to school with Maeve the last couple weeks with great success. I've been packing the toddlers up on the double stroller, the walkers walking, and we all walk Maeve to school. I took my camera along so I could document the walk the girls will take to school, and then walked all the way to downtown since it was such a beautiful day.
The pictures below are in order, starting from the end of our driveway, to the school, and finally to the hardware store, which was our destination that day.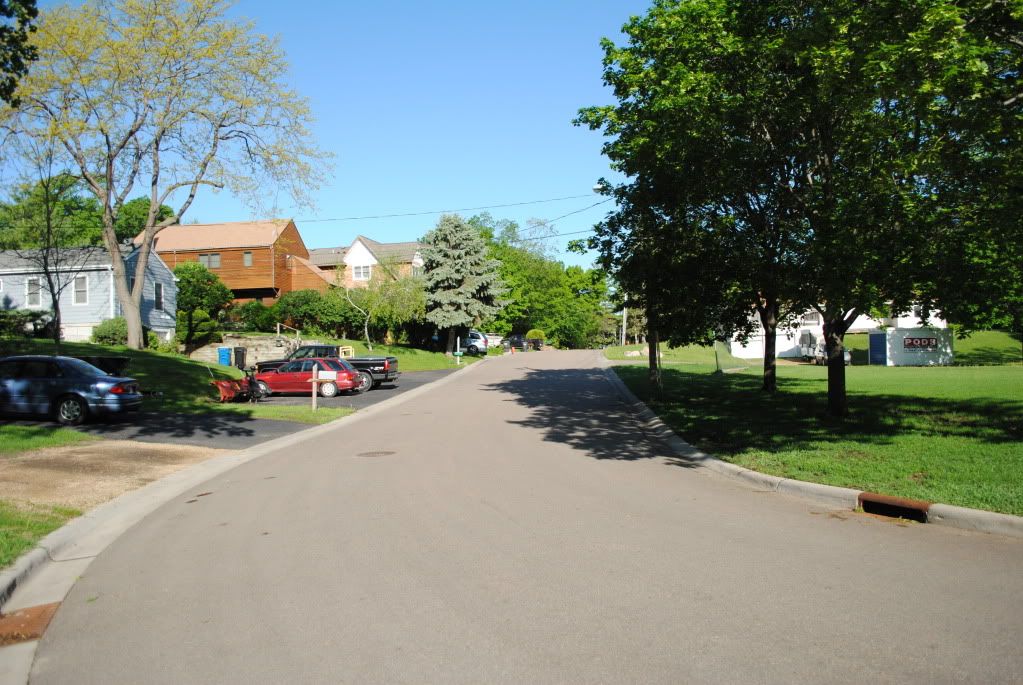 Here we are, about to embark on our journey. We have a great neighborhood, having good relations with almost everyone. On the right and across the street from our home is our neighborhood park, and on the left our neighboring lake shore lots.
At the top of the hill on our street, note the boat on the left... nearly every yard or driveway has a boat (or boat trailer) sitting on it in Mound.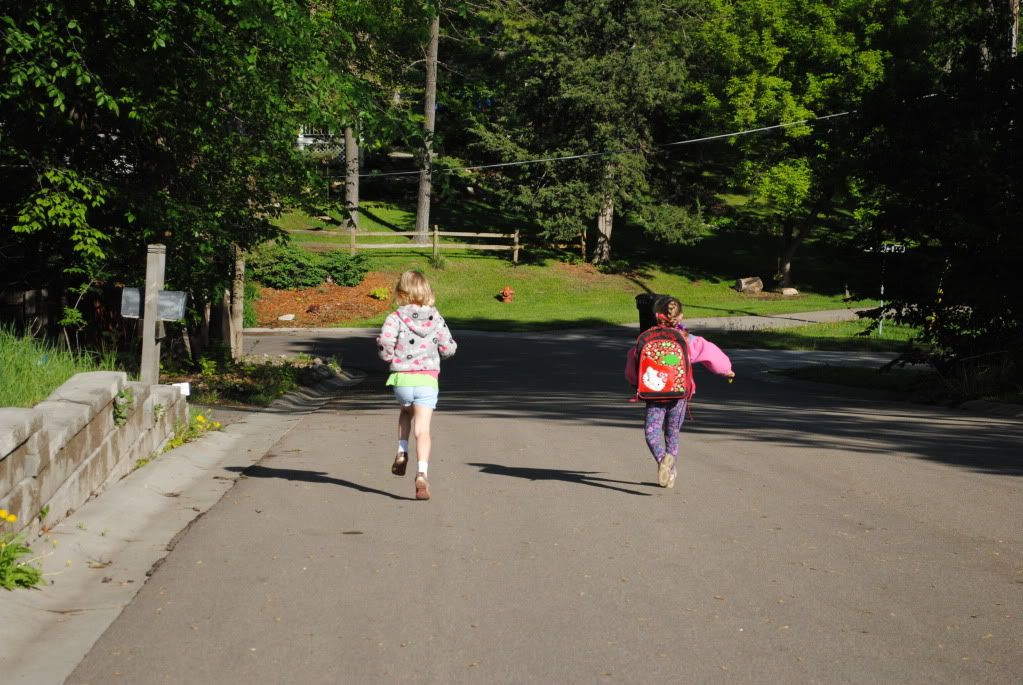 Heading down the hill. The girls will take a right at the bottom of the hill which is a nice walking path.
The public walking path serves as a driveway for one home. It clearly was originally intended to be a street, but the city ended up just making it a sidewalk.
The city does a great job of keeping this sidewalk plowed during the winter. We are fortunate in that our family knows almost all the people that live along this way. I continually quiz the girls who lives where, and what they should do if something should happen when they are walking everyday.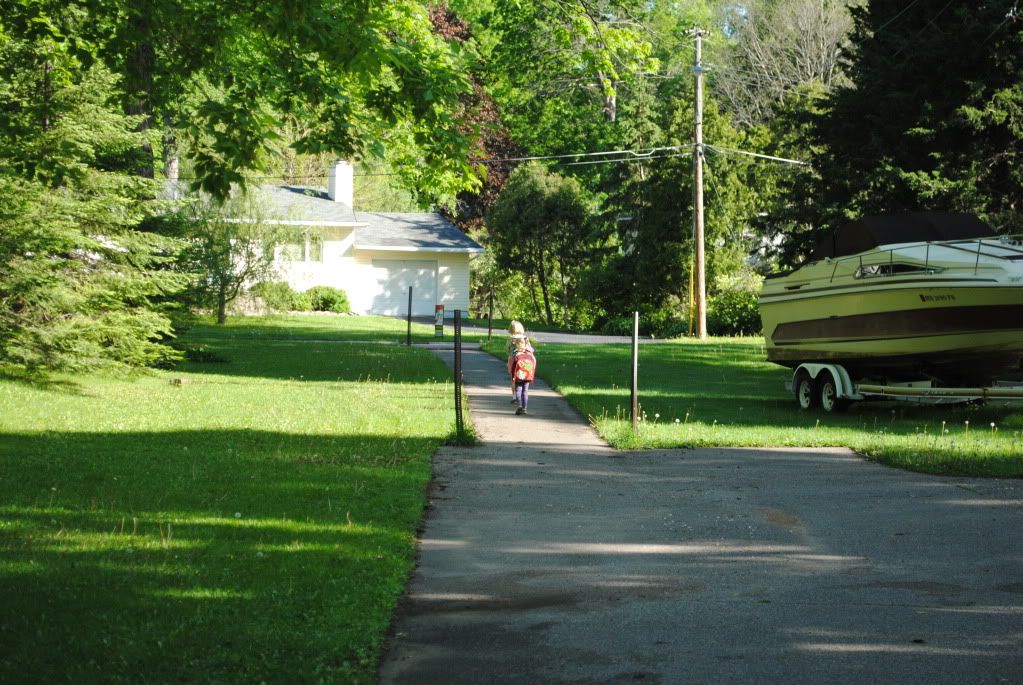 At the end of this sidewalk, is another street, and we will turn left.
We are almost to the school yard, it's just around the corner to the right. The girls desperately want to climb the retaining wall on the left here... I am conflicted as I know I should let them explore and let them get it out of their system, but it goes pretty high.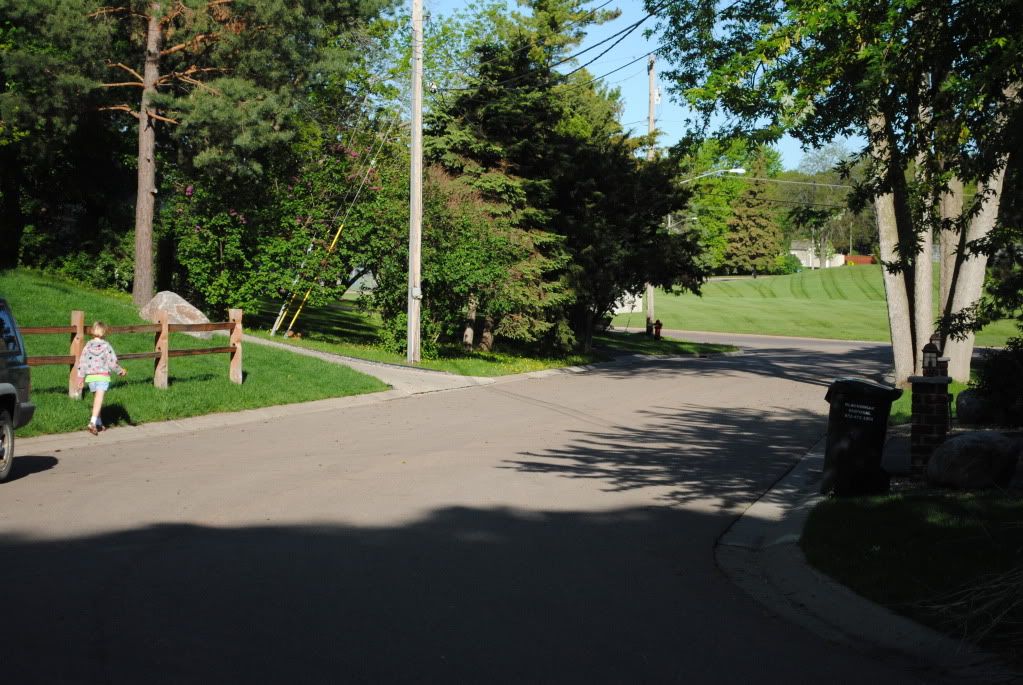 Going around the turn, there's the school yard. This is about the halfway point to the school. We are very fortunate in that our friend, Sue, operates a childcare at the corner here. So Maeve and Cecelia know this can be a safe place to go in case of problems.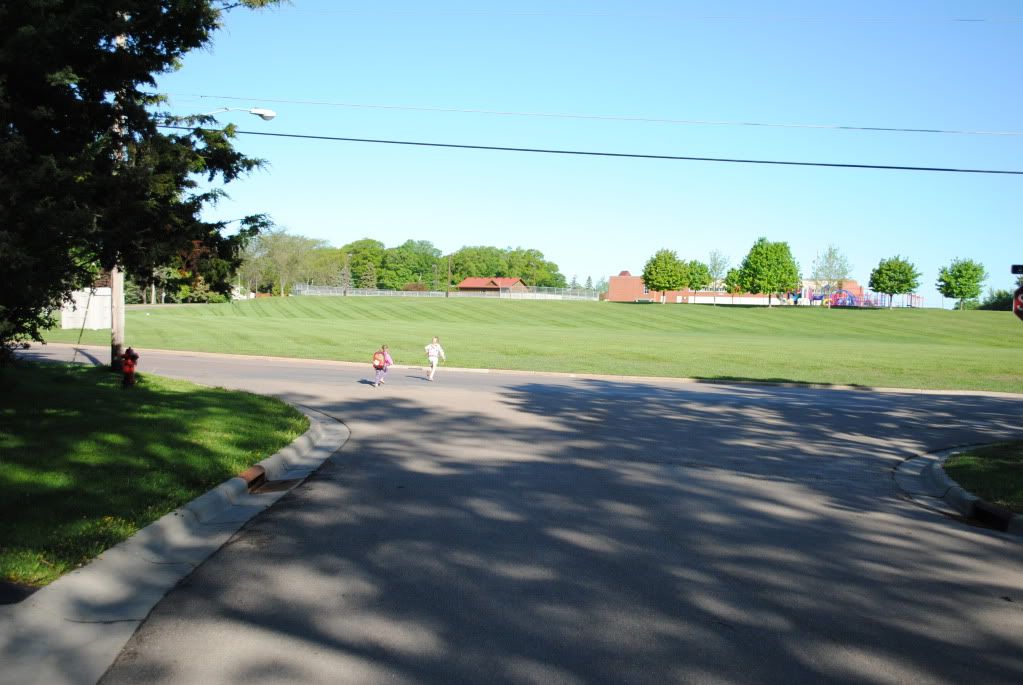 Look at the girls cross the street!
This is Bartlett Blvd, the worst part about this walk. It's a wide straight street that encourages cars to go fast. One block to the left is a four way stop sign with crosswalks, so fortunately, cars are not going as fast as they might another block or two further away. The city refuses to put a crosswalk here, and the school will only put a crossing guard at the crosswalk (which is out of the way for everyone). After a lot of discussion, we decided it was going to be best for our daughters to cross here.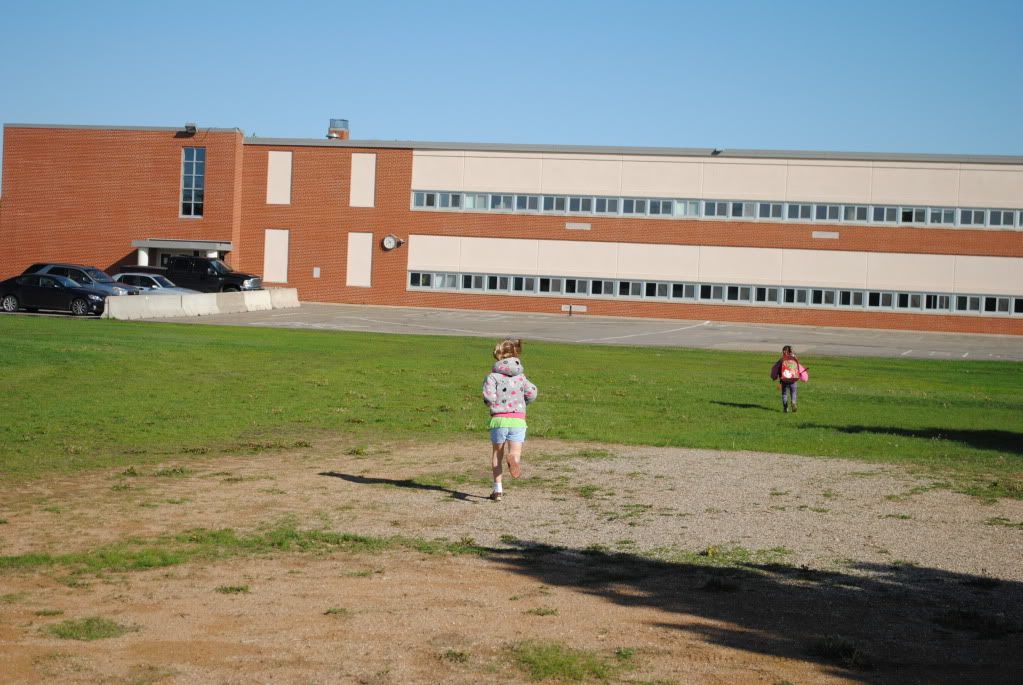 Fortunately, the door where Maeve's bus drops her off is right here, so they won't need to walk around the building to get in.
As we say good bye to Maeve, we will continue to walk towards downtown Mound, towards Wilshire, which is to the left.
So here we are on a nice asphalt sidewalk that runs alongside the school on Wilshire. The school is on the right, and on the left side of the telephone pole, is the Mound Fire/Police building.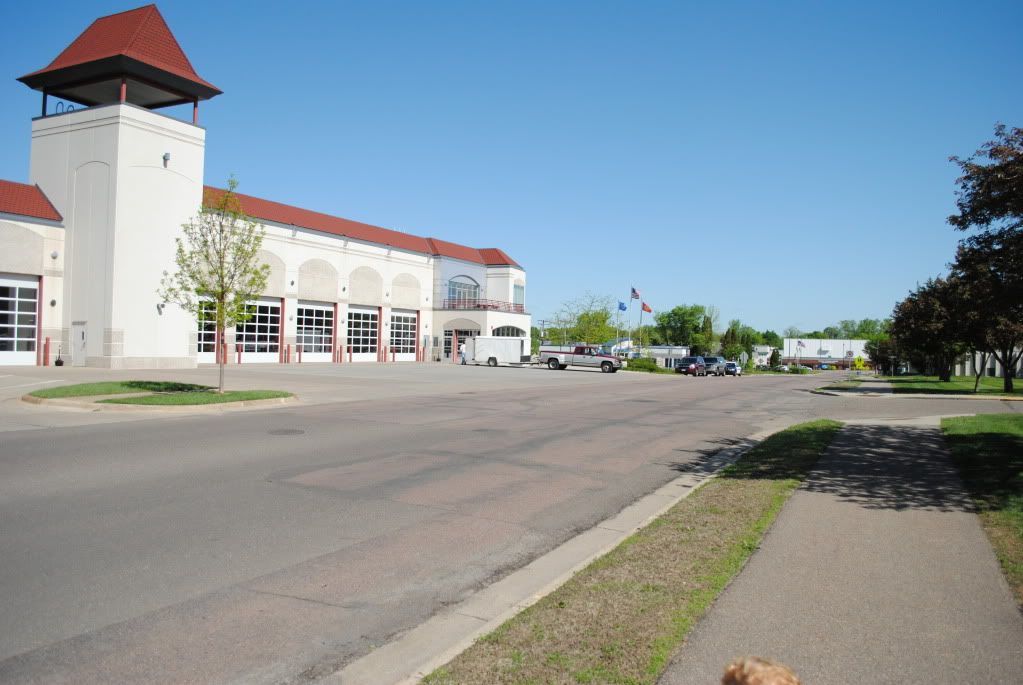 The building is relatively new. The tower design is part of the look Mound is trying to achieve as it build's it's downtown. In the horizon, you can see the old Tonka Truck toy factory, which is now light industrial and storage.
So now we've walked past the Fire/Police building and turn left heading towards Mound City Hall on the right and the Little League baseball fields.
Here we are kitty corner to the Little League baseball fields. We we walk past them to the Andrew Sisters Trail.
Cecelia and us cut through the Little League parking lot to the Andrew Sister's trail. It's great for us, as it lets us walk to downtown without having to walk along busy Shoreline Drive.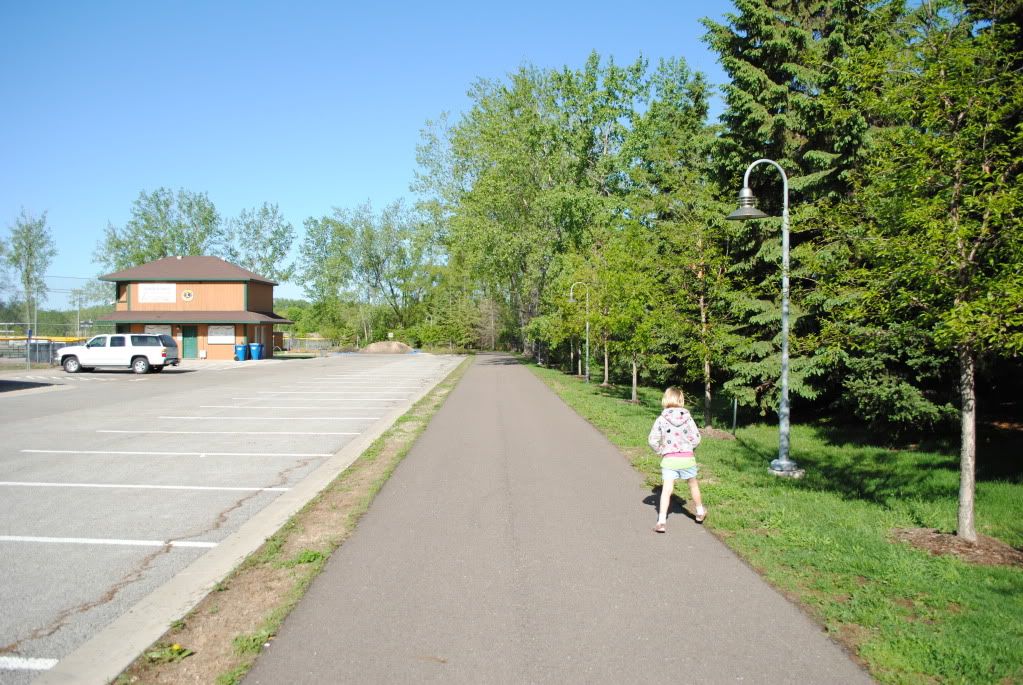 This is a short trail, honoring the Andrew Sisters (the singing group that sang Bugle Boy of Company C) who spent childhood summers in Mound, MN. Up ahead of us through the trees is the first glimpse of Lake Minnetonka.
This part of Lake Minnetonka is called Lost Lake. The city of Mound, as part of it's redevelopment of the downtown, spent considerable resources in cleaning this up. Janet says they used to call this area the dump. Note the transit center (ie. parking garage) up ahead.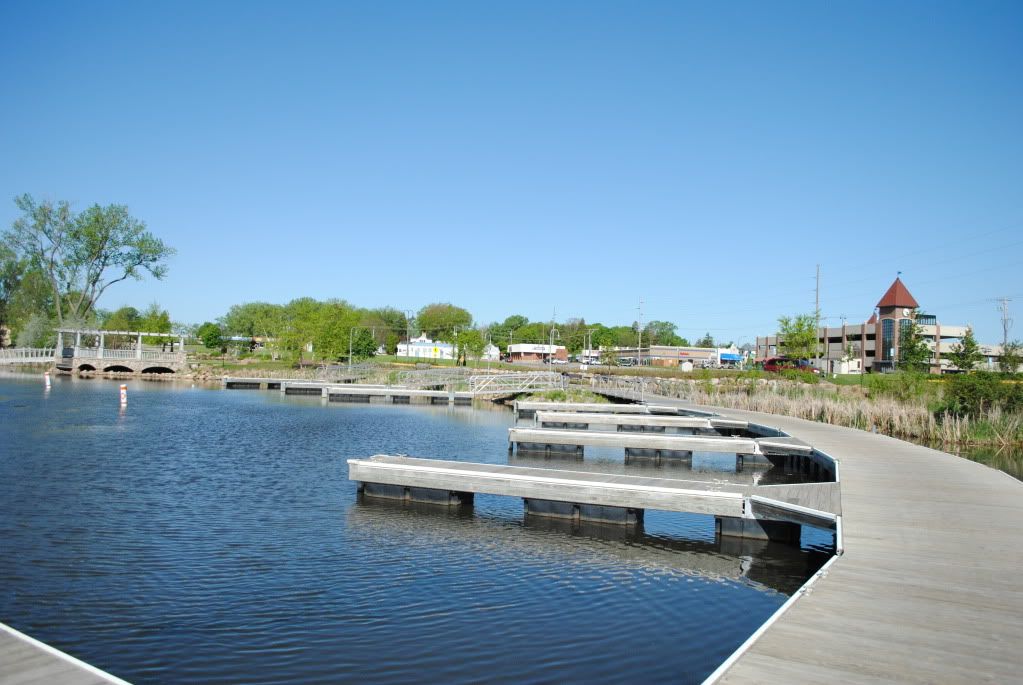 This part of the lake used to be unnavigatable. The city was determined to have a harbor district like Wayzata and Excelsior, so it dredged (or redredged) a channel and this area of Lost Lake, and put in public docks. Unfortunately, is is very rare to see a boat tied up here.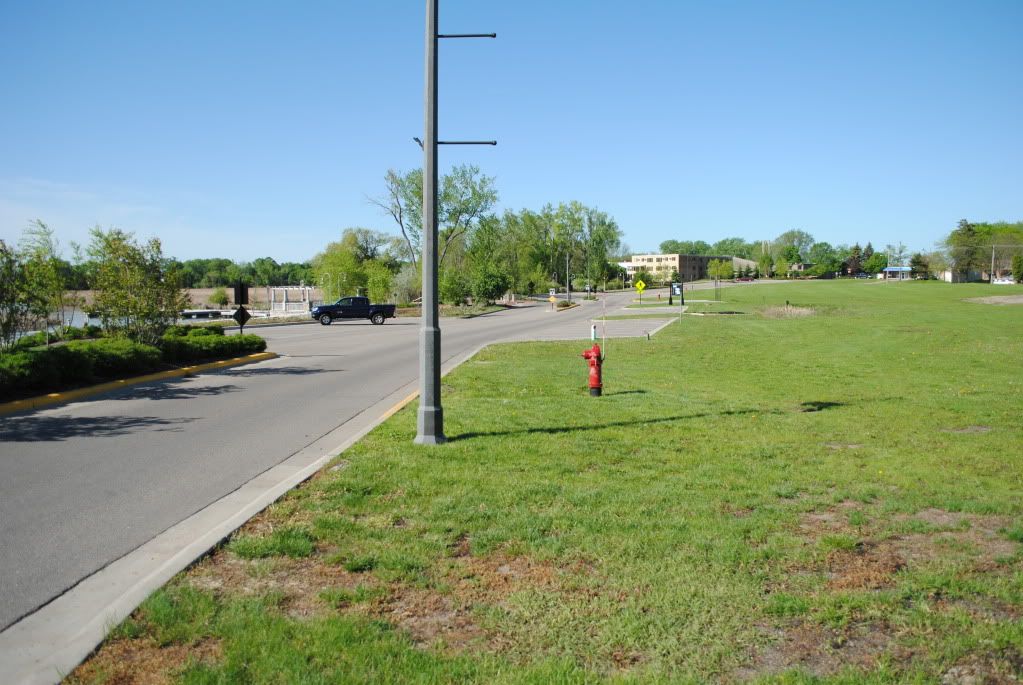 So the city has this big empty field in a prime location all ready for someone to develop. It was envisioned to be mixed use of retail/office/residential. Unfortunately the economy bottomed out, and Mound is waiting for Superman.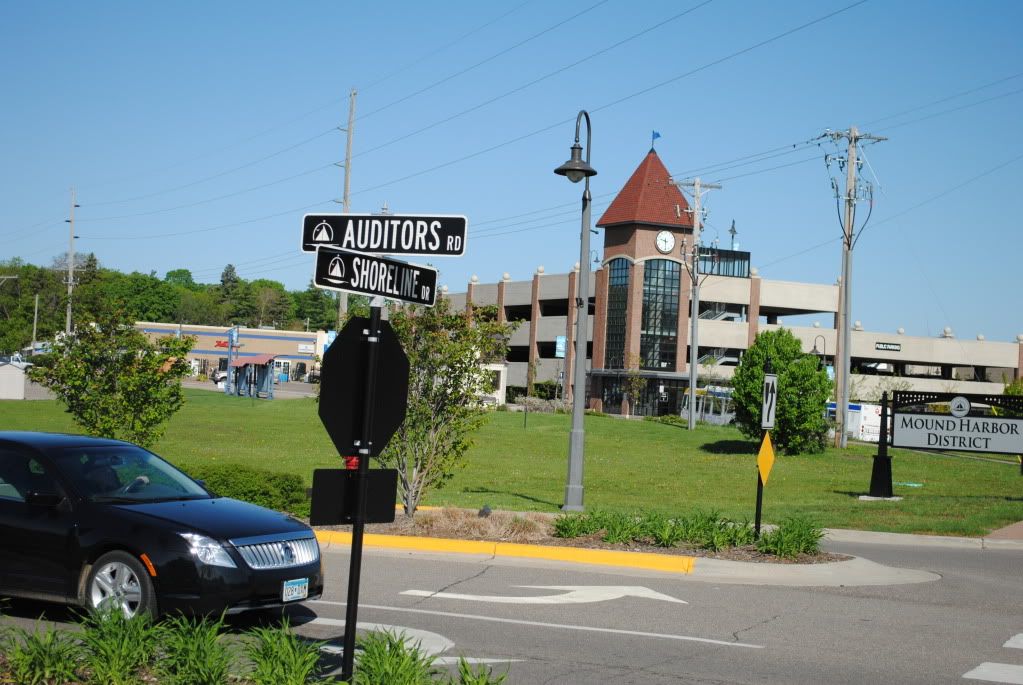 The Andrew Sisters Trail continues down Auditors, but now have easy access to the Dakota Rail Trail, which stretches from Wayzata to beyond St. Bonifacious. Mound is unique, in that this popular trail runs right though it's downtown!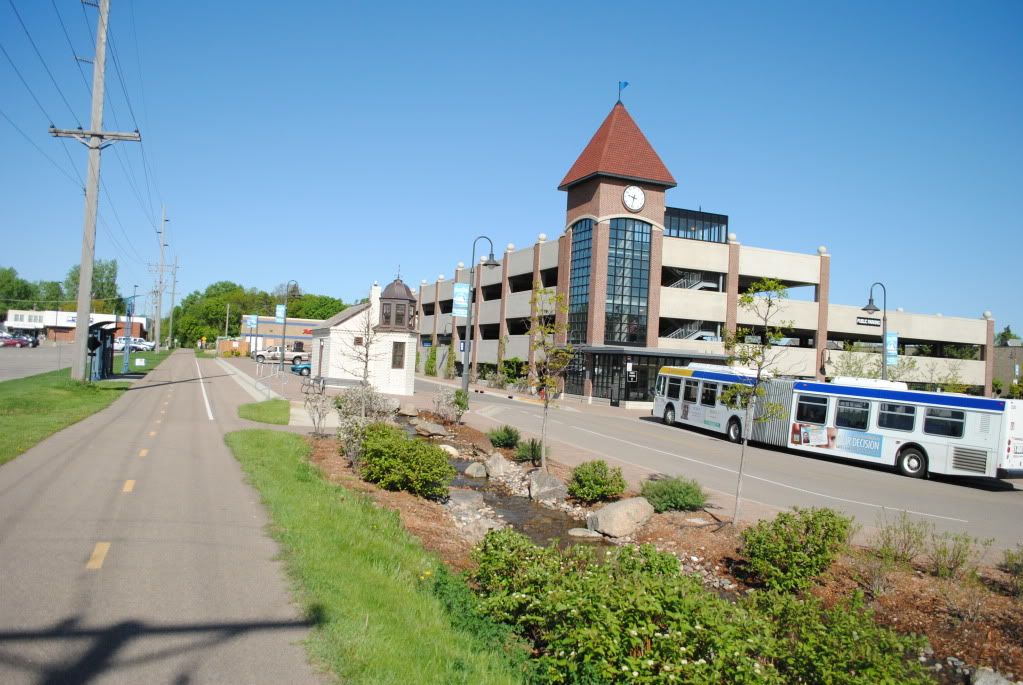 Our destination is ahead of us!
Unfortunately, Mound doesn't offer very nice views for trail users. As someone pointed out to me, one would walk through Mound, and see a parking ramp, a parking lot, a drive through, and more parking lots. It's very sad.
You can see the our friendly neighborhood hardware store, Mound True Value, to your right.
In retrospect, I never realized how lucky I was to have grown up in a home that was next to a park, or I was able to walk to school, or the library, or the local grocery store. So I wonder, did my parents realize all this when they selected the house to raise their children?
Janet and I are fortunate that Maeve and Cecelia will be able to enjoys these

amenities

as they grow up. The grocery store, although not pedestrian friendly, will still be approachable for our kids one day, and our local library is just beyond that! We have the option of sending them on their own, and not being forced in a situation to drive.
Don't get me wrong, there are some things that need to get better. Mound is unique, in that so much of it sits, surrounded by Lake Minnetonka, and so the topography forces neighborhoods apart. Across the lake from our house is what is referred to by the locals as "the island" which you have to cross a bridge to get to. The bridges are NOT ped and bike friendly. Even though it's so close, walking to "the island" is not something one enjoys. Other neighborhoods are equally not as fun to approach, as the only way to get to "Three Points" or "Highland" from downtown is to walk along a busy county road.
But when I think about where we might have ended up... I am very thankful to Merrill and Velma for the home they selected, and to my parents, to raising me in a Strongtown.
This post was inspired by my new friend Nate Hood, and his post of a
Stroll to the Gym
.
Saturday, March 17, 2012
My last words...
I had a terrible dream last night which moved me so much, I had to share.

I, my wife, and kids were in the car on the way to some unknown place, when we heard radio reports of terrible traffic accidents, and the police were looking for someone. We ended up at our destination, a library I think, when I saw a guy come into the building. I knew it was the guy who was causing the accidents.

I confronted him, and he admitted to it, and took everyone in the library hostage. He revealed he had a bomb, and knives, and said he said he was going to kill us because he had been wronged. Everyone, including me, was terrified.

He had someone setting up a webcam, and kept saying he was going to cut all of our throats, one at a time.

At this point, I become somewhat lucid, and aware I was in a dream, but for some reason, stayed in the dream.

We tried to tell him to let the kids go, but he didn't want to hear it. So I offered myself as his first victim. I was terrified as he drew a line on my throat with a marker to show on his webcam how he was going to kill me.

I then started to attempt some delay tactics.

Holding back tearful sobs, I asked for a glass of water. He complied.

I then asked if I could give some last words to my kids. He said yes again, and as I struggled with what I would say, I requested he let me video it with his webcam, as they will never remember it properly in this situation. He reluctantly agreed, and switched on the webcam. Here is something like what I said...

Girls, I am so sorry that this has happened to us. As you will hear through the rest of your life from people, life isn't fair. It's not fair to you, and us today because we are in this situation. It's not fair to anyone! There are women and girls around the world who are raped every day. Little boys and girls are enslaved and are forced to fight wars, or to work in terrible conditions. Families, very much like ours, are right now in the middle of a war zone, and could be shot at any moment, or step on a land mine, or don't know what they are going to eat.

Something terrible has happened to the gentleman who is going to kill me, clearly life has been unfair to him too. This is something to remember. You can be mad at him, but he is to be pitied. You have to find a way to forgive him.

I know that the events today are terrible, but remember that I honestly believe that most people are genuinely good. People generally want good things to happen, and I imagine even that this guy is holding a knife at my throat, somehow thinks he is doing something good. Please don't let today's events take away your trust of people.

A lesson I was taught by your grandmother as I was growing up was "Life is what you make of it." Which I embrace with the small addition of the word "Usually." We are so lucky to live in a place which gives us so many options and freedoms. But, as is clear right now, we don't get to make all the choices.

What I want you to remember most of all though is that through all this, you, and I, still have a choice. I'm not a very religious man, but was fortunate to learn the words to this hymn in college. It's my understanding this was written while the guy had just lost his family in a terrible way, like a storm or something. While going through something terrible, like you are about to, he managed to write these profound words down I hope you will take to heard.

*singing as best I could while trying not to cry
When peace like a river attended my way.
when sorrows like sea billows blow.
Whatever my lot, thou has taught me to say.
It is well, it is well, with my soul.

*as I realize he could kill me at any moment, I keep singing
It is well, it is well,
with my soul, with my soul.
It is well, it is well, with my soul.

I let myself wake up.

Saturday, February 04, 2012
A walk in Mound
It was gorgeous outside this morning in Mound... as the air was just cool enough to freeze water vapor on everything.


Blue on gray




It was very cool seeing the tiny icicles forming on lilacs!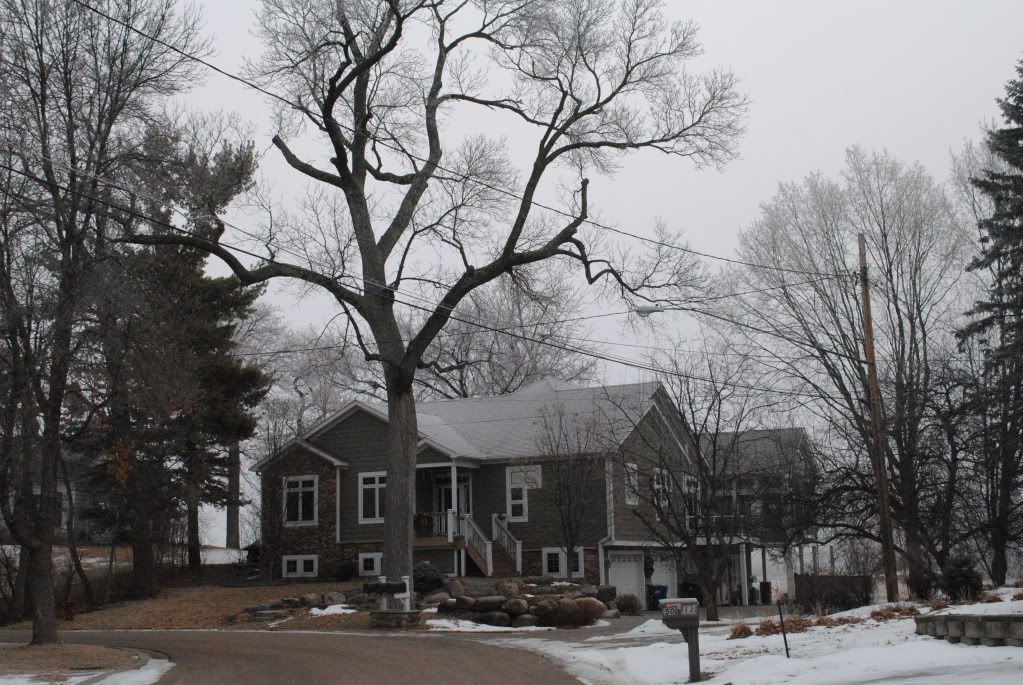 The air was very still, and seemed pleasant enough, so the girls and I went for a walk.




Black on grey




Everything was beautiful!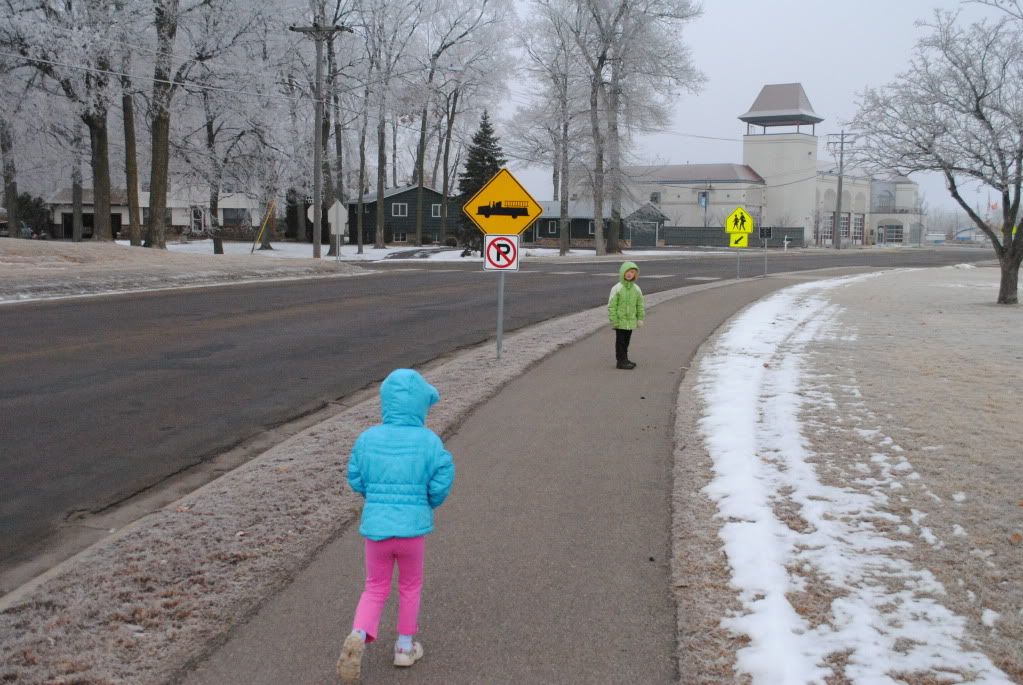 Blue, Orange, Green, Yellow on Gray




Absolutely beautiful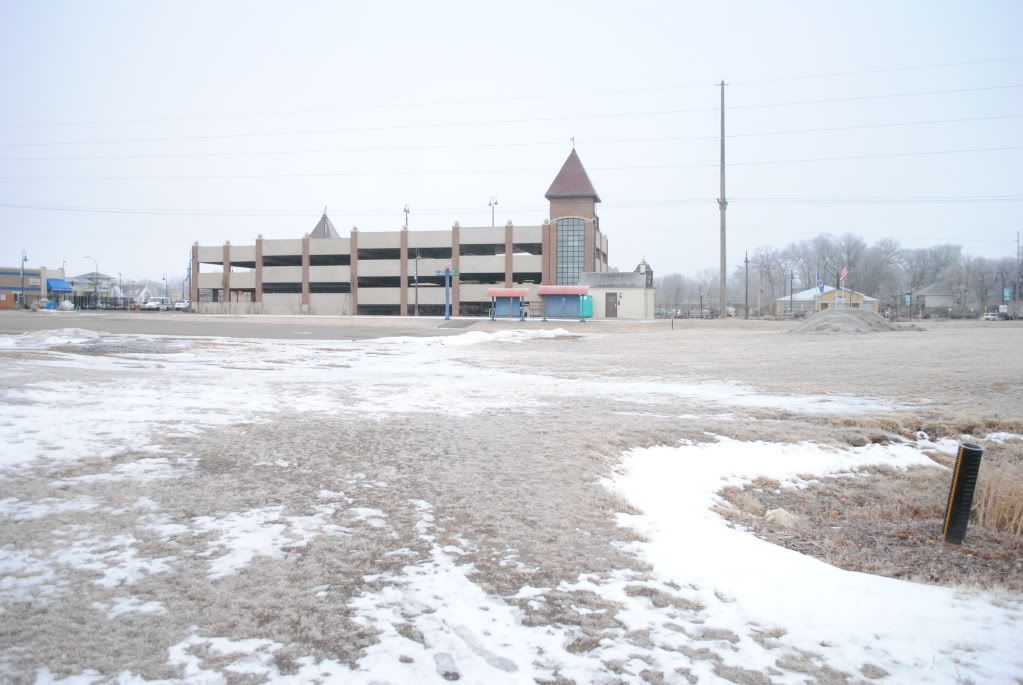 Grey in Gray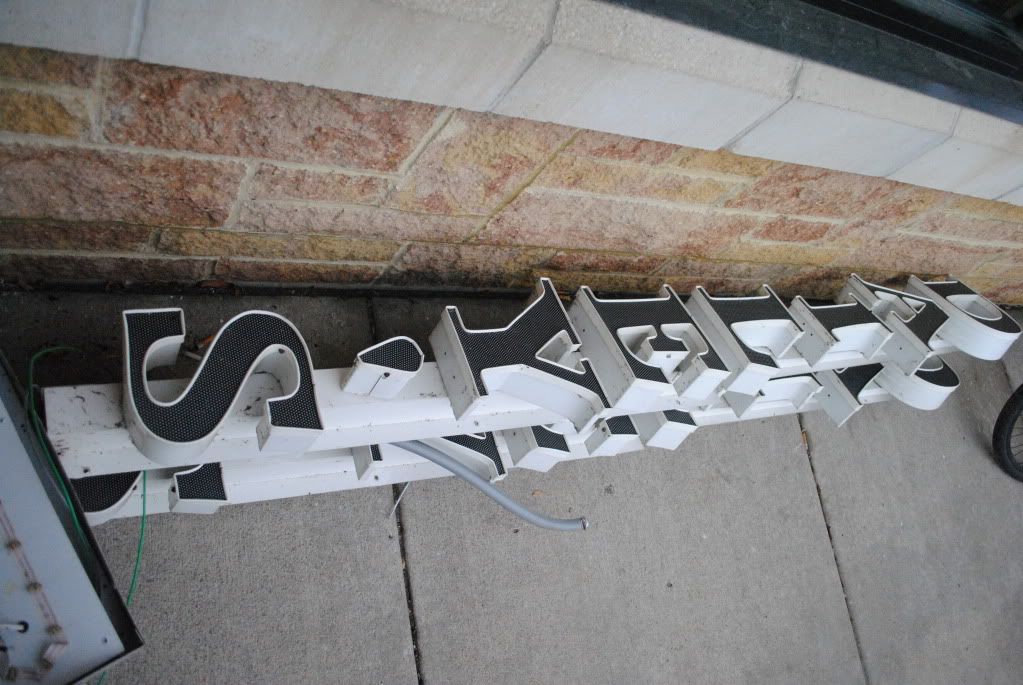 Leftover signs from Dailey's Pub, which just had a reopening with Carbone's this last week.


Monday, May 03, 2010
Spring Fun
Some recent pics of our days...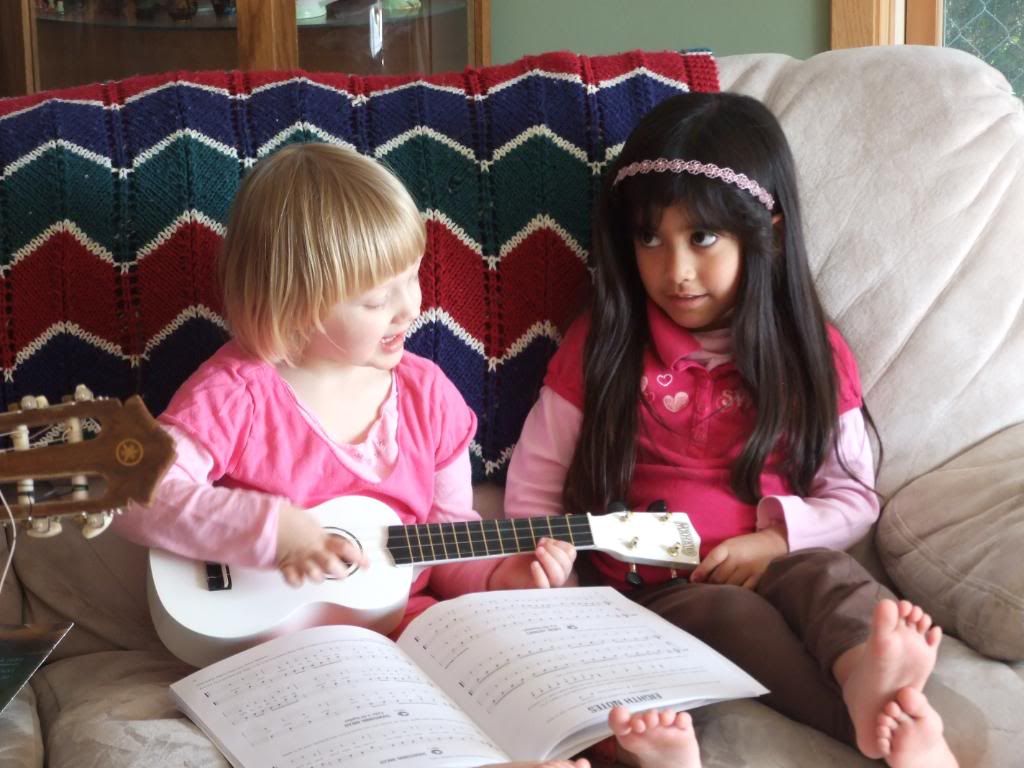 Cecelia showing off her Ukelele skills to a playdate. She's getting pretty good. I keep meaning to have her play more with me.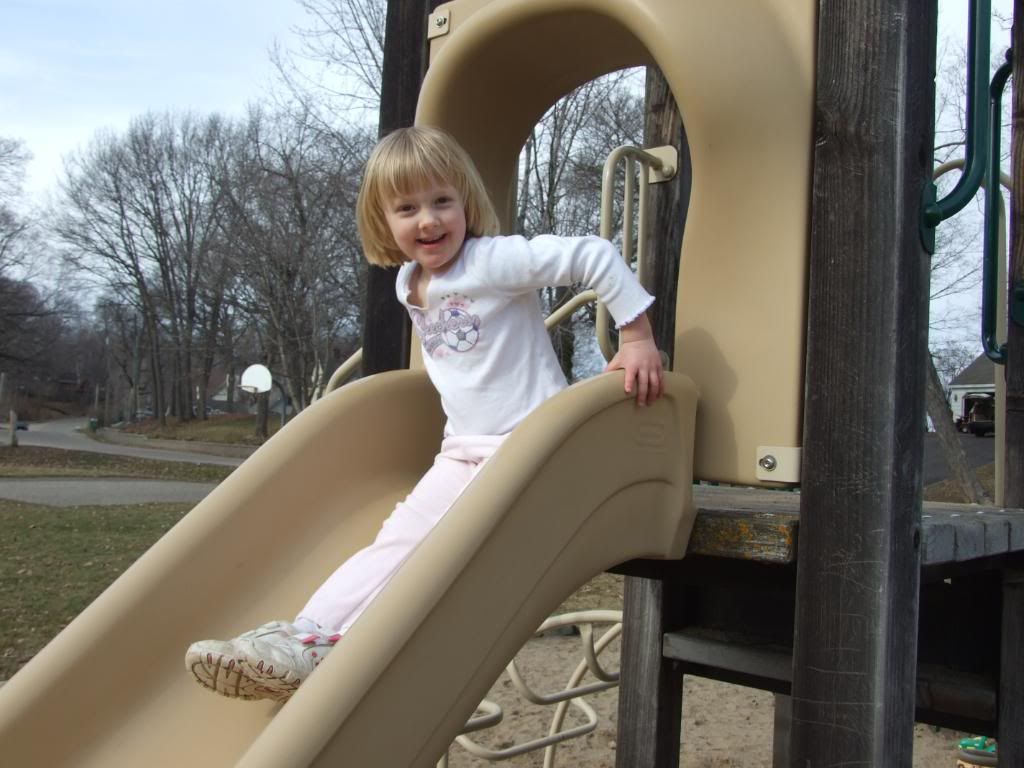 One of the first real nice days we had this Spring.




Josh getting ready to start sliding again!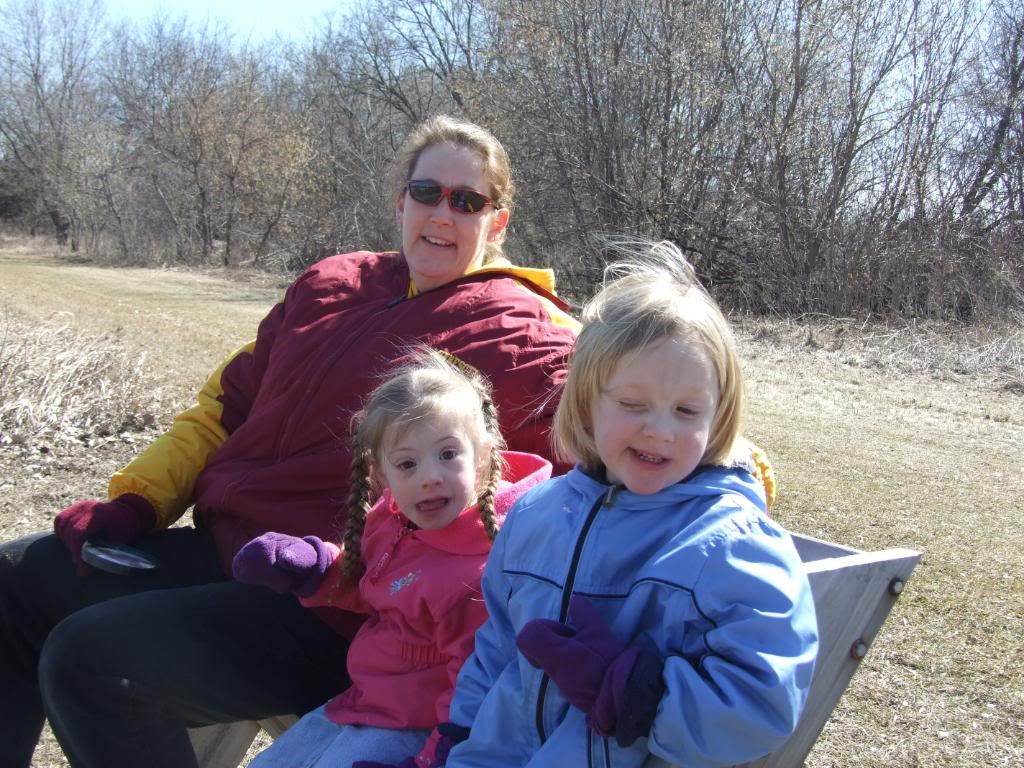 Our family on a nature walk.




The girls and I congo at the DSAM dance.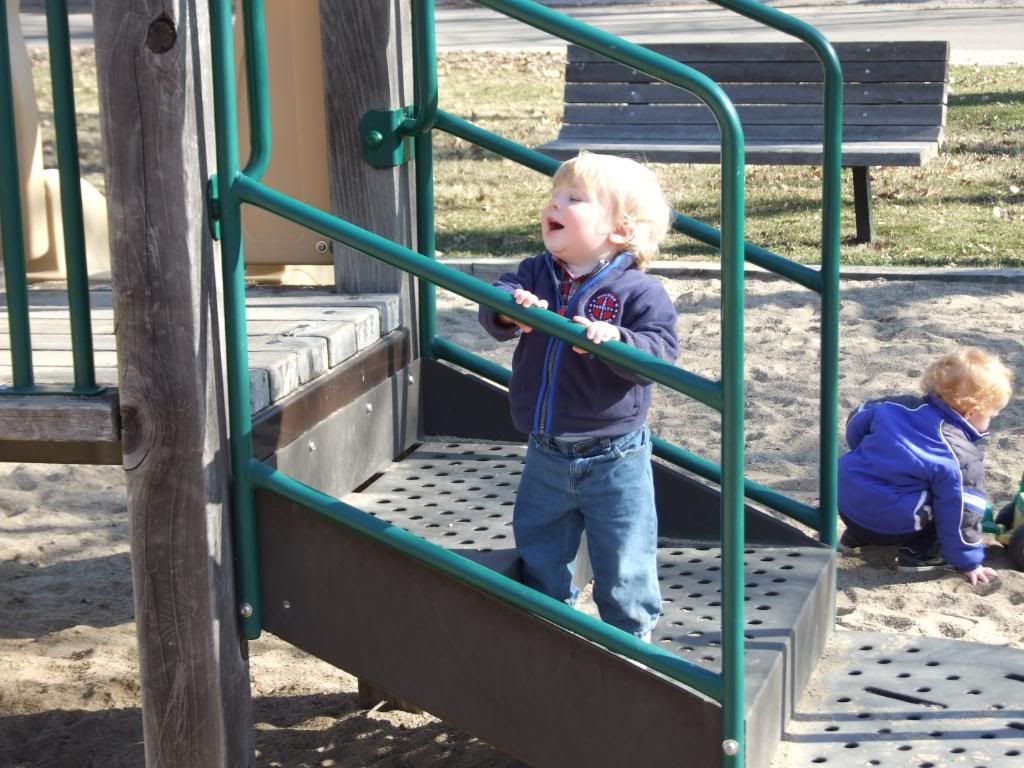 Sawyer loves going up and down the stairs.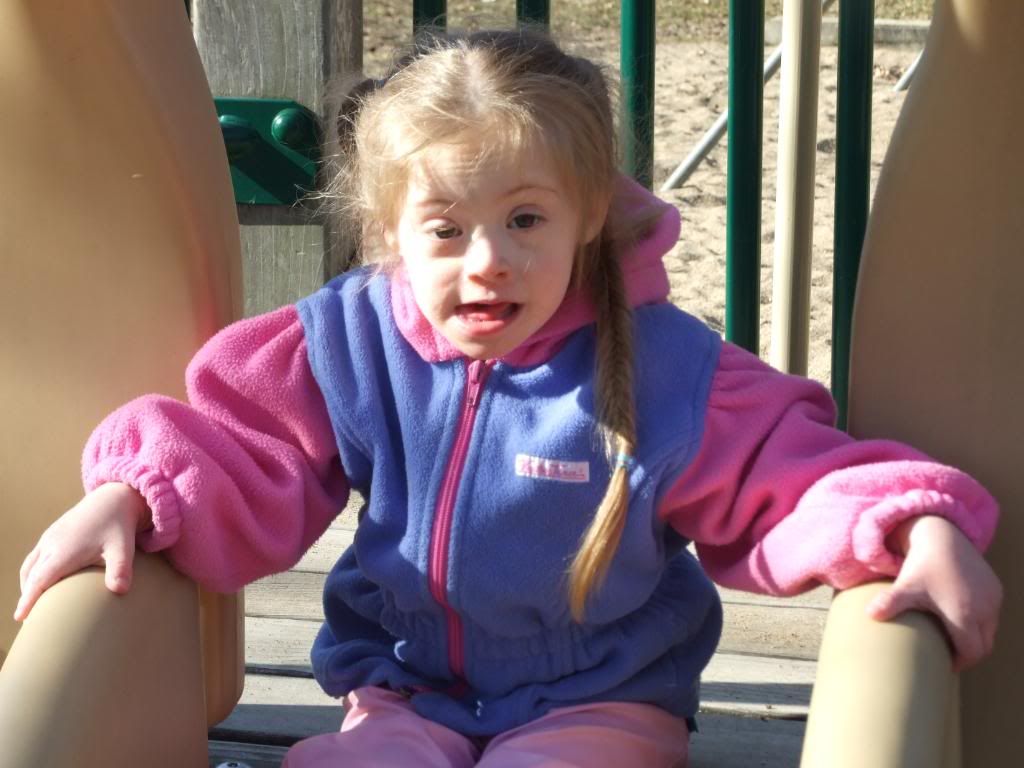 Maeve slides.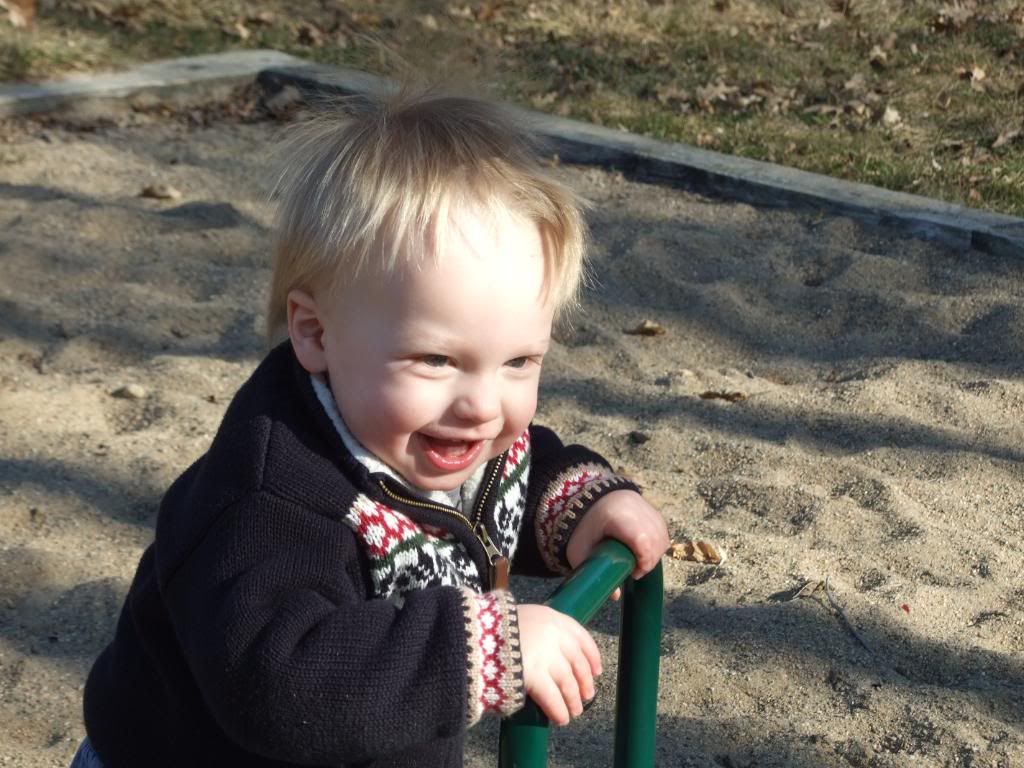 Isaiah just likes to bounce... he's about ready to slide though!




Sawyer checks out the slide, but would rather do a little dance, then go back down the stairs.




The boys safely going down the stairs to our yard.




Josh contemplating some chalk.




Sawyer ponders a ball.




Maeve and Cecelia's dance recital. They did a wonderful job!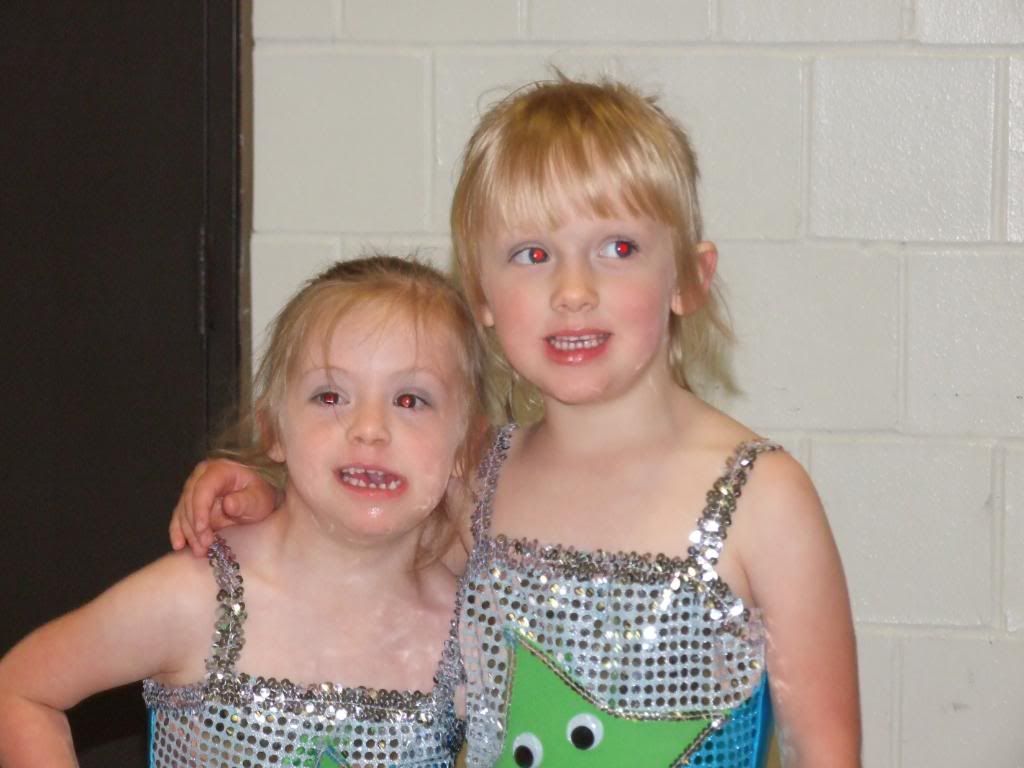 Afterwards.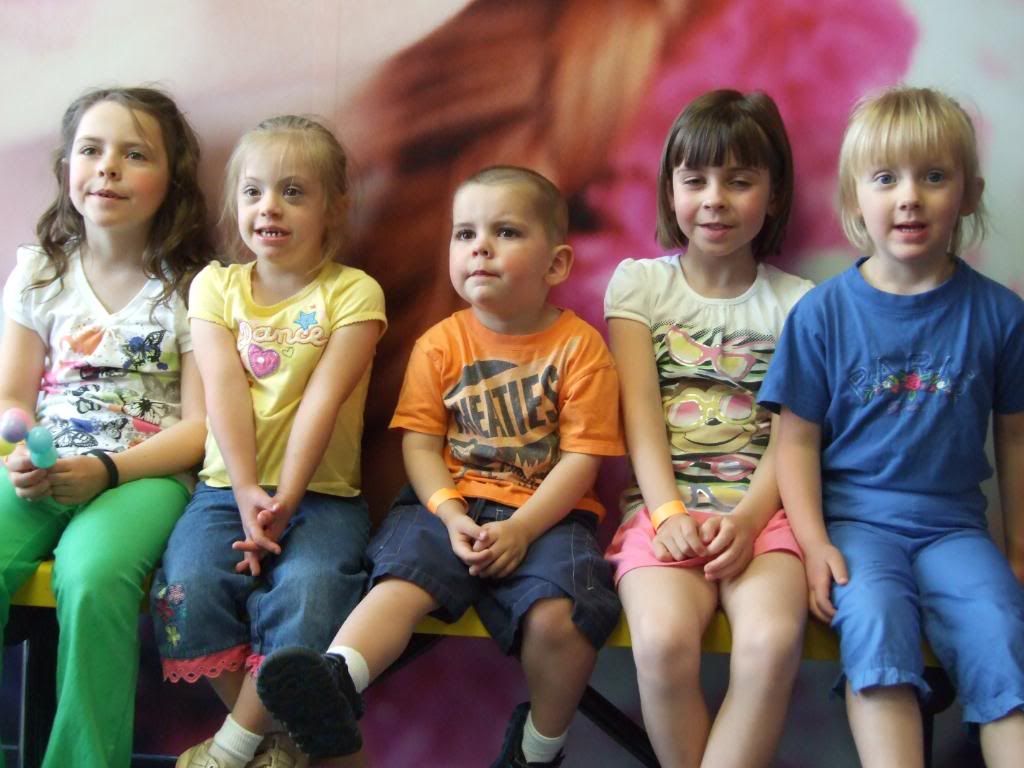 After the dance recital, we went to visit and hang with our cousins for a bit. Avae and Ella had a birthday party.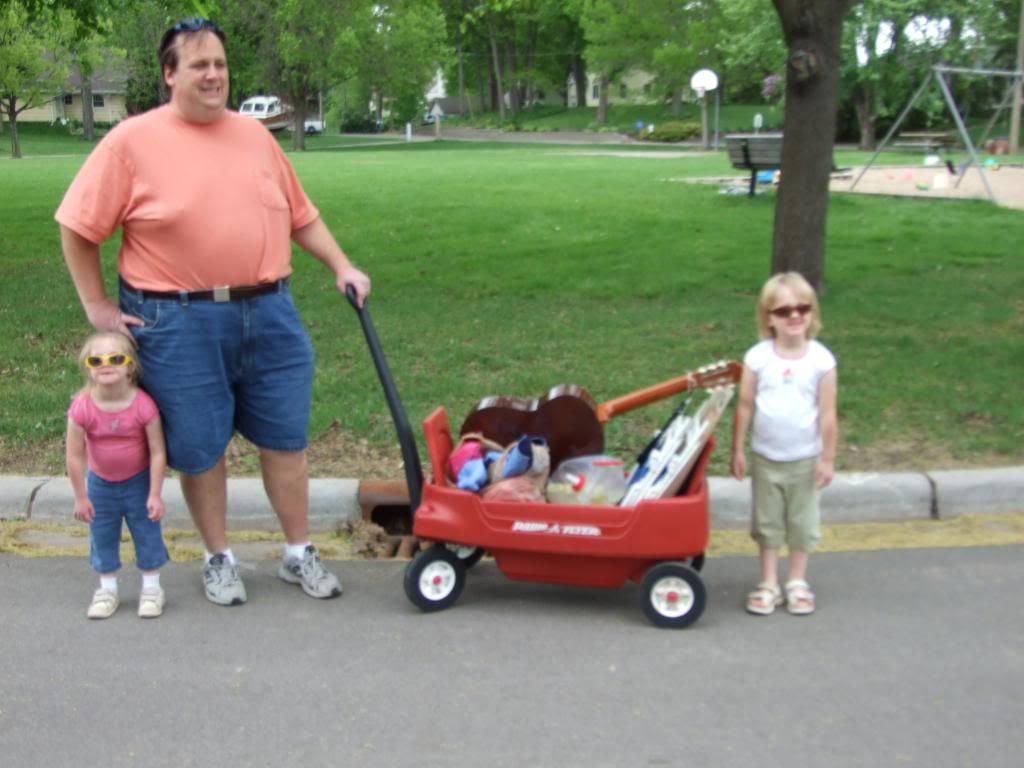 The girls and I heading out to try to give some lemonade away at the nearby bike trail.




Here we set up shop... unfortunately, not a lot of customers, but we had a nice time together anyway!


Subscribe to Posts [Atom]